Have you ever thought about building a garden of stepping stones? You are reading this because you love your garden. The time you spend digging in the dirt is special to you. Your flowers, plants, and shrubs bring you a lot of joy. They help you relax and decompress. Do you enjoy sharing your garden with others? You can show them where you want them to step while beautifying your landscape with decorative garden stepping stones .
Use concrete, granite or resin pavers to add some beauty to your landscape. They help add structure as well. You can lay down pave-stones to create borders and walkways.
There are decorative pavers and purely functional stones. No matter your personality, or the look you are trying to achieve on your landscape, garden stepping stones can help.
Why You May Want Decorative Garden Stepping Stones
The standard slate gray paver is probably the most common. You can get them in all shapes and sizes. These pave-stones are made of granite, concrete, resin and plastic compounds.
Sometimes plain and normal is not good enough. There's a reason you add beautiful flowering plants and shrubs to your garden. You love the amazing splash of color and versatility mother nature can provide.
Adding decorative garden stepping stones will give you the same experience.
There are pavers with starbursts and every color under the sun. You can find ornamental paving stones that represent a compass. There are decorative limestone rock products which each contain dozens of multicolored pebbles. The glow-in-the-dark sun and moon combo is popular. Decorative garden stepping stones allow you to match the versatility of nature to your ornamental tastes.
Personalized Garden Stepping Stones
When you work with your flowers and plants, you create something that speaks about who you are. Your gardening efforts are a statement about your personality. This is why it makes sense to some gardeners to get garden stepping stones personalized with their family name. Some get their children or grandchildren's handprints on a steppingstone, like the one below.
Personalization could mean adding a quote or saying that means a lot to you.
There are online retailers that create memorial garden stepping stones. This is a way to remember your loved ones who are not here anymore. Some brick and mortar garden shops sell personalized garden stepping stones as well. It is common to remember a pet that has passed on this way. A garden sculpture and personalized paver make a wonderful tribute to a beloved pet.
Creative Evergreen Garden Those We Love Don't Go Away Polystone Memorial Stepping Stone
Break up the Boredom with Unique Garden Stepping Stones
The most common paver is square, gray, concrete … and rather plain-looking. These come in a variety of sizes. You also find brick and rubber paving stones which are square and rectangular. People find these functional, if not very exciting.
Do the walkways in your garden need an excitement boost? If so, consider getting some unique garden stepping stones that are different than most.
Go for odd shapes rather than square and rectangular. You can find concrete and resin garden stepping stones with nontraditional shapes. Some nurseries and garden centers carry pavers that have been sliced from a large stone. This means no two are alike.
These unique garden steppingstones give your walkways a one-of-a-kind look. You can choose mosaic garden stepping stones and pavers that are shaped like animals and plants. Think unique rather than normal.
Cast Iron Heart Shaped Garden Stepping Stone
Butterfly Welcome Personalized Garden Stone
Spoontiques On Branch Cardinal Stepping Stone
The Benefits of Garden Stepping Stone Molds
You may see listings for DIY pavers. These qualify as do-it-yourself products because all you get are molds. They come in multiple shapes, sizes, and patterns. You place them where you want your pavers then pour in a concrete mix. Simply remove the mold when the concrete has dried. then add grout or dirt to fill in the spaces where the mold was.
SuperThinker DIY Walk Maker Concrete Molds, Pathmate Stone Mold Paving Pavement Concrete Mould Stepping Stone Paver Walk Way for Garden, Patio, Yard(13"x13")
Skelang Square Pavement Mold, Reusable Path Maker Mold, Concrete Cement Mould 15.7
There are some definite benefits to using garden stepping stone molds rather than manufactured pavers.
First off, you can create a custom concrete mix. This means you can make whatever color combination you like. Add a little paint to your mixture and you end up with very unique garden stepping stones.
Another benefit concerns cost. Plastic molds are rather inexpensive compared to many paving stones. If you order online, the shipping cost for molds is next to nothing.
You love to spend time in your garden because you are a "hands-on" type of person. If you like projects where you use your hands, making stepping stones for your garden using stone molds will be perfect for you.
It is simple and quick to stir together some water and concrete mix. Then you pour the mix in the mold and wait. This is a fun outdoor project that helps you create a garden of stepping stone that is both unique and functional.
Add some decorative garden pave stones to your landscape today. It will keep your guests from stepping where you don't want them to, while also beautifying your backyard.
Make your own beautiful stones for the garden
If you like DIY projects, you can make some GORGEOUS stepping stones for the garden. Take a look at the video below to learn how to make your own.
Garden Stepping Stones FAQ
How much space should I leave between my stepping stones?
Good question. The distance between stones depends on whether you're actually going to step on your stones or just add them to your garden for looks. If you're going to create a path or walkway, you need to consider the length of most people's steps. In general, a stepping stone of around 18 inches in diameter and a distance of around 6 to 8 inches should work for most people.
How big should the stepping stones be?
Most stepping stones are 10 inches. in diameter, and 1.5 to 2.5 inches deep. But some decorative stones can be as large as 18 to 24 inches. It's all up to you and how you like them.
How much do paving stones cost?
If you choose the DIY route, they'll be a lot cheaper: just buy some cement, maybe a few colored marbles or mosaic pieces for decoration and you're good to go for just a few dollars.
You can buy a stepping stone kit for the garden for between $10 and $25. Or, get ready to place stones for $20 to $40. Lots of options!
What can I use for stepping stone molds?
You can use your imagination here, and come up with all kinds of mold ideas:
the rim of a 5-gallon bucket
make your own square or hexagonal molds from two by four wood
find a heart-shaped plastic dish and use it as your mold
use a fun shaped cake pan (make sure you spray some grease before pouring your cement so it's easy to release when done). There are lots of options here: bunny, paw prints, flowers, etc. The sky is the limit.
Here are some ideas of available pans for inspiration. TIP: go find some used ones at a thrift store (it's a lot cheaper that way).
Paw Print Cake Pan
Heart-Shaped Cake Pan
Star Shaped Cake Pan
Monkey Cake Pan
How to make garden stepping stones with handprints
the easiest way to make a stepping stone that displays your child's handprint is to buy a kit, (Amazon has an inexpensive one here). But if you are more adventurous, you can go the DIY route all the way and mix your own cement and find your own mold. Fun weekend project!
Stepping Stone Pictures From Longwood Gardens
Last year we visited Longwood Gardens and saw some beautiful stepping stones. They weren't in the gardens but on the sidewalks. Here are just a few of them for inspiration.
This was my favorite. I could just imagine it in my lily of the valley garden. Beautiful!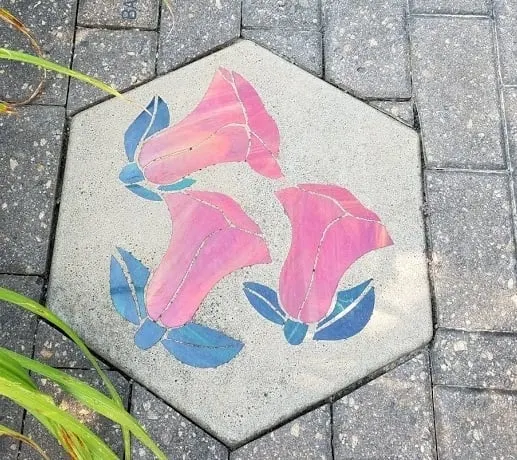 How cute! These bell-shaped flowers are adorable!
Sunflowers are a favorite for many people. This one would make a great mother's day gift for a garden lover.
I love the color combination on this one. May be a nice addition in your blue flowers garden 😉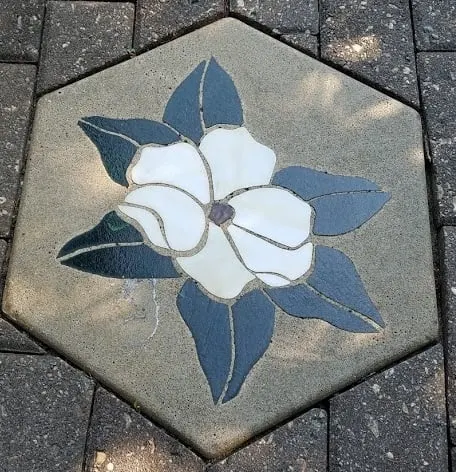 Very elegant!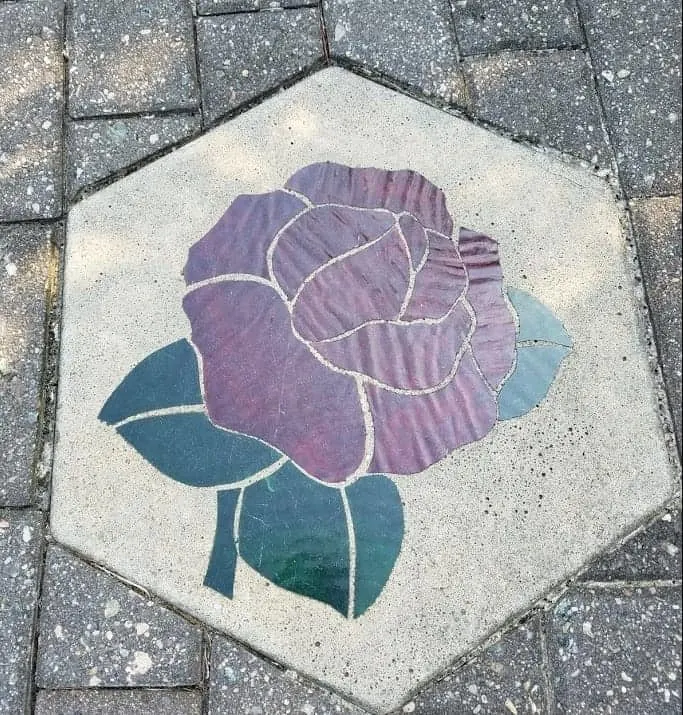 Beautiful purple flower on this stepping stone.
I hope I've inspired you to add some decorative stepping stones to your garden.