There is something quite adorable and eye-catching about a bulging-eyed Baby Groot flower pot. Whether or not you are a fan of Guardians of the Galaxy, these Baby Groot planters are sure to dress up your desk or personal space. Although they work well as a pencil holder, they also make attractive containers for small plants.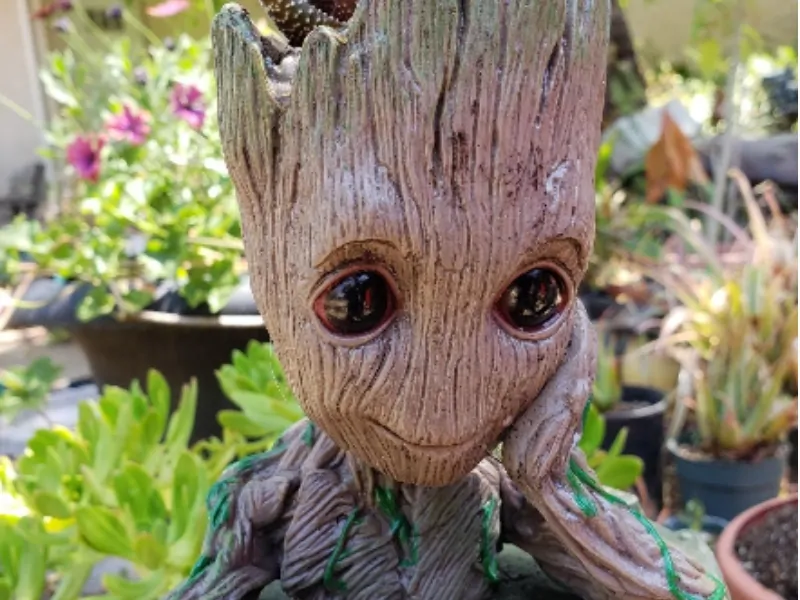 What is A Baby Groot Flower Pot
Baby Groot planters are small plant holders based on the movie Guardians of the Galaxy. In the movie, the tree creature Groot makes a heroic sacrifice by protecting the other Guardians when their ship crash lands. With his ability to grow branches, Groot encircles the Guardians as they crash protecting their lives, leading to his demise. Unfortunately, for Groot, he is destroyed in the crash other than a small twig, which grows into Baby Groot.
A Baby Groot flower pot has been designed to hold plants without the fear of root rot. The pots have a bottom drain hole, which allows water to drain from the soil and out the bottom. This prevents the soil from remaining soggy, which can lead to problems with rot. Therefore, they aren't only cute but make functioning plant holders too.
Best Baby Groot Planters
With all the choices in Baby Groot flower pots, it might be hard to select one that is the best. In the end, it probably just comes down to your personal preference and style, when selecting a Baby Groot planter.
By searching online, you are sure to find a wealth of retailers selling Baby Groot planters. Listed below are some Baby Groot flower pots you can find on Amazon.
Related: Creative flower pot ideas
1. Wide eyed baby Groot flowerpot
Aikes Groot Action Figures Guardians of The Galaxy Flowerpot Baby Cute Model Toy Pen Pot Best Gifts 6.3in
This multi functional flower pot has one hand resting on Groot's cheek, and the other resting and lying flat before him.
The opening in his head is where you can place a small plant, hold pens or pencils, or just use it as a decorative piece.
The flower pot is 6.3 inches tall, and made of sturdy and high-quality PCV material, which is a safe and non-toxic choice to add to your child's decor. Resembling tree bark, the pot's design is gray with green tint around the top of the head, and has large brown eyes. There's drain hole in the bottom.
Many people buy this one for their aquariums. See it here in action!
2. Happy baby Groot planter
Groot Action Figures Guardians of The Galaxy Flowerpot Baby Cute Model Toy Pen Pot Best 6.3
Kids will love this one! Add a cute succulent in it and set it by their desk or bed. Or make it a pen or a trinket holder for your little one. I love how he's holding his cheek with one hand and cheek.
If you decide to use it for a plant, you're all set: it already has a small drain hole at the bottom. The flower pot is 6.3 inches tall and made of high-quality PVC material.
The pot's material is non-toxic, making it a safe choice for children. Features of the flower pot include, large brown eyes, gray in color resembling tree bark, with green tint around the top portion of the head.
3. Treeman heart shaped succulent Groot flower pot
Flowerpot Treeman Heart-shaped Groot Succulent Planter Cute Green Plants Flower Pot with Hole Pen holder (Small)
This Groot planter is on the small side with its height just 5.7 inches. It shows Groot's hands forming a heart in front of him. I absolutely LOVE that!
Makes it perfect for gifting to a loved one, or even as wedding or baby shower favors: that would be a really unuque way to use it.
This is safe and non-toxic for children, as it is made of durable PVC. It highlights Groot's large brown eyes and its grayish color resembles tree bark, with green tint around the opening in the head.
Use as a Groot flower planter with small plants, pencil holder, or a décor item.
4. Polyresin baby Groot succulent planter
Pinsjar 15cm Kawaii Polyresin Flowerpot Tree Baby Groot Succulent Planter Cute Green Plants Flower Pot with Hole Pen Pot Best New Year Gifts For Kids
A bit on the small side, this cute planter it's 15 cm or around 5.9 inches tall. It has Baby Groot resting both hands under his chin, while his large brown eyes smile back at you.
It is made of hand-painted polyresin, with its gray color resembling tree bark. With its small size, it's perfect for growing small succulents and has a bottom drain hole. You can also use it as a pencil holder and it makes a great children's gift.
Where to buy baby Groot flower pots
If you are looking to purchase Baby Groot planters, Amazon offers a variety of selections in the entire line of Baby Groot merchandise, including flower pots.
You can also find them through various retailers and sites like Target, Walmart, Etsy, and eBay. An online search for a Baby Groot flower pot will also take you to other sites selling it and other Groot merchandise.
Best plants to grow in a baby Groot pot
When it comes to what type of plants are suitable growing in these cute Groot planters, think small. Succulents are my favorites, but there are other small plats that can work. Since the depth of the planting area is around 3 inches, you want to use plants without a large root system.
Check out these plant types and see which one you like best!
Succulents:
Rainbow Bush (Portulacaria afra variegata)
Bush Sedum (Sedum dendroideum)
Cactus:
Sea Urchin (Astrophytum asterias)
Rose Pincushion (Mammillaria zeilmanniana)
Golden Ball (Echinocactus grusonii)
Pincushion (Mammillaria spp.)
10 x Astrophytum Hybrids Cactus Succulent Seeds – Sand Dollar Cactus, Sea Urchin Cactus
Mammillaria zeilmanniana Cactus Cacti Succulent Real Live Plant
Echinocactus grusonii Golden Barrel Cactus
Misc. Small Plants:
Tillandsia (various types)
Polka Dot Plant (Hypoestes phyllostachya)
Purple Oxalis (Oxalis triangularis)
Venus Flytrap (Dionaea muscipula)
Polka dot plants
Purple Shamrocks
Venus Flytrap Plant Seed
When it comes to keeping these plants alive in your Baby Groot flower pots, the biggest thing is not to over-water. Although the pots have bottom drain holes to release the excess water, soggy conditions create root rot problems.
During the growing seasons of spring through summer, you will probably need to water once each week. However, during winter when plants go into a dormant stage, cut back watering to about once every other week.
More plants to grow in baby Groot planters
We asked our Facebook flowers what they'd plant in thees, and got a bunch of suggestions. Here are some of the most popular (or funniest) answers:
if you used air plants you'd have an air head
plant aloe, and train it like a Mohawk
tiny fern and moss
small leaf bonsai tree
a brain cactus (this sounds like a lot of fun: it would make a great conversation piece)
chives (you'll be able to style his hair every time you trim them for cooking)
spider plant
oregano or thyme
string of pearls plant
Christmas cactus
baby bamboos
stick plant
sedum
African violet
Hindu rope
There you have it: lots of options!
As you can see and despite the small size of Baby Groot planters, there is a wide range of plants that will grow quite well in them. Even those who don't know the story behind Baby Groot will have to admit these flower pots are adorable. With their charming appearance, these cute Groot planters make great gifts for both children and adults.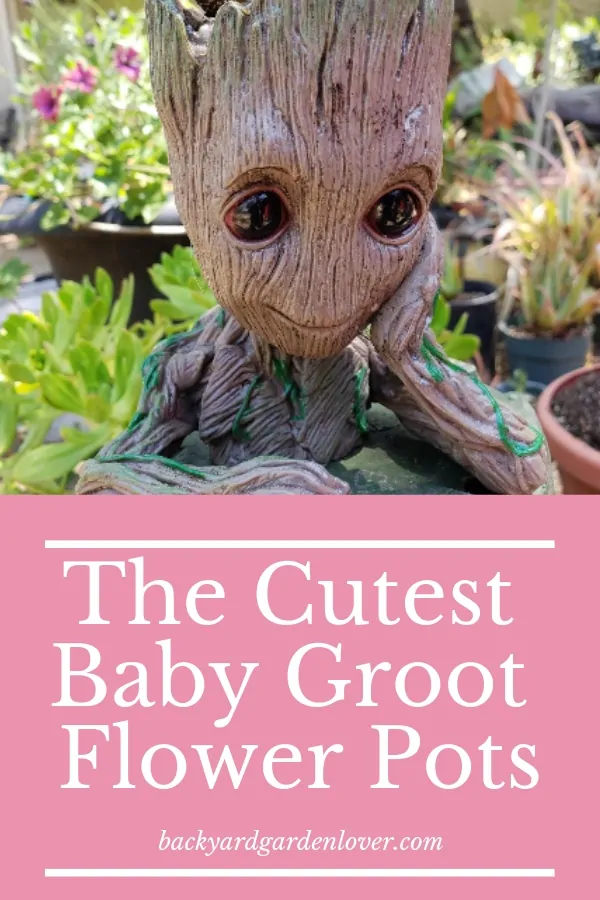 Adriana Copaceanu is a passionate nature lover living in the country on her dream property where she grows vegetables, lavender, and wildflowers that she shares with the wildlife they attract. When she's not in the garden, she loves spending time with her chickens and planning her next nature project.