Growing bonsai trees is an art form. Bonsai trees grow with beautifully twisted branches and unique trunks, and they fit perfectly into their cute ceramic pots. You heard about bonsais being easy to maintain, and want to give it a go yourself, right? We looked up the best bonsai starter kits to get you started and give you the sense of accomplishment that comes with caring for your own traditional bonsai tree.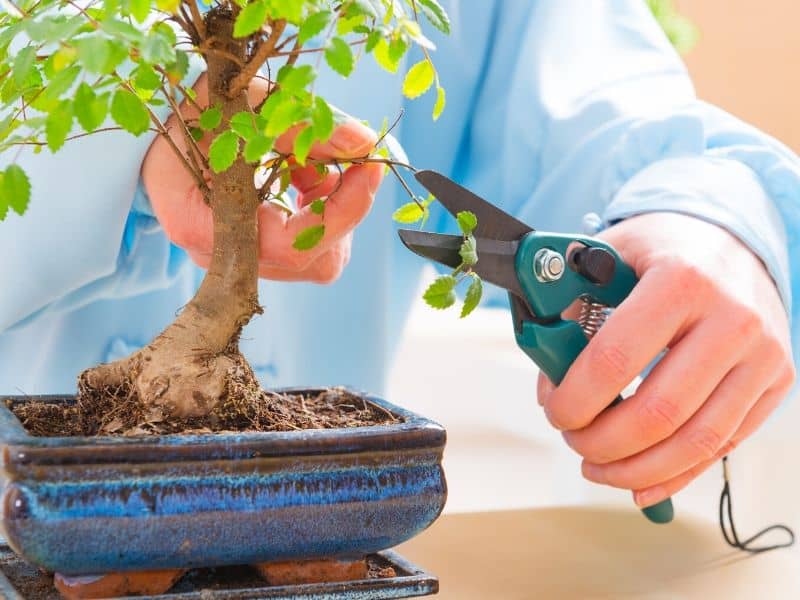 While you can purchase bonsai tree starter kits that allow you to grow your own tree from a seed, it can take upwards of five years to get that impressive look of the tree that we're all going for. For this reason, we've found the best kits that come with bonsai starter plants instead of seeds. This way, you can enjoy your impressive plant straight from the get-go without having to wait years for it to grow into its pot.
Quick Navigation
All of the below bonsai kits come with the chosen tree, a glazed ceramic pot, a training wire, a humidity tray, shears, fertilizer pellets, and a book that will give you a number of tips for caring for your bonsai tree.
Our rating:

Best Bonsai Starter Kit – Comparison Table
Review Of The Best Bonsai Starter Kit
Our Top Pick
Our rating:

Our favorite kit on the market has to be the juniper bonsai starter kit, due to the amazing decorative items it comes with along with all the accessories that you'll also receive. The juniper bonsai tree comes to you at six years old. However, as these types of trees can last up to 800 years if looked after properly, you'll have plenty of time with your new addition.
Your seven-inch tall tree will fit perfectly in the imported glazed ceramic pot that it comes with, so you'll have a new decorative piece within minutes of taking it out of the box. Along with everything you need to take care of your bonsai, you'll also get a range of decorative items to add to your pot. These include a textured rock, decorative pebbles, and a miniature ceramic figurine.
Bonsai trees should be repotted every two years, so this bonsai growing kit will last you for a long time before you have to purchase a new pot, making this great value for money. Also, thanks to their slow-growing nature, bonsai trees don't take much maintenance and only need a trim every now and then. You can carry this out with the included shears.
Everything you need to grow and maintain your bonsai tree is included.

Your juniper bonsai tree comes at around 6 years old and 7 inches in height.

Won't grow out of its pot for two years.
High price point.

You don't get the joy of watching your tree grow from a seedling.
Best Bonsai Starter Kits Buyers Guide
So, you've decided that you want to become a bonsai owner, but do you know how long it takes to grow one from seed? Buying a bonsai starter kit will speed up the process. Here's what you need to know about bonsai starter kits.
Type of tree to pick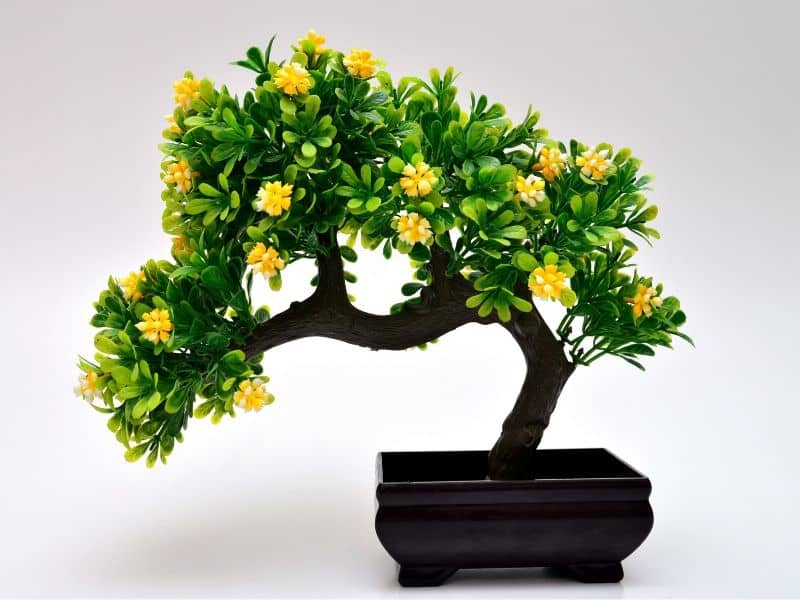 There is a large variety of bonsai trees to choose from, each with unique features and beautiful looks. The species you choose will depend on your personal preference, so make sure you check out all of the different options before choosing your bonsai starter tree.
Here are a few of the most popular bonsai tree species:
Juniper: Juniper bonsai have green leaves which are either like little needles or scales. The younger the tree is, the more likely it'll have needle-like leaves. They grow little cone-shaped berries, and they are rather robust and hardy.
Hawaiian Umbrella: The trunks on this type of bonsai are very thin and plentiful, with thin and long leaves that grow in all different directions.
Willow Leaf: Similar to Hawaiian Umbrella, Willow Leaf comes with thin trunks and thin, long leaves. It gets its name from its striking resemblance to the weeping willow tree.
Baby Jade: These have small round leaves and look the most like miniature trees that you'd traditionally find in the park or your garden.
Japanese Kingsville Boxwood: The leaves are the smallest you'll be able to find on a bonsai, and it is one of the slowest growing bonsais on the market. Its tiny stature makes it highly desirable and therefore more expensive than other species.
What does a bonsai starter kit come with?
The best bonsai starter kits come with all you need to get your bonsai up and running. This includes the tree itself, a well-sized pot for it to live in, high-quality shears, training wire, and a humidity tray. You'll also want to make sure that your starter kit comes with detailed instructions to ensure you know exactly what you're doing.
Some kits also come with items that you can use to decorate your pot. Depending on how you want your bonsai tree to look, you may want to check what decorations come with your kit to ensure they fit with your vision.
Quality
You may find that the included items are not up to the quality standards that you were expecting. This may concern fertilizer, soil, or trimming sheers. Organic accessories are often considered higher quality, so it's a good idea for you to look for kits with organic soil and fertilizer to prevent you from having to repurchase better alternatives.
Bonsai starter kits from Amazon
Nature's Blossom Bonsai Tree Seed Starter Kit for Beginner Gardeners. A Complete Indoor Growing Set.
Indoor & Outdoor Beginner Seed Kit, Soil Mix, Biodegradable Planter Pots, Plant Markers, Growing Guide
Plant Theatre Bonsai Trio Kit, 3 Distinctive Bonsai Trees to Grow
Premium Bonsai Tool Kit + Bonsai 101 Book – Set Includes: Wooden Rake, Long & Wide Spades, Scissors, Tweezers, Bamboo Brush, & Pruning Shears
Frequently Asked Questions
Which is the best bonsai tree for beginners?
All bonsai trees are relatively easy to care for and maintain. However, there are a few species that are hardier than others. Ficus bonsai and juniper bonsai are among the best species for beginners, thanks to their tolerance to overwatering and less than optimal conditions.
How do bonsai trees stay so small?
Bonsai pots play a large part in keeping the tree small. As there isn't much room to grow in the pot, the roots become root-bound and therefore stunt the growth of the trunk. The top of the plant remains small thanks to the routine pruning that the owner carries out.
How long do bonsai trees live?
It depends on how well you care for it, but generally, they'll live as long as the parent tree lives.
Do bonsai trees lose their leaves?
Yes, just as their full-size counterparts, most trees will lose their foliage in the fall.