Hydrangea is a flowering shrub plant native to Southeast Asian countries, as well as in the Americas. This flower can be found in most flower gardens in America and is usually admired due to its vibrant colors. Hydrangea colors will change depending on the pH content of your garden soil. Its color ranges from blue, pink, red, and lavender depending on the pH of the soil. Let's see how to care for hydrangea plants!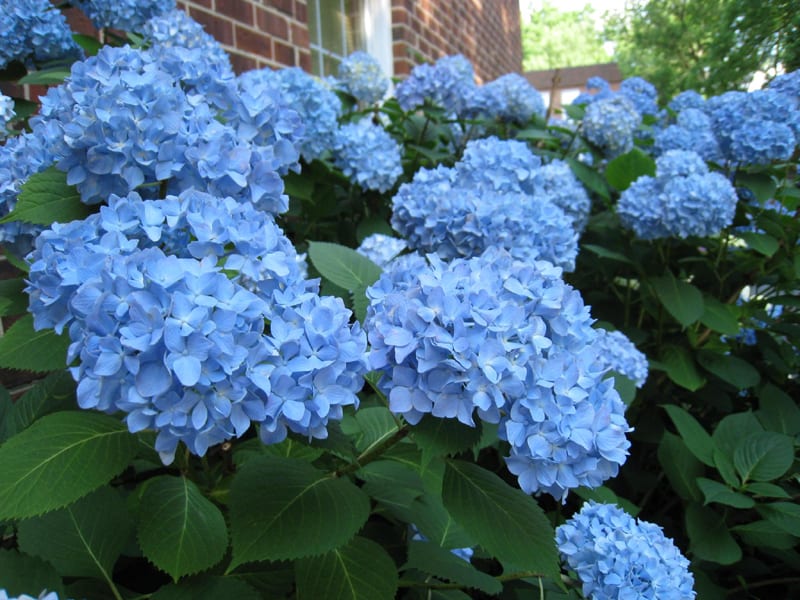 Heavenly Hydrangeas: A Practical Guide for the Home Gardener
According to The Old Farmer's Almanac, this flowering bush can be grown and cultivated easily. But, is it really that easy to grow hydrangeas?
Does it mean that it needs less care at all? If not, the big question is 'how to care for hydrangea bushes'?
Let's look at what you can do for your hydrangea plants to keep them blooming and thriving.
Related: How to grow hydrangea trees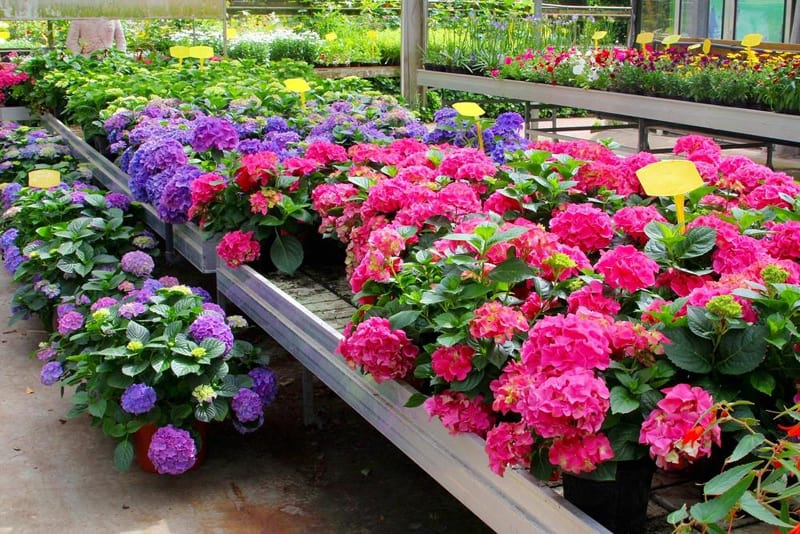 Methods For Growing Hydrangea Plants
Adding hydrangeas in your very own garden is a great idea, and it is possible to do so since you may plant hydrangea bushes in several ways. Here are the different ways to plant hydrangeas.
Cuttings from a non-flowering Hydrangea shoot
In this method, you just have to choose a non-flowering hydrangea shoot from the mother plant. Cut the hydrangea shoot from the base of the mature hydrangea. Choose the one with a woodier part and with at least 5 to 6 inches long. You may also include some of its roots when you cut it. It is better if you cut it during the morning when the leaves are not yet wilted due to the heat of the sun.
Planting Hydrangea cuttings in a pot
In this method, you just have to cut an older stem of hydrangea. Choose your favorite container to plant it. Place a rich soil into the pot and plant the cutting. It would be better to dip the cuttings into a rooting hormone before sticking it into the soil. Trim half of its older leaves, because this will make the hydrangea cutting grow more roots. Water the plant regularly.
Rooting Hydrangea cuttings right from the mother plant
This method is much safer to do since there is a greater chance for your hydrangea cuttings to survive. Just choose a lower branch of the plant and lean it until it touches the soil. Place a stone, brick, or wood on it to weigh it down. Water it regularly to grow roots on the cuttings. If the roots are already showing, then it is time to cut the branch. You may remove the cuttings using a shovel and transplant it to your desired area or pot.
Rooting Hydrangea cuttings in water
Cut an older stem from a mother plant with at least 5 to 6 inches long. Dip the cuttings into the water and let it stay for several days. Wait until the roots grow from the cuttings and transplant it to a garden pot or your favorite spot in the garden. The stems of the bouquets of hydrangea dipped in water can also be used.
How To Care For Hydrangea Plants (Bushes, Shrubs)
The ideal season for planting hydrangeas is during the early spring or fall. When you place hydrangeas in your garden, make sure that they are protected from strong winds and the direct heat of the afternoon sun.
Though hydrangea bushes only need little care, these tips will help you to have very nice blooms in your garden. Here are just a few ways to care for hydrangea plants.
Watering hydrangeas
When you plant hydrangea cuttings, make sure to monitor the hydration of the garden soil. If the soil is too wet the roots may rot, making the plant die eventually. If the soil is too dry the plant will also die since it cannot complete its process of making its own food due to the absence of water. It is better to use test kits to identify the hydration level of your garden soil.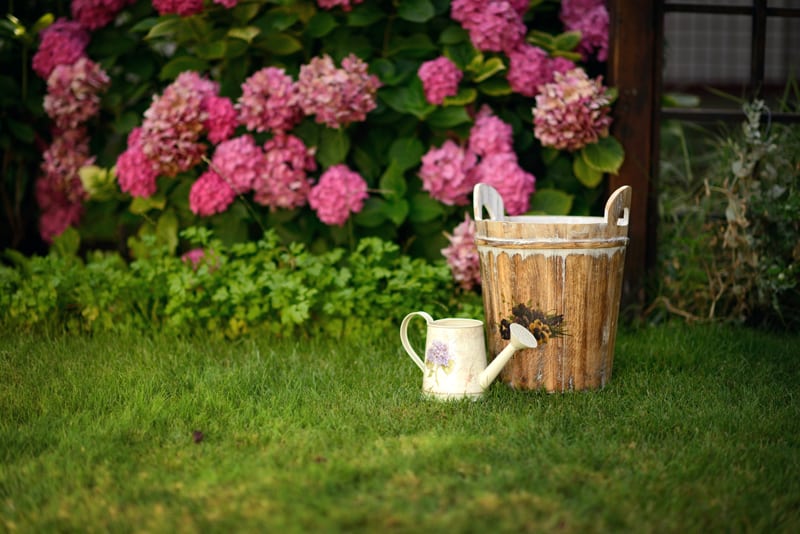 Luster Leaf 1601 Rapitest Soil Test Kit
How to change the color of hydrangeas
Hydrangeas change colors depending on the pH content of the soil. According to The Old Farmer's Almanac, acidic soil with 5.2 – 5.5 pH level produces blue colored flowers.
As the PH in creases, the color will start to turn pink, going through shades of purple and lavender turning shades of pink above PH 6.
If you hydrangea plant has white flowers, it must be a variety that doesn't change colors and won't be affected by the soil's pH level.
Pruning hydrangea bushes
Pruning plays a great role on how to care for hydrangea bushes. It is said that the more you prune hydrangeas, the more it blooms. Remember that pruning should be avoided during late summer since flower buds usually develop during this season.
Some varieties of hydrangea (like the Penny Mac Hydrangea and the Oakleaf Hydrangea) bloom on both old and new wood and do not need pruning .
However, there are varieties that really need more pruning to avoid overgrowth and to encourage the growth of new wood where blossoms prefer to bloom. These varieties include Smooth Hydrangea and Peegee or Panicle Hydrangea.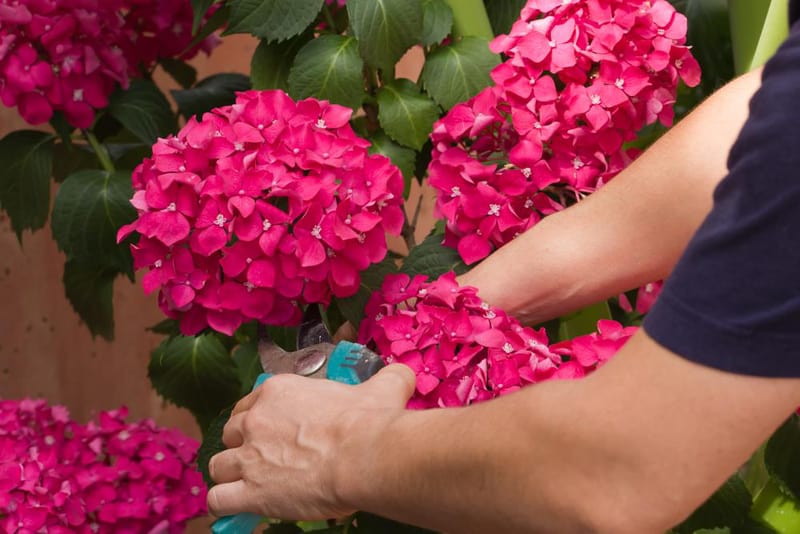 Fertilizing hydrangea bushes
Hydrangeas need to be fertilized to help in the healthy growth of the plant. However, be careful since fertilizers may affect the pH content of the garden soil which may lead to the change of the color of your hydrangea.
Now that you know how to care for hydrangea plants, you can add your preferred variety of hydrangea in your very own garden. Go ahead and have that stunning glory that your garden will have when your hydrangeas bloom its beautiful flowers.
Why isn't my hydrangea blooming?
Sometimes you get beautiful foliage from your hydrangea plants, but no blooms. And it's so disappointing! So, why isn't your hydrangea bush blooming? Let's look at a few possibilities.
One of the most common reasons for non-blooming hydrangeas is pruning at the wrong time, or other pruning mistakes. If your hydrangea blooms on old wood, and you pruned last year's branches, you'll get no blooms.
Or, maybe you pruned your plants when they were already budding and you cut the buds. Don't beat yourself: it happens: just be more careful next time.
Other reasons for hydrangeas that don't bloom:
Hi there! I'm Lucy – founder of GardenAmbition.com and I'm a self-confessed garden fanatic. Gardening has always been a passion of mine and will always be my favorite pastime. Now that I am married and have one adorable son, I have the time to write and share my personal experiences with other garden enthusiasts like me.