Plants have a way of adding life and beauty to your home and elephant planters are a simple but stylish way to display them. There are various sizes and design options available, making it easy to find the perfect planter for your needs. This is also a perfect gift for the elephant or animal lover in your life.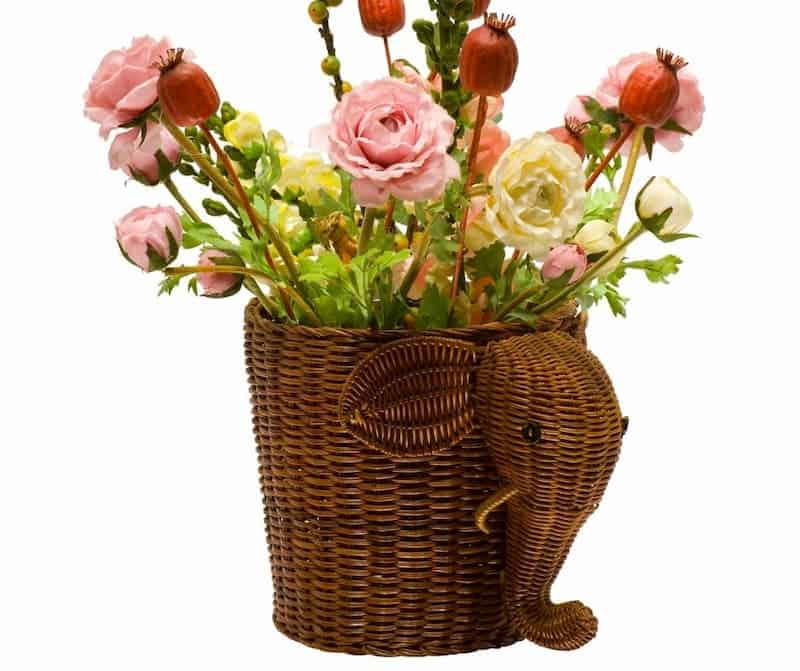 Some are extra durable and designed to withstand the elements, while others are just plain adorable. Whatever your needs are, you're sure to fall in love with these cute elephant planters. I'm going to show you a few of my favorites to get you inspired. But if you love them, don't stop here because there are many more great planters to choose from.
Elephant Planters – Fun And Functional
If you're like me, you love planters that are both unique and functional. Elephant planters fit this critique perfectly. These adorable containers stand out in a way that ordinary ones can't. They're colorful, decorative and appeal to animal lovers everywhere, especially for those who also have a green thumb.
The elephant shape isn't just adorable. It also serves a purpose. It allows room for a wide and deep center that is the perfect size for growing herbs, cactus, flowers and other small plants efficiently. This is great for plants that don't do well in other vases and planters.
These amazing little planters will brighten things up while adding some greenery and color to your life.
Charming large elephant planter
This large decorative galvanized metal elephant container will add a touch of charm to any home or garden. It makes a lovely stand-alone planter, especially for patios, decks and balconies. Or, use it as a unique centerpiece by placing it in the middle of your garden, table, etc and surrounding it with smaller plants.
The durable galvanized metal is perfect for outdoor use because it holds up well in all types of weather conditions. It will last for years and works great for growing flowers, herbs, cactus and similar plants. It's an excellent planter to give as a gift for anyone with a green thumb.
Lanperle Decorative Galvanized-Metal Elephant Planter
Adorable baby elephant planters
These baby elephant planters are so adorable, you're sure to love them as much as I do. They have so much personality, it almost seems like they're alive. Use them to brighten up any room in your home from the nursery to your office space.
They're the perfect size to fit on shelves, windowsills, mantels and other small spaces so you can use them practically anywhere. They're certainly a cute and fun way to add some greenery to home.
They would also look great on your front or back porch, balcony or patio area.
Blue Baby Elephant Planter
Cute Elephant Succulent Planter
Sissy The Pink Elephant Planter
Vintage elephant planters
These vintage elephant planters make excellent gifts for friends and family, especially if they love both elephant figurines and plants. The vintage look stands out and grabs your attention, so they make wonderful conversational pieces. Your guests will want to know where you found these adorable little planters.
The ceramic succulent planter is the perfect size for growing cactus or aloe plants while the others are ideal for herbs and other small plants.
They also make excellent planters for children who want to try their hand at growing plants for the first time or any beginner.
Vintage Elephant Design
Cute Elephant Vintage Ceramic
Vintage Ceramic Succulent Elephant Planter
Mini Ceramic Vintage Elephant
Colorful ceramic elephant planters
If you're looking for planters that are both colorful and elegant, a ceramic elephant planter may be exactly what you need. The detail is amazing, and the colorful designs are bright and cheerful. They'll certainly brighten up any room or garden. They also make great gardener gifts.
Collect several to create a beautiful mini garden for your favorite plants. It's certainly a unique way to grow and display your herbs, cactus plants, aloe plants and more.
If you don't really have a green thumb but love decorating with unique items, use these planters as storage containers for small objects. You don't really need a reason to start collecting your favorite ones.
Dahlia Daisy Elephant Handmade Ceramic Succulent Planter
Tiny Succulent Ceramic Planter – Elephant
Blue and White Handmade Cute Cartoon Elephant Ceramic
Cute Elephant Shaped Ceramic Succulent Cactus Vase
Vintage green elephant planter
This vintage green elephant shaped planter is an excellent choice for both inside and outdoor use. Its versatility is one thing I like the most about it. The rustic design makes it a collector's item that adds a touch of character to any room. It looks great sitting on shelves, counters, tables or large windowsills.
It also makes an excellent addition to any herb, vegetable or flower garden. The vintage green color looks natural and blends in with the plants to create a beautiful focal point that tends to reach out and grab your attention.
Vintage Elephant Shaped Ceramic Succulent Planter
Gorgeous white ceramic elephant planter
I think this ceramic elephant planter is the cutest one yet. The pink ears and detailed eyes stand out to give the elephant shape some personality that gets your attention. This baby elephant is the perfect planter for a child's room, but it's also suited for anywhere in the home that you want to add a little style.
The white ceramic goes with any décor and it's small enough to fit most anywhere. The bamboo drainage tray helps to protect your furnishings when used inside so it's perfect for growing live plants. Of course, it works great for artificial ones too, if you prefer.
Decorative elephant planters
These stylish decorative planters are the perfect size for sitting in windowsills, along ledges or railings and on patios or decks. They make excellent containers for growing flowers, herbs and other small plants because you can move them around so easily.
Of course, they have other uses, too. For example, they make beautiful decorative items that add a touch of nature to your home. They even make great conversational pieces because they are so unique.
Or, add some pens and pencils on your desk at work. Such a fun container!
Blue Elephant Succulent Planter
Ceramic Elephant Planter
Handmade Elephant Pot
Final words about elephant containers
These simple but stylish elephant planters are perfect for any home. They're cute, decorative and fully functional. Use them to grow live plants inside your home or outside in your vegetable, herb or flower garden.
If you have trouble growing plants, use them to decorate with artificial ones. It's a great way to enjoy the beauty plants have to offer without the work that goes along with growing live plants.
These adorable planters make excellent decorative pieces, so you can still take advantage of them. Use them purely for decoration or as storage containers for your small items.
Some styles would even work great as a pencil holder or somewhere to throw your spare change at the end of the day.
Order yours today to add a little style and color to your home. What do you think about these elephant planters I shared with you today? Do you have a favorite?