Men are usually easy to shop for. But if you're stuck and need some help, these gardening gifts for men should get your creative juices going. Giving a gift that has meaning is the best gift you could give him.
At A Glance: Our Top 5 Picks For Gifts For Men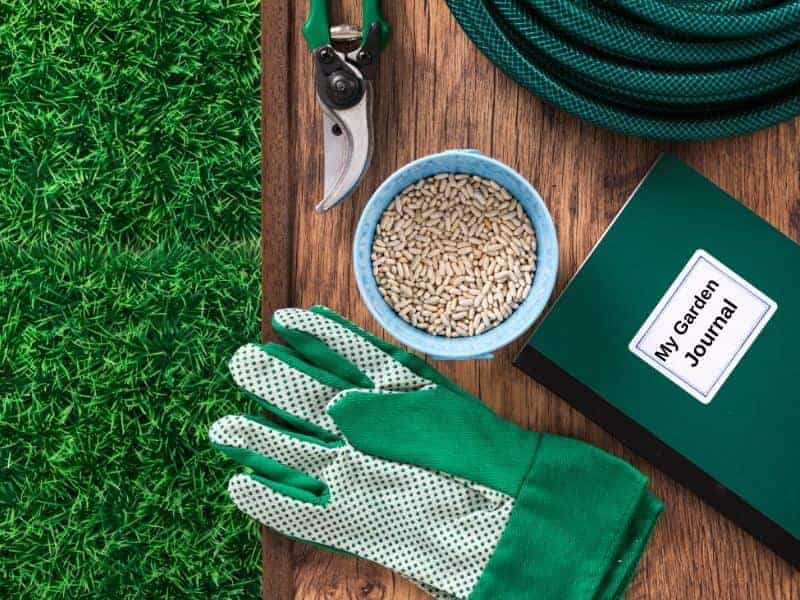 Men are practical and love gifts with a purpose. Give him a gift that will help him accomplish more in the garden, and he'll love you for it.
Christmas is the perfect time to give some unique gardening gifts to your man. Choose gifts that will get him excited about his garden, come spring, summer, and fall!
Are you ready? Here are some ideas of great gifts for men who love gardening, that are perfect for Christmas, birthdays, Father's day, or just because.
Unusual Garden Gifts For Men
If you'd rather come up with a gift that's unusual to make it more special, you'll love these!
Insect hotel – a nice insect house that creates the perfect environment for insects to lay their eggs and overwinter.
Fish out of water garden stakes – a fun garden accessory for men who love gardening and fishing.
A powerful Greenworks lawnmower will make him happy for sure!
Orchard rack – for the serious gardener, this will be the perfect gift. They'll be able to store their garden harvest and enjoy it for months to come.
Self-watering vertical garden wall – to keep him gardening indoors during the cold months.
Amish decorative planter – great for both indoor and outdoor display. This planter is adorable!
Solar-powered multi-colored tulip wind spinner – beautiful garden piece and the perfect conversation starter 🙂
Oyster mushroom growing kit – why not give him the opportunity to grow something during the winter too? This is fun!
Funky vegetable kit – I bet this will blow him away!
Protective Gardening Gifts For Men
IMAGE
PRODUCT

Our Top pick

Magid Glove & Safety Rose Pruning Gardening Gloves

Puncture resistant padded palm
Reinforced fingertips
Knuckle guard gives added protection from thorns

View On Amazon →

Vgo... Cow Split Leather Men's Work Gloves with Safety Cuff

DIY heavy duty works
High-quality split
Safety cuff for extra protection

View On Amazon →

Pine Tree Tools Bamboo Working Gloves

Suitable for any job and guaranteed a pleasure to wear.
Bare hand sensitivity
Comfortable and durable

View On Amazon →

Muck Boot Muckster Ll Men's Rubber Garden Shoes

Rubber
Excellent waterproof
Stretch-fit Comfort

View On Amazon →

Muck Boot The Original MuckBoots Unisex Edgewater Camp Shoe

Stretch-fit topline binding
Rubber sole
100% waterproof

View On Amazon →

The Original MuckBoots Daily Garden Shoe

100% Synthetic and fabric
Rubber sole
Waterproof

View On Amazon →

NoCry Professional Knee Pads

Easy to adjust
Soft gel core and durable
Ideal for working on concrete

View On Amazon →

Durable and high density foam
Comfortable kneeling pad
Multi-functional kneeler

View On Amazon →

Based on the 72-hour permaculture design certificate course
Supplies all the needs of humanity
Introduces you to a new way of looking at the world

View On Amazon →

All New Square Foot Gardening

Teaches how to become a successful DIY square foot gardener
Explains how you can make gardening fun for kids
Updated tips for selecting materials

View On Amazon →
Many men would rather not use protective gardening gear than go shopping for it. But I promise you, if you gift it o him, he'll gladly use your gift.
Gardening gloves are very important for anyone digging in the dirt. If you have roses, or larger bushes, a pair of long garden gloves can protect his hands from getting pricked, scratched, and infected.
Professional Rose Pruning Thornproof Gardening Gloves with
Cow Split Leather Men's Work Gloves with Safety Cuff
Ultimate Barehand Sensitivity Work Glove for Gardening
Same with gardening shoes. They'll keep your feet safe from all kinds of things in the garden: sharp objects (like that rake you forgot "teeth" up), ants, rocks, and other unexpected things in the ground. My husband LOVES his Muck gardening boots!
Muckster ll Men's Rubber Garden Shoes
The Original MuckBoots Unisex Edgewater Camp Shoe
MuckBoots Daily Garden Shoe
Knee pads are a lifesaver for those days when you need to weed the garden or plant your garlic. Kneeling on the ground gets old really fast, and a good pair of knee pads can do miracles.
Professional Knee Pads with Heavy Duty Foam Padding and Comfortable Gel Cushion,
RED Home Club Thick Kneeling Pad – Garden Kneeler for Gardening,
Gardening Books To Get Inspired
No matter how long he's been in the garden, there's always something new he could learn about bettering his skills. It could be a new gardening method (maybe he could learn about permaculture, or aquaponics, or some other exciting agricultural development).
Maybe learn about container gardening or raised bed gardening.
Or if he gets sad when he's not able to get out in the garden, a gardening magazine subscription could lift up his spirits.
Permaculture Design
All New Square Foot Gardening
Aquaponic Gardening
Useful Gardening Gifts For Men
The right gifts will get any man to be ecstatic about getting some new gardening "toys"! Isn't it the dream of most gardeners to dig around in the dirt and get just a little dirty?
Gardening gifts given during the Christmas holiday show him just how much you care. Noticing that he enjoys working in the garden and then remembering it enough to give him more great gardening tools is an extremely thoughtful way to celebrate the holidays.
Maybe he doesn't have a large garden but still loves adding colorful flowers to his entrance. Give him a nice, big outdoor planter. I promise he'll love it!
Gardening Journal with plant record
13-Pieces Garden Tools Kit for Plant Care
Water Resistant Apron with 14 Pockets
Garden Waste Reusable & Collapsible Bags
Scuddles Garden Tools Set
All-in-One Garden Tool Set
Gardening Tools w/ Garden Gloves and Garden Tote
10 Pieces Stainless Steel Garden Tool Sets
Easy to use gardening gift for men
It's no secret that men don't like to ask for directions or follow instructions. Providing him with easy to use gardening tools is key!
He won't want to spend his time reading directions or trying to figure out how to put something together. All he'll want to be doing is start working in his garden!
This easy planter tool is perfect! It's easy to use, and requires minimal effort to put together!
Edward Tools Long Handle Bulb Planter – 38" Heavy duty chrome plated steel with bend proof design – Non slip foot plate for step on digging – Quicker planting – Easy dirt plug slide out
Garden tools to help break up that rough and rocky soil
Garden Weasel 91316 Garden Claw

Depending on where you live, your soil in your garden may need some TLC. Don't spend a ton of time trying to figure out ways to have that soil broken up by hand.
Luckily, there are plenty of gardening devices out there that can break through all the varying types of rock, clay, or other soil in your state.
Don't give a gift for the sake of giving something. Instead, give useful gifts that will make an impact in the life of the receiver.
This garden claw is a great addition to any gardening tool shed! It's super easy to use and can help break up all different types of soil.
It's a great back saver as well since it can be used standing up!
Unique gardening gifts for men this Christmas
Who knew that there were so many fun and unique gardening gifts out there? Every time the Christmas season comes around, it's the perfect time to check out all the new gardening inventory!
If you find that you are scratching your head a bit on what he would like, here are some other unique and fun gifts to consider gifting him as well!
Scuddles Garden Tools Set
Heirloom Salad Seed Starter Kit
Baby Groot Flowerpot
With this guide for great gardening gifts for men, rest assured that your holiday gift-giving season will be perfect! Plus, the sooner that you buy and wrap, the sooner that you're ahead of the holiday rush!