Are you looking for a new shed, but not sure which one to get? With so many brand names to choose from, it could be confusing. How do you know which one to choose? While there are several top brand name manufacturers out there, Rubbermaid storage sheds are a favorite of gardeners.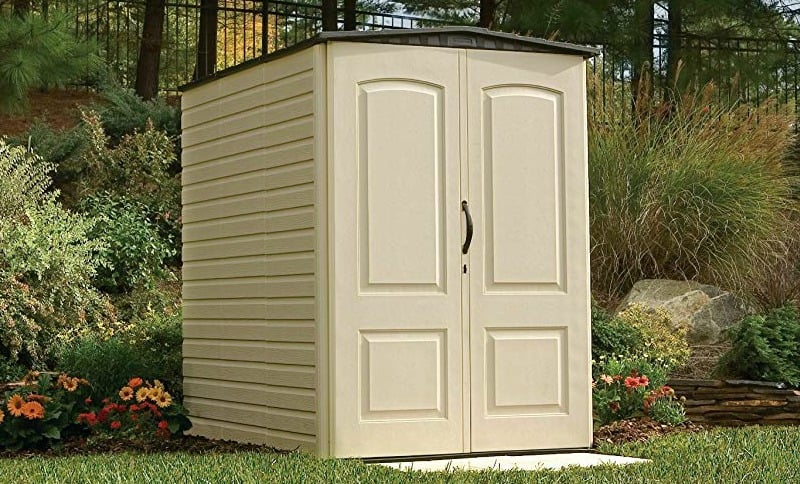 Rubbermaid Storage Sheds Comparison
Why Do People Love Rubbermaid Storage Sheds?
Rubbermaid sheds are built from a high strength polymer resin. This resin is a great choice for sheds because it is resistant to sunlight, dirt, and water. So, by choosing Rubbermaid, you are choosing a shed that will stand up in poor weather conditions and that will prove to be extremely durable over time. It also means that your shed will require little to no upkeep – no yearly paint jobs, no re-shingling, and no rotting.
These sheds are easy to assemble. Rubbermaid buildings are shipped to your home in pieces. You need to assemble them. Not a handyman? Don't worry! These sheds are by far one of the easiest shed types to put together. All they require is a few screws and the ability to follow a simple set of instructions.
Finally, and possibly the most popular reason that consumers choose the Rubbermaid brand is because they offer high quality sheds at a low cost.
What Can You Store In Your Rubbermaid Shed?
Before purchasing your shed, you should decide what you want to store in it. This will largely determine what size shed you should select.
If you are storing gardening equipment, pool equipment, biking equipment, outdoor furniture, or a push lawnmower, you will want a large vertical model.
If you are simply storing toys and small garden accessories and equipment, a small horizontal model will work for you.
Keep in mind, however, that Rubbermaid storage sheds are not just for storage! Many people like to purchase larger sheds, which they can then use as an outdoor playroom for the children or a workshop for dad.
In addition to sheds, you can purchase storage containers from Rubbermaid. These will let you organize your shed to maximize your use of space.
Where Can You Buy Rubbermaid Sheds?
Rubbermaid sheds are available in home improvement stores throughout the U.S. and Canada.
You can also purchase Rubbermaid sheds online and have them shipped directly to your house. Why purchase online? Because you can take your time to look around, comparing quality and price as you go. You'll also be able to read customer reviews to make the right decision.
Types of Rubbermaid Storage Sheds
Rubbermaid horizontal storage sheds
Perfect for patios, decks, and porches, the horizontal sheds are made out of maintenance-free high-density polyethylene and are easy to access.
Rubbermaid Outdoor Split-Lid Storage Shed, 18 cu. ft., Olive/Sandstone (FG375301OLVSS0)
The 18 cubic foot Rubbermaid horizontal storage shed is the ideal place for storing your grill accessories, planting supplies, or children's toys. This shed has double-hung doors that open up wide for easy access. It also has a top that lifts open for getting the things you need out quickly.
Related: accessories you need for your storage building
The 18 cubic foot model is 58 inches high, 28 inches wide, and 36 inches deep with a total weight of 53 pounds.
Rubbermaid also has a 32 cubic foot sized horizontal shed. It's perfect for those larger yard items that need to be stored away like outdoor lawn furniture pads, pool accessories, and long-handled yard tools.
Like the smaller shed, the larger Rubbermaid shed has double-hung doors and a lift open top.
The 32 cubic foot model is 47 inches high, 60 inches wide, 32 inches deep, and the total weight of 105 pounds.
You can easily lock these sheds for safekeeping of your belongings.
Rubbermaid sheds are practically maintenance-free: they will not crack, chip, or rust, which means you can leave them outside all year long.
Some of the Rubbermaid horizontal storage sheds have seats built-in on the top (like this one). Perfect for adding more seating to your deck or patio space.
Related: Arrow sheds
Rubbermaid vertical storage sheds
If you'd rather have a vertical shed, so you can add some shelves and store more of your garden tools, and maybe even store your lawn mower, Rubbermaid also has vertical storage sheds.
Rubbermaid Plastic Small Outdoor Storage Shed, 53-Cubic Feet, FG5L1000SDONX
Outdoor Vertical Rubbermaid Storage Shed, Plastic, 17 cu. ft, 2 ft. x 2 ft, Olive/Sandstone (FG374901OLVSS)
Rubbermaid Plastic Large Vertical Outdoor Storage Shed, 52-cu. ft, Beige (1887157)
Roughneck Plastic Medium Vertical Storage Shed by Rubbermaid ,106-Cubic Feet, FG5L2000SDONX
RHP3746 – Rubbermaid RHP3746, Large Vertical Taupe/Evergreen Outdoor Storage Shed, 52w x 32d x 77h
Rubbermaid Plastic Large Outdoor Storage Shed,159 cu. ft, Sandalwood with Onyx Roof (FG5L3000SDONX)
Large Rubbermaid storage shed
Is your garage overrun with the kids bikes, skateboards, and toys? Does your car sit outside in the sun because the grill, lawnmower, and snow blower are in the way? If so then maybe you could use the extra space that this shed offers.
Rubbermaid Plastic Large Outdoor Storage Shed,159 cu. ft, Sandalwood with Onyx Roof (FG5L3000SDONX)
These large sheds can be found at most local Home Depots, but you can also get one online. Since they are larger, you'll pay more for a large shed, but it's well worth it to keep your garage and house organized.
Made of heavy duty plastic, the manufacturer claims that it wont rust or ever need painting.
If you live in an area that has snowy winters you will be glad to know that the roof is pitched, a must for heavy winters.
Before you run out to buy the a large shed like this, you should know that for best results you will need a foundation for it before assembling. Of course you can choose to build on the ground. If you do, make sure that the ground is level. If you fail to level the ground you may end up with a shed that is unaligned.
The shed goes together fairly easily, but needs 2 people to assemble it.
This large Rubbermaid storage shed is a great way to reclaim an over crowded garage or even just create a great workplace. There aren't too many drawbacks to this sturdy shed, but if I had to name one it would be that it is difficult (if not impossible) to assemble alone.
Is A Rubbermaid Storage Shed Right For Me?
Some Rubbermaid sheds are small, measuring approximately 4.5 feet wide by a little over 2 feet deep and standing about 3 feet tall. These small storage sheds are perfect for holding small garden tools and supplies, particularly when your yard is small or when living in an apartment.
Larger sheds are available as well, with some being well over six feet tall, six feet deep, and over five feet wide. These are excellent storage sheds for those who have a yard with more room. They can be used to store a variety of outdoor items such as push lawn mowers, bicycles, lawn games and various hand tools too.
All of the Rubbermaid containers have special interlocking pieces which make them fairly quick and easy to assemble. Many of the Rubbermaid storage containers also have molded grooves in them. These allow you to install one or more shelves inside the unit. The shelves aren't included, but you can buy a simple piece of wood and just slip it into place.
There are some smaller, box style Rubbermaid storage units whose tops is made to lift up like a lid. In most cases there is a hasp built into each design so a padlock can be attached to keep the storage items within secure. Here's an example:
Rubbermaid Outdoor Deck Box With Seat
The floors of Rubbermaid storage buildings have special helpful features too. There is a slight ramp lip that makes it easier to roll lawn equipment in or out as needed.
Some of the larger box-style sheds for instance, has molded anchor grooves. These allow you to attach the Rubbermaid shed to another structure, or anchor it to the ground.
Why choose a Rubbermaid shed
Most people like the Rubbermaid storage sheds because they're easy:
they are very simple to set up
don't have to be painted or sanded regularly
they won't rust
they don't dent easily
will keep your outdoor equipment and supplies secure and dry
Many are also small enough to give you some needed storage room in confined spaces too.
The downside though, is that they all tend to come in one color. The roof colors vary a little, but not much. The sheds and storage containers come in a tan shade, which might seem a little dull and boring 😛