Do you have any garden gnomes in your yard? Maybe you should. They are thought to bring luck to anyone that keeps them. Strategically place a few in your yard and maybe even some inside. Who knows? This could result in a wonderful run of good fortune.
At A Glance: Our Top 5 Picks For Garden Gnomes
These impish terra-cotta, plastic or ceramic figures usually resemble bearded old men. They are usually less than a foot tall, colorfully painted, and wearing a conical hat.
Quick Overview: Our Top Picks for Garden Gnomes
IMAGE
PRODUCT

Our Top pick

Hardcover
Connects the readers to the book
Designed for all age groups

View On Amazon →

Ebros Grow Old with Me Mr and Mrs Gnome Statue

Made of cold cast polyresin, hand painted and polished
Atlantic collectibles exclusive collection
Adorable

View On Amazon →

Mischievous Cat Garden Gnome Statue Figurine

High quality
Beautifully hand painted
Made from durable resin material

View On Amazon →

Design Toscano Loonie Moonie Bare Buttocks Garden Gnome Statue

Naughty gnome statue's cute gnome butt
Exclusive to the design toscano brand
High quality

View On Amazon →

Miniature Fairy Garden Gnomes

Adds a little magic to your fairy garden
Made of a durable resin
Perfect gift for that special person

View On Amazon →

Miniature Fairy Garden Houses

Whimsical set of miniature gnome statues
Highly detailed
Hand painted starter kit with a weathered look

View On Amazon →

The Relax by The Campfire Mini Gnome Set

Hand painted with super cute lifelike details
Trully wonderful and memorable gift
Adorable

View On Amazon →

Patio Eden Miniature Garden Gnome Set

Perfect fairy garden accessory
Packed securely
Hand painted

View On Amazon →
History Of Garden Gnomes
They didn't really take off in the United States until the 1970s. However, garden gnomes were first produced in the 1800s. (No wonder these little guys look so old.) German sculptor Phillip Griebel was known for creating small, Terra-cotta animals. Since legends of gnomes were widespread in Germany, Griebel thought they would sell well to his clientele as garden decorations.
Many Germans at that time believed gnomes were real, mystical creatures. They were thought to tend to their gardens at night when people slept. Some believe they can attract wealth, since these mythical creatures were thought to know the location of hidden treasure. Griebel made a few for some of his customers that enjoyed the stories and myths of gnomes. They were an instant hit.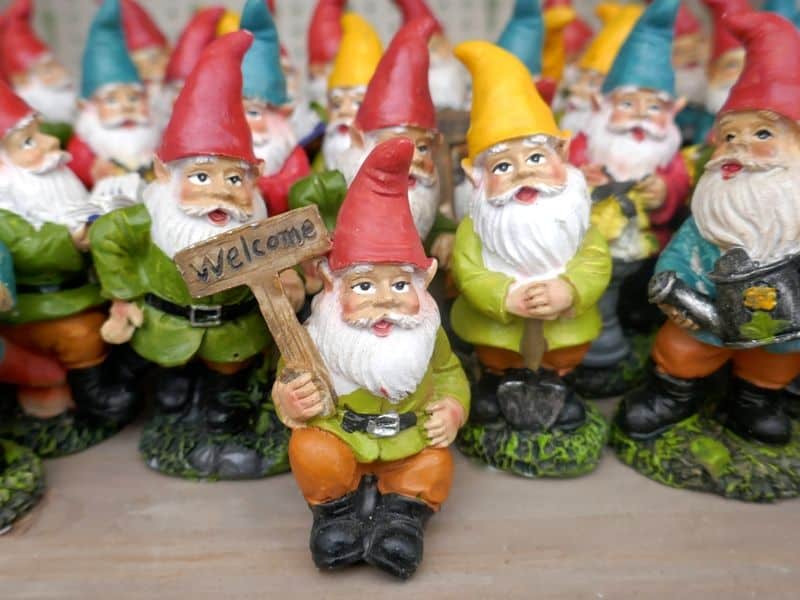 The migration of german garden gnomes begins
Sir Charles Isham fell in love with these little garden elves as soon as he saw them. He purchased 21 German gnomes for gardens in 1847. He took them back to England to decorate his rockery. When people saw the colorfully painted and charismatic dwarves at Isham's home, they went crazy. People began shipping them to the United Kingdom, and soon these mischievous little creatures were everywhere.
August Heissner joined Griebel as one of the most well-known maker of German garden gnomes. Heissner soon surpassed Griebel as the most popular creator of these garden do-gooders. Things were going great until the world wars pretty much single-handedly wiped out production in Germany. Sometime during the 1960s many companies began producing cheap, plastic models. This helped the migration continue to other countries.
Gnomes
Jump ahead to 1976, when the book aptly titled "Gnomes" was released. Interest in garden dwarves was sparked by the book, and entrepreneurs began producing their own versions around the world.
Today people love taking their terra-cotta little dwarves with them when they travel. They take pictures of these chubby, bearded fairies on their vacations and share them on social media.
The discount travel site Travelocity ran a series of popular commercials with a garden dwarf in the starring role. Accordingly, these lawn decorations have enjoyed a resurgence in popularity in the 21st century.
Here's one of the commercials:
Where to Find a Garden Gnomes Sale
Everyone loves a bargain. (I certainly do, don't you?) This means you could be looking for a garden gnomes sale so you can save a few bucks. You like the idea of these little dwarves protecting your home and attracting luck.
While most of these outdoor decorations are already attractively priced, what's wrong with saving a little money?
You might think about using Google to track down a bargain. You had better have a lot of time to search through the results. A recent Google request for "garden gnomes sale" returned more than 7 million results! An easier way to find just what you need while saving some money is to head over to Amazon. Search for "garden gnomes" and you are rewarded with just 5,000 results as opposed to several million.
Filter only those products with a 4.0 or higher customer satisfaction rating and the number drops to 2,000. That may sound like a lot, but that is less than 40 pages of results. You can quickly spot some attractively priced, quality garden dwarves to decorate your yard.
Ebros Grow Old with Me Mr. and Mrs Gnome Statue
Mischievous Cat Garden Gnome Statue Figurine
Loonie Moonie Bare Buttocks Garden Gnome Statue
Can You Get Large Garden Gnomes?
The size of these charismatic garden dwarves varies greatly. You can find some that are only a few inches tall. Or, you can get larger pieces that are more than a foot tall, sometimes as much as 2 feet in height. Your local nursery probably only carries a standard size (between about 6 inches and 10 inches). But you can find large garden gnomes online, where their height is usually listed in their description.
Here is an example. The "Joseph Studio 65900 Tall Gnome Garden Statue, 12-Inch" can be found online. You can see in its description that it is a foot tall. Larger models should be considered any that are over 10 inches tall.
Search long enough and you might even be able to find giant garden gnomes that tower over your plants.
How Common are Miniature Garden Gnomes?
Miniature Fairy Garden Gnomes
Mini Fairy Garden Houses,
The Relax by The Campfire Mini Gnome Set
Patio Eden Miniature Garden Gnome Set
Really small garden dwarves are usually found inside the home. This is because they can become dwarfed (pun intended) by flowers and plants. People keep several miniature Garden gnomes on display together. They use their crafting skills and other mini figurines and animals to tell a story.
Another reason mini models are not often seen outside has to do with their size. Someone that falls in love with your garden imps can easily pick up a small model and make off with it. Smaller versions of these mythical creatures are often sold in sets. You can get 6 or 12 miniature garden gnomes for a really attractive price. If you order online, you don't have to worry about paying much for shipping, because miniature models are very lightweight.
Funny Garden Gnomes Help You Share Your Sense of Humor
You are making a personal statement when you display these little guys on your lawn. This means you can choose funny garden gnomes to add a little comedy to your yard. There is no end to the types of unusual models you can find:
No matter what type of expression you want to make, you can find unusual garden gnomes that fit the bill.
More Gnomes
Scroll through to find your favorite gnome for this Christmas season.