Butchart Gardens in Victoria BC is probably one of the few places on Earth that comes close to the picturesque scenes of the gardens of Eden (that's how I imagine it :). In my opinion, if you love flowers and gardening, this is the ultimate garden to visit

"A thing of beauty is a joy forever…" John Keats
The loveliness of Butchart Gardens never fades away. Its scenic views, perfumed pathways, and acres of land all await the arrival of every nature enthusiast out there.
Sounds wonderful, doesn't it?
Our fascination with Butchart Gardens is as old as the tale of time. So we decided that it's high time that we make a comprehensive visitor's guide for anyone who plans to go there.
Let's begin exploring the joys hidden in the depths of this beautiful garden.
The Story Behind Butchart Gardens in Victoria BC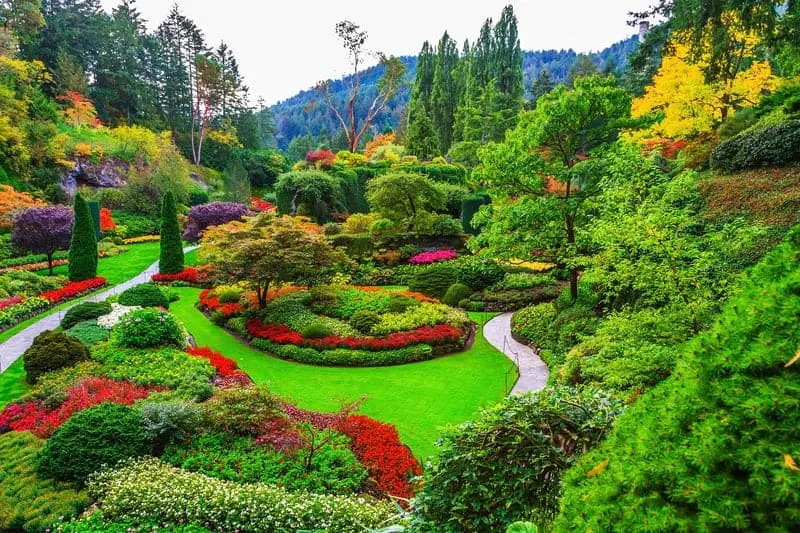 Those unaware of the history of Butchart Gardens are often led to believe that this is a fairly new gardening project. That's because the fifty-five acres of land is covered with freshly mowed lawns, pebbled pathways, and strategically placed hardscape fixtures. However, these are nothing but tell-tale signs of modern intervention.
The first seeds of the garden were actually sown over a century ago.
The Butchart Gardens: Over 100 Years in Bloom
Butchart Gardens grow on top of a century-old limestone quarry. The property was owned by an affluent businessman by the name of Butchart (of course) who owned a cement plant. His wife, Jeannie Butchart was a gardener at heart. And so, one day, she convinced her husband to give her a little piece of land to grow her garden.
Her passion project eventually transformed into the grand garden we see now. The garden is considered a National Historic Site of Canada. This prestigious designation protects it from ever getting tampered with for concrete contraptions.
The best part is that visitors can actually see relics of the old cement quarry lying in certain areas of the garden. This garden is a reminder to every gardener out there who has ever doubted the potential of a good gardening project.
Now that we've walked past memory lane, let's tell you how to make your visit to this picturesque place special.
Travel Guide For Visiting Butchart Gardens in Victoria BC
Where are Butchart gardens located?
Butchart Gardens are located on the edge of downtown Victoria, BC Canada. This makes it really easy to reach. And it's great for visitors, as the gardens aren't too far away from other hot visitor spots on the island.
You can usually take a shuttle or boat there. It takes approximately an hour or less for you to reach the Gardens.
Want to know more? The official website has listed a handy 'How to Get Here?' guide that helps you trace the route from your hotel/location to the garden's gates.
Can you stay in Butchart gardens?
Nope.
The Butchart Gardens are simply a historic site that can only be used for recreational purposes and events. However, its prime location ensures that it has many hotels in the surrounding areas.
What are the best hotels near Butchart gardens in Victoria BC?
Here are our top picks:
What is the best time to visit?
Each season brings with it a set of fresh activities. Yet, most suggest that the best time to visit Butchart Gardens will be between March-May and September-November. That's because you get to witness some of the best sights in these seasons.
It's also because summers in Victoria are awfully dry with a few downpours here and there.
With that being said, Butchart Gardens takes great pride in planning a roster of activities all year long.
Here's a short snippet of what you should expect:
Spring: Blooming tulips and lots of flower shows.
Summer: Boat tours, illuminated garden displays, live music, and fireworks.
Autumn: Greenhouse tours and fall activities at the Japanese Gardens.
Winter: Historical displays and some amazing indoor gardening displays.
Want to know a secret? Butchart Gardens opens its doors on Christmas Day at 1:00 pm. The place is transformed into a whimsical wonderland with ice skating rinks, Christmas décor, and carolers serenading you in the evening.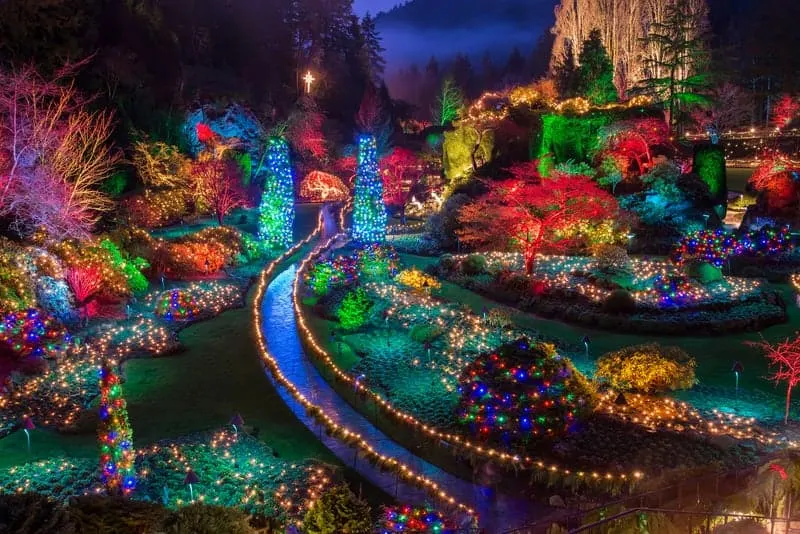 What's the entrance fee?
Butchart Gardens don't have a fixed entry fee: it varies from $ 17.00 to $33.5 for adults and a few dollars for children. There is a separate rate for teenagers and group visits.
But age isn't the only deciding factor for the entrance fees: seasonal visits are charged differently depending on the activities and shows they've planned. For instance, the summer visits generally include extra entertainment (i.e. fireworks and live music shows), and cost more.
So the best strategy is to check the rates before you plan your next visit.
Who can visit the gardens?
Every nature enthusiast aged 5 and above can take leisurely strolls around the garden. The friendly folks of Butchart Gardens also allow dogs (as long as they're on a leash) inside. So you don't have to leave your furry friends behind when you come here.
What if you're in a wheelchair?
Wheelchair parking and off-site rental services (with $10 deposits) are available in the Gardens.
However, because the Butchart Gardens is ancient, there are certain pathways that are too narrow for a wheelchair. Nevertheless, the owners have done their best to pave wheelchair-friendly pathways for you. They've even placed prominent signs to direct you towards alternate routes and divergent paths for convenience.
The only area that is considered a 'no wheelchair zone' is 'The Mound' located in the Sunken Garden and the one path that takes you to the wharf. This restriction was imposed because of its steep, slippery ground that makes wheelchairs hard to maneuver.
Here's a look at the Sunken garden, in case you can't visit it:
What kind of facilities are offered to the visitors?
Butchart Gardens, Victoria British Columbia ensure that its visitors have an enjoyable time on their premises. That's why they've tried to cater to the needs of all travelers and families visiting there.
Here are some of the amenities that they offer:
Parking is free for cars, RVs, bicycles, and buses.
Visitors can access the online interactive map or one that's available at the Visitor Center
You can drop off your luggage at the Visitor Centre if you're coming straight from the airport/boat
Payphones are located at the bus parking spot
Complimentary strollers are provided to families (with a $10 safety deposit)
A Seed and Gift Store to purchase souvenirs and gifts for your fellow gardeners
What kind of packages are available?
Do you live in Vancouver or the surrounding area?
Then you'll enjoy splurging on one of these amazing packages. Who doesn't want unlimited access to heavenly views of the garden?
12 Month Pass
The twelve-month pass (also called the "insider" pass)is an annual membership package that offers you:
Unlimited access to the gardens all year around.
10% discount on all on-site purchases ( limited to restaurants and the Seed & Gift Store)
$ 2 deduction from your boat tours
Discounted entrance rates for friends and family
and much more!
The only catch is that you need to pay extra in order to attend the special events and fireworks display. So if you're ready to splurge on the Butchart Gardens then we suggest choosing the 12-month-long Fireworks Pass. It offers all the facilities of the standard pass plus extra privileges.
Butchart Garden Coupon
There are several coupons and packages for the Butchart Gardens on the tourism boards. Plus, many hotels include it in their packages. So always scour relevant websites like Groupon to score a deal before planning a visit there.
Things to Do in Butchart Gardens Victoria BC
Even on regular days, the garden has lots of things for you to do. Let's have a look at the most popular spots in the garden:
1. Boat Tours
Heading to Butchart Gardens in the summer?
Then you're in for a thrilling boat tour of the salty shoreline of Brentwood Bay and the scenic views of the shores. You can learn the history of the gardens from your comfortable spot on the boat. Or, explore the wildlife that resides in the depths of the thick forests and deep waters around you.
Fun fact: The boats on these tours are named after the members of the Butchart family!
2. Garden Tours
Don't want to miss anything on your visit to Victoria's Butchart gardens?
The million-dollar question is: how many hours should you spend in the garden? The answer varies from person to person. That's because there is a lot to see and do at this nature spot. The good thing is that the owners offer visitors a pre-planned itinerary for their time-sensitive visits.
All gardening tours include a visit to:
The Star Pond
Japanese Garden
Rose Garden
Italian Garden
Ross Fountain
Seed and Gift Store
Want to know more? Book your visit from their official site.
Where to eat at Butchart gardens?
You don't have to survive on trail mix and granola bars when you're at Butchart Gardens. The location has some scrumptious spots for you to grab a bite.
Here's a list:
The Dining Room: This is the spot for formal gatherings and social events. You usually need to book a place before arranging lunch/dinner here.
The Coffee Shop: Located at the water hub. This is the ultimate spot for every tired visitor who wishes to recharge with coffee and food.
Snacks and Munchies: Like any park, you'll see some food vendors selling seasonal items on the sidewalks (e.g. popcorn, gelatos, coffee carts, and gourmet snacks for summer)
Blue Poppy: A summer dining experience that is open for reservations during the hot season.
Hi-Tea: Butchart Gardens is famous for its dainty afternoon tea service. Your platter will be filled with delicious bite-sized munchies and a tea fit for the Queen.
Butchart gardens mementos
If you'd like to bring some mementos to remind you about these gorgeous gardens, but don't have room in your luggage, or you don't want to pay the expensive prices at the gift shops, Amazon has several beautiful pieces: from throw pillows to puzzles, mugs, and ornaments, there's something that will be perfect for you or your family and friends.
World Famous Butchart Gardens Mug
The Sunken Garden, Butchart Gardens, Victoria
Ambesonne Garden Throw Pillow Cushion Cover, World Famous Park Architecture Butchart Gardens Flowers with Walking Path Image, Decorative Square Accent Pillow Case, 18
Butchart gardens pictures
Here are just a few pictures from the must-see Butchart gardens, so you can get a feel for what you'll see when you visit.
In a Nutshell
On the whole, the Butchart Gardens are an amazing way to spend your day in Vancouver. It allows you to take a break from the concrete jungle and immerse yourself in the peace and quiet of nature. You can have a leisurely stroll here, visit the flower shows, or participate in seasonal activities. I bet you won't spend an idle moment in this beautiful garden.
Are you planning a trip to Vancouver? Then you must add the Butchart Gardens in Victoria BC to your itinerary!
Adriana Copaceanu is a passionate nature lover living in the country on her dream property where she grows vegetables, lavender, and wildflowers that she shares with the wildlife they attract. When she's not in the garden, she loves spending time with her chickens and planning her next nature project.