Planters come in all shapes and sizes, but oval planters stand out because of their versatility. You can do so many great things with an oval planter or two! There are many beautiful designs along with various styles and sizes to choose from, so finding something to suit your needs won't be hard.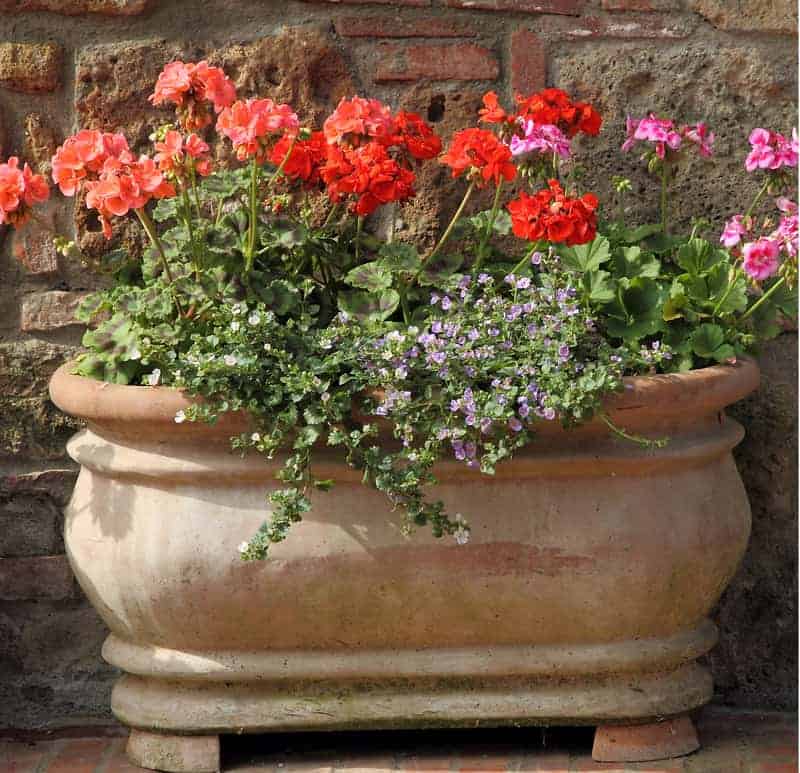 Let's take a closer look at what makes these planters so special along with some of the designs and styles available.
What Makes Oval Planters So Special?
With so many different shapes and designs available, what makes oval planters stand out? This particular design provides both stability and space for your plants. They fit perfectly on many windowsills, ledges, and other small areas due to the long slender design.
However, they're wider than rectangle planters so your plants have more room to grow and thrive. They also come in many stylish designs that will brighten up your home or garden.
Galvanized oval planters
Galvanized oval planters are both durable and decorative and you can use them either indoors or out. This particular type of material draws heat when placed in direct sunlight so they're perfect for plants that flourish in the heat.
However, they work just as well for other types of plants when placed in partially shaded areas. Galvanized containers also hold in the cold, so they make excellent mini coolers. Here are a few of your options.
Whole House Worlds Galvanized Oval Belly Planters
WHW Whole House Worlds French Country Style Oval Belly Planters, Set of 3, Galvanized Metal, Chubby Belly, Corrugated Cache Pots, Rustic Wash Basin, from Over 2 Ft Long
Add a touch of rustic charm to your home or garden with these galvanized oval planters. They're beautifully designed with rolled rims, vertical corrugated ribs and bands located at the top and bottom of each planter.
When placed together, the three different sizes add depth to your garden, which makes it a little more interesting. Of course, you can also use them separately in different parts of your garden or home.
Even if you don't use them for plants, these stylish oval planters make great storage containers.
Another option is to use them as a mini ice cooler to help keep your beverages cold when outside working in the garden. Are there any other creative ideas you can think of?
Oval Assorted Galvanized Tubs with Metal Handles
Oval Assorted Galvanized Tubs with Metal Handles
Add a touch of elegance to your social gatherings with one or more of these galvanized tubs. You'll receive one of three stylish patterns when you place your order, which includes stone, floral, and diamond design.
They'll keep beverages icy cold during social gatherings or when just relaxing on the patio. The handles make carrying them from one location to another a breeze.
These versatile tubs also make excellent oval planters for growing herbs, small vegetable, and flowers. Use them to add beauty and elegance to any part of the home or garden.
Percy Pig Galvanized Planter
Percy the Pig Galvanized Planter
How cute!
If you're searching for a planter that's both decorative and fun, you've found it! What could be more fun than a planter designed in the shape of a pig? It's so adorable!
It's made from durable galvanized iron that's perfect for growing vegetables, herbs, flowers, and other plants. You can also use it as a decorative tray or centerpiece to make any table arrangement a little more interesting.
Small Oval Planters
If you don't have a lot of space but want to take advantage of growing your own herbs, flowers or other plants, small oval planters work very well. They don't take up a lot of space, but the oval design gives you more room for your plants to thrive.
Minimalist Ceramic Succulent Planter
8.5 inch Minimalist Oval Planter
Simple but elegant, this design is ideal for your home or office. The white ceramic design will add a touch of class to any room. The tiered tray catches and distributes excess water through the soil. The matching saucer catches the overflow, so it's perfect for growing flowers, herbs, cactuses, and similar plants.
The small oval shape will fit on most any shelf, counter, or windowsill making it easy to find the perfect spot for your plants. It's also an excellent gift idea for anyone that loves growing their own plants.
Metal Oval Planter Flower Pot
Fleur De Lis Series Metal Oval Planter Flower Pot
This ten-inch metal planter is an excellent option for growing flowers and herbs. It comes in a tansy green color and it's extremely durable, so it's perfect for outdoor flower gardens.
However, if you prefer to use it inside, this oval planter is designed with non-scratch foam pads, so you can place it on tables and counters without worry. The drain plug is easy to use and helps to prevent over-watering your plants.
Metal Oblong Bucket Planters with Sunflower Design
Metal Oblong Bucket Planters with Sunflower Motif, Set of 2
This metal planter is perfect for indoor use, but durable enough to use outside. They come in a set of two and each bucket features a wooden handle along with a beautiful sunflower motif vintage-style design.
Use this planter to dress up shelves, windowsills, and other areas of the home that needs a little touch of color. They come with plastic liners but do not have a hole for draining water.
Oblong Metal Bucket Planters
Set of 4 Oblong Metal Bucket Planters in Pink, Yellow, Green, Grey
For a splash of color, add these oblong metal bucket planters to your garden. This set contains four planters with different spring colors that include yellow, green, grey, and pink. They don't have drainage holes, but the set does include plastic liners.
Lavender de Provence Country Style Planters
Lavender de Provence, Set of 3, French Country Style Planters
If you love French country style designs, this set of three planters are for you. The purple lavenders in bloom with green leaves on rustic white background, combined with the gold rolled rims will surely brighten up any area of your home or garden.
But be aware, they're so gorgeous that you may want to use them as containers for organizing small items within your home instead of growing plants.
Or just get several and use them for both! Maybe plant some lavender flowers you can keep outdoors during the summer months, but bring inside for the winter.
Talavera Oval Planters
One thing that makes Talavera planters so unique is that no two will ever be exactly alike. All pieces are fired at very high temperatures, glazed and then hand-painted by skilled artisans in Mexico. You'll always have an original piece when purchasing Talavera pottery.
You can use these planters outside, but they should be taken indoors before the first frost or freeze of the season to prevent damage.
Here are some of your options.
Talavera Oval Window Box
Decorated with gorgeous butterflies, this particular planter will add a touch of color to your indoor or outdoor garden. The designs are festive, fun, and very decorative.
The planter measures 13 ½ long, 5 ½ wide and 6 inches tall, so it's the perfect size for windows, shelves, mantels, and other small spaces that need a splash of color.
Talavera Ceramic Oval Rectangular Pot
Talavera Ceramic Oval Rectangular Pot Planter
If you love colorful designs, this ceramic oval pot is for you. It has a mixture of green, red, orange, purple, and white to create a beautiful design you're sure to love. It will really stand out and draw attention to your garden.
Here are a few more of these colorful planters:
Talavera Window Box Oval (Small) (Fall)
Talavera Window Box Oval Small (Sunflower)
Talavera Window Box Oval (Small)
Talavera Oval Window Box Light Fish (Light Fish)
Oval Planter Saucers
Oval planter saucers are shallow dishes used underneath the planter to catch any excess water that may drain out of the pot. This will help protect your counters, tables, windowsill, and any other area in your home from water damage. They also add a decorative aspect to your planters, especially when the saucer and pot matches.
Clear Plastic Heavy Duty Plant Saucer
Bamboo Flower Planters Tray –
Oval Bamboo Tray Sandy Beige
Oval planters are great for both indoor and outdoor use. They come in a variety of sizes and styles to suit anyone's taste, so it's easy to find something that matches your personality and style.
The oval shape gives you more flexibility because it fits in places that many other shapes won't. In addition, it offers more space for your plants to flourish than some of the other shapes. There are so many beautiful designs available, you may find it hard to choose.
Now is a good time to add some personality to your home or garden with one or more of these decorative oval planters!