Is your mom a gardener? If she loves working in her garden, no matter how small that is, these gardening Mother's day gifts will put a big smile on her face.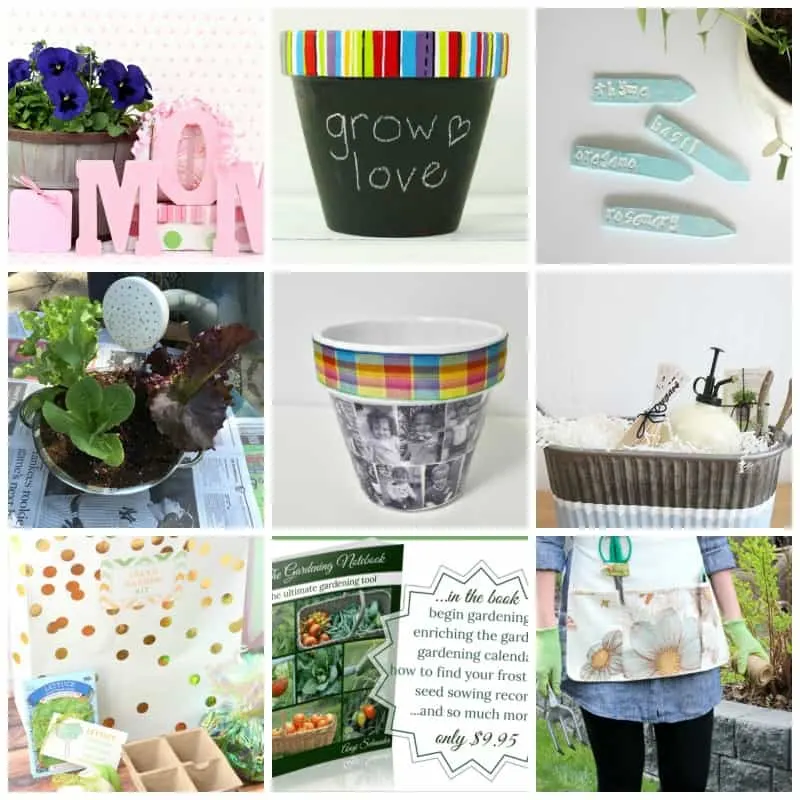 Gardening Mother's Day Gifts
There are many gifts you could give anyone who loves to get their hands dirty with gardening: from kneeling pads to make their weeding job easier, to more exquisite gifts like this watering can garden decor, or this adorable outdoor turtle statue with succulents that light up.
Gifts for a mom who loves gardening but can't
Check out my experience woith the Click and Grow Smart Garden 9.
The smart garden above will give mom (or grandma) a way to garden indoors, without much effort. You can get it from Amazon, or buy it directly from the company (if you decide to get it there, enter coupon BGL10 for 10% off).
Sometimes we'd love gardening, but for one reason or another, it's just not possible. It could be a lack of time, lack of space, or a bad back or knees. Here are some special gifts for gardening grandmothers.
It's no fun to wish for something but not be able to do it. Here are a few gift ideas if your mother loves gardening but can't physically get out in the garden.
A window bird feeder so she can watch birds whenever she wants to, some throw pillows for her sofa, or a butterfly door knocker. Or how about a flower wreath for her door?
A succulent garden would be great too! These ceramic owl pots are so adorable! And here's a collection of 20 unique succulent plants you can include to go with the cute owl pots.
Floral Farmhouse White Cotton Linen Decorative Throw Pillow Case Cushion 18 x 18 Inch, Set of 4, Flower
Cast Iron Butterfly Door Knocker And Strike Plate Verdigris Finish 9 X 10 X 1.25 Inches Green
Window Bird Feeder – Extended Roof – Steel Perch – Sliding Feed Tray – See Wild Birds Up Close!
Oh, this butterfly stepping stone would brighten her day every day as she comes home from work 😉
Gifts for the beginner gardener
For novice gardeners, some basic gardening tools and accessories would be great:
Flower gifts for mom's special day
If she loves flowers, you have an easy job. Just go to any local nursery and get her a few pots of flowers.
Marigolds, morning glories, poppies, and the cypress vine are all great examples of flowering plants that are also easy to grow for both novice or experienced gardeners.
Some of my favorites are hydrangea flowers and rose bushes.
David's Garden Seeds Wildflower Butterfly Hummingbird Mix SS30062A 500 Open Pollinated Seeds
Shasta Daisy Seeds – Perennial Flower – Butterfly Nectar 3,000 Seeds
New Arrival!!! Scarce Rare Phantom Petunia Flower Seeds 200 Seeds Pack Garden Bonsai Petunia
Promotion!!! 100 Evening Primrose- Blue Evening Primrose, fragrant DIY Home Garden flower hardy plant
More gardening Mother's day gift ideas
Gardening Journal and Planner
Give mom a gardening notebook to keep notes and remember important things about her garden. It's so easy to forget details! She'll love this gift, and it's perfect for those of us who wait for the last minute since it's printable!
Gardening Apron
Help mom keep her clothes clean while gardening with a gardening apron full of pockets. Helps her stay organized too and can save her unnecessary walking to and from the tool shed.
DIY Chalkboard Flower Pot
What a fun gift! If you're a bit crafty, this chalkboard flower pot is a meaningful gift you can create for mom. Does she have a favorite color? Accent the rim with that color. Does she have a favorite flower (or flowers)? Plant it in this attractive pot.
Or, make a concrete planter for her: this will be a very special gift 😉
Custom Photo Planter
Take mom down memory lane with this custom photo planter. What a treasure of a gift! Linda has an easy-to-follow tutorial for making one of these.
Gardening Gift Basket
Making a spring garden basket will allow you to include many goodies in one gift. If your mother (or grandmother) is like mine, she'll love all the thought you put into creating this basket for her. Add some of her favorite herbal soap and lotion (to keep her hands healthy after digging in the garden), a nice garden book, maybe some markers you made yourself, and anything else she might enjoy.
Perpetual Salad Colander
If you want a practical gift for Mother's day this year, this is it! This colander salad garden will supply mom with a few lettuce leaves for her salad all summer long.
Salad Garden Kit
This is a very simple gift idea any mother will enjoy: a salad garden kit that includes all she needs to grow a small garden.
DIY Plant Markers
Everyone needs plant markers! Make a set for mom, and one for yourself 😉
I hope these gardening Mother's day gifts inspired you to find the perfect gift for your mom. She deserves the best 😉
And here are a few gardening gifts for Father's day.