This is a sponsored post written by me on behalf of The Nature Conservancy. All opinions are 100% mine.
Do you ever wonder if you could use less water in the garden, yet still enjoy a bounty of veggies and plenty of colors? I do! A few days ago, I came across a great little report by The Nature Conservancy (TNC) that inspired me to want to do more for the world I live in.
I already save as much water as possible indoors: take short showers, use a water-saving showerhead, reuse rinse water from the dishes to water my plants and clean the floors, etc. But I want to do more: I want to extend my water-conserving habits to the garden too. So today I'm exploring how to conserve water in the garden and still be able to grow plenty of food in my backyard.
Why Is Water Conservation Important For Sustainability?
Let's talk about water conservation and living greener for a minute. As we use water more and more for personal hygiene, cooking, cleaning, and gardening, we are constantly depleting the water reserves. To keep up with water demands, we need to spend money and energy to pump up water. In turn, we use up energy that could be used elsewhere.
I remember years ago, while living in California, how we had strict rules on water consumption. We used rock gardens that didn't really need much water. I think we need to talk more about the effects of our habits on sustainable living. What do you think? Many of us are not aware of the carbon footprint we are leaving behind us.
I'm contemplating how I could make a difference.
I want to do my part in a more sustainable future. And I want to do this sooner than later: like, right now! Are you willing to start a discussion with loved ones and colleagues? Can you take a more active role in spreading the word about sustainable living? It's not hard to do, once you have a few pointers.
Download the Everyday Sustainability Guide by entering your name and email to read the tips and get motivated to start now.
How To Conserve Water In The Garden
Check out these water conservation landscaping ideas.
1. Build up your garden soil
One of the best ways to grow a productive garden is to start out with great soil. Adding rich compost you make yourself will give your garden soil the proper nutrients necessary for thriving vegetation.
Remember to add mulch and cover your garden between growing seasons to help reduce evaporation and keep down weeds. Weeds not only compete for water in your garden: they also use up the nutrients your veggies need.
If you spend the time to improve your soil before you start planting, you'll be rewarded later on.
2. Plant strategically
Plan before you plant!
group plants with the same water needs together
plant heat-loving perennials in the hottest spots of your garden
arrange plants tightly: this will save water and choke out weeks
in addition, if you have a particularly hot and sunny area, you can plant trees and shrubs strategically to provide shade and wind blockage, also reducing the need for watering.
3. Pick the right time to water your plants
Plan planting your flowers or vegetables later in the day, when the sun is setting, so that your plants can establish a root system prior to the hot and sunny time. Water the hole you're planting in, so your new plant has plenty of water at the root system.
When the roots are deeper into the soil, they're stronger and can fight against drought easier. Learn about your flowers, herbs, and vegetable needs, and only water when needed.
Tomatoes and peppers for example, only need watering every 2 to 3 days. Many herbs and flowers only need watering twice a week. And many vegetables require watering only when they're flowering or fruiting. Knowing when to water will save lots of precious water.
4. Choose drought-tolerant vegetables and flowers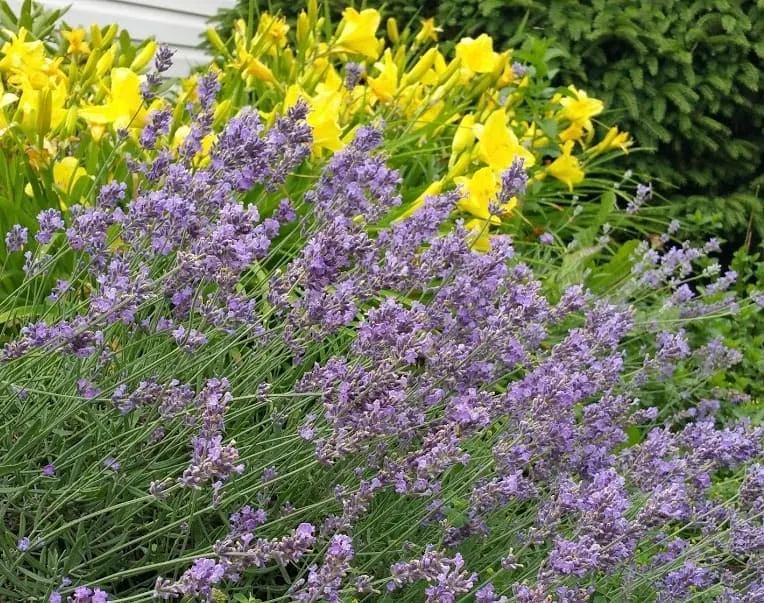 Certain plants use less water than others and will grow better with less water. My front yard garden is filled with flowers that need no extra watering once they were established. Rainwater is always plenty! Here are just a few of the flowers I have that thrive with only rain water:
roses
creeping phlox
dianthus
daylilies
lobelia
lantana
Here are some of the best drought tolerant veggies:
Swiss chard
asparagus
peppers
pineapple tomatoes
These herbs also do amazingly well with little water:
sage
oregano
thyme
rosemary
mint
5. Install a deep root drip irrigation system
This is my favorite! Why not just water where the plants need it most? It's on my list for this coming spring, and I can't wait to do this! Using a deep root drip irrigation system in your garden is one of the best ways to conserve water. It encourages roots to develop deep into the soil instead of higher up, which can happen from watering from above.
Use the irrigation system to measure and give the plants only the amount of water required to make up for lack of rain. Watering your garden the climate-friendly way is a win-win for the gardener and the environment. By setting up your garden correctly from the beginning you cut down on the amount of work you need to do, making gardening that much more pleasurable and bountiful.
I'm ready for the next gardening season: ready to conserve water, ready to invite more wildlife into my backyard and continue learning about doing my part in protecting our Earth when living life. How about you? Download the Everyday Sustainability Guide by entering your name and email to read some easy sustainability tips today. It's a quick read and will make a big impact if we keep the conversation going and take action.
Adriana Copaceanu is a passionate nature lover living in the country on her dream property where she grows vegetables, lavender, and wildflowers that she shares with the wildlife they attract. When she's not in the garden, she loves spending time with her chickens and planning her next nature project.