I love my garden, but don't enjoy wet, soggy or muddy feet. And if you work in the garden, it's bound to happen! I'm sure you feel the same way. That's why I went all over the web and found the best gardening shoes for women.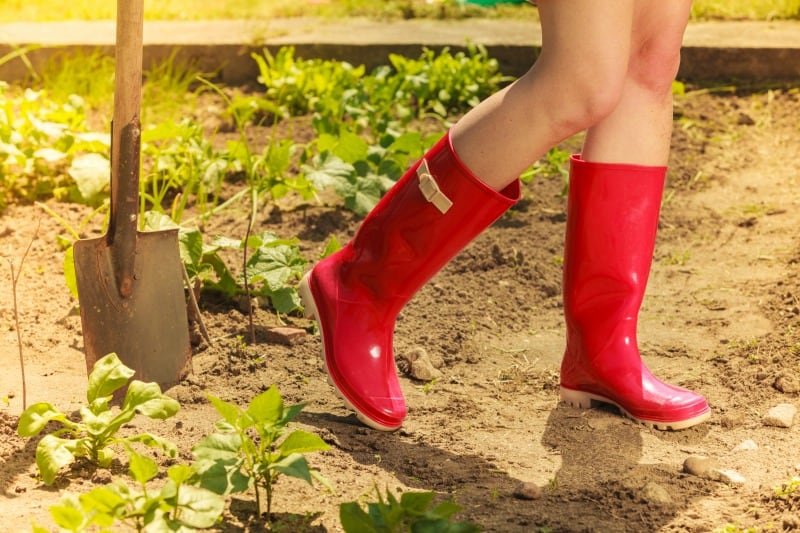 Your feet deserve to be protected and kept safe, don't you think? You can use your day to day shoes, but don't be surprised if you need to buy new shoes after a rainy day in the garden.
As you plant and care for your beautiful flowers and delicious veggies, you'll be spending hours in your beloved garden. These gardening shoes will help protect your feet and toes from rocks, sharp objects and water.
What should you look for in a women's garden shoe?
There are few, but very important factors in choosing your gardening shoes. Here they are:
cover and protect your feet
be comfortable
have a good grip (it's easy to slip and slide in the garden mud after a rain)
easy to clean
waterproof
easy to put on/take off
look pretty (as women, this is important too 😉
Best Gardening Shoes For Women
And now, let's take a look at the best gardening shoes for women.
1. Sloggers women's waterproof garden shoes
Sloggers Women's Waterproof Rain and Garden Shoe with Comfort Insole, Midsummer Black, Size 8, Style 5102BK08
This is Amazon's top gardening shoe for women, and for good reason. Reading the reviews, I'm convinced everyone needs a pair of these.
They are comfortable, waterproof, and pretty too. They come in 20 different designs: one for pretty much every taste. Use them with heavy socks for colder days in the fall, and your feet will stay cozy.
Related: Best gardening shoes for men
2. The original MuckBoots daily garden shoe
The Original MuckBoots Daily Garden Shoe,Garden Green,3 D(M) US/4 B(M) US
Designed especially with outdoor work in mind, these shoes are lightweight and versatile, perfect in the garden or around town.
They slip on and off easily and are very conformable, keeping your feet dry with a moisture control lining. Appropriate for both summer and winter, you can use them in the garden, in the barn, on the beach and even on your daily walk. They fit like a glove and are very comfortable.
3. Crocs women's jaunt shorty boot
crocs Women's Jaunt Shorty W Rain Boot, Raspberry, 4 B(M) US
If you have wider feet, these boots are for you. A bit more heavy duty, you'll be happy to have them in rain and mud. Easy to slip on, comfy and pretty. They come in 6 colors: some darker and some brighter and more colorful 🙂
4. Bogs waterproof boots with handles
Bogs Women's Classic Mid Waterproof Insulated Boot, Black,9 M US
While these boots are used by many as winter boots, they are amazing in the garden. They are easy to pull on, and you can kneel, squat and sit with no problems. Easy to clean too!
5. Sloggers women's waterproof rain & garden boot with comfort insole
Sloggers Women's Waterproof Rain and Garden Boot with Comfort Insole, Paisley Red, Size 9, Style 5004RD09
A must have for the serious gardener, these waterproof rain and garden boots will cushion your feet for total comfort.
6. Hazel's jewel women's ankle high natural rubber rainboot & gardenboot
Hazel's Jewel Women's Ankle High Natural Rubber Rainboot & Gardenboot with Comfortable Insole, Leopard, 5 B(M) US
Here's one garden boot that perfect for those of us who want to garden in style 😉
These garden and rain boots are not only pretty, but also comfortable. The tab at the back of the boot makes it easy to pull these on quickly.
7. Starbay Women's Garden Clog Shoes
Amoji Garden Clogs Shoes House Slippers Indoor Room Sandals Outdoor Outside Shower Crocks Summer Breathable Ladies Adult Female Male Girl Boy AM1702 Red 8US Women/6.5US Men
Some of the shoes above might feel too hot in the summer, but these garden clogs will let your feet breath while doing their job of protecting your feet from getting hurt.
And if they get dirty, just hose them down and let them dry for the next time you need them.
Here are the best garden clogs for women.
8. Waterproof premium garden clogs with arch support
Waterproof Premium Garden Clogs With Arch Support-Meadow Design By Backdoorshoes, Meadow Design, Size 8
Beautiful design and the extra arch support makes these garden work shoes very desirable for every woman who loves to garden.
9. Stormwell unisex gardener clog/welly shoes
Stormwell Unisex Gardener Garden Clog/Welly Shoes (6 US) (Green)
Easy to slip on, light and stylish, you can wear these around the garden, or around town 😉
They have a good grip for a muddy garden too!
10. Hunter women's original garden stripe tall rain boots
Hunter Women's Original Garden Stripe Tall Rain Boots Forget Me Not/White 5 M US
Cheery garden rain boots will help lift your mood even when it rains. Some of us like to be stylish everywhere, so why not get a pair of beautiful rain boots for the garden?
One last thing to make a note of: if you buy shoes online (like some of the ones above from Amazon), make sure you read some of the reviews.
Some garden shoes run large, and some run smaller that your usual size. You want to be comfortable, so do your due diligence 😉
Did you see a pair that you like? Glad I could help 😉