Hi there! If you're looking to find gifts for the gardener who has everything, I'm excited to tell you that you're in the right place. I gathered a list of special garden themed gifts that will satisfy even the hardest to buy for gardener.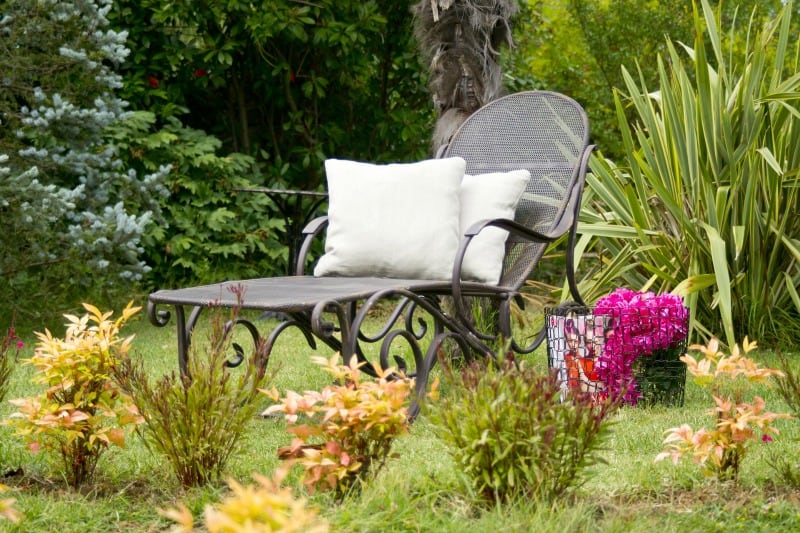 Do you have a gardener in the family? Is grandma always sending you fresh flowers from her garden? Mom or dad supplying all your veggie needs? Maybe your best friend or a neighbor always share their harvest with you? You need gifts for them, that will be useful and exciting at the same time.
Christmas is fast approaching, and getting your gardener gifts early is not only smart, it's also better for your pocket. Don't wait for the last minute and spend more while getting a common gift.
Many of these unusual gifts are handmade and will take longer to arrive. Look at my list of unique gardener gifts and order early.
Need gardening gifts for mom? There are some very special gifts there she'll absolutely LOVE!
Gifts For The Gardener Who Has Everything
Gardening books make great gifts
All New Square Foot Gardening II: The Revolutionary Way to Grow More in Less Space
This is one of the most popular gardening books on Amazon. Mel Bartholomew has revolutionized gardening in small places, making his book a great gift for gardeners everywhere.
No matter where you garden, this book has suggestions for anyone wanting to grow food, be it a backyard, a small patch in the front yard, a balcony, or a narrow path next to your house.
If your garden gift recipient has small children (or grandchildren), this book also explains how to make gardening fun for kids.
Filled with beautifully colored pictures, this book will give your gardener hours of pleasure even during times when gardening is not feasible.
There are many other beautiful gardening books you can gift: for example, this book about vertical gardening goes into great detail explaining which vegetables and flowers do best in a vertical garden.
For a flower lover, Cut Flower Garden is overflowing with breathtaking flower arrangements and gorgeous flowers photography, all arranged by season. It's also full of flower growing tips and even has step-by-step instructions for luxurious garlands, simple centerpieces, and romantic floral décor.
Weeds are every gardener's nemesis, and Weedless Gardening might be one of the most lasting gifts you can give. This book explains mulch, compost, cover crops, drip irrigation, layouts and more. If you can help a gardener keep their garden beds free of weeds, you'll give them one of the best gifts possible.
A gardener journal and planner is beautiful and helpful
Keeping a garden journal will help a new gardener (Who am I kidding? Any gardener!) remember what worked in the garden and what didn't. It could save them from planting in the wrong spot, or with the wrong companion. Or, it could help them repeat an amazing bumper crop that surprised them this year.
Every gardener needs to keep track of their actions in the garden: seeds, planting dates, garden layout, successes a failures, etc.
Here are just a couple of gardening journals/planners. And , of course, don't forget to add a garden inspired pen or pencil case to complete the package. What a beautiful gift!
If you're crafty, you can design your own personalized journal: that would be a fun project to do with your children on a rainy weekend.
Twilight Garden Journal
Romantic Floral Pen Pencil Case
My Gardening Journal and Planner
Personalized garden markers are so special!
If you really want to do something unique for your gardener friend, make some personalized garden markers. They can be quite easy to do: buy a set of craft wooden spoons, paint them with acrylic paint and then write your message with a paint pen. Finally, spray them with a clear acrylic sealer to keep them safe from the elements.
If you don't have time, or aren't crafty, you can buy some unique personalized garden markers from the homemade section on Amazon or from Etsy. Here are jut a few ideas I found for you.
Garden Plant Markers
Funny garden marker stamped spoon
Vintage spoon garden marker stakes
Stamped spoon for flower pots, herbs and plants
Garden marker stake from a recycled spoon
Silly hand stamped spoon
Vintage silver plate spoon
Herb marker made from recycled spoon
Garden marker stake hand stamped with stars and dots
Surprise your gardener with some flower coloring books for adults
Favorite Roses Coloring Book (Dover Nature Coloring Book)
Most gardeners are itching to get out in the garden and work in it daily, but sometimes it just isn't possible. There are rainy days and scorching hot days, and then there's winter.
Help alleviate the yearning for the garden with a couple coloring books for adults. They are very popular these days and a wonderful pastime for garden lovers.
Add some coloring pencils and you'll make someone very happy 😉
I looked to see what's available on Amazon and there are lots of exciting coloring books gardeners would love! This rose coloring book is perfect for the romantic gardener.
This Butterflies and Flowers book has stress relieving patterns and has over 900 five star reviews!
This collection of 30 floral beauties includes brief captions describing what each flower symbolizes. A real treat for flower lovers and gardening enthusiasts.
There are coloring books for men too! This country scenes book is filled with landscapes, cottages, barns and chickens, and this old-fashioned farm life book has drawings that include authentically detailed views of kitchen chores like churning butter, seasonal occupations like shearing sheep, mowing hay, gathering pumpkins, as well as plowing, planting, caring for livestock, splitting firewood, raising a barn, and many other activities.
Better yet, buy a coloring book for him and one for her. This will create the opportunity to share many quiet evenings coloring together 😉
Kinetic wind spinners are uniquely mesmerizing
If your special gardener gift recipient is picky or has everything a gardener might need or want, you can still surprise them with a unique gardener gift: a wind spinner, also called kinetic wind sculpture.
These metal wind spinners have been around for a while, but not many people have them. A kinetic wind sculpture can easily become the focal point of the garden.
Their blades spin in opposite directions creating a delightful visual effect that will enhance any garden. These would make a perfect Father's day gift for a gardening dad.
Confetti Style Kinetic Wind Garden Spinner
Bronze Flower Style Kinetic Wind Garden Spinner
Harlequin Ball Wind Spinner
Blown glass garden art is an exquisite gift for gardeners
If you want to make an impression, get one of these amazing blown glass garden decorations. It will sure delight the recipient.
This type of gift is as unique as it gets: they are colorful and beautifully designed. I can just imagine one of these blown glass hummingbird feeders in my garden: what a treat!
Kitras 6-Inch Spirit Ball
Bubble Glass Ornament for Garden
Allsop Home and Garden Solar Drop , 4
Gardening t-shirts make great gifts
With so many companies creating tee-shirts these days, you can find one that "speaks" to your gardener friend. For example, do they like growing hydrangeas? Many gardeners LOVE these flowers and would really enjoy telling that to the world with a Hydrangeas tee shirt. BTW, did you know you can change the color of hydrangea flowers?
There are all kinds of gardener t-shirts: funny, thoughtful, snarky, and so on. You're sure to find one that fits your gardener's personality.
Womens Canning Is My Jam – Funny T-shirt For Gardeners & Homemakers Small Asphalt
Womens Funny Gardening Shirt – Sometimes I Wet My Plants Small Black
More fun garden gift ideas
Gardening shoes are great for women gardeners. Welcoming garden banners give the garden a personal touch and will definitely be appreciated. And if you're still looking for that special gift, here are just a few more ideas to get your thinking cap on.
Little Gardener Throw Pillow Cover
Burlap Pillow Lumbar
Resin Decorative Stepping Stone
Gardeners Gift Basket
Novelty Coffee Mugs
Joyful Gift For Bird Lovers and Gardeners
Wall Sign, Great Gift Idea for Gardeners
Complete Gardener's Tool Gift Set
Van Gogh Irises pendant
Titanium Pruning Shears
Gardeners Therapy Gift Basket
Gardener Grime Away Soap – (Remwood Prod. – 62018)
Still Need Ideas?
If you still haven't found the perfect garden gift, scroll through these more eclectic gifts: one of them might be perfect for your recipient.