Trees with bright yellow flowers can brighten any landscape, even on a cloudy day. There is room in almost any garden design for the many shades of yellow found in flowering trees and in the shrubs, annuals, and bulbs that can accompany them. Here are some of the favorite yellow flowering trees of landscapers and home gardeners in North America.
Favorite Yellow Flowering Trees
1. Golden chain tree, also known as golden rain tree (Laburnum species)

The golden chain tree with its coat of golden blooms is often described as the "Goldilocks" of the landscaping world. This spectacular yellow flowering tree doesn't like summers that are too hot or too cold, and it is fussy in many other ways. Still, if you can meet its exacting horticultural requirements, its beauty makes it well worth the effort.
The golden chain tree drips with yellow flowers 10 to 20 inches (25 to 50 cm) long in late spring. Young trees bear so many blooms that they may need staking to stay upright. The fragrance of this tree's abundant yellow flowers is not sweet, but it is not unpleasant and becomes something gardeners associate with the tree's magnificent floral display.
Golden chain trees need cool summers. They are especially well-adapted, for example, to the climate around Bar Harbor, Maine, where famed landscape architect Beatrix Farrand (1872-1959) introduced them about a century ago.
This deciduous tree needs full sun and room to grow. A mature golden chain tree will be 15 to 25 feet (5 to 8 meters) tall, and almost as wide. It needs well-drained, rich soil of neutral pH. This tree needs moisture every week during the summer, but cannot stand being flooded.
All parts of the golden chain tree are poisonous, so it is best to plant it where there will not be a lot of traffic from pets and children.
Golden chain tree is suited for cool-summer areas in USDA Hardiness Zones 5 through 7. Plant the September golden chain tree (Koelreuteria paniculata) for fall flowering, "Narrow Rocket" (Laburnum anagyroides) if you prefer narrower chains of yellow flowers, or "Vossli" (Laburnum × watereri) for its distinctive, crinkled bark as it ages.
See more beautiful blooming trees.
2. Yellow trumpet tree, also known as Brugmansia (Brugmansia species)
The show-stopping yellow flowers of the yellow trumpet tree make it a wonderful addition to any tropical or subtropical garden, in USDA Hardiness Zones 9 through 11. This plant can be cultivated as a fast-growing annual shrub in landscapes where summer nights stay above 50 degrees Fahrenheit (10 degrees Celsius), or as a small tree with winter protection in parts of South Florida, the Gulf Coast, Texas, California, and Hawaii. Just be forewarned that it can become invasive in frost-free climates.
The flowers of the yellow trumpet tree can grow from 4 to 24 inches (10 to 60 cm) long, depending on the variety. Their fragrant flowers are strongest at night. These beautiful flowers draw hummingbirds to the landscape.
Yellow trumpet trees grow best in full sun, although they appreciate a few hours of afternoon shade in exceptionally hot and dry climates. They don't care about soil, as long as it is well-drained. If you are growing your yellow trumpet tree as a container plant, soil mixes designed for azaleas and camellias will be fine.
This beautiful plant is both thirsty and hungry. Container plants need to be watered twice a day during the summer, with excess water draining out the bottom of the pot.
Yellow trumpet trees need heavy fertilization if they are grown in nutrient-deficient soils. Larger plants can be fertilized as often as two or three times a week. Even young yellow trumpet trees need fertilizer at least once a week. Fertilizer mixtures designed to encourage blooming such as 10-50-10 with micronutrients or 15-30-15 with micronutrients get the best results.
Different varieties of yellow trumpet trees produce different colored flowers. For yellow blooms, choose Brugmansia aurea. There are also varieties of red, purple, pink, white, and apricot flowers. All parts of the plant are toxic to people and pets.
Aphids, cabbage worms, whiteflies, and spider mites are big problems for yellow trumpet trees grown in containers. Treat affected leaves with rubbing (isopropyl) alcohol to remove visible pests.
3. Magnolia butterfly tree (Magnolia acuminata x Magnolia denudata)

Magnolia 'Butterflies' is covered in early spring with masses of canary yellow, tulip-shaped flowers, each 4 to 5 inches (10 to 13 cm) across, that have an intoxicating, lemony scent, making it one of the best trees for a fragrance garden. The naked branches of the tree are covered with flowers for 7 to 9 days until the dark-green, oblong elliptical leaves emerge.
A deciduous tree, this magnolia can be cultivated either as a shrub or as a small tree, depending on how it is pruned. Magnolia 'Butterflies' is resistant to both cold and heat, and can be grown either as a specimen tree or in a hedge.
Be sure to plant Magnolia 'Butterflies' in a yard or large garden. It can grow 10 to 15 feet (3 to 6 meters) wide and 25 to 30 feet (8 to 10 meters) tall. It can grow in loam, sand, or clay soil, but it will not do well in poorly drained soils. It needs both strong sun for 6 to 8 hours a day and protection from dry, cold winter winds. This tree will bloom in late winter in USDA Hardiness Zones 8 and 9, but flowering will be delayed until early to mid-spring in USDA Hardiness Zone 5 through 7.
For a light shade of yellow, consider a kousa dogwood.
4. Tabebuia tree, also known as trumpet tree and tree of gold (Tabebuia species)
Do you live in a part of North America that gets only light winter frosts, or maybe no winter frost at all? Then you may want to try one of 160 species of tabebuia trees, some of which produce a spring spectacle of clusters of yellow flowers, each 1 to 4 inches (2.5 to 10 cm) wide.
The trumpet tree gets its name from its tubular flowers, which have multiple stamens and frilly edges. Most tabebuia trees bear yellow flowers, but there are varieties that perform a spring display in white, red, or magenta. The flowers give way to long seed pods, which add interest to the tree during the cool season. Silvery leaves add to the landscape value of the tree.
Choose a variety of yellow tabebuia that your nursery can assure you grows only 25 feet (8 meters) tall. There are varieties that grow to 160 feet (50 meters). You also want to confirm that you are getting a variety that can withstand a light freeze unless you live in a location where there are never any winter frosts. Tabebuia trees can grow in sand, loam, or clay, with acid, alkaline, or neutral pH, but they need good drainage.
Expect to have to trim brittle branches and dead wood during the cool season. Otherwise, this tree needs very little care.
5. Cassia tree, also known as popcorn plant (Senna didymobotrya)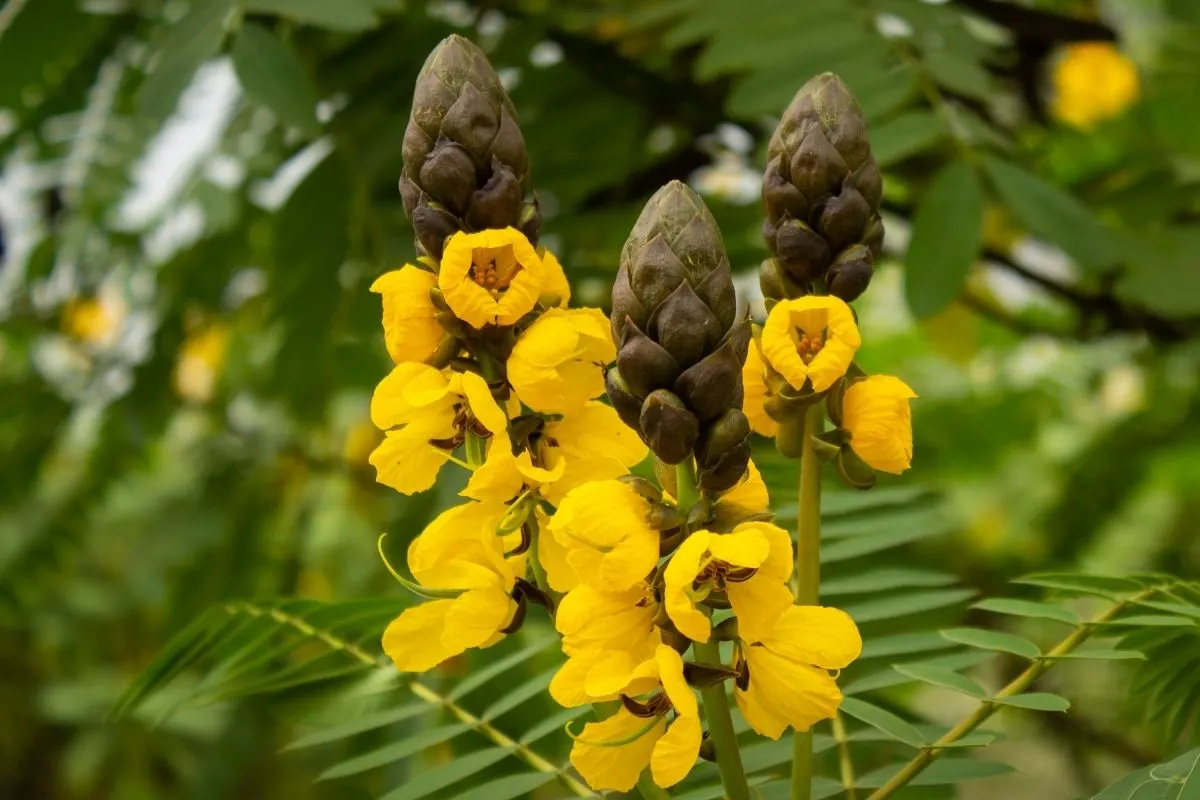 Cassia is a species that can produce a small tree, 25 feet (8 meters) tall, in warm climates, or that can be grown as an annual plant in containers in cool climates. At any size, the cassia tree produces a showy display of yellow flowers during the hot, humid days of summer. The flowers produce long bean-like seed pods (cassia is a legume) that are a favorite food of songbirds.
Cassia tree gets its nickname "popcorn plant" from the odor it releases, which is uncannily like buttered popcorn. Resist the urge to taste the plant, however, because all parts of the plant are strong laxatives.
Cassia trees prefer well-drained acidic soil or even neutral soil. It needs full sun. It can be grown as a container plant anywhere but is best adapted to USDA Hardiness Zone 9 as a landscape plant.
6. Yellow oleander (Nerium oleander 'Isle of Capri')
If you have ever driven the freeways in Los Angeles, you undoubtedly have seen miles and miles of oleanders. This Mediterranean plant is well-adapted to hot, dry summers, alkaline, rocky soils, as well as air pollution. It bears flowers all summer in cooler climates, and year-round when it is protected from frost.
Oleanders can be grown as a multi-stemmed bush or a single-trunked tree. If you want your oleander to have a tree form, you need to buy a two-year-old plant and prune it to just one stem. Then you need to support that stem with a bamboo pole, cutting off any additional stems rising from the crown of the plant just beneath the soil line,
If you want to grow your oleander as a bush, no pruning is necessary. Just give it additional fertilizer the first year after planting, and give it weekly watering during summer drought.
Oleanders need full sun. If you live in a location where winter temperatures fall below 20 degrees Fahrenheit (-6 Celsius), oleanders should be grown as a container plant so you can give them winter protection. Be aware that all parts of the plant are poisonous to pets and people, as is smoke from burning the plant. Choose the 'Isle of Capri' cultivar for bright yellow flowers.
If you want yellow flowers and you cannot find this variety of oleander, consider the tipu tree, a cold-hardy yellow jacaranda or even a sweet acacia. But don't plant either of these yellow flowering trees near a patio or a swimming pool. For a patio, consider Lydian broom.
7. Hybrid witch hazel Arnold promise (Hamamelis × intermedia 'Arnold Promise')
The hybrid witch hazel Arnold Promise is a potentially tree-sized understory plant that bursts into yellow flowers in the late winter or early spring. One of the first flowering plants in cold-winter climates, this cross between Chinese witch hazel and Japanese witch hazel sometimes produces a display of spidery yellow flowers while there is still snow on the ground.
While this hybrid witch hazel can be trained into the shape of a tree, its natural habit is vase-shaped, with low branches. Its 6-inch (15 cm) long oval leaves with toothed edges turn yellow to orange in the fall.
The hybrid witch hazel Arnold Promise is not especially fussy about soil. It prefers acidic soil, with a pH of 4.5 to 5.5, but can grow even in alkaline soil. It prefers full sun but can grow in partial shade. It has few disease or pest problems, although Japanese beetles can cause cosmetic problems when they chew its leaves.
Hybrid witch hazel Arnold Promise is adapted to USDA Hardiness Zones 5 through 8.
8. Azalea (Rhododendron species)
Azaleas are shrubs that can grow to the dimensions of small trees. They are not deciduous, not evergreen shrubs or small evergreen trees like most other rhododendrons, but there are many more varieties that have yellow flowers. These azaleas make an eye-catching understory plant for taller trees with yellow flowers, such as the Cornelian cherry (which is actually dogwood).
Azaleas need well-drained soil with an acidic pH, but they grow well in raised beds when these conditions are not available.
The Narcissiflora azalea (Rhododendron 'Narcissiflora') bears yellow flowers in late spring and early summer. Solar Flare Sunbow azalea (Rhododendron 'Solar Flare Sunbow') has a honeysuckle fragrance with abundant yellow flowers.
They are adapted to USDA Hardiness Zones 5 through 8. Admiral Semmes Native Azalea (Rhododendron 'Admiral Semmes' ) is a native azalea with fragrant bright yellow flowers that stands up to summer weather. It is suited for USDA Hardiness Zones 6 through 9.
More yellow blooming trees and shrubs
I hope the pictures above have inspired you to add at least one tree with yellow flowers. The bright yellow blooms will add color to your landscape and make you happy whenever you see them.
Here are a few more trees and shrubs that will put on a vibrant yellow flower display:
palo verde trees (Parkinsonia)
cornelian cherry dogwood (Cornus mas)
bailey acacia (Acacia baileyana)
perforate St John's-wort (Hypericum perforatum)
forsythia, also called golden bell Forsythia suspensa)
golden trumpet tree (Tabebuia chrysotricha)
yellow buckeyes (Aesculus flava)
I haven't seen a lot of yellow flowering trees in our area, but I'm definitely planning to include one in my landscape this year. They are absolutely gorgeous!
More Colorful Trees You'll Love