If you love ornamental flowering trees but you just don't know what will work in your landscape, you're in for a treat! No matter whether you are looking for a small tree or a large tree, whether you are looking for early spring flowers or flowering in the summer or fall, and no matter what your climate, rainfall, or soil, there is a flowering tree for you.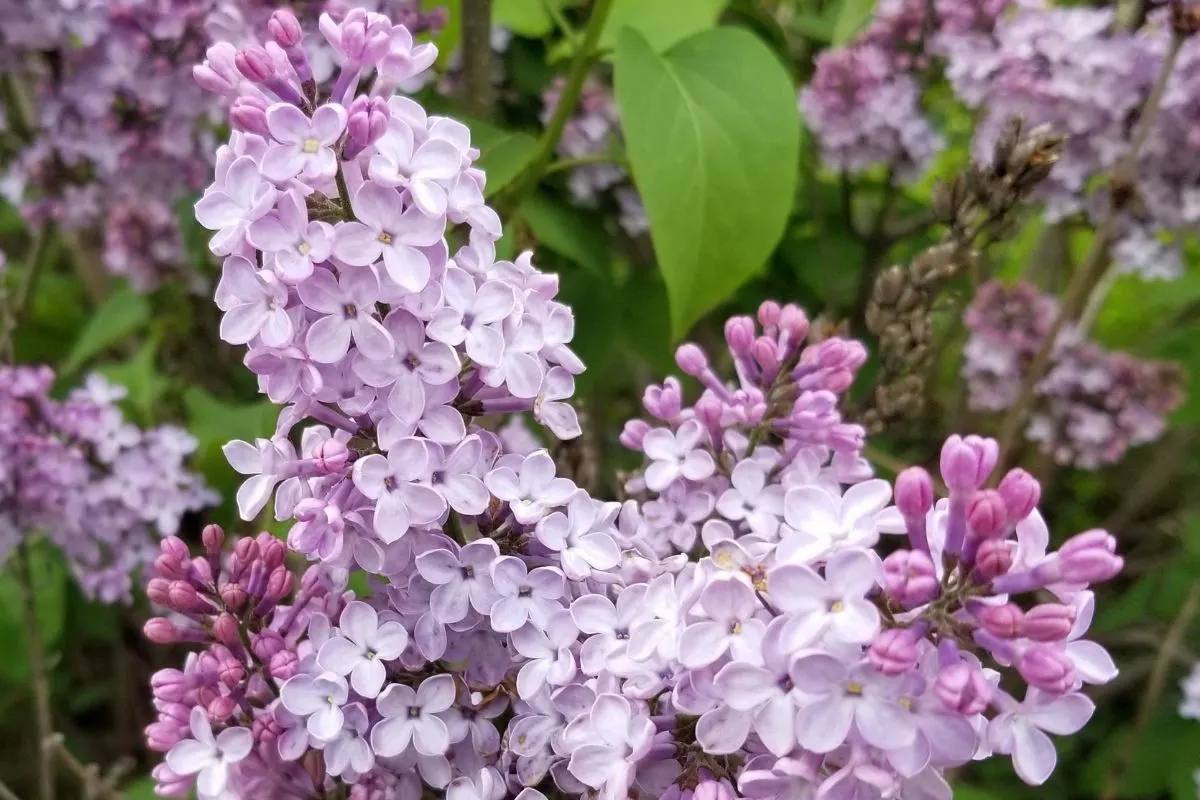 1. Spring Flowering Trees
Show-stopping spring flowering trees are among the most popular of all landscape plants. Many spring flowering trees are excellent choices for busy gardeners because they are delightfully easy to grow.
If you live in a location with warm humid summers and generous rainfall where trees grow tall, consider any of the 60 species of dogwood that are adapted to the southeastern third of the United States. These mostly deciduous trees burst into pink or white blooms in early spring and then yield red berries for wildlife all summer.
Or maybe you would like to create your own cherry blossom time. You can find pendulous cherry trees with a habit reminiscent of a weeping willow, or you may prefer the upright Yoshino cherry trees that draw tourists to Washington, D.C. Flowering cherries can be grown as far south as USDA Hardiness Zone 9 as container plants.
Other reliable spring bloomers include redbuds, saucer magnolias, star magnolias, star Bradford pears, and crabapples.
Visit our spring flowering trees page for more information and pictures.
2. Dwarf Flowering Trees
Are you planning a small garden, or do you need something interesting for a smaller garden space in a larger landscape? Consider dwarf and small flowering trees such as container citrus trees for their wonderfully scented blossoms and for their edible fruit.
Or plant the Prairiefire flowering crabapple for an extended display of dark pink to red blossoms in mid-spring, followed by distinctive maroon or glossy red leaves in late spring.
For a beautiful display of pinkish-white flowers in early spring followed by purple foliage all summer, choose the purple-leaf sand cherry (which is actually a plum). For spring flowering plants you can train to be large shrubs or small trees, consider a smoke tree, or for a larger tree for all-season beauty, choose the downy serviceberry.
3. Yellow Flowering Trees
Yellow flowering trees can make your landscape warm and inviting even on a cloudy day. Some of the yellow-flowering trees that are easiest to grow are yellow-flowering varieties of plants that usually have flowers of a different color. Some of these surprising yellow flowering trees are the Magnolia 'Butterflies' and the Isle of Capri oleander.
Other popular yellow flowering trees include the cassia tree, also known as the popcorn plant, and the trumpet tree. If you live in a tropical location, you can try Brugmansia or a tabebuia tree, and if you have an extraordinary green thumb, plant a golden chain tree (in the image above).
4. White Flowering Trees
If you aren't quite sure whether you want a white flowering tree or a large white flowering bush, consider the American elderberry. This plant grows to about 10 feet (3 meters) in all directions, bearing white flowers in early summer and edible, medicinal berries in the fall. Or if you live in a warm winter climate, USDA Hardiness Zone 9b through 11, take a closer look at Brugmansia, also known as angel's trumpet. Its large, white, trumpet-shaped flowers hang down on individual stems.
Bradford pears look great and smell bad. They fill their bare branches with beautiful white blossoms that bees and moths can't resist, but that you don't want too close to an open window. They are also invasive in some parts of the world.
Don't know what to do with a part of your yard that is always flooding? Plant buttonbush. This tree can stand in water for weeks at a time, and it is happy under shade trees. Its distinctive pincushion flowers with white petals studded with gold stamens emerge in early summer. They are a magnet for all kinds of pollinators, including hummingbirds, bees, butterflies, and bats.
Carolina silverbells can tower 30 to 60 feet (10 to 20 meters) over your yard. Their tiny, white, bell-shaped flowers emerge in late winter at the same time as their leaves are coming out. This plant tolerates cold winters but can be killed by summer drought.
If you are looking for a creamy white, consider Kobus magnolia trees. They bloom in late winter, usually late February or March, before their leaves appear. If you live south of USDA Hardiness Zone 8, consider the bull magnolia, also known as the Southern magnolia, for its tolerance to summer heat, especially in partial shade.
Natal plums bear five-petalled white flowers that persist throughout the growing season, not just spring and early summer. Natal plums are salt-tolerant.
5. Pink Flowering Trees
There is probably no pink flowering tree grown in more backyards in the eastern United States than the flowering crabapple. Really just a specialized variety of ordinary apples, this tree is covered with intensely fragrant white and pink flowers every spring. Because it tops out at 6 to 8 feet (2 to 2.7 meters), flowering crabapples are especially well suited to small gardens.
Crape myrtles bear pink, white, red, or purple flowers all summer long. Once they are established, they are highly tolerant of heat and drought, although they prefer full sun to part shade.
Pink-flowering dogwood (Cornus florida var. Rubra) breaks out in masses of pink flowers with white centers in early spring. It grows 30 to 40 feet (10 to 13 meters) tall. If you don't have space for a pink-flowering dogwood, consider a Japanese dogwood (Cornus kousa var. Satomi), which grows only about half as tall and half as wide.
The Kwanzan cherry (Prunus serrulata Kwanzan) breaks out in pink blossoms at about the same time as the last frost. Because of its upright habit, a group of Kwanzan cherry trees makes a colorful hedge.
The Jane magnolia shrub is a great late spring bloomer that will take your breath away.
6. Purple Flowering Trees
Purple flowers attract hummingbirds. They are also a beacon for wrens, robins, cardinals, mockingbirds, and chickadees. If you want birds in your backyard, plant purple flowering trees.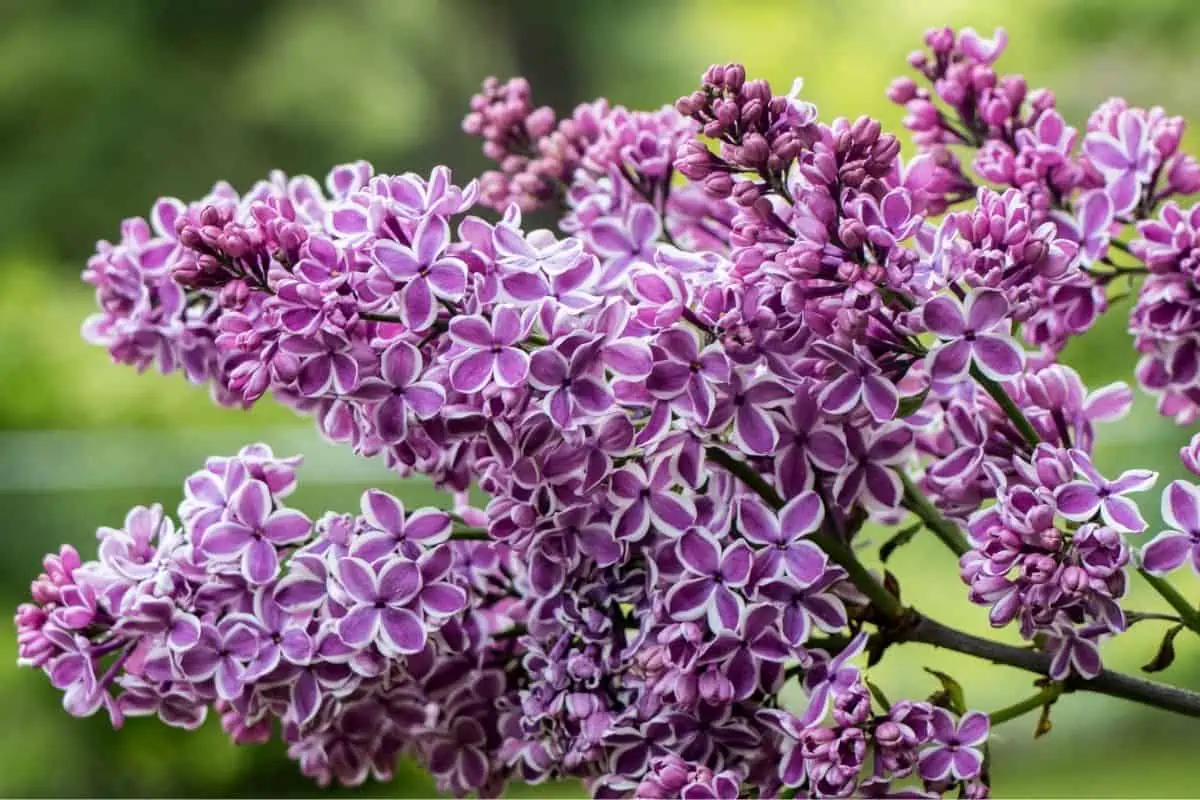 Probably no purple flowering tree is easier to grow than the Eastern redbud (Cercis candensis). Suitable for planting as a specimen plant to be one of the main attractions of your garden in the early spring or as an understory plant beneath tall trees that shed their leaves every fall, redbuds are covered with tiny, purple, pea-like blossoms for up to two weeks every spring. The tiny flowers give way to purple pods that add interest to the tree all summer and feed wildlife in the fall and winter.
Chaste tree, also known as vitex, puts on a show of purple flowers in late summer when other flowering trees are finished for the season. It is useful for attracting hummingbirds on their way back south for the winter.
Desert willows (which aren't really willows) put on frilly, fragrant purple blooms in the late spring and early summer. The longer you withhold water, the longer it will bloom. When the flowers finally fall, they are replaced by seed pods that provide interest all summer into early fall.
7. Red Flowering Trees
The red flowering dogwood is one of the most popular landscape trees east of the Mississippi River and in most locations west of the Mississippi River in the United States. Covered with red blossoms in early spring, this tree also has fall foliage in red or purple.
For a spectacular display of red flowers in the summer, not the spring, plant a red flowering gum. These trees are well-suited to hot, dry summers and tolerate both compacted and sandy soils, and stand up to air pollution. They are winter-hardy in USDA Hardiness Zones 8 through 10.
The Royal Poinciana is also covered with red flowers all summer long, but it cannot stand more than a light frost.
Red-flowering fruit trees include pomegranate and Japanese quince.
Check out our red flowering trees page for 10 gorgeous examples with pictures.
8. Weeping Flowering Trees
Branches filled with flowers that cascade from the trunk like colorful streams down a mountainside make weeping flowering trees coveted treasures in yards and gardens everywhere in the United States and beyond.
Weeping cherries burst into streams of color every spring and then provide small, black fruit that attracts birds throughout the summer and fall. Always plant weeping cherries in full sun, preferably in the sunniest part of your yard. The weeping higan cherry makes a wonderful specimen tree in larger yards.
Japanese maples bring pendulous flowers with white petals and red or purple sepals in the spring and then are covered with reddish-purple foliage all summer. Best suited to small gardens, they can also be grown as bonsai or container plants.
Weeping redbuds (Cercis canadensis), are the same species as all the other Eastern redbuds, but they grow into an umbrella shape. Weeping crabapples provide a spectacular display of pink or white blooms for a few days in mid-spring, but then they are covered with small red fruit all summer.
And don't forget the weeping willow, the iconic weeping tree, which puts out rivers of yellow blooms in the spring.
9. Fast Growing Flowering Trees
If you are looking for a flowering tree that reaches its mature height fast, consider a double-flowering peach tree, a pink trumpet tree, crape myrtle, crabapple, American wisteria, cassia, ginkgo, or lilac.
See our fast-growing flowering trees page for more information and pictures.
10. Flowering Bonsai Trees
There are so many flowering bonsai trees! If you're passionate about the art of bonsai, you might like some of these:
Fukien tea bonsai
Flowering red anthurium bonsai
Flowering crown of thorns
Flowering tropical azalea
For more information on how to care for bonsai trees, as well as lots of pictures, take a look at our flowering bonsai trees page.
I hope you've been inspired to look for some beautiful flowering trees to add to your landscape. A star magnolia would be an excellent choice to add to your front yard landscape as a focal point, or you could add a redbud tree or some cherry blossoms, or a golden chain tree, depending on if you want vibrant colors or to your backyard, or some creamy white flowers or yellow flowers. So many options! Which one will you choose?
Adriana Copaceanu is a passionate nature lover living in the country on her dream property where she grows vegetables, lavender, and wildflowers that she shares with the wildlife they attract. When she's not in the garden, she loves spending time with her chickens and planning her next nature project.