One of the most eye-catching additions to any landscape is a tree or tall shrub that has burst out in a profuse display of white flowers. It brightens the entire landscape and frames all your other beautiful plants blooming in other colors.
Today we'll look at a list of fifteen white flowering trees and shrubs that bloom every year (although some of the plants we list also have cultivars that produce flowers in other colors). Each entry lists the essentials of what you need to know to plan how to use these reliable producers of white flowers in your yard or garden.
White Flowering Trees For Your Landscape
1. American elderberry (Sambucus canadensis)
Depending on how much water it receives, the American elderberry is either a large shrub or a small tree. In most of the United States east of the Mississippi River, it grows about 10 feet tall with a 10-foot spread. It reproduces by suckering, so you will have to keep the ground clear around its base if you don't want it to spread.
American elderberry produces flat displays (technically, corymbs) of white flowers in early summer every year. In most climates, this means they will bloom through June and July. The lemon-scented fragrant white flowers attract bees and butterflies in the summer, and feed birds when they produce clusters of black berries in the late summer and early fall.
Ripe elderberries can be picked and processed into juice, jams, jellies, wines, and herbal medicines, but other parts of the plant are toxic.
American elderberries prefer full sun but tolerate partial shade. They need well-drained but continuously moist soil. This plant tolerates winters in USDA Hardiness Zones 3 through 9.
More trees with pretty flowers
2. Angel's trumpet (Brugmansia spp)
Angel's trumpet is a medium-sized tree when it is grown in USDA Hardiness Zone 11 and a shrub when it is grown at the northern limits of its range, in USDA Hardiness Zones 9 and 10. It produces large, white, trumpet-shaped flowers that hang down on separate stems.
Gardeners in cold-winter climates can train angel's trumpet to grow as a container plant, so it can be protected from freezing weather in the winter. This plant requires full sun, although it may tolerate afternoon shade in especially hot and sunny climates.
3. Black chokeberry (Aronia melanocarpa)
Black chokeberry is a large shrub or a small tree that grows in the wild from as far north as Newfoundland and as far south as Alabama in North America. Its flowers of white or pink appear in late spring, producing black berries at the end of summer. The fruit is too puckery to be eaten raw, but makes tasty jams and jellies with the addition of copious amounts of sugar.
Black chokeberry is easy to start from cuttings. The best time to take cuttings is in mid-summer.
The best way to use black chokeberry is as a privacy screen or as bird habitat in a mass planting, so its tendency to reproduce from its trunk will not be a problem.
This plant is an excellent choice for sections of the landscape that do not drain well. Black chokeberry is suitable for planting in USDA Hardiness Zones 3 to 8.
4. Yoshino cherry tree (Prunus x yedoensis)
A fast-growing deciduous tree, the Yoshino cherry tree displays white or pale pink flowers and it's the perfect addition to your landscape. It grows in zones 5 through 8 and its foliage turns into gorgeous red shades in the fall.
If you decide to plant this tree in your yard, make sure to keep pruning the thin branches to let your tree breathe, as it's susceptible to fungal diseases and insect problems.
If you don't have room in your garden for trees, you can always visit Washington DC in the spring and enjoy the show of many cherry trees on display there.
5. Buttonbush (Cephalanthus occidentalis)
Buttonbush produces unusual pincushion flowers with white petals studded with gold stamens. Blooming in early summer (May in the extreme south of the United States, June in the rest of the United States), buttonbush is extremely attractive to bees, butterflies, bats, and other pollinators.
Buttonbush's tolerance of wet soils makes it a popular tree for planting around water features. It thrives in full sun and tolerates full shade, but it needs rich solid and annual additions of compost. Buttonbush is winter-hardy in USDA Hardiness Zones 5 through 9.
6. Carolina silverbell (Halesia carolina)
Carolina silverbells, as their name suggests, are native trees in North and South Carolina. In the lowlands, they grow 30 to 40 feet tall, but Caroilna silverbells in the rainier reaches of the Appalachian Mountains may grow as tall as 60 feet. Their small, white, bell-shaped flowers appear in early spring (March or April) at the same time the leaves are coming out.
Carolina silverbells tolerate cold winters but not hot, dry summers. They need moist, well-drained soils. Experts recommend planting in USDA Hardiness Zones 4 through 8.
7. Fringe tree (Chionanthus virginicus)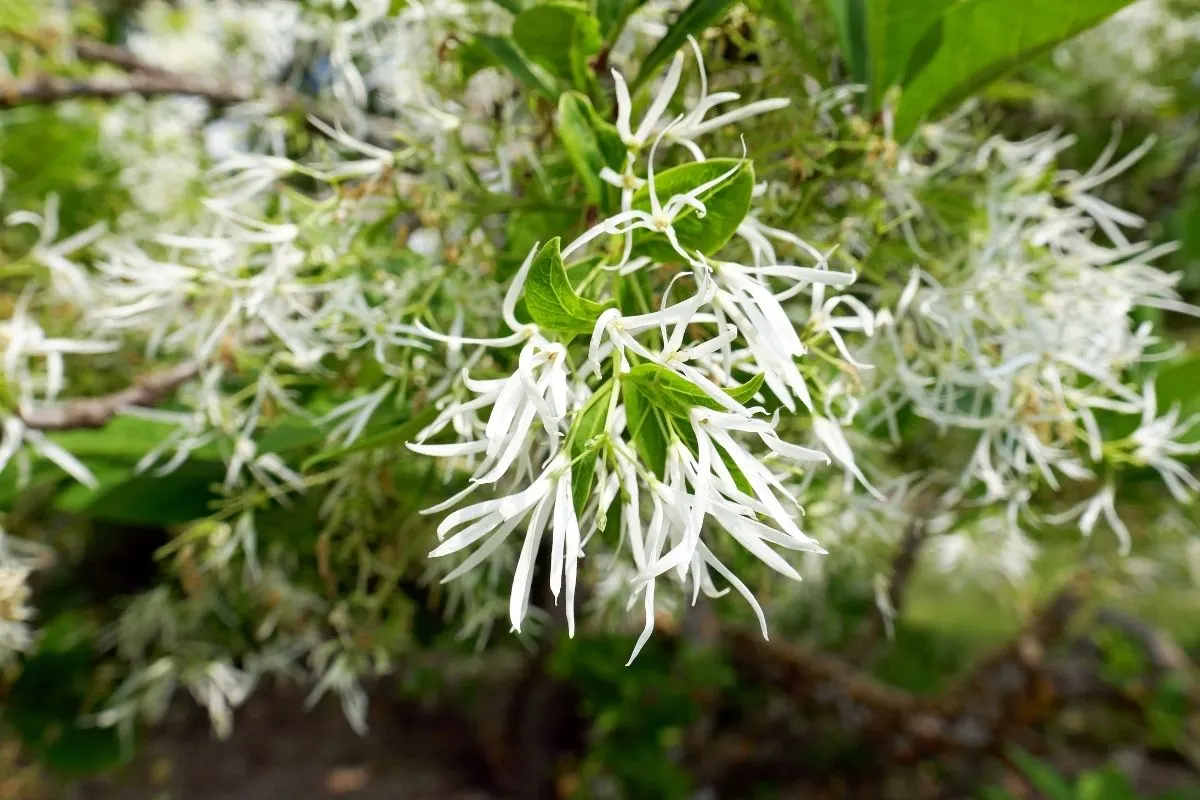 Fringe tree is a small tree, growing up to about 20 feet high, native to the Eastern United States. It produces large clusters of off-white flowers with fringe-like petals. After the flowering season ends in June, they produce black fruits in July. Fringe trees are highly attractive to birds.
The fringe tree is a great ornamental tree for urban landscapes. It tolerates air pollution and lots of traffic over its roots. They are usually planted in small groups in partial shade, but they also are suitable as a specimen tree in full sun.
This tree requires well-drained but moist soil. Plant in USDA Hardiness Zones 3 to 9.
8. Giant dogwood (Cornus controversa)
Giant dogwood, as the name suggests, is a large white dogwood tree native to China and Japan that has been imported to the southeastern United States. It can grow 30 to 40 feet tall and achieve a spread of 25 to 40 feet. It produces flat clusters of creamy white flowers in late spring, after most of the other dogwoods. They are often used as shade trees.
Giant dogwoods need moist but well-drained acidic soils. They thrive in wetter climates in USDA Hardiness Zones 5 to 8.
Cornus florida grows in the same conditions but will produce pink flowers as well as white.
9. Japanese lilac tree (Syringa reticulata)
The Japanese tree lilac bears panicles of creamy white flowers that are up to 8 inches across and 12 inches long in early summer.
Japanese tree lilac tolerates urban pollution and grows in almost any soil, and won't have disease or insect problems if it is grown in full sun. Plant in USDA Hardiness Zones 3 through 7.
10. Kobus magnolia (Magnolia kobus)
If you are looking for a creamy white magnolia, this magnolia is for you. It blooms in February or March, two or three weeks before its leaves appear. The Kobus magnolia has a pyramid shape when it is young but it gradually spreads out as it reaches its full height of 25 to 30 feet.
This magnolia is very impressive on a lawn, but because it is so slow-growing, many home gardeners use young trees as a hedge.
Kobus magnolia prefers full sun but tolerates partial shade. It needs rich, well-drained soil. Plant in USDA Hardiness Zones 5 to 8.
Southern magnolia, also known as bull magnolia, tolerates slightly warmer conditions and also bears white flowers.
11. Natal plum (Carissa macrocarpa)
Natal plum's distinctive five-petaled white flowers persist through most of the growing season, not just through spring and early summer. In warm climates, the plant continuously produces both white flowers and small plum-red fruit.
Natal plums taste like cranberries and can be used in jellies and jams.
Because Natal plum tolerates salt, it is a favorite for seaside plantings. It prefers afternoon shade but tolerates full sun. Plant in windy locations in USDA Hardiness Zones 9 and 10.
12. Orange jasmine, also known as orange jessamine, box orange, and mock orange (Murraya paniculata)
Orange jasmine can be grown as a small tree or a large shrub in tropical or subtropical climates, or as a container plant so it can be protected from frost and freezing in the winter. Orange jasmine bears glossy green citrus-like evergreen leaves all year, with inch-wide white flowers several times a year. The flowers are highly attractive to bees, and birds feast on the small fruits.
Orange jasmine grows on alkaline soils and acidic soils, in sand and in tight clay soils. Of course, it prefers a fertile loam.
In USDA Hardiness Zones 10 through 12, it can be grown as a hedge plant, although it can only be grown as a container plant in colder climates.
13. Spirea, also known as bridal wreath spirea (Spiraea prunifolia)
Bridal wreath spirea is a large shrub that takes on the dimensions of a small tree with the right care. Its wispy limbs fill with white flowers just before it leafs out every spring. The flowers fall in the summer, but the leaves turn gold, orange, or yellow in the fall.
Spirea is suitable for borders or as a foundation plant. It needs full sun and moist but well-drained soil. Bridal wreath spirea withstands winters in USDA Hardiness Zones 5 through 8, although it can survive for several years (until there is an exceptionally hot summer) in USDA Hardiness Zone 9.
14.
White chiffon® rose of Sharon tree form (

Hibiscus syriacus 'Notwoodtwo'

)
A beautiful shrub that can be shaped like a tree, the White Chiffon® Rose of Sharon is a must-have for every garden. Add it to your moon garden, or in a pot on your back porch.
It loves full sun and blooms from summer all the way through fall, big, pure white flowers. Great as a focal point or as background for brightly colored flowers. And it's deer resistant: perfect, in my opinion, for any landscape in zones 5 through 9!
15.
Limelight hydrangea tree (

Hydrangea paniculata 'Limelight'

)
This gorgeous hydrangea tree is the perfect ornamental accent for small spaces. A vigorous grower, the Limelight panicle Hydrangea can be shaped into a tree-form that will bring the showy blooms to eye level. Learn more about hydrangea trees.
Grows well in full sun, but can tolerate partial shade, and can be harvested for cut flower bouquets, or dried flowers that last all winter. Easy to care for, perfect for containers, you need to get one for your place 😉
I hope you found at least one white flowering tree on my list above that you can add to your garden this year. But if you need even more ideas, try one of these:
sweetbay magnolia
Callery pear
Japanese snowbell
Washington hawthorn
More Colorful Trees You'll Love