Are you asking yourself what to do with too much zucchini? If your bounty has been plenty this season, don't worry. We have some great ideas to help you ensure nothing goes to waste!
Too much zucchini? Is there such a thing? Well, if you love it, then it may be hard to believe, but if you're trying to use it up before it spoils, you may need some help. The good news is it is so versatile, there are tons of things you can make with it.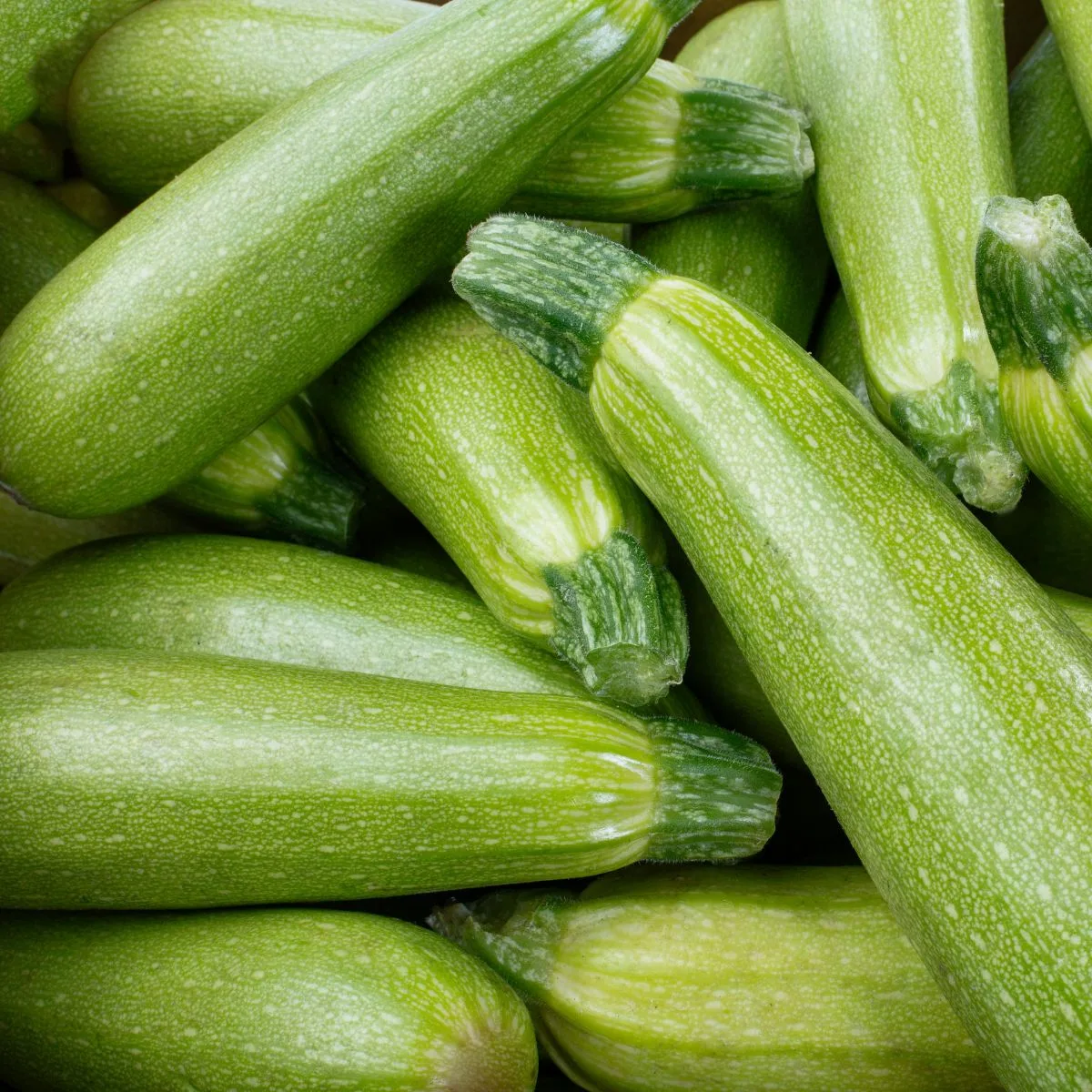 What To Do With Too Much Zucchini
When you grow your own zucchini, you may find yourself with a lot on hand. But there's no such thing as too much zucchini if you just learn what to do with it. From cooking it to storing it or even sharing it with friends and family, there are many ways for you to enjoy it. Let's take a look.
1. Zucchini bread
A popular option is zucchini bread, and this is a tasty way to make use of all that extra zucchini. There are many different recipes for this, but most of them are quick and easy, using ingredients you probably have in your kitchen already. Here are 2 of my favorites:
2. Zucchini butter
Another popular choice is zucchini butter. It will taste great spread on that homemade bread, too. Again, this is an opportunity for some quick and easy recipes made with things you likely already have in your kitchen.
If you never made zucchini butter, you'll love this easy recipe!
3. Make noodles for zucchini pasta
Zoodles, or zucchini noodles, are a great way to use up that extra supply and also make healthier pasta.
4. Parmesan and zucchini chips
You can make parmesan and zucchini chips as an alternative to potato chips. Take slices of zucchini, place them in a single layer on aa baking sheet, sprinkle with oil and seasoning, some black pepper, and maybe even some lemon juice, and then bake to perfection. Just before serving, sprinkle them with plenty of parmesan cheese.
5. Pickle them
Pickles are another great choice, and this makes them last a long time so you can enjoy them for many months. There are different pickling recipes, which can give slightly different flavors to the finished product.
This dill pickles recipe works great with zucchini and squash.
6. Freeze them
Another great way to keep that extra zucchini is to freeze it. If you're in a rush, just throw them in a bag and freeze them (use these first, within 3 months), but if you'd like them to keep longer, you need to blanch them first. Here's more information about how to freeze zucchini.
7. Add it to salads
Slice or dice some fresh zucchini and use it to top off any salad. It's a nice, refreshing way to enjoy the summer vegetable. Or, use one of these little vegetable peelers to make zucchini ribbons for a beautiful presentation, like the salad above.
8. Put it in spaghetti
You can also hide it easily in tomato sauce or salsa. You can add it to your spaghetti and the kids won't even know. Dropping zucchini into any kind of pasta is a great way to get some added greens without even noticing.
9. Make zucchini lasagna
And here's another way to enjoy zuke pasta – make lasagna from it! To keep your zucchini lasagna from being too watery, be sure to cut thinner slices and also salt the zucchini first for about 15 minutes to help draw the water out of it.
10. Zucchini soup
Soup is a longtime classic and zucchini soup is a great way to use up the veggie and it tastes great, too! You can make a simple recipe with chicken brother, garlic, onion, and zucchini cooked over medium heat and it all takes less than 30 minutes.
11. Make chili
And finally, you can make some delicious chili any time of year and add some of your extra zukes to it for flavor and nutrients. In addition to using a zucchini chili recipe (this is a great one!), you can also chop it up and add it to a traditional chili recipe.
12. Give it away
And finally, if you just have way too much zucchini to ever eat it all yourself, you might consider sharing it with friends, family, and neighbors. Most people would appreciate the gesture and if you also point them to this article, they'll be able to learn of some fun ways to eat them, too!
If you're new to growing zucchini, you might be surprised by how well they do and how quickly they multiply. For most people, it's recommended you only plant a couple of them because they will produce a lot of zucchinis from even just one or two plants. A new well-meaning gardener may easily end up with way more zukes than they know what to do with.
More ways to use zucchini
FAQs
Here are some questions people often have about using up that surplus zucchini.
What is the best way to preserve zucchini?
Some of the best ways to preserve your fresh zucchini to enjoy it year-round are to freeze it, dehydrate it, and pickle or can it.
Can you freeze zucchini?
Yes, you can freeze zucchini as a way of preserving it but it's not as simple as just popping it into the freezer. There is a bit more prep work that needs to go into it if you want it to keep well. The simplest way to freeze it safely is to blanch it first.
Can you eat raw zucchini?
Yes, you can eat raw zucchini. In rare cases, it may taste too bitter to eat (if it's too large) and this is a sign it is very high in compounds called cucurbitacins, which can be toxic. As long as your zucchini tastes mellow and fresh, it is fine to eat raw.
As you can see, there are many great ways to make the most of your harvest. If you find yourself with an overabundance of zucchini, try out some of the things on this list. You'll be able to enjoy your delicious bounty of summer zucchini all throughout the year.
From shredded zucchini to grated zucchini, zoodles, and more, you can enjoy these summer vegetables now and even into the winter season. If you have an abundance of zucchini, you now have a plethora of ways to make it and preserve it so that none of it ever has to go to waste!
Lisa Clark is a freelance writer who grew up on farmland, then moved to the city, and has now retired back to her rural roots. She's having fun teaching her kids about gardening, planting flowers, and collecting houseplants.