These crispy spiralized zucchini fries are a fun way to use up your zucchini and squash bounty. Your kids will come for seconds, not thinking twice about the vegetables they're eating. And the adults will secretly wish the kids didn't eat as much 😛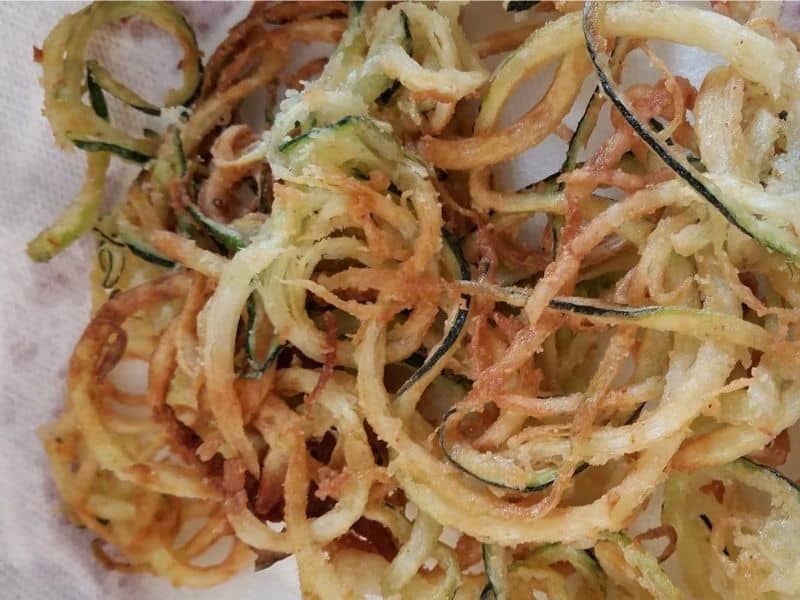 All silliness aside, I promise you won't be sorry if you try this recipe. If you're looking for a way to make all your zucchini disappear, this is IT!
Ever get those large zucchini you missed last time you picked your garden harvest? Don't we all? But no worries: you can make them into delicious fried curly zucchini. Of course, you can use your normal-sized zukes if you're better at harvesting than I am.
It's been raining here the last few days and I really didn't feel like going into the garden. So, today the sun is up and I'm inspecting the garden. Here's what I found: three beautiful zucchinis. I didn't mind the large one, because I've been thinking of making these curly fries for a few days now, and when I saw it, I KNEW I was making it for lunch. Here are more ideas for using huge zucchinis.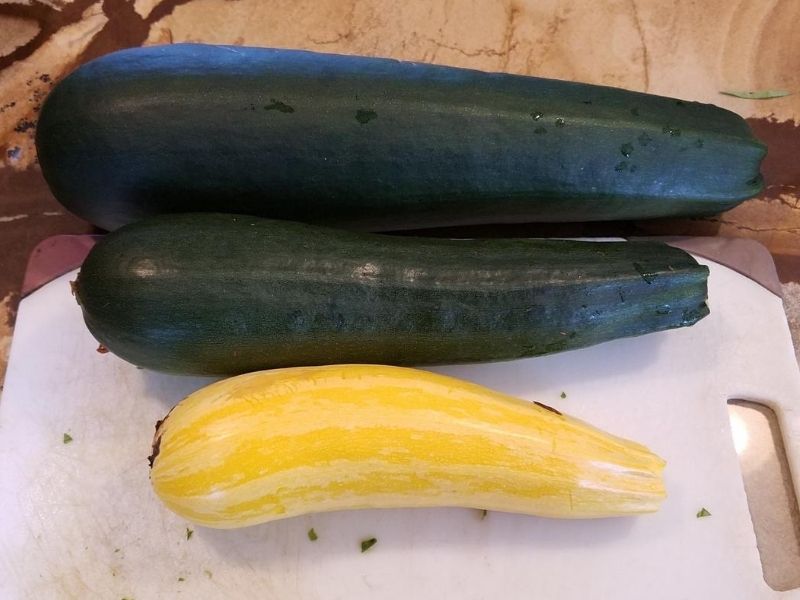 Don't have zucchini in your garden? They are easy to grow. Here's how to grow zucchini. Want some spiralized fried zucchini tonight, and don't want to plant any? Ask your neighbors for some of their excess.
What You Need To Make Spiralized Zucchini Fries
There are a few utensils you need for making "give me more" perfectly crisped zucchini fries:
Spiralizer – this is a must-have if you want any kind of curly fires. It will come in handy for all other spiralized veggies you'd love to use in your cooking. Three are several types of spiralizers: I've have this Brieftons spiralizer for the last 5 years or so, and it does a great job. But even a smaller handheld spiralizer will work.
Large colander – this is where you'll let the zoodles drain some of the liquid. I love my collapsible colander: it doesn't take any space at all, and does a great job.
Paper towels or clean kitchen towel – to pat dry the noodles before coating them with flour. You'll use a few paper towels to drain the oil too.
Frying pan or baking sheets – depending on how you cook your fries. I fried them in a frying pan today, but next time I'm going to try to bake them. Baking would make them healthier, but I'm not sure if they'd be as crispy. I LOVE my Nordic Ware aluminum backing sheets: they are so easy to clean! I'm wondering if frying these in a deep fryer would save up some time. I bet it would! So, if you have a deep fryer, try it and let me know.
Kitchen tongs – you'll use these to transfer the noodles from the bowl to the frying pan and from the frying pan into your paper towels.
How To Make Curly Zucchini Fries
Now that you have all the needed utensils out, you're ready to get started.
Start out by washing the zucchini, and cutting off the ends. Then run them through the spiralizer and set them aside in the colander for about 10 minutes to drain some of the juice.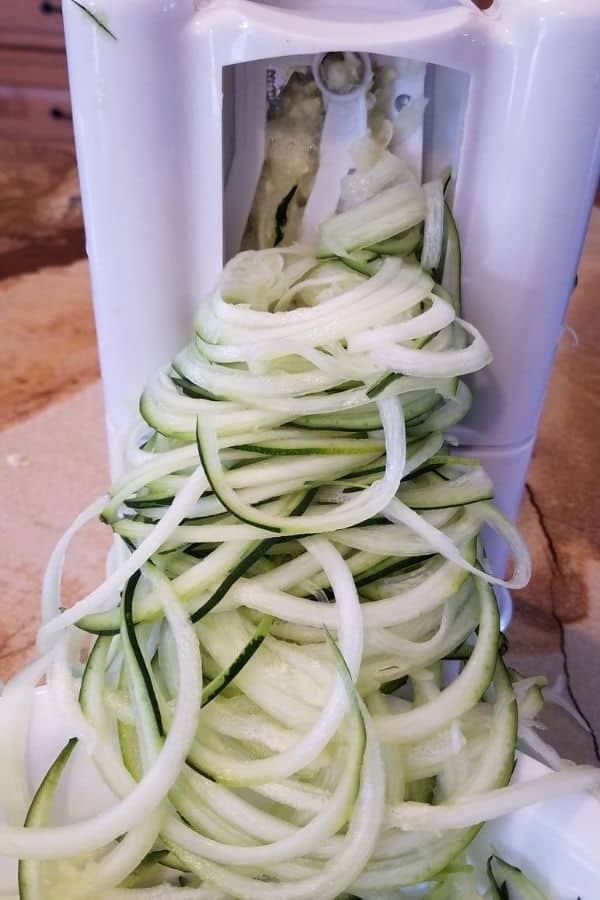 Tip: salt the zucchini to get more of the liquid out, and have crispier fries.
In the meantime, prepare the dressing (flour, salt, pepper, and garlic powder), and set your frying pan on the stove with about 1/2 inch of your favorite oil (I prefer avocado oil for frying).
After the 10 minutes have passed, lay your zoodles on a kitchen towel (or several paper towels) and pat the noodles dry (or as dry as you can). Don't squeeze! You'll ruin the curls.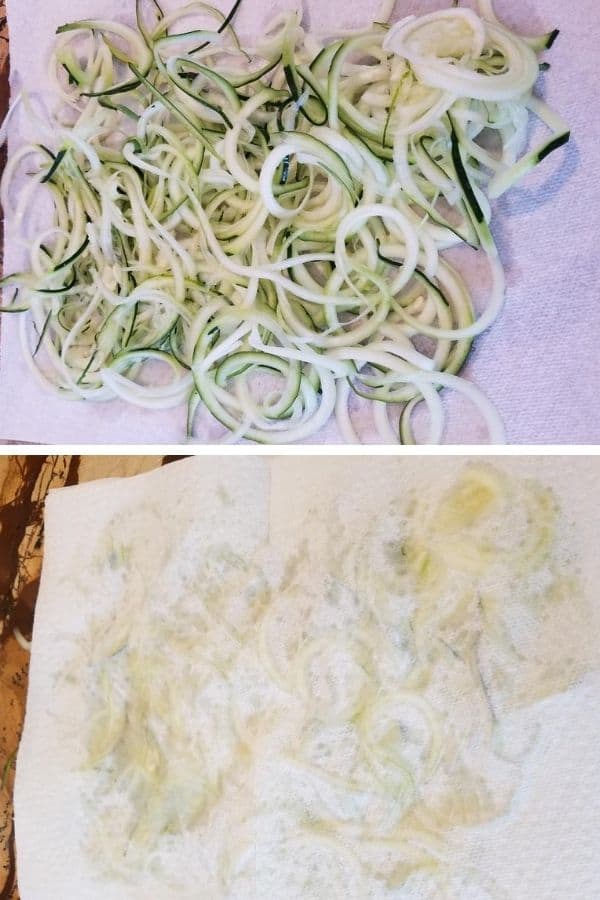 Coat the zucchini strings with the dry mixture, shake them well, and drop them into the hot oil for a couple of minutes. Watch carefully, as these thin zucchini strips can burn very easily.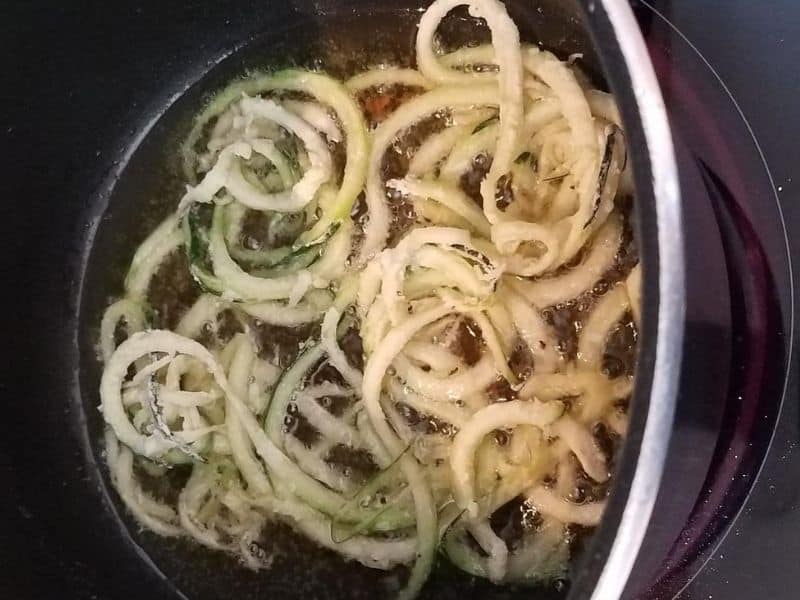 When golden brown, set them on a plate lined with paper towels to drain excess oil. And you're ready to serve them. YUM! I'm salivating just thinking about these mouth-watering crispy delights.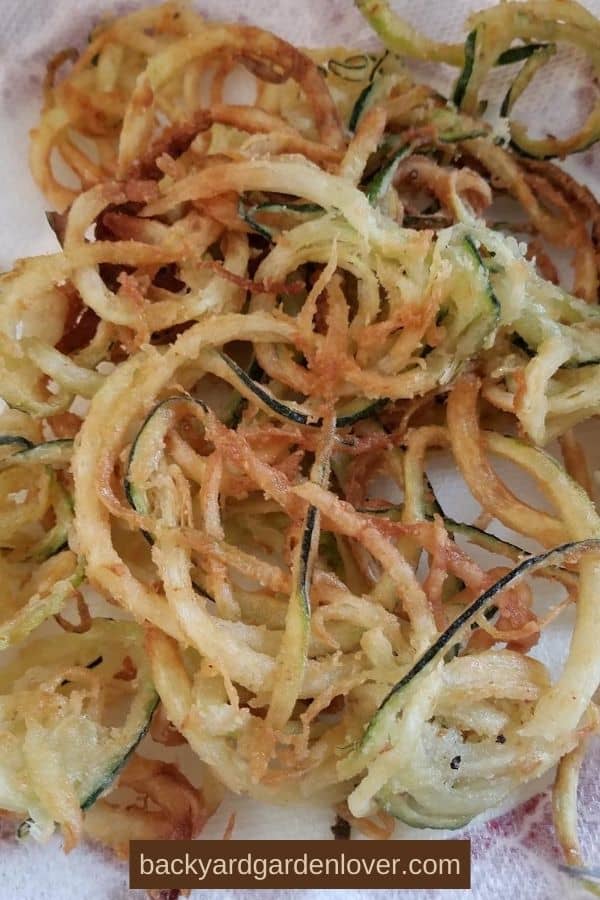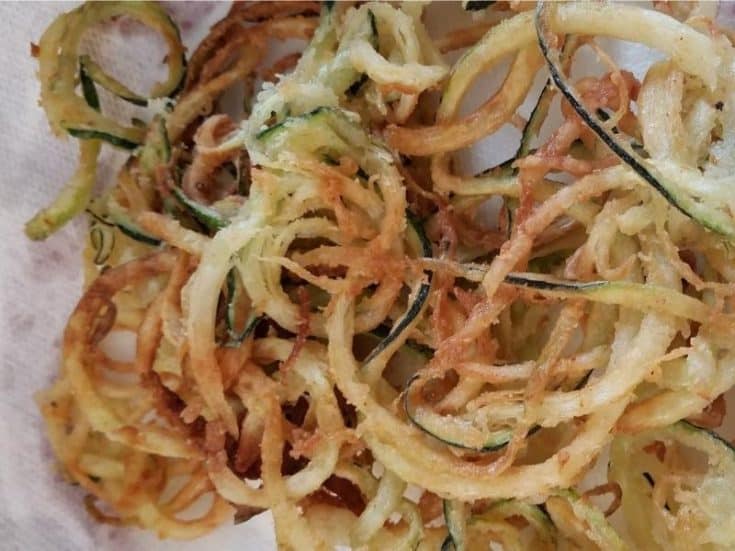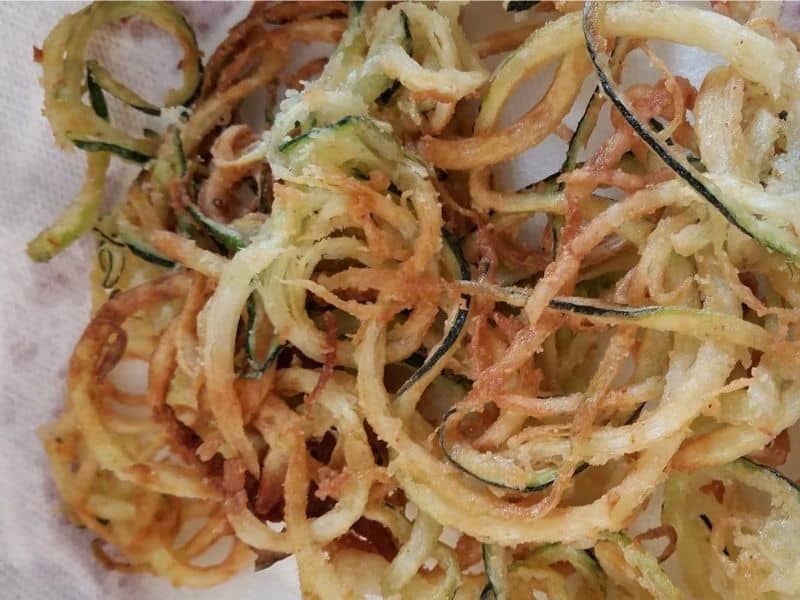 Yield:

4 servings
Crispy Spiralized Zucchini Fries Recipe
This lip-smacking, mouth watering crispy side dish (or snack) will disappear from the dinner table in no time. Your kids will ask for more. And you'll never again have to worry about what to do with your extra zucchini.
Ingredients
2 medium zucchini (or one of those huge ones)
1 teaspoon salt
1/2 teaspoon black pepper
1 teaspoon garlic powder
1.5 cups all purpose flour
oil for frying
Instructions
Clean zucchini and cut off ends
Spiralize the zucchini
Sprinkle salt on the zoodles and let sit for 10 minutes in a colander to drain liquid
While you wait for the liquid to drain, mix the dry ingredients
Pat dry the zucchini curls
Add oil to frying pan and heat up
Coat zucchini with the dry mixture.
Shake off excess flour mixture and add zucchini to frying pan in small portions (make sure thye are in one layer, so they fry quickly). Turn after about 2 minutes. Be aware that the second side cooks faster.
When golden brown on both sides, put fried curls on paper towels to absorb excess oil
Enjoy!
Nutrition Information:
Yield:
4
Serving Size:
1
Amount Per Serving:
Calories:

221
Total Fat:

4g
Saturated Fat:

0g
Trans Fat:

0g
Unsaturated Fat:

4g
Cholesterol:

0mg
Sodium:

533mg
Carbohydrates:

39g
Fiber:

3g
Sugar:

2g
Protein:

6g
Variations for the fried zucchini strings
The recipe above is very basic (I love its simplicity), but that doesn't mean you can't add your own twist. Feel free to add any of there:
sprinkle some fresh Parmesan cheese while still hot
add paprika for a bit more color
like it spicy? Add a dash of cayenne pepper or hot pepper flakes
are you adventurous? Try adding some of the herbs from your garden: dill, parsley, garlic, or any other herb you're growing
More Zucchini Recipes To Try
Frequently asked questions
Can I make baked curly zucchini fries?
Absolutely! The process is a bit different, but the result is very similar. Follow the first 7 steps above, and instead of dropping them in the frying pan, spread them out on a baking sheet and add a couple of tablespoons of oil to coat the zucchini curls. Bake them for 12 minutes at 400 degrees Fahrenheit. Flip them over and bake another 2 or 3 minutes.
Can I make crispy zucchini fries from frozen zucchini?
Sadly, no. Once frozen and thawed out, the zucchini will be mushy and won't turn crispy. But you can sautee frozen zoodles for a really nice pasta replacement dish.
What can I pair the spiralized zucchini fries with?
You can dip it in marinara sauce, or ranch dressing. But you can also add it to your dinner as a side dish. It will go well with just about any meal. Who doesn't love some fries with lunch or dinner?