If you have limited space for a garden or want something more accessible and lower maintenance than a traditional garden, raised beds may be the answer. Raised bed gardening involves growing plants in soil higher than the natural ground level, often enclosed by some sort of frame. There are many different types of raised garden beds, ranging from store-bought kits to homemade upcycled frames.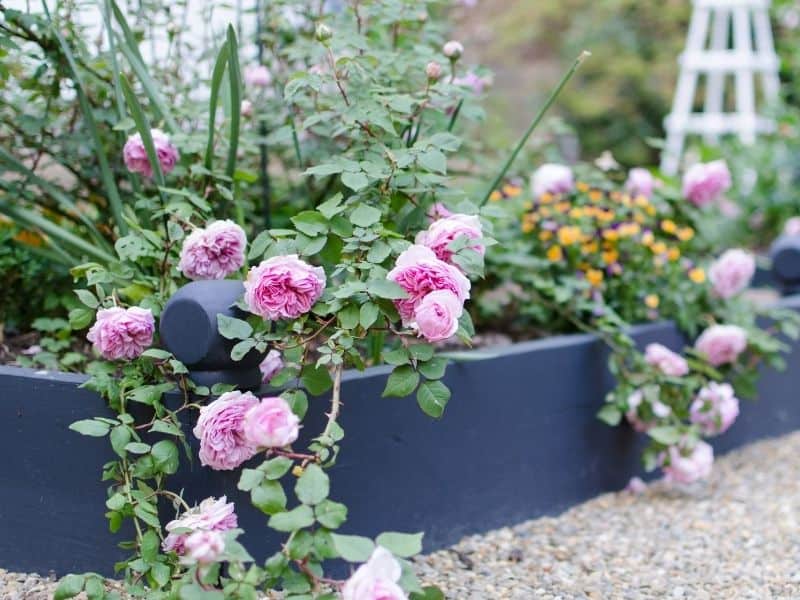 Raised bed gardening offers many benefits. Using square foot gardening techniques, you can grow more plants in less space. And closely spaced plants combined with fresh soil also mean few weeds. Higher raised beds reduce the need to bend over and thus lessen the likelihood of back pain.
When planning your raised garden beds, consider location, size, appearance, functionality, and budget. If you want to grow vegetables, for instance, the beds should be placed in a location where they will receive at least eight hours of sunlight every day.
Types Of Raised Garden Beds
With your goals and preferences in mind, consider the benefits and drawbacks of different types of raised garden beds. We've compiled the following list to help get you started.
1. Metal raised garden beds
While the soil in all raised beds heats up faster in the spring, because it sits above the frost line, metal frames especially help retain heat. This makes them great for Mediterranean plants like sage or lavender. Sheet metal can also be formed into specific shapes, giving you greater creative liberty beyond the usual rectangle.
One downside of this is that the metal can be a bit flimsy and bow in the middle, but proper support in the form of a wood frame or metal conduits and corner supports can help. A supported raised bed made with the latter option and galvanized steel panels can last 30 to 60 years!
2. Plastic raised garden beds
High-density polyethylene (HDPE) recycled plastic raised beds also last a long time, with a life expectancy of about 50 years. They're also resistant to cracking or chipping due to extreme weather or, say, accidentally ramming them with a wheelbarrow. A stable material, HDPE is not known to leach any chemicals into the soil, so it should be safe for vegetables and herbs.
As far as appearance is concerned, plastic raised garden bed frames can be purchased in a variety of colors, and some are even made to look like wood. They're easy to clean and when the time comes to dispose of them, recyclable. Unfortunately, HDPE can be expensive and heavy yet prone to bowing.
3. Elevated cedar raised garden beds
An elevated raised garden bed resembles a table with legs or a very deep box, making the plants within easy to maintain without kneeling or bending over. Since it's up high, it also keeps critters like rabbits, moles, and groundhogs out of your garden (though you may still have to fight off the squirrels!).
The benefits of using cedar for an elevated raised garden bed include its beautiful, natural appearance and resistance to decay. It's also lightweight and, as an added bonus if you're building the raised bed yourself, easy to work with.
Cedar will turn a silvery gray within two or three years, though it will continue to last for up to a decade, depending on your climate. A natural exterior finish can be applied before filling the bed with soil to prevent it from fading if you desire.
4. Wooden raised garden beds
The company also offers a tent enclosure for season extension. Unfortunately, the panels can be flimsy, especially when stacked, and the tent only has a zippered opening on one side, making access to the plants limited.
Of course, cedar and other types of wood can be used for many different raised garden bed designs. Redwood is another attractive and rot-resistant option, and all types of wood make beautiful, rustic frames for raised garden beds. If you're looking for a natural option, wood is a great way to go.
One thing to note is that you should never use pressure-treated lumber for raised garden beds. Although it will hold up longer than untreated wood, it can leach harmful chemicals into the soil and thus into your vegetables, herbs, and other plants. This does mean that you will have to repair or replace the raised bed frames more often, but some types of untreated wood, like cedar and redwood, can last up to ten years.
5. Composite raised garden beds
Composite "lumber" is made of a mixture of materials such as wood and plastic. At a glance, it looks just like natural wood with its wood-grain imprint. It's also lightweight, weather and rot-resistant, and easy to clean. However, composite raised garden beds can be easily damaged by a wayward shovel or string trimmer and might bow outward or fade over time.
Many composite raised garden beds are made with recycled materials, and they often come with hinged corner joints, making them easy to assemble and reconfigure. Curved boards are also available for even more design options.
6. Lifetime raised garden beds
There are many raised garden bed kits available for purchase, including the super convenient Lifetime raised garden beds. Made of UV-protected HDPE and rust-resistant zinc-plated screws, these garden beds won't rot, crack, or peel. The company claims full garden setup in less than an hour with snap-together pieces that don't require the use of tools.
In addition to being easy to assemble, Lifetime raised garden beds are also customizable. The eight four-foot by nine-inch panels can be assembled into one large or two small beds or stacked for a deeper bed.
Unique Ways To Build Raised Garden Beds On A Budget
If a premade kit sounds too pricey, there are plenty of ways to build raised garden beds with free or cheap items. You can even get creative with the soil: buying bags of garden soil can be expensive! If your raised beds will be directly on the ground, remove any weeds and dig up a few inches of the topsoil. Lay down cardboard as a weed barrier, then cover it with layers of topsoil, compost, shredded leaves, composted manure, straw or old hay, etc.
Learn more about the lasagna gardening method (described above).
If you have a good source of free or cheap wood chips, those can go directly on top of the cardboard and on the paths between beds (use cardboard as a weed barrier for the paths, too!). In addition to making up a layer of the soil itself, straw or old hay are also perfect to use as mulch on top of the soil.
7. Raised bed gardening with pallets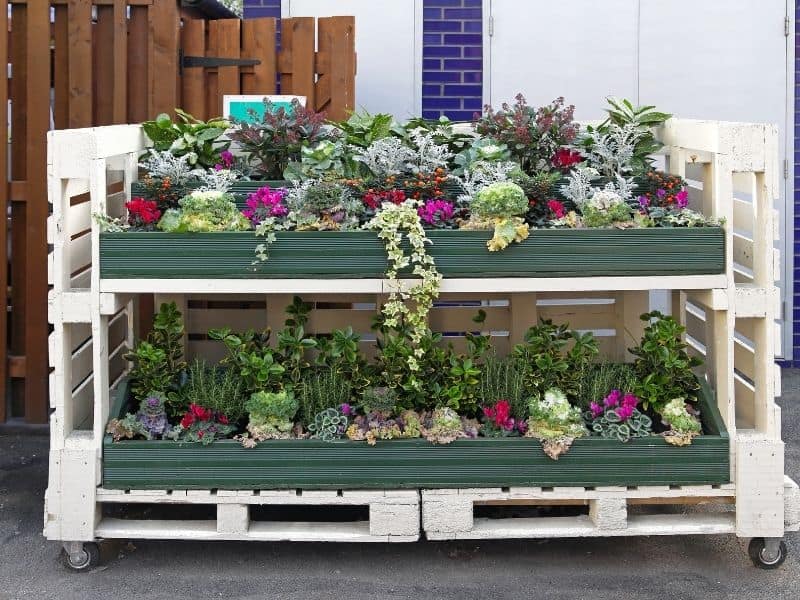 Pallets are wonderfully versatile and can often be found for free. Make sure the pallets you pick up or purchase are heat-treated; they should have "HT" stamped somewhere. This means that the wood was kiln dried rather than chemically treated. You'll also want to scrub the pallets down well to ensure there are no harmful residues left over from whatever was previously stored on them.
There are two ways to make a raised bed out of pallets: by taking them apart and building traditional box frames or by planting directly in them. For the latter, simply lay the pallets down faceup, fill them with dirt, and plant between the wood slats.
You can also wrap the bottom and sides in landscaping fabric (secured with staples) to help keep the soil in place. Or try surrounding the pallets with concrete blocks: these double as planters that can be filled with strawberries, marigolds, or herbs.
8. Raised bed gardening with straw bales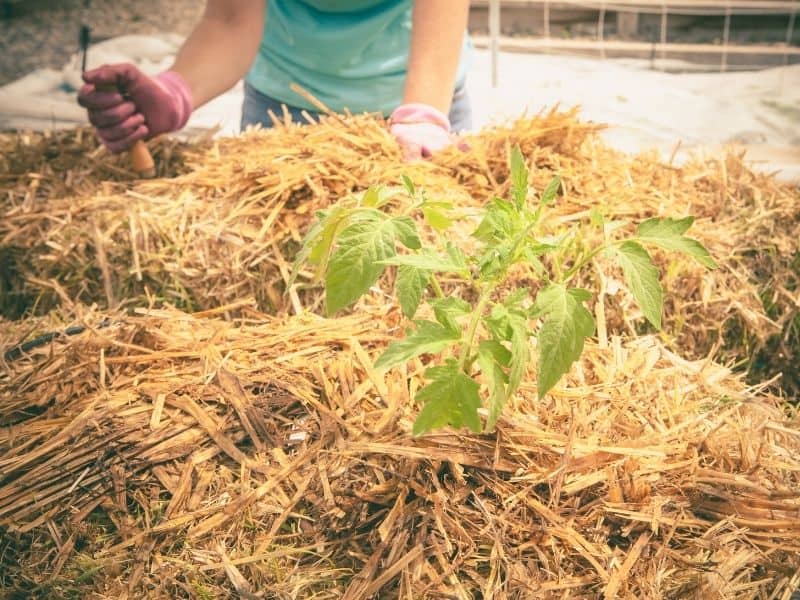 As with pallets, there are two ways to make raised beds with straw bales. First, you can arrange the bales into a frame to hold soil like a traditional raised bed. Or simply plant directly into the bales themselves! For this second method, you'll need to prep the bales about two weeks in advance by adding fertilizer every couple of days and watering them. This encourages the straw to begin breaking down and forming a growing medium for your plants.
Strawbale gardens lend themselves well to trellising, and you can simplify watering by laying a soaker hose down a row of bales. At the end of the growing season, the partially decomposed straw works great as mulch for other garden beds or as compost for next year. You can also do raised bed gardening with hay bales, but you might get some weeds from the seeds in them: this isn't typically a huge problem, though.
9. Raised bed gardening with old tires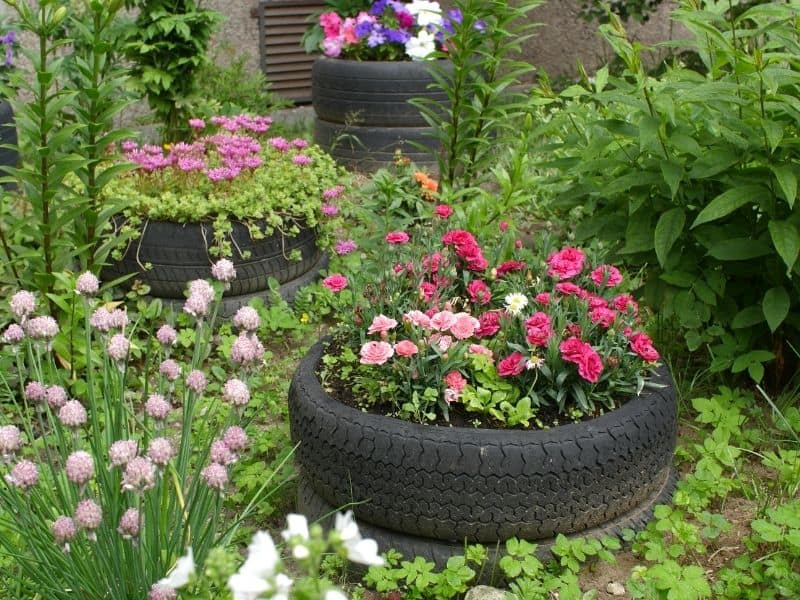 Using old tires to create raised bed planters is extremely easy, and it's a great way to upcycle something that's no longer needed. Just place the tires where you want your garden and fill each one with soil: that's it! And because tires heat up quickly and warm up the soil sooner in the spring, you can get started planting earlier. For the same reason, plant heat-loving crops in tires and put the cool-season veggies elsewhere.
One major concern with gardening with old tires is chemical leaching. Some studies suggest that these toxic materials release slowly enough as to be negligible, but better safe than sorry, right? Use old tires only for ornamental plants or line them with plastic or landscape fabric before adding soil if you want to plant vegetables in them.
10. Raised bed gardening with milk crates
Milk crates are a fun, versatile way to garden in a small space. They can be lined up in a single layer, stacked checkerboard or stair style, or even used as hanging planters! To keep the soil from spilling out the holes, line each milk crate with burlap before filling it with soil. Plastic also works, but make sure to poke plenty of small holes for water drainage.
Because they're smaller, milk crates typically hold only one vegetable or herb each, with the exception of smaller plants like lettuce and carrots. You can even use cardboard to line only the bottom of the crate, instead of burlap, and plant strawberries or small herbs or flowers through the holes in the sides. Of course, this works best with crates that have exceptionally large holes.
Frequently asked questions about raised garden beds

Can you explain how to use raised beds in landscape design?
The first thing to keep in mind is that even when you're working with individual raised beds, a garden is not a series of unrelated parts but rather an interconnected whole. Make sure the proportions of your beds match the space and use materials and shapes that fit with the overall aesthetic of your garden. Leave at least 18 inches between the beds for walking paths, or wider for wheelbarrow access.
If you have existing raised beds that aren't very attractive, try painting the exterior or bordering them with willow screening.
What are the benefits of raised bed gardening?
Raised beds often warm-up earlier in the spring and have fewer weeds, and their elevated design prevents back pain caused by bending and kneeling. They can also be installed in areas where you wouldn't otherwise be able to have a garden due to space limitations, lack of soil, or poor growing conditions.
What's the best soil for raised garden beds?
One of the simplest, best combinations for raised garden bed soil is a mixture of one part compost (plant or animal-based) and one part topsoil. Some people swear by coconut coir, which helps aerate the soil as well as retain nutrients and moisture. This can make up as much as one third to one half of the soil mixture. Worm castings and other organic amendments are also great additions to ensure bountiful results.
Can a raised bed be installed on a concrete surface, such as a patio?
Absolutely! One of the great things about raised beds is that they can be installed almost anywhere. To ensure healthy soil, you may want to introduce earthworms to the garden beds since they won't be able to enter from the ground as they normally would.
Think outside the box
Raised bed gardens aren't a one-size-fits-all deal. Shop around a bit, consider what you have on hand, and choose an option that works best for you. Maybe a few plastic milk crates will stack perfectly in a corner of your balcony, or perhaps you have a large backyard with space for several wooden frames. Try building an octagonal herb garden in the center for a functional visual display or combining several different types of raised beds in your garden. The possibilities are endless!