Every gardening enthusiast loves a vibrant, colorful outdoor space. Wouldn't it be great if you could look over a list of perennials that bloom all summer, and choose the ones you like the most?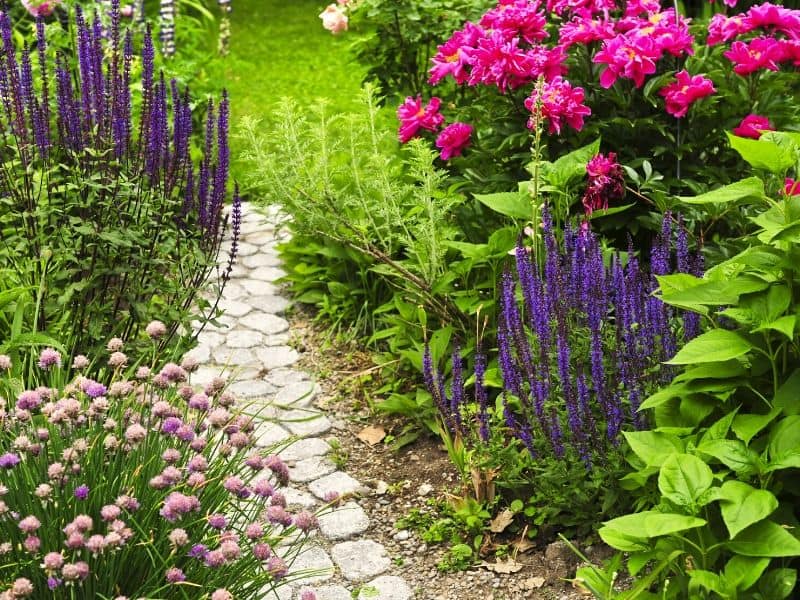 Getting your flower beds and borders to flower all summer long is a little tricker than you might think. This is mostly because a lot of perennial garden plants have a short flowering period. And although beautiful and vivid in color when they're most active, the blooms are gone before you've had a chance to fully enjoy them.
Plants that have a shorter flowering period also mean that there's a fairly strong chance that your garden will look dull and lifeless as summer progresses. And by the end of August, you're left with no flowers at all.
But, there is hope! If you'd like to keep your garden looking colorful and packed with gorgeous flowers all summer long, take a look at our list of best perennial plants that are guaranteed to deliver a dramatic show of vibrancy and interest all the way through to fall.
We've also broken these long-flowering perennial plants into separate categories, making it easier for you to find the perfect plant for a particularly troublesome spot in your garden, or to match the color scheme of the rest of your planting.
Tall Perennials That Bloom All Summer
Height adds architectural structure and interest to your garden. Perennial plants that grow particularly tall make fantastic additions to the back of large flowering beds where they won't overshadow or bully out shorter planting.
1. Alliums
One really great perennial for adding height to your garden is the Giant Allium. These spectacular plants come in bulb or seed form. Once they grow, they'll send up tall stems that are adorned with huge, dramatic, spherical flowers. Bees and butterflies love them, so they are a great choice if you're looking to encourage more wildlife into your garden.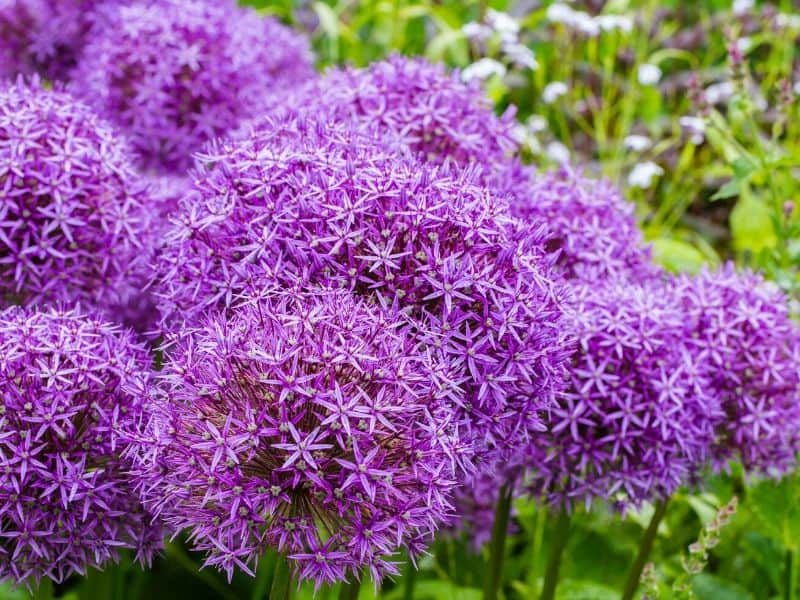 These giant alliums are gorgeous!
2. Astilbe
Astilbe 'Younique Silvery Pink' is another brilliant choice for adding some height to your borders, and doesn't only add interest through its height but also has feathery flowers that look beautiful dancing in a breeze. They have highly scented blooms, making them a great choice for planting in containers surrounding seating areas.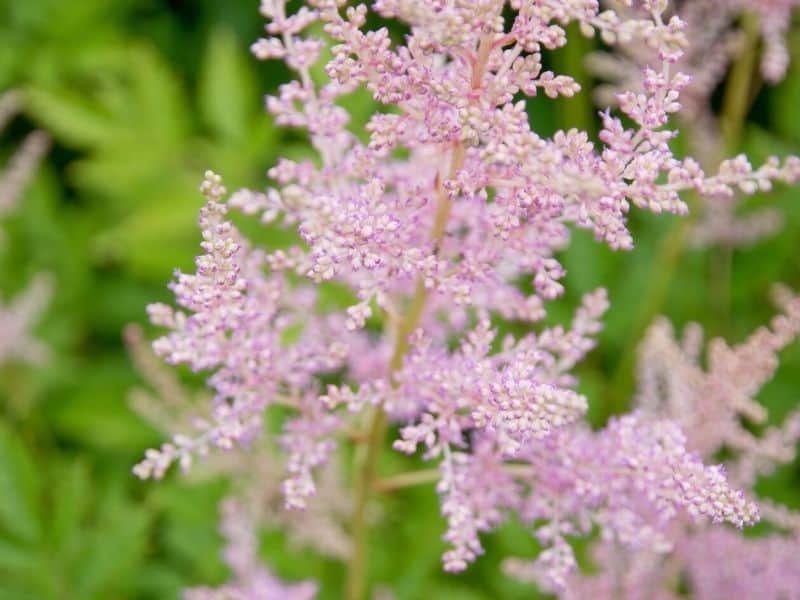 3. Blue lupine
The tall, conical flowers of the Blue Lupine are also a really good choice for adding color to your garden that lasts throughout the summer months. They are often found in gardens that are going for cottage-style planting, and can easily be grown from seed. Sow in the summer in small pots, then plant out the following summer for a long-lasting display of blooms.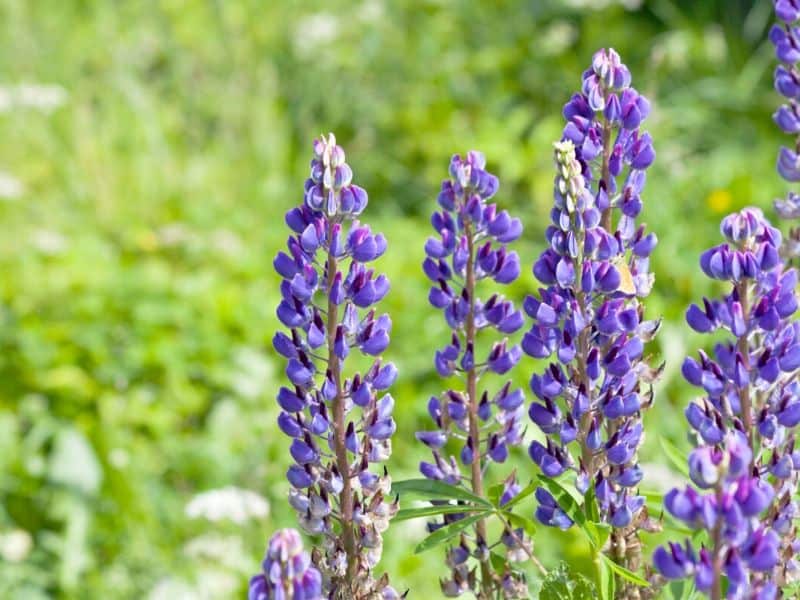 White Perennials That Bloom All Summer
White planting schemes are great for creating areas that look and feel peaceful. And since white is on the color spectrum that is visible to bees, any perennial that has white flowers is guaranteed to bring pollinators into your garden.
4. White trillium
The flowers of the White Trillium appear in late spring and give a display of elliptical-shaped flowers all the way through to late summer, set against dark green foliage. The leaves of the White Trillium are also edible, so they make a great addition to your kitchen garden as well as providing you with months of flowering.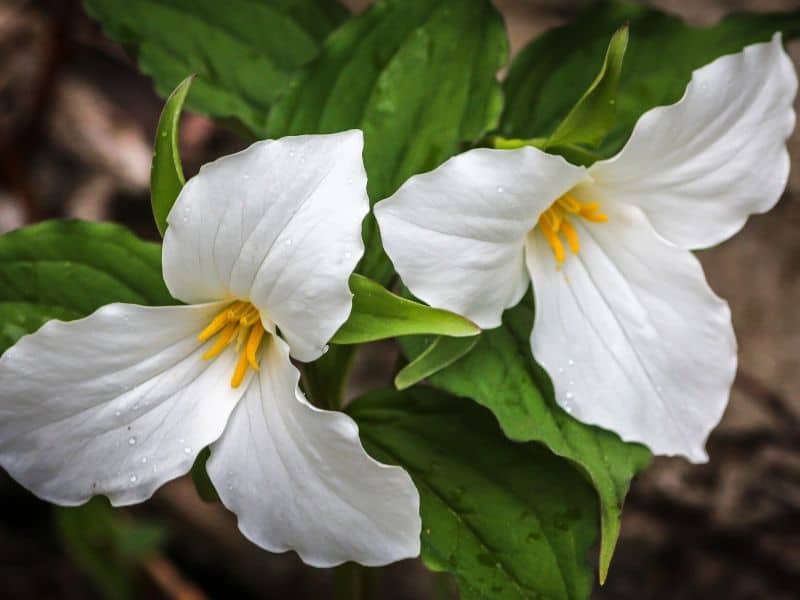 5. White yarrow
White Yarrow is another perennial plant that will give you blooms all through the summer, and the tiny white flowers grow in clusters that sit atop long, delicate stems. They also bring an extra level of interest to your garden as the bright white summer flowers become tinged with shades of pink as fall begins to settle in.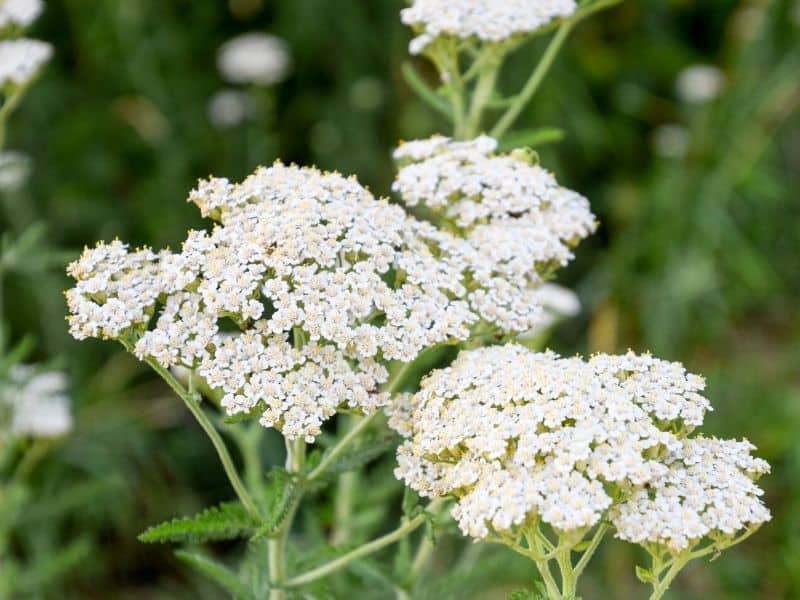 6. Monroe white lilyturf
Another perennial plant that will give you beautiful, white flowers all summer long is 'Monroe White' Lilyturf. The dainty flower spikes look absolutely stunning poking through the ornamental grass-like foliage. The leaves are evergreen, so even when the flowers have eventually finished blooming for the year you'll still be getting color and interest from it.
Hardy Perennials That Bloom All Summer
If you live in an area of the country that suffers from particularly cold winters, you may find that there are certain perennials that won't be able to survive the low temperatures they'll be subjected to in your garden.
However, there are still some great choices that will stay alive throughout even the coldest winter and come back to give you plenty of blooms the following summer.
7. Rudbeckia
Rudbeckia Hirta 'Black-Eyed Susan' is one of these plants. It's yellow, daisy-like petals surround a dark black center, and are perfect for injecting a real burst of color into flower beds or containers. Hardy down to -30ºF, you won't have to worry about lifting them and overwintering them, which makes them really low maintenance and highly rewarding.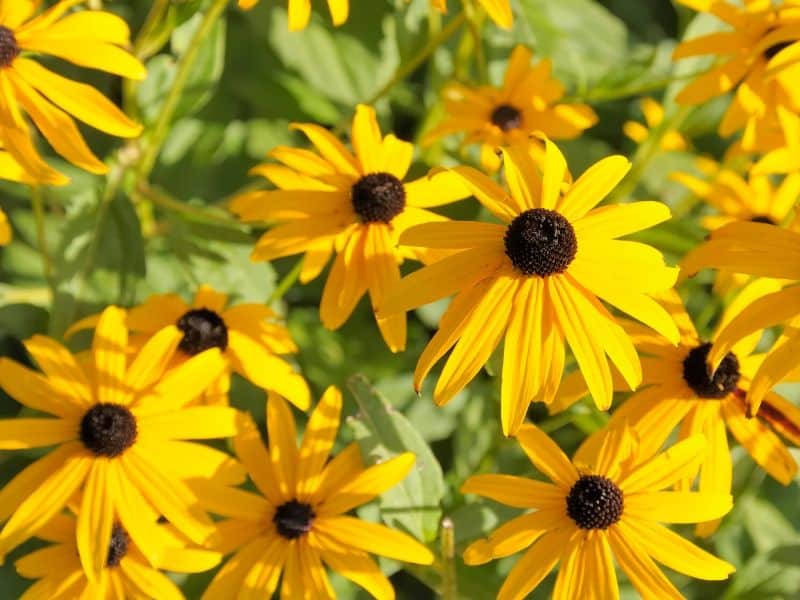 8. Lavender
Unlike its French counterpart which is particularly tender, English Lavender can survive very low temperatures and, not only will it produce beautifully scented blooms all throughout the summer months, it will also give you evergreen structure. This makes it a wonderful choice for creating a low hedge, and it can even be used in cooking!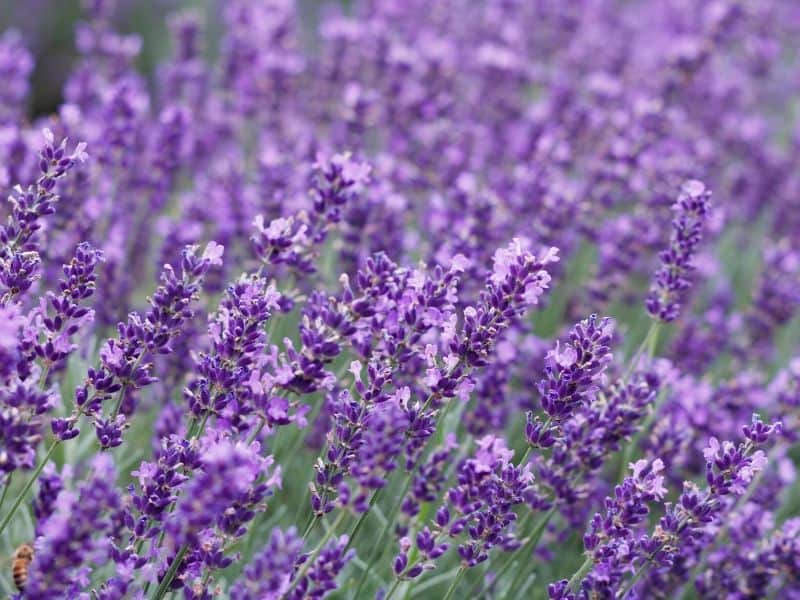 Related: how to grow lavender
9. Catmint
Catmint 'Walker's Low' would be a good option to go for. Happy thriving in full sun, it will spread across the ground up to 24", and will produce spires of delicately scented purple flowers from spring until late summer.
Red Perennials That Bloom All Summer
If you're looking for plants to add into a hot, vibrantly colored border then there's no doubt that red is one of the shades you absolutely must have flowering all summer long.
10. Salvia
Salvia 'Scarlet Sage' is a particularly interesting plant, producing vibrant, scarlet blooms that are interspersed along tall, spindly stems. Regular deadheading will ensure that these flowers keep on coming, and the color of the blooms works spectacularly well when interplanted with other hotter colors such as yellows and oranges.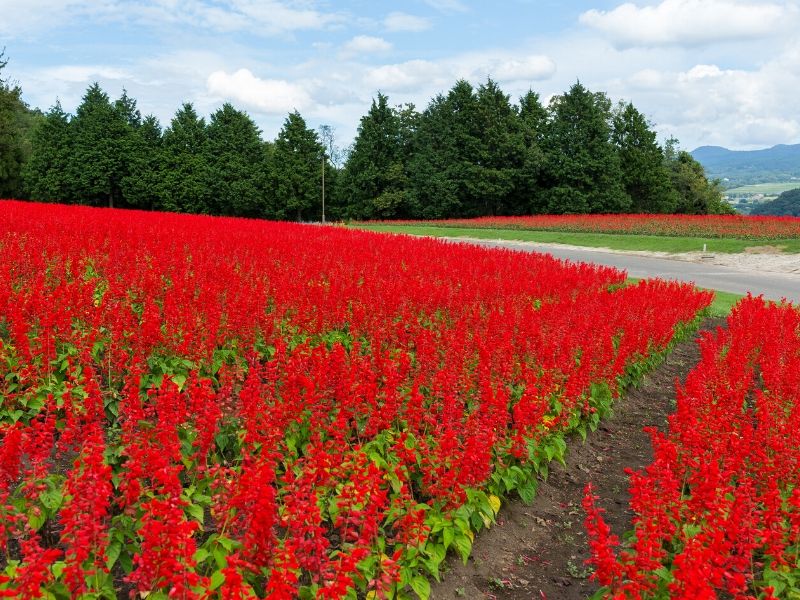 11. Dahlias
An exotic looking plant that is deceptively easy to grow, Dahlia 'Friquolet' is a cactus variety and produces a mass of large, red, tubular petals that are tipped with a lighter shade of pink. These stunning flowers can be grown in borders and in pots, and also make a great choice for cut flowers. In fact, by cutting the flowers you're encouraging more to grow, so you'll have a bounty of blooms from June right through to the first frosts.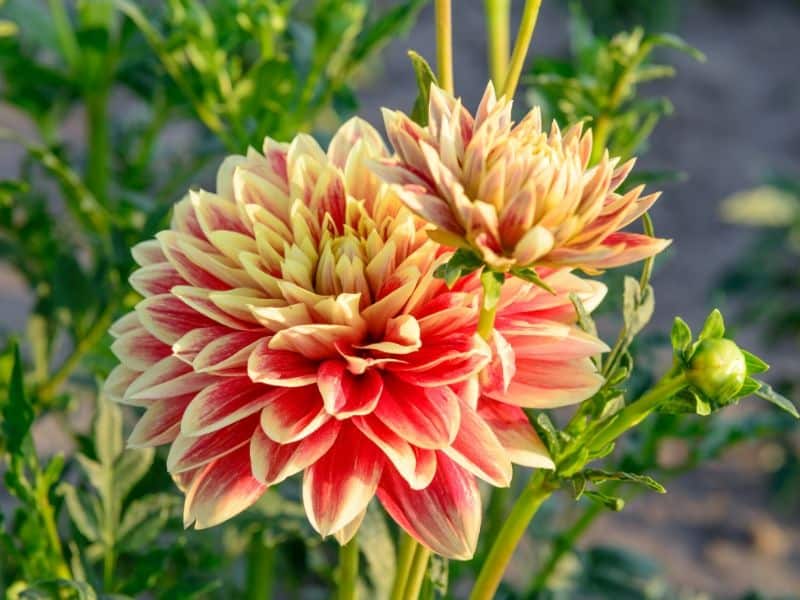 12. Phlox
The dazzling red blooms of Phlox Paniculata 'Starfire' make another superb addition to any red color scheme. The stunning display of flowers lasts for around 3 months, filling your garden with vibrant color all summer. They are also highly scented and emit a delicious fragrance that is attractive to humans and pollinators alike.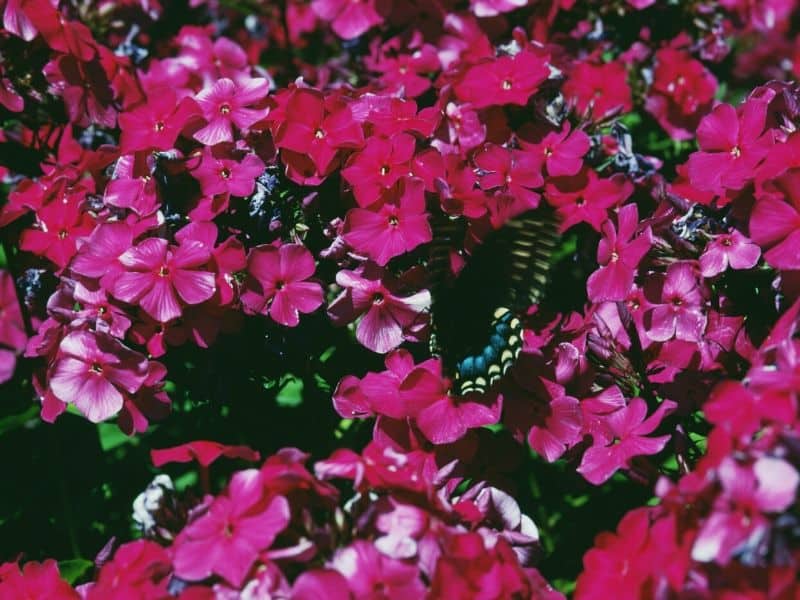 Small Perennials That Bloom All Summer
Not everyone has a huge outdoor space to fill with larger perennials, which can occasionally pose a problem. However, even if you've got a tiny courtyard, patio, or balcony, there are still some plants that will be able to give you a display of flowers all summer.
13. Sedum voodoo
Sedum 'Voodoo' is attractive and aesthetically pleasing on many different levels. First of all, its succulent-like leaves provide architectural interest. It makes the perfect backdrop for its contrasting red flowers that appear in abundance throughout the summer months. It's also highly drought-tolerant, so it is ideal for gardens in full sun, or for anybody with a busy life that might accidentally forget to water them regularly.
Sedum Voodoo Succulent Seeds (Sedum Spurium) 100+Seeds
14. Dianthus
Another great perennial plant for summer-long color is Dianthus. These alpine plants are super easy to grow from seed and will produce gorgeous blooms in shades of pink, white, and red. Much like Sedums, Dianthus are fairly drought tolerant, so they are a good choice for gardens exposed to a lot of sunlight throughout the day.
15. Gerbera daisy
Gerbera Daisies are a favorite amongst gardeners and make a wonderful smaller plant that, when deadheaded regularly, will send up bloom after bloom from the end of May right through to late summer. Gerberas are also much loved by children for their bright colors and almost cartoonish appearance, so are a good choice if you're trying to get your kids into gardening.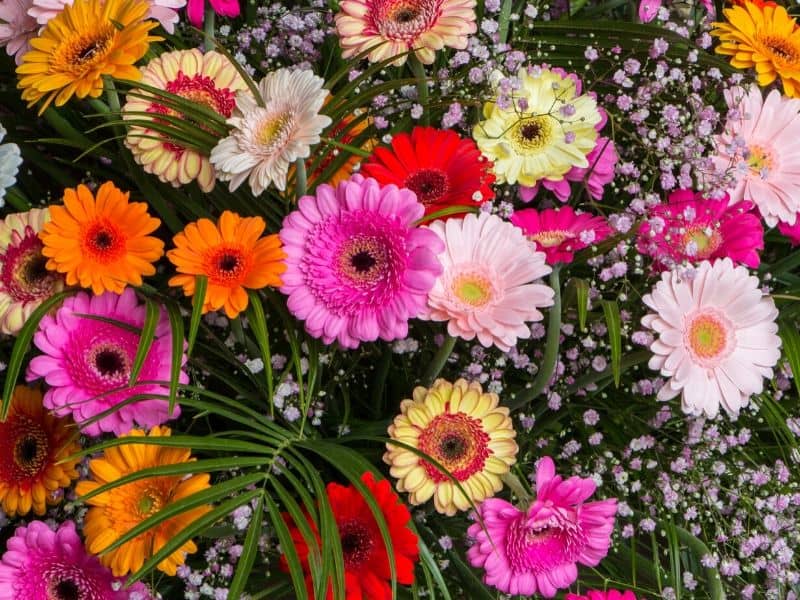 Purple Perennials That Bloom All Summer
Purple is another popular color that appears in planting schemes all around the world, and it certainly helps to provide some spectacular shades throughout the summer.
16. Purple coneflower
The Purple Coneflower will give you a constant display of daisy-like flowers and will grow up to 36" in height, making them another good choice for adding structure to the back and middle of borders. They're also very easy to grow from seed, making them a cost-effective way of getting loads of blooms into your garden.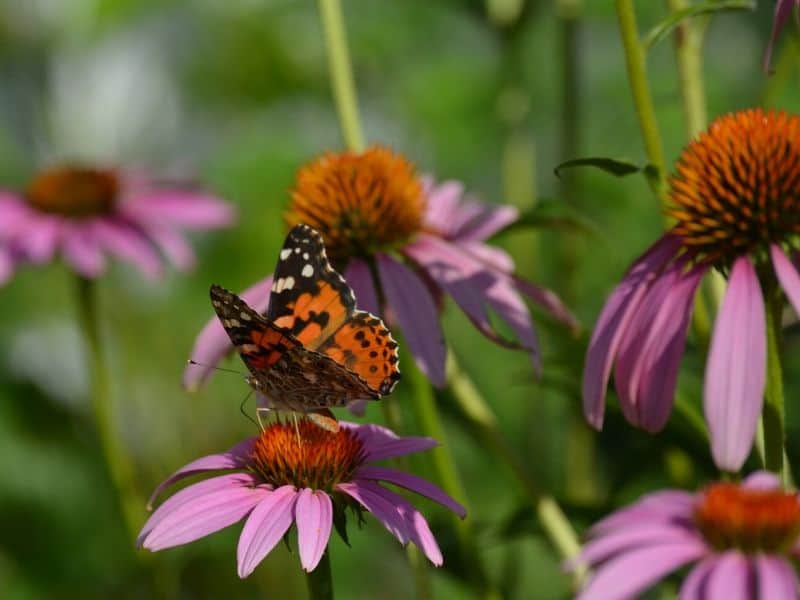 17. Cranesbill geranium
Delicate, deep purple flowers can be found on a Cranesbill Geranium, and not only does this perennial produce a huge amount of flowers from May to July, but their rampant growth also means that you'll get another flush of blooms in late summer if you cut them back. They can also be divided every few years, giving you more and more plants over time.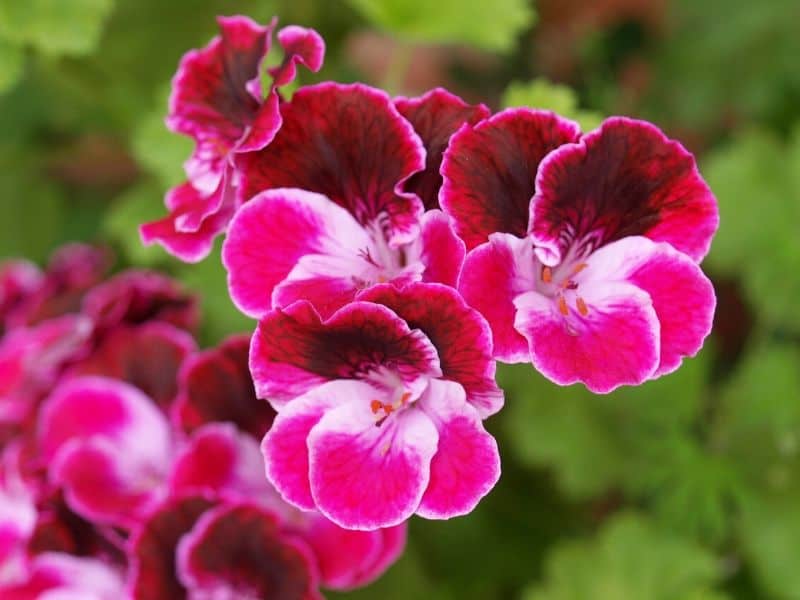 18. Creeping thyme
Creeping Thyme is another great choice for long-lasting blooms, and its miniature flowers are absolutely irresistible to bees and butterflies, making it a fantastic choice for wildlife gardens. It's also a delicious herb and can be used to cook a variety of dishes.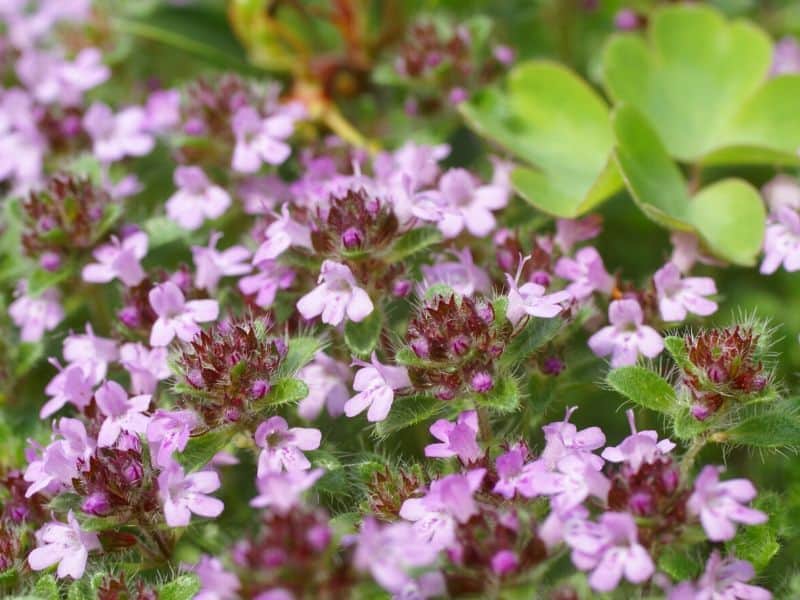 Yellow Perennials That Bloom All Summer
Much like red flowers, yellow blooms are perfect for adding dramatic vibrancy and hot shades to your garden. Yellow is one of the easiest colors to interplant with, making it a super versatile choice.
Related: yellow spring flowers
19. Stella De Oro daililies
Hemerocallis Daylily 'Stella de Oro' produces deliciously fragranced, ornamental flowers in abundance that are set against its dark green, grass-like foliage. As its name suggests, each bloom only lasts for one day. However, this perennial produces multiple blooms right through the summer, with each one being replaced with a brand new one the very next day.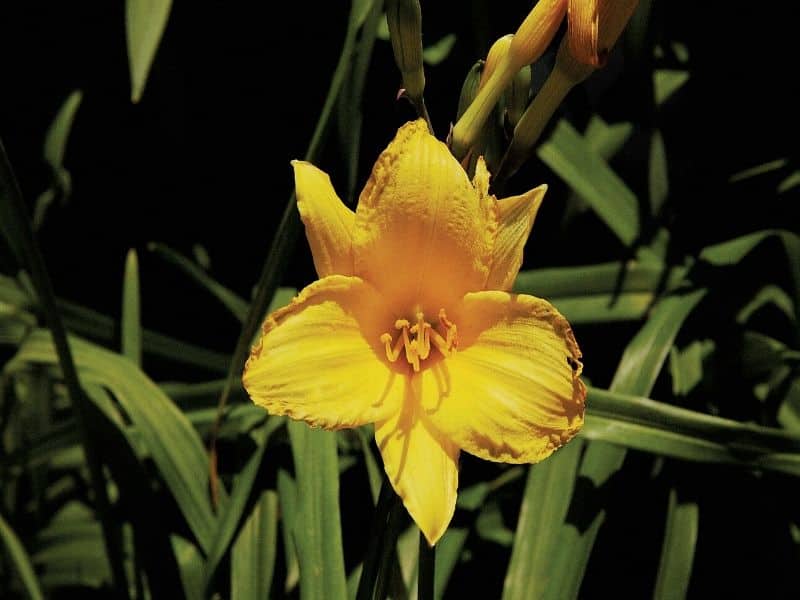 20. Coreopsis
A really good choice for cut flowers, Coreopsis puts out a vibrant display of bright yellow flowers from late spring right through to late summer. The petals of each flower also give a jagged appearance around the outside edge, which adds to their interest. They're also really easy to grow from seed, so you'll be able to get loads of plants (and loads of flowers!) for a low cost.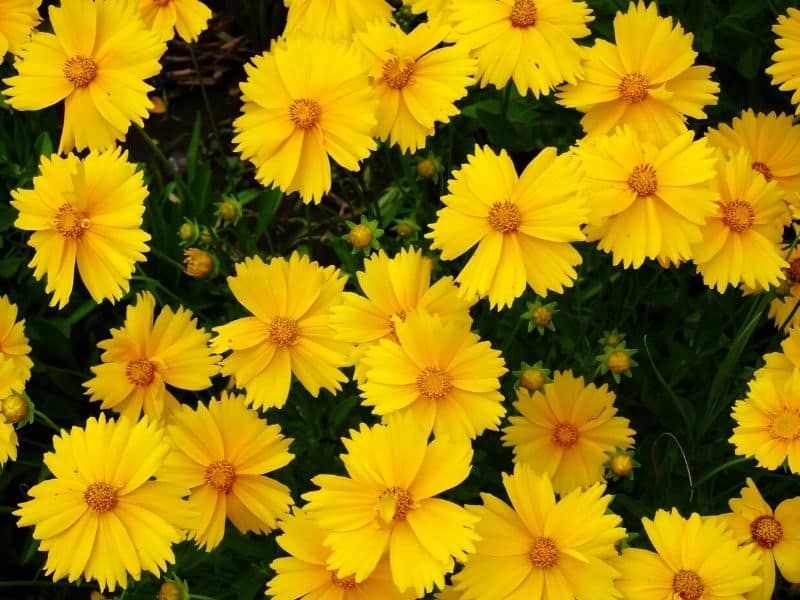 21. Yellow hollyhocks
The beautiful, golden blooms that appear from Yellow Hollyhocks are guaranteed to add months of sunny color to your garden, regardless of how the weather is behaving. Growing up to 48" high, they are perfect for the back of borders. They'll also be extremely happy growing in containers that have been placed in a sunny area.
Full Sun Perennials That Bloom All Summer
Although the sun is a necessary ingredient to make any plant grow strong and healthily, many perennials are unable to withstand high temperatures or drought conditions. But, there are a select few that will give you a stunning display of blooms all summer, even when baked in sunshine all day long.
22. Geranium Rozanne
Producing gorgeous, violet-blue flowers from June all the way through to October, Geranium 'Rozanne' is a particularly good choice for growing in areas of the garden that don't get a cover of shade. It is also deer resistant and rabbit resistant, which means you won't need to worry about any pest damage ruining your blooms.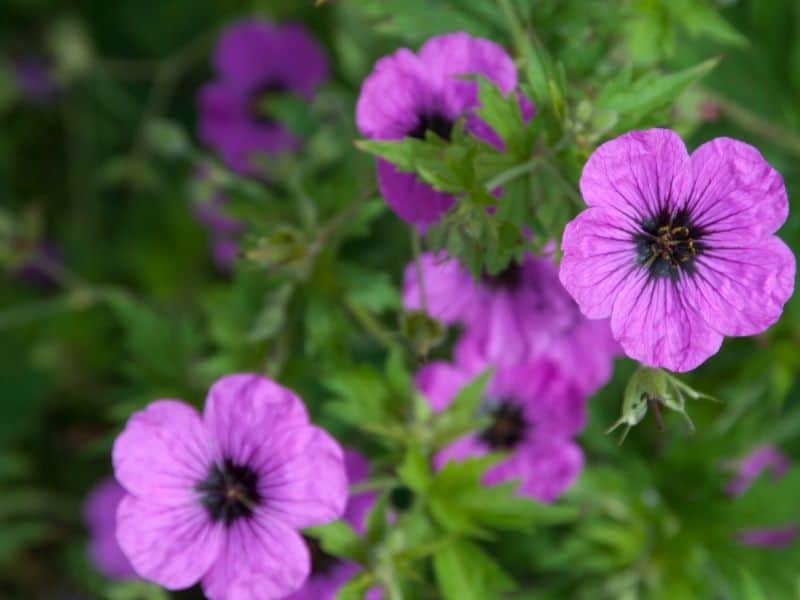 23. Peonies
Peony 'Inspecteur Lavergne' absolutely loves being baked in hot sunshine all day long. And it will reward you with large, blousy, double flowers in a dark pink/red color. WOW! they are stunning! The blooms smell real good, making them a great choice for planting around seating areas or in containers by doorways.
24. Shasta daisies
The Shasta Daisy is another sun-worshipping plant, and produces white flowers from spring all the way through to October! They are potentially one of the most low maintenance plants you could ever grow, and a scattering of seed across some bare soil will provide you with an abundance of blooms for minimal effort.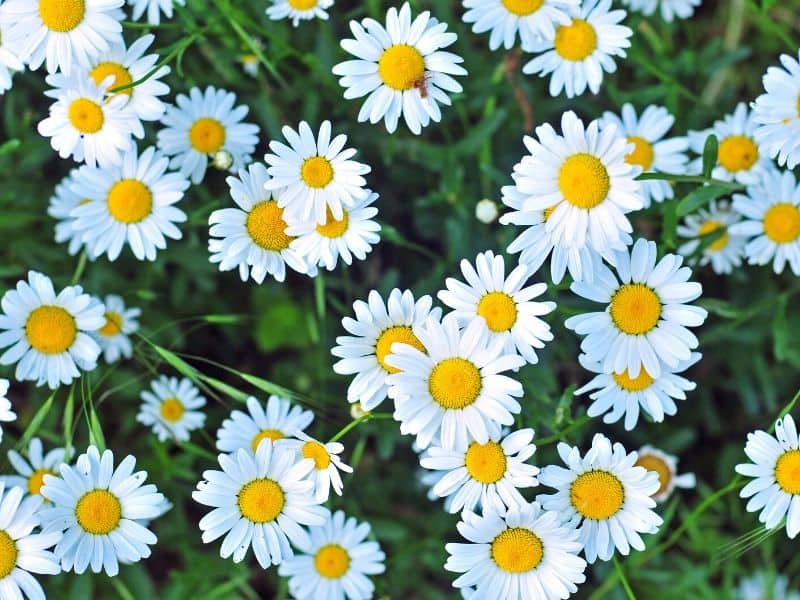 Partial Shade Perennials That Bloom All Summer
Some perennials enjoy being subjected to the sun for a part of the day, but also like the cooling relief that comes with a bit of shade. Provided with these conditions, these plants are guaranteed to keep your garden looking colorful all summer.
25. Hydrangeas
Hydrangea 'Summer Crush' is one of these plants, and unlike most perennials, it keeps a shrub-like structure throughout the winter months that will add architecture to your beds. Throughout the summer, this amazing plant will produce large, mop-head style bright pink blooms that are ideal for creating showy displays.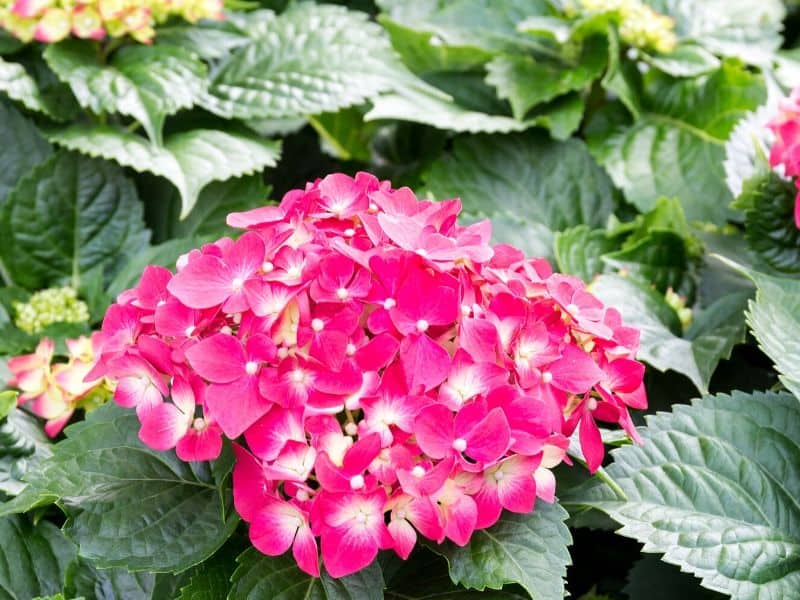 Related: how to change hydrangea colors and make them pink, blue, or lavender.
26. Foam flower
Native to woodland, the Foam Flower absolutely loves sitting in partial or dappled shade where it will produce spires of delicate white flowers from April right through to the end of summer.
Shade Perennials That Bloom All Summer
Lastly, there are perennial plants that love nothing more than sitting in deep shade all day long, where the cooler temperatures allow them to produce loads of stunning flowers from late spring to fall. Here's a list of summer blooming shade loving perennials.
27. Bugleweed
If you're looking to brighten up a dull, shady area then Bugleweed could be the best option for your garden. Dazzling, blue flowers are produced in abundance throughout the summer and look stunning set against the dark green foliage.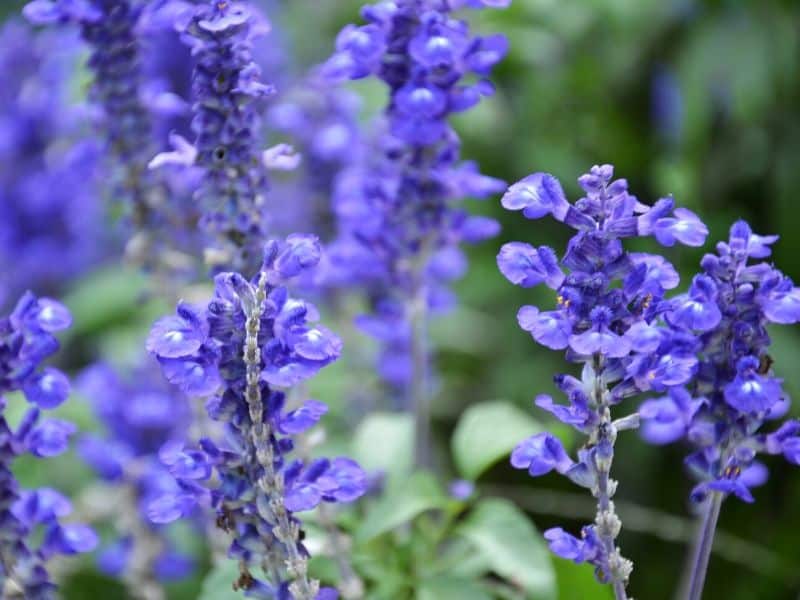 28. Hostas
Hostas are one of the most famous shade-loving plants, and they have been long loved for their super interesting, variegated foliage. Hostas also produce flowers, which adds to their interest. They send up tall stems that are intersected with blooms (usually pale lilac in color) that last all summer long.