Does your storage shed look like this? Are you constantly wasting precious time you could be using to enjoy your garden? If you need 10 minutes just to locate a tool, it's time to de-clutter.
No matter what you use your shed for (tool storage, as a greenhouse), learning how to organize your storage shed will save you time, space, and energy.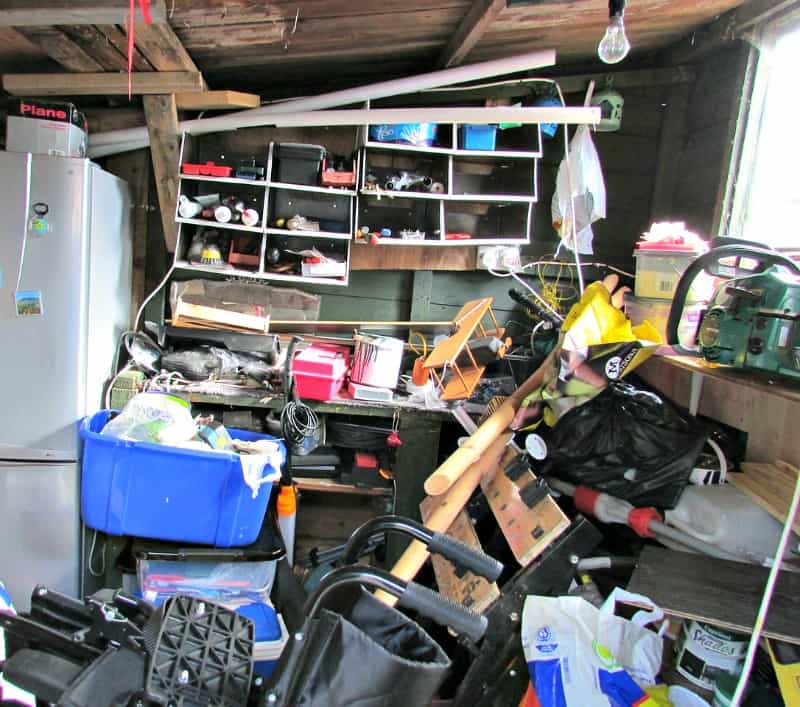 Here are some great uses for storage sheds you might not have thought about 😉
And there's no need to buy another shed, just to stuff it with more junk, right?
In a hurry? This organizer keeps most of my gardening tools in one spot! Sturdy and compact, it's a must-have for any serious gardener!
A Few Tools You Need To Make Organizing Your Shed a Breeze
Before you start organizing your shed, make sure you have all the necessary accessories to get it done in one go. there's nothing worse than having to stop to go to the store and get a shelf or some storage bins. Here's a list of things you might need:
Rubbermaid Deluxe Tool Tower, Garage Storage, Holds 40 Tools
Suncast BMSA2L Loft Shelf
Hopkins 90164 2×4 basics Workbench and Shelving Storage System
How To Organize Your Storage Shed: 5 Easy Steps
1. Remove Everything First
Start by removing everything from your shed: this way you can actually see what's making up the mess.
As you'll now see the shed floor for the first time in maybe years, it's a good idea to sweep the floor, and maybe even paint the interior of your shed (not really necessary for organizing, but it'll give you the feeling of a brand new space 😉
2. Sort Your Items
After removing all your items, make a quick mental inventory of what you have. You may find long lost tools and gadgets, but you'll also find a lot of trash. Take time to sort through what you pulled out of the shed. Be honest with yourself – there will always be those items you no longer need.
Make some piles:
what you want to keep
things that are still good, but you no longer need (give these to someone who can use them)
trash
3. Get Rid of Items You No Longer Need
Since you sorted through your stuff, this should be an easy step and will make you feel really good.
Take the trash away to the dump as soon as possible. This will immediately give you a sense of accomplishment.
Give away those still usable items you no longer need. you can give them to a neighbor, a family or friend, or just donate them to a thrift store. You may not want to stop for this step, but pile everything you need to give away into a box (or several), and put them in the trunk of your car.
Now you should only have those important things you're keeping.
4. Organize Your Shed for Maximum Space
Finally, after removing items you no longer want and prioritizing those you're keeping, it's time to put it all back. And for this, you want to make the best use of your shed space as possible.
Fortunately, there is a myriad of organizing solutions available. From cheap and effective homemade storage to specialized and highly efficient store-bought solutions, you can be sure something exists to hang up that tool or organize those supplies.
It's time to think about which tools you will use most frequently. Put these items in the most convenient locations. The goal here is to make your most-used items easy to reach, whilst lesser-used items can be stored in the more difficult places.
This will save lots of time and energy when you retrieve them later on. It will also increase your motivation to put everything back the way it belongs.
Here are a few ideas to help you organize your shed.
Use shelves
Shelves make organizing easy. Obviously you'll want these, but you don't have to buy them. Just get some scrap wood and some L brackets and go to work. Put them between joists, stack them, add them wherever they fit best.
Furinno (99557EX/BK) Turn-N-Tube 4-Tier Multipurpose Shelf Display Rack
Industrial Retro Wall Mount Iron Pipe Shelf Hung Bracket Diy Storage Shelving Bookshelf
Whitmor Spacemaker Wardrobe with 5 Shelves
Buy some storage bins
This is a super common space saver, and today they come in all shapes and sizes. Some with little drawers for small things, and some with big spaces that carry a lot of weight.
Plastic Storage, Durabilt Tough Tote Box, 27 Gallon, Black With Yellow Lid, Stackable, 2-Pack
Sterilite 28958002 5 Drawer Tower, White Frame with Clear Drawers, 2-Pack
Akro-Mils 10144 D 20-Inch by 16-Inch by 6-1/2-Inch Hardware and Craft Cabinet, Black
Store small items in glass jars
These serve as multi-purpose home storage bins. Screw the lids to the bottom of shelves and fill the jars with nails, screws, seeds, or other small items.
Use hanging organizers with pockets
Whether it be leather, vinyl, or other cloth, a hanging organizer with pockets can give you easy access to tools on the door, or in odd odd-shaped spaces of your shed.
Creative Multi Pockets Over The Door/Wall/Closet Hanging Storage Organizer
Linen/Cotton Fabric Over Wall Door Closet Window Hanging Storage Case Organizer Bag
4 Pocket Fabric Wall Organizer. Closet Storage for Hanging Over the Door.
Add rods, hooks, and magnets to your walls
You can buy these or rescue some from around the house. They work for everything from bicycles to sleds to unused hanging planters. They fill spaces on the ceiling which otherwise might remain empty, and lonely.
Give old furniture a new life
There's always some old furniture around: at garage sales, thrift stores, or your neighbor's basement. Look for trunks, dressers, stands, etc.
They can be used instead of buying plastic storage bins. They also create more shelving space, and sometimes they're even thin enough to hang on a wall!
5. Keep It Organized!
Yep! That's right. Once you learned how to organize your storage shed, it should be a lot easier to maintain it that way. Might be a good idea to periodically plan a decluttering day: the change of seasons is a great time to do this.
Now take a deep breath and plan to tackle your storage shed clutter. You'll shed a few pounds of junk and feel a lot better!