Garden sheds are the perfect solution for your outdoor organization and décor needs. Garden sheds are a great addition to any garden, providing a space to store garden tools, equipment and other items. However, garden sheds can also be used for other purposes, such as a workshop or office. They come in a variety of sizes and styles, so it is important to choose one that is right for your needs.
Garden storage sheds are a very handy accessory to have, particularly if you have a large yard or garden area. They come in a wide variety of sizes and styles these days, so it's possible to find one which fits almost any need, design preference, and space limitations too. There are also so many fun and exciting ways you can decorate and use them, you'll find no shortage of benefits. Let's look at some great reasons to have a shed.
5 Reasons to Have a Garden Shed
You don't want one. When you hear of the word or even think about it, a garden shed conjures up an ugly, wooden structure you see in some gardens that literally is an eye sore. But you need one and you know it. If you didn't have one, where would you hide your tools and old furniture? You certainly wouldn't want your clutter in plain view, would you? Seriously though, there's more to a garden shed than utility or storage. Here are some of the reasons why you need one.
1. Kiddie play house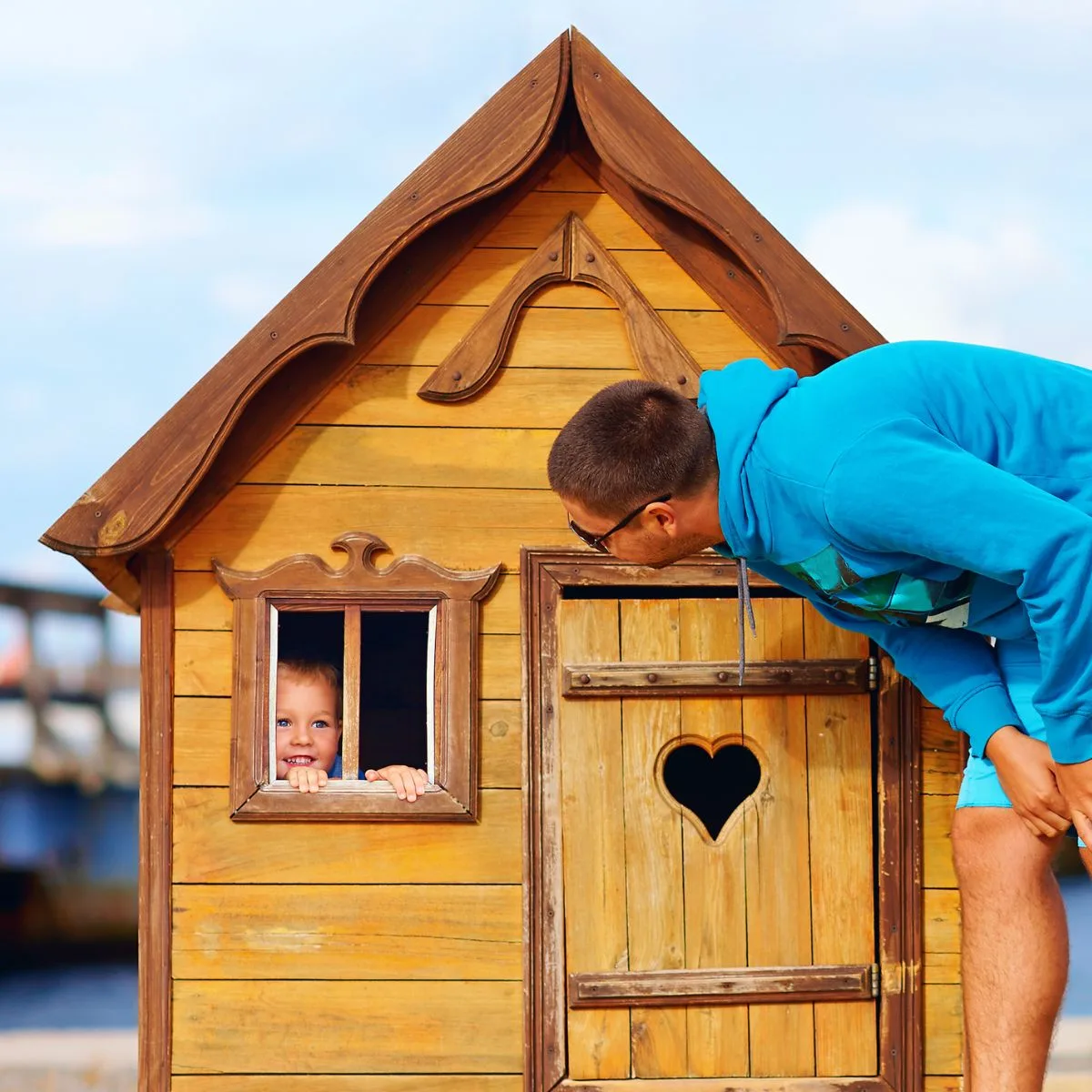 Little children like to have their own private little playpen beside their bedroom. While tree houses are excellent ideas, so is a garden shed. Buy one and install it in your garden. Paint it up with bright colors and decorate it with kiddie toys.
You can designate a small space near the window for your kids' play area. Spruce the outside up with a picket fence and plant flowers and greens in the space your kids can care for. That way, the garden shed doesn't only serve two purposes; it also gives you a wonderful venue to introduce your children to the joys of gardening.
2. Garden enhancement fixture
A garden shed for aesthetic purposes? Who would have thought that to be possible? Seriously, though. Think outside the box and you'll realize that a garden shed is not only a functional garden fixture; it's also a nice addition to complete a themed look.
Think pagodas or the Taj Mahal. If you have a beautiful collection of tropical flowers and have an altogether Eastern garden theme, dress up your garden shed's façade to make it look like an Eastern temple. You get a perfect backdrop for a tea party or an intimate afternoon in your backyard.
3. Versatile detached structure
Do you need a bit more space temporarily to work on your current woodworking project? Perhaps your teen needs a sheltered space beside the house to work on a science project for a few weeks. For whatever extra space anyone might require, it's easy to turn an Arrow garden shed into a makeshift workspace for whatever purpose. Keep your clutter organized so it's easy to move things around and make room for a project.
Here's how to organize a shed.
4. Eyesore cure
Having a place to hide your clutter does wonders for your peace of mind. You don't have to worry about where to hide your wheelbarrow when entertaining friends. Your view doesn't have to be obscured by a pile of old rugs and furniture when you're out in the garden enjoying a cozy warm afternoon.
For things that aren't meant for the dumpster yet but are rather unsightly, a garden shed could be your quick and perfect fix.
5. Practical, aesthetics

There can be a number of reasons for getting your home fixed with a garden shed. Functional utility or storage purposes can cost you a few bucks, true. But for the versatility it offers and the practical uses you can have it for, garden sheds can well be worth more than their dollar prices.
Garden Sheds Uses
My grandmother had a garden shed in her backyard. It was a dark and spooky place that I used to happen upon every once in a while. It wasn't until I got older that I understood what the shed was really for. It was where she kept all of the gardening tools that she used. She had all kinds of hoes, shovels, pick axes, and other types of tools in there.
When I became an adult, I decided that I wanted one for my backyard. This usually happens to people who accumulate too much gardening equipment to fit inside their garages. It can also occur when people get tired of taking their gardening accessories and equipment out of the garage and bringing it all the way to the backyard. If it is already in your backyard, then the shed will be much more accessible.
As my grandmother got older she focused a little less on gardening and more on her art, she added to her shed and made it into a painting studio. This is just one example of the freedom that a shed like this can provide. They are a house outside of your house. You can do whatever you want with them.
Consider its purpose
Garden sheds come in all different sizes. Some people install just a small one to fit a few essential tools. Others install a storage unit large enough to hold a tractor. In any case, it is something that is meant to fit your needs.
Consider security needs
The next thing we should talk about is what kind of security system to install on your shed. It seems that these days you always have to lock up whatever you own. It is important to do this if you have expensive gardening equipment. So, make sure you get a shed that can be locked up.
Consider aesthetic
And lastly, let's think about choosing a color scheme for your shed. Some people just buy a shed that looks nice. They forget about how it will fit in with their backyard. You need to make sure that the colors match the kind of plants that will be surrounding it. Also, it shouldn't clash too much with the house you live in.
If you buy an already assembled shed that is a certain color you can usually paint over it if you need to. So, don't let the original color weigh too heavily on your decision.
I hope that this array of information on garden sheds has helped you come to some sort of conclusion as to whether they are right for you. There will be many choices you will need to make as you set up your shed. Just remember that the process should be fun.
What Are Garden Sheds Made Of?
Garden sheds can be made from a variety of materials, including wood, metal, and plastic. When choosing a garden shed, it is important to consider the type of material that will best suit your needs. Wood garden sheds are typically made from cedar, fir, or pine, as these woods are naturally resistant to rot and insect damage.
Metal garden sheds are usually made from galvanized steel, which is then coated with a layer of paint or an enamel finish. They are more durable than their wood counterparts, but they can be more difficult to customize.
Garden shed kits are also available for purchase, which allows you to build your own shed using pre-cut materials. No matter what material you choose, garden sheds can provide a much-needed storage solution for your home.
How to Choose Your Garden Shed
When choosing a garden shed, it is important to consider the type of material that will best suit your needs. Garden sheds can be an essential part of any garden, providing a space to store garden tools, equipment, and other items. Garden sheds come in a variety of sizes and styles, so it is important to choose one that is right for your needs.
If you have a lot of gardening equipment or tools, a garden shed would be a great investment for you. Garden sheds provide you with the means to organize your belongings and keep them safe from poor weather conditions. There are, however, so many different types of garden sheds to choose from, that choosing the perfect one may be difficult. Here are some things that you can consider that will help you to choose the perfect garden shed for your yard.
Your shed's purpose
The first thing you will want to consider before you purchase your garden shed is what you will be using it for. Typically, garden sheds are used to store things such as power tools, garden tractors, gardening supplies, the mower, and other types of equipment.
Many people, however, like to think outside the box, using garden sheds for things such as a child's playhouse or a work area. If you are using your shed for something like this, you will want to purchase a shed that is more home-like, incorporating lights and windows. If, however, you will be using your shed purely for storage, a simple shed will do just fine.
Once again, if you are purchasing your shed for a playroom or work area, you will probably want to purchase something much larger. If using your shed purely for storage, the size you will need will depend on how much you intend to store.
The more you intend to store, the larger you will need your shed to be. To determine how much space you will need within your shed, take measurements of any larger equipment (such as lawnmowers and snowblowers) and look for a shed that is big enough to store them.
Here are 7 ways to use your shed for more than storage.
Garden shed sizing
Some garden sheds are quite small and might be considered nothing more than a potting bench or storage box. These small garden sheds can be useful though, if you have very little available space around your home, and if you do very little gardening throughout the year. But even these can range in size drastically.
Some might have room for all of your lawn and garden equipment for instance: The larger hoes and rakes, smaller hand tools, extra gardening soil, extra containers and pots, and maybe even your lawnmower or edge trimmer too.
Smaller versions of the "medium" sized garden sheds might not be large enough to fit your lawn mower in though, and some aren't even made to store larger hand gardening tools either.
Larger garden sheds can sometimes be quite large, and many of them are quite elaborate these days too. Not only can the larger sheds accommodate your larger hand tools and extra gardening supplies, but often these sheds have plenty of room for you to set up a full-fledged potting bench. Some of them also have room for you to set up a small greenhouse area too, so that you're able to get your seeds started even before the ground thaws each spring.
Garden shed material
Aside from size, you will also need to choose a material for your shed. Generally, garden sheds come in three different types of material – wood, metal, and vinyl. Each of these materials has both positive and negative characteristics.
Wood sheds are more likely to blend in with the house and environment, but are usually more expensive than other types. They are also susceptible to rain damage.
Metal sheds are very durable and come in a variety of colors. Unlike wood sheds, however, they may not blend in well with their environment.
Finally, vinyl sheds are great because they require little to no upkeep. With that said, they are also less durable than metal and wood sheds.
Garden shed designs
Elaborately designed garden sheds come in a wide variety of designs, which are meant to help you fit the shed nicely into your personal landscape and garden areas. Some of these, for instance, are made to look like small English Cottages (these flowers are great for English cottage gardens). There are even places where you can buy garden sheds that look like a miniature version of your own home too.
When buying a garden shed, try to take into account what garden tools and supplies you already have, and what types of things you're likely to buy in the next several years. With that information on hand, you should choose a shed that's large enough to accommodate both your existing supplies as well as those you'll be buying later.
Other things that you may want to consider before purchasing your garden shed include the kind of flooring you want, the portability of your shed, and the extra pieces that you will require. Do you need more shelving units, a bench, or windows and skylights? If so, you may be able to purchase these with your shed or purchase them separately at a later time.
Garden shed brand
Finally, consider the brand of your shed. Be sure to research the brand before you purchase your shed. This way, you will know exactly what to expect in terms of quality and durability.
Here are some of my favorite shed brands:
Checklist for shopping for your shed
Here are some things to keep in mind when shopping for the perfect shed for your garden.
What is your budget?
How will it work in your existing landscape?
What functions do you need it for?
Have you researched different shed materials?
What design are you most interested in?
Do you need/want windows?
What size door(s) do you need?
Cheap Garden Sheds for Budget Storage
Are you looking for a backyard storage option but don't want to break the bank? If you're on a budget like most people today, then you need to know how to shop for garden sheds that still fit in your budget range. There are cheap garden sheds or storage sheds available to you and just because they're cheap doesn't mean they're poor quality.
You just need to learn how to shop around and find the right one for you. You will want to consider different factors such as what it looks like, what's it made from, its size, and how long you think it will last for you.
You will also need to decide if you're going to purchase one, have one made for you, or make one yourself. Making it yourself is still the cheapest and best option but for some people, that's not possible. Unless you have a friend or family member who can help you out with making it, you will then need to purchase one already put together for you.
With so many different sheds on the market today, this won't be as difficult as it was in the past. When you shop around, you can get a great garden shed for cheap. You just need to have a good idea of what you're looking for when you first set out to get cheap garden sheds. This is important to make sure you get something that works for you.
Some things to consider about cheap garden sheds is that you often get what you pay for. If you purchase a cheap shed, it might not look as pretty as a more expensive option. If you are serious about your backyard theme and décor and you want a garden shed that will add to the attractiveness of your backyard, it might serve you better to shop around until you can find the right one for you.
Sometimes when you give it time, you can find name brand sheds at cheap prices because they go on discount. This is a great way to find cheap garden sheds that are still high quality. There are a lot of different things to consider when you go cheaper to save on costs but it can be done without sacrificing what you need and want.
A Garden Shed for a Messy Backyard
Do you have a messy backyard? Are there tools and other items lying around cluttering up the place? Could your problem be due to the fact that you don't have anywhere else to put them? If so, this problem can be solved with a garden shed. Just imagine how easy it would be to keep your lawn looking neat and clean if you had a place to store all of your tools and other items. It would make finding what you need when you need it much easier as well.
If you don't already have a shed that you can use, the first step is to choose the garden shed design that best suits your needs. There are many available that come in a variety of materials. For instance, you can choose a wooden storage building or a vinyl storage shed to name a few. You can build a storage shed from scratch by purchasing your own lumber or other materials and searching the Internet for blueprints for the design of your choice.
Purchase a storage shed kit
If you would rather have a head start, you can purchase storage shed kits that have everything you need to put together your building, including instructions. You can even invest in a Suncast storage building if you prefer to simply set it in your backyard and start using it. These are durable and come in many different shapes and sizes suited for anything that you could possibly have cluttering up your backyard.
You can keep your lawn mowed and your hedges trimmed but if all your tools and equipment are scattered around in the yard, it'll still look messy. Garden storage sheds are the perfect answer to this problem. Once you have everything organized and put away, you may even be a little amazed at the difference it makes. An added bonus is the fact that everything will be so much more convenient. When you need something, you'll know exactly where to look for it.
Not only will a garden shed keep your backyard clean and neat looking, but it'll also protect your investments by keeping your tools and equipment out of the weather. Garden tools and lawnmowers can all be damaged by the elements especially, in the winter. So, protect your equipment and clean up that messy backyard in the process by using a garden shed to store all of your items.
How to Turn an Ordinary Shed into a Garden Potting Shed
If you have a big enough outdoor storage shed, it can easily be turned into a very useful and comfortable garden potting shed with just a few small changes. Let's look at some of those ideas…
If your shed doesn't already have a window or two, you might want to consider putting one in. This is not too difficult to do with wooden sheds, but you may have to buy an expansion kit for sheds made of other types of materials. Having one or more windows in your shed though will allow you to make a whole area dedicated to sprouting seeds even before the frost is off the ground.
Add a wide shelf or table. The primary work area in a garden potting shed is usually the potting bench. You can create a potting bench by simply using an old wooden table, or you can put a nice wide wooden shelf at waist height along one wall. If you can put this potting bench in front of a window it will be even nicer, because you'll be able to look out on your yard and garden while working, and your seedlings will have a source of sunlight.
Get a comfortable stool. When you're working at your potting bench for hours, you may tire of standing so long. Put in a nice bar stool that fits right for the height of your bench, so you'll be able to work in comfort. If your potting bench is fairly long, you might like having a rolling stool so it'll be easy to move from one end to the other. Put frequently used items under your bench. Things you use the most such as potting soil or compost can easily be stored under your potting bench in large tubs or bins. Be sure to put a small trowel into each bin so you always have a scoop available each time you need to use one of the materials.
A Garden Storage Shed to Help You Organize Your Tools
Do you or someone you love have a green thumb or just love working in the garden? If you can't find all of your gardening tools and supplies your time trimming, pruning, and planting can be spent on searching, moaning, and groaning. The answer to your gardening woes is having a garden storage shed.
Consider your tools when selecting size and shape
There is a wide variety of shapes, sizes, and even colors to choose from. You can select from smaller models, like 6'x 6' to larger models, like 14' x 16'. You have the option of square or rectangle buildings or tall vertical models (for smaller yards). Garden storage sheds are made out of wood, plastic, or metal construction. You can even have your garden storage shed finished with vinyl siding and shutters to match your house.
Some garden storage sheds have windows and workbench areas, while others have shelves and hanging brackets for easy storage. Perhaps a pre-built unit will fit best in your budget and landscape; however, custom-built sheds with all the extras are available, too. All you have to do is decide which style you like most and make your dream a reality.
Imagine being able to store your planters, watering and feeding supplies, garden tools, lawn mower, and trimmer, as well as the rakes, shovels, and garden cart all in the same place. No more wondering where you last put down the hoe. Now everything will be in order and ready as soon as you need it. Having one place for all your gardening essentials to go will minimize clean-up time- who couldn't use a couple of extra minutes at the end of a hard day?
How to declutter your garden tools
So if you are cluttering up a mud room or porch do yourself a favor and get a garden storage shed: You will be amazed at how much more time you are actually in your garden enjoying yourself. The money spent on replacing lost or weathered tools and supplies can be invested in a garden storage shed that will protect all of your gardening gear from the elements; not to mention the valuable time that you will have to spend doing what you love.
Having a garden storage shed will actually increase the value of your home and property, making it more attractive to you and your neighbors. Garden storage sheds are easy to build, but if you prefer to shop for a pre-made model, delivery options are available. A garden storage shed makes an excellent gift idea for your gardener at heart. There is no more reason to be frustrated because you can't find something you need to complete a gardening project – once you get a garden storage shed to store all of your gardening supplies.
Garden Sheds Aren't Ugly Ducklings – How to Make them Stylish
No one likes to think garden sheds are essential. Unfortunately, they are a necessity. Every home needs a store away place – to put tools in, keep old toys and furniture, and just generally keep eye sore clutters away from public view. That being said, however, not everyone warms up to the idea of having one. Besides taking up a lot of space, traditional garden sheds can be terribly ugly. How then do they meet aesthetic value in this case?
The trick is to compromise; have a garden shed but spruce it up a bit so it doesn't get boring and ugly. Here are a few useful tips to do just that:
Make a tree house shed
Especially if you have little children in the family, a garden shed can be used both for storage and a place for kiddie fun. Buy or build a small shed, paint it with light colors and decorate it for your children to play in. You can also install a picket fence around in and plant some easy-growing plants in the space which the kids can take care of and grow themselves. You don't only have a storage place this way but are also giving your little ones the chance to discover the joys of gardening.
Theme up your Arrow garden sheds to match your garden. Temple-shaped garden sheds are interesting pieces in an Eastern-themed garden. It's not only good for extra storage, but it's also an excellent view. The design does not have to be elaborate. You can simply attach a pagoda-shaped form or paint up the front to suit the theme and get the overall look and feel.
Make a miniature of your home
Even if it's only the outside look, you can copy the look of your home on a garden shed, or anything cute or cultural. The house-looking garden shed adds an interesting piece to your garden and makes for a great sitting place for afternoon tea or backyard picnics. You can perhaps add a porch and use benches that open up as storage boxes for tools and toys to complete the ensemble. The benches don't only give you extra storage but add a quaint touch to the garden mood.
When you're incorporating structures into your garden design, you want everything to contribute to the overall look of the garden. And that should not be too hard to do. With a little effort, your Arrow garden sheds can be transformed into a multi-purpose garden feature that's both practically useful and visually delightful.
Organizing Garden Sheds – Four tips and ideas for easily organizing a garden storage shed
If you're like many garden lovers, you tend to accumulate a lot of supplies for your hobby over the years. And this is why garden storage sheds can be so handy. Even if you don't have an outdoor shed large enough to use for a big greenhouse, you can still organize smaller sheds to make the most out of it for your gardening supplies and activities. So let's look at a few organizing tips.
1. Hang up tools
If your garden shed is small, you can get more out of the limited space you have by hanging items from the ceiling or walls. Hang your longer gardening tools such as rakes, shovels, and hoes on the wall, then hang extra pots and containers from hooks in the ceiling.
2. Put in shelves
Having shelves in your garden shed will give you a small area to do everyday gardening maintenance such as repotting plants, mixing compost into the soil, and starting garden seeds. Try to have one shelf that's large enough to use for tabletop activities, then put in several more above which can be used for sitting smaller items on and keeping your garden magazines, books, and journals organized.
3. Use storage bins
Storage bins are excellent organizers to use in a garden shed because they come in a variety of sizes and can be used for a wide variety of things. Put storage bins under your small potting table, for instance, to hold extra soil and compost. Store spring or fall bulbs in storage bins, and even store your plant stakes in small storage bins too.
4. Use planters for small storage
One of the things most garden lovers have is plenty of extra pots and containers. And even some of the smallest of these can be used to store a variety of things. Use the small starter plant containers to hold seed packets, organized by type. One could have vegetable seeds for instance, while another holds seeds for annual flowers, and a third holds perennial flower seeds. Alternatively, you could group your seed packets together based on the soil and sunlight conditions needed for them to grow.
Larger pots and containers can hold small trowels and shovels, or mulch materials such as bark and sawdust. Some containers can even hold landscaping materials such as small stones.
5 Tips for Using Your Garden Shed
You may already know that a garden shed can be a great improvement to your backyard or garden. However, are you fully aware of all the different ways that you can make use of it? If you're not using a garden shed or not using it to your fullest potential, there are some things you should know.
1. Choose the right shed for your needs
Determine the size, material, and other factors based on what you will be using the shed for and why.
2. Make your shed accessible
A good garden shed isn't going to help you much if you can't get to it when you need to.
3. Make the things in your shed accessible
On that same note, if your shed is such a mess that you can never find anything in it, it goes against the purpose of having a shed to help you out. Try to keep it clean and organized as much as possible.
4. Keep all of your tools and accessories inside
This is the place to add anything you need for your garden. Stock up on extra things whenever you can since you will have a safe place to put them.
5. Personalize
A garden shed will be extra special when it's personalized just for you. Add pictures, clippings from magazines, and other decor items to the wall. Inspirational sayings, photos of past years of your garden, and more are all ways to personalize it just for you.
Now that you are aware of these 5 tips for using a garden shed, you can put them to work for you. Your garden shed is your personal tool to make your gardening easy. Every gardener needs one and each gardener will find their own way to personalize it and make it special for them over time.
How to Move Your Garden Shed
One problem that many people face is if they need to move their storage or garden shed. However, there are situations that might arise in which you're going to need to know how to do this. One example might be if you rearrange your backyard and just need it to be in another spot. Another example is if you have a drainage problem in the place it's sitting on and need to move it.
If your shed is small enough, moving it won't be nearly as difficult as you might think. Once you clean it out, the help of a few friends may be all you need to get it moving. With some sheds, you can use a vehicle to give it the power you need to get it moved but you need to make sure you do it correctly so you don't topple the shed.
First, jack it up
The first thing you should do is put jacks under the four corners of the shed. You might need to dig under the shed to give yourself access here to these corners. Then you need to stabilize the walls inside the shed. If you don't already have stabilizers up, you can attach studs to a long piece of wood to do the trick.
Square the shed
Then you're going to need to square the shed with long pieces of wood that create an X formation at the bottom of your shed. This helps make it sturdier so it doesn't topple when you go to move it. Now if the shed is small enough and you have some friends to help out, you can all take a side and pick it up and move it to the new location.
If not, you can hook up a towing hook to the front corners of the shed and attach it to the back of a vehicle and move your shed this way to its new location. A tractor can also do the trick or even a riding lawn mower if you have a small, light shed.
Final steps
Once your storage shed is in its new location, you will slide it onto the flooring or base of your choice and then remove the cross braces. Your shed is ready to use and you can start putting all of your stuff back inside.
As you can see, there are so many amazing aspects to a garden shed. You can use it for storage, functionality, looks, space-saving, and more. Having the perfect garden shed can completely transform your property and also help you protect your garden tools and other supplies. Garden sheds range in price from several hundred dollars to several thousand dollars, so it is important to set a realistic budget before beginning your search. With these guidelines in mind, finding the perfect garden shed should be a breeze!