The best front porch planters make your home immediately feel welcoming and inviting. They add a pop of color to the front of your house and so much curb appeal! I gathered lots of creative front porch flower pot ideas to make your outdoor space beautiful and inviting.
A beautiful flower pot can turn an ordinary front porch into something you'll enjoy coming home to. It's incredible how little you need to transform your space to make a great first impression. Just grab a few large planters, pick a few plants, and get instant curb appeal with minimal effort!
However, since there are so many types of planters and flowers, it can feel overwhelming to know where to begin. Let's break it down so you can plant your own little flower container garden today.
Front Porch Flower Pot Ideas: What to Consider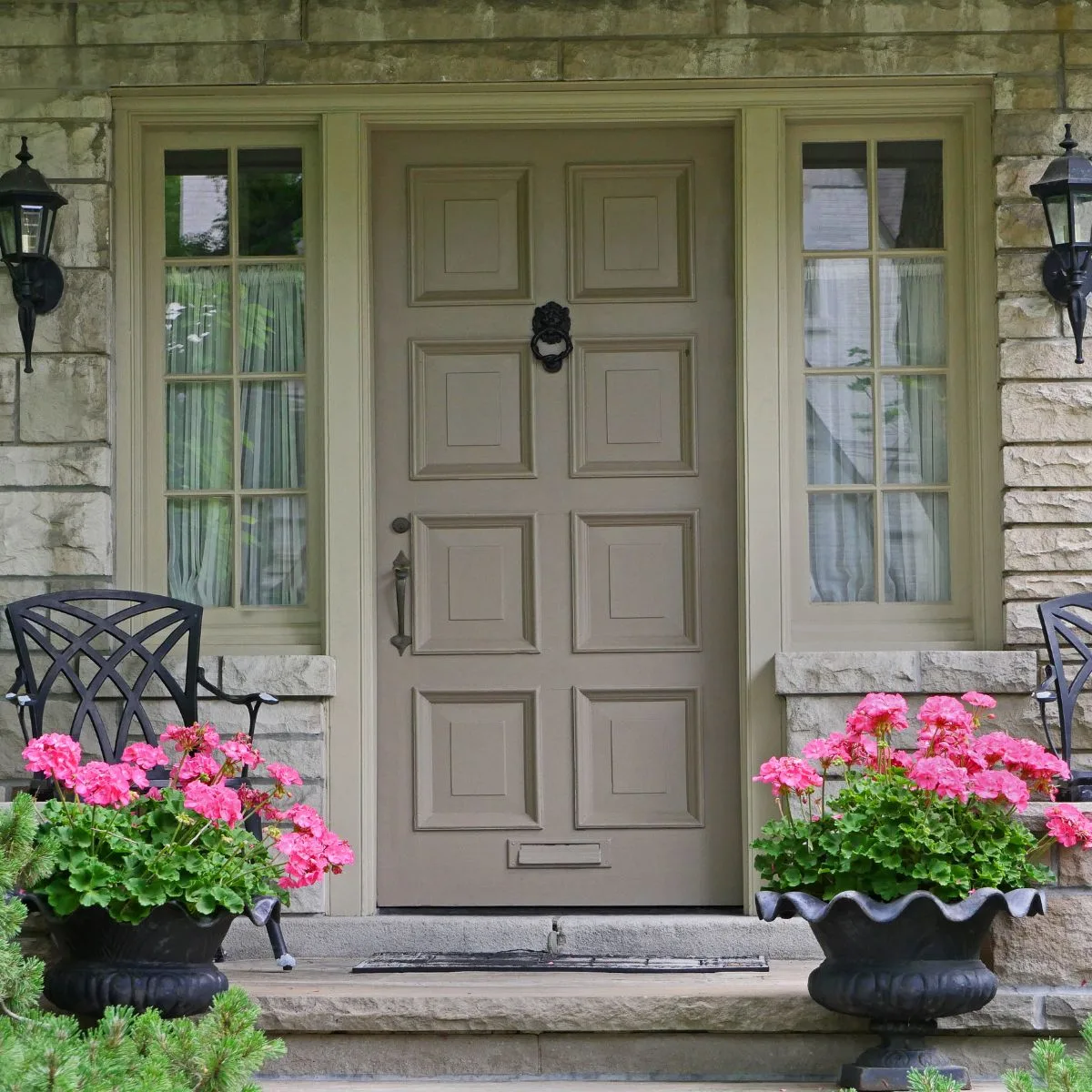 If you don't feel very creative or don't think you have a good eye, these simple design tips make selecting colors and plants that look great in your front yard so much easier.
Consider your house color. For example, yellow flowers can clash in front of a beige house. Pair bright red or pink with bright green. A blue house looks fantastic with warm colors like orange, red, or yellow. White houses look great with any color.
Use contrasting colors. For an easy way to choose colors that always look good together, select contrasting colors like bright pink flowers with lime green coleus or deep red flowers with dark green leaves. These naturally catch the eye and make a great focal point.
Choose shades of the same color. For a foolproof design, select plants in different shades of the same color. Choose deep blue, sky blue, and baby blue flowers or three shades of pink.
Plant topiary flowers. Topiary plants are an excellent way to create a unique and striking look. These days, you can buy lavender, gardenia, hibiscus, and lilac sculpted into a ball to add height, color, and fragrance in one container.
Go big with your color choices. Consider using large, showy flowers like dahlias or peonies in bright shades of pink, yellow, or orange to make a statement. Try pairing purple petunias with yellow daisies or red geraniums with orange marigolds.
Incorporate edible plants. Ornamental kale and cabbage add beautiful leaves and a touch of farmhouse charm to any porch.
Add cascading plants. Although flowers look stunning on their own, cascading plants will drape over the side of the container for a lush, natural look. Tall colorful flowers like geraniums look gorgeous with creeping jenny.
Layer in neutral colors. Once you find two colors you like together, add some white flowers to soften the design. When planted with pink petunias and lime green sweet potato vine, white alyssum adds a romantic, feminine touch.
Play with succulents. If you're looking for a way to add unique texture and interest to your front porch display, succulents are a great option. They look great on their own, but also pair well with colorful blooms or trailing vines for a more dynamic display.
Best pots for front porches
There are so many beautiful planters to transform your front porch. Choose one of these front porch planter ideas, then select your favorite color combination of plants to complete the look.
Ceramic planters
Traditional terracotta pots or ceramic planters add a classic look that always stays in style. These rustic containers pair well with just about any flower or greenery. Plus, they're versatile enough to work with various decor styles, from farmhouse chic to modern minimalism.
While a simple clay pot may be a classic choice, ceramic pots don't have to be boring! Purchase colorful pots or striking white pots that pop next to the color of your home.
One of the best things about terracotta flower pots is that they're affordable and readily available at most garden centers and home improvement stores.
Unconventional planters
If you want to try something different from the classic terra cotta pot, these unique and upcycled planters add an unexpected touch of whimsy and fun.
Repurpose old milk cans, vintage suitcases, heads, watering cans, old buckets, wheelbarrows, shoes, and even vintage furniture pieces into unique planters that display your personality and sense of design.
Not only are unconventional planters a great way to add personality to your front porch, but they also provide an opportunity to repurpose items you may already have lying around your home. Just be sure to add some drainage holes!
Hanging baskets
Hanging baskets are a classic choice for front porches, offering a simple yet elegant touch. They're especially great for smaller spaces, as they don't take up any floor space yet still provide color and natural greenery.
With many different colors and textures available, you will surely find a hanging planter that perfectly matches your style. Find the best plants for hanging baskets to set your new baskets up for success.
You can also pair hanging baskets with other front porch flower pots. For example, a large Boston fern makes any porch feel relaxing and inviting, and they look great with brightly colored flowers.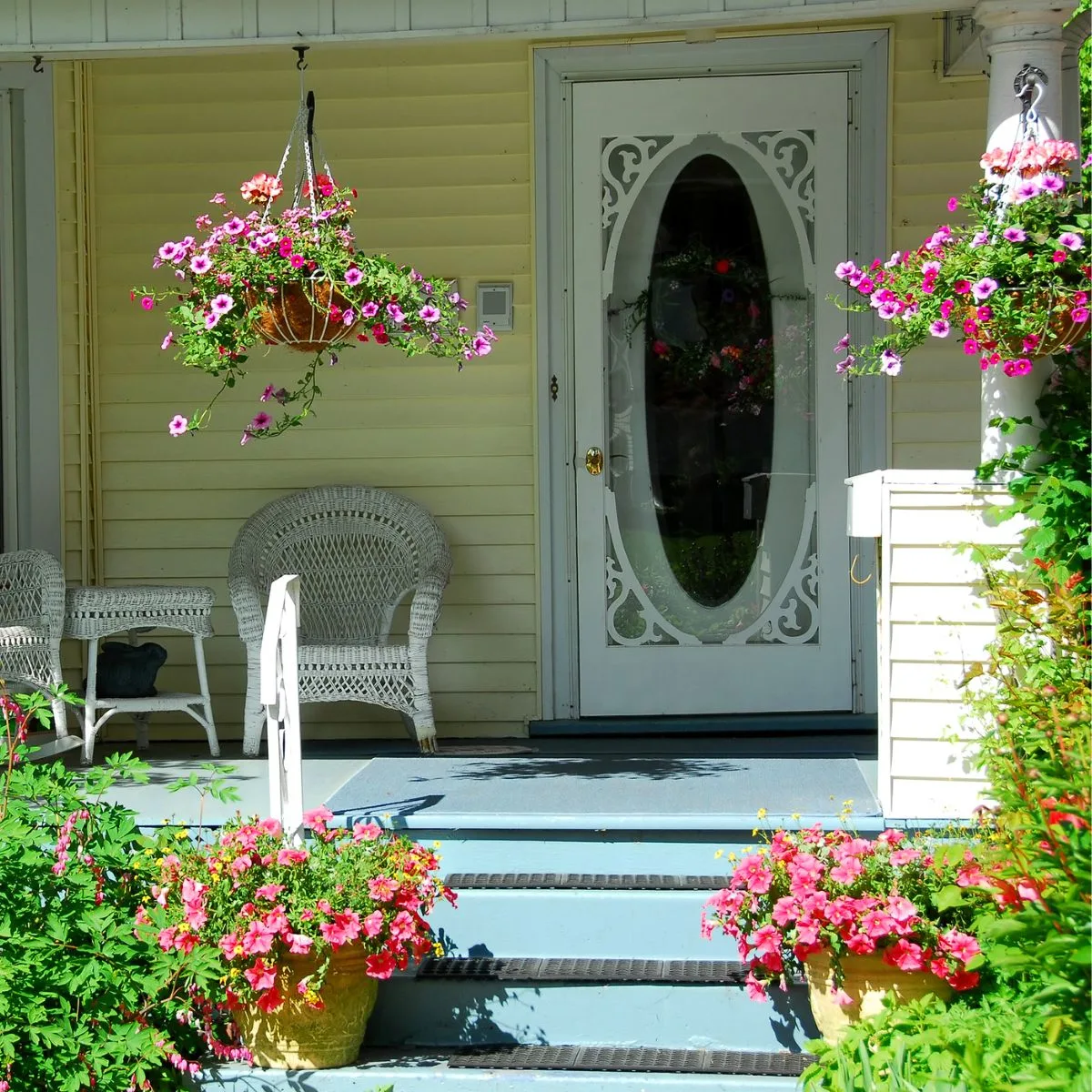 Window boxes
If you're lucky enough to have any windows on your front porch, frame them with these stunning window box planters. They add a lovely rustic charm to any home and are the perfect way to display colorful flowers without taking up too much space.
Not all plants are suited for window boxes, so dig into the best flowers for window box planters before you get started.
There are even self-watering window box planters to make it easy to keep these plants lush all year long.
Wooden planters
For a rustic, cottage-style look, go with wooden planters planted with tall grasses and your favorite colorful flowers. Depending on the style of your planters, you can either have a modern look or add farmhouse charm.
Plus, you can build DIY planters that fit your space and style for an affordable price.
Woven baskets
There's something so charming about planting beautiful flowers in baskets! Since your front porch has a little more protection from the weather, your baskets will be able to withstand the elements for years. Try pairing baskets of different sizes and textures to create a visually pleasing scene.
Wicker baskets come in many sizes, and you can often find secondhand baskets at your local thrift store for a great price. You can even spray paint them to make them your own.
Basket container gardens look best with simple, solid color designs. Try planting a blue hydrangea in a large basket and add white petunias and yellow daisies in smaller baskets for a simple yet refined look.
Tall planters
Add a statement piece to your front porch with tall planters! Their extra height fills up vertical space, making them stand out and draw your attention while adding an elegant look.
Choose planters that fit your design style and select taller plants, including ornamental grasses, tropical ferns, or purple fountain grass, to add even more height.
For an even more stately appearance, stack a second planter on top of your tall planter like in the photo below.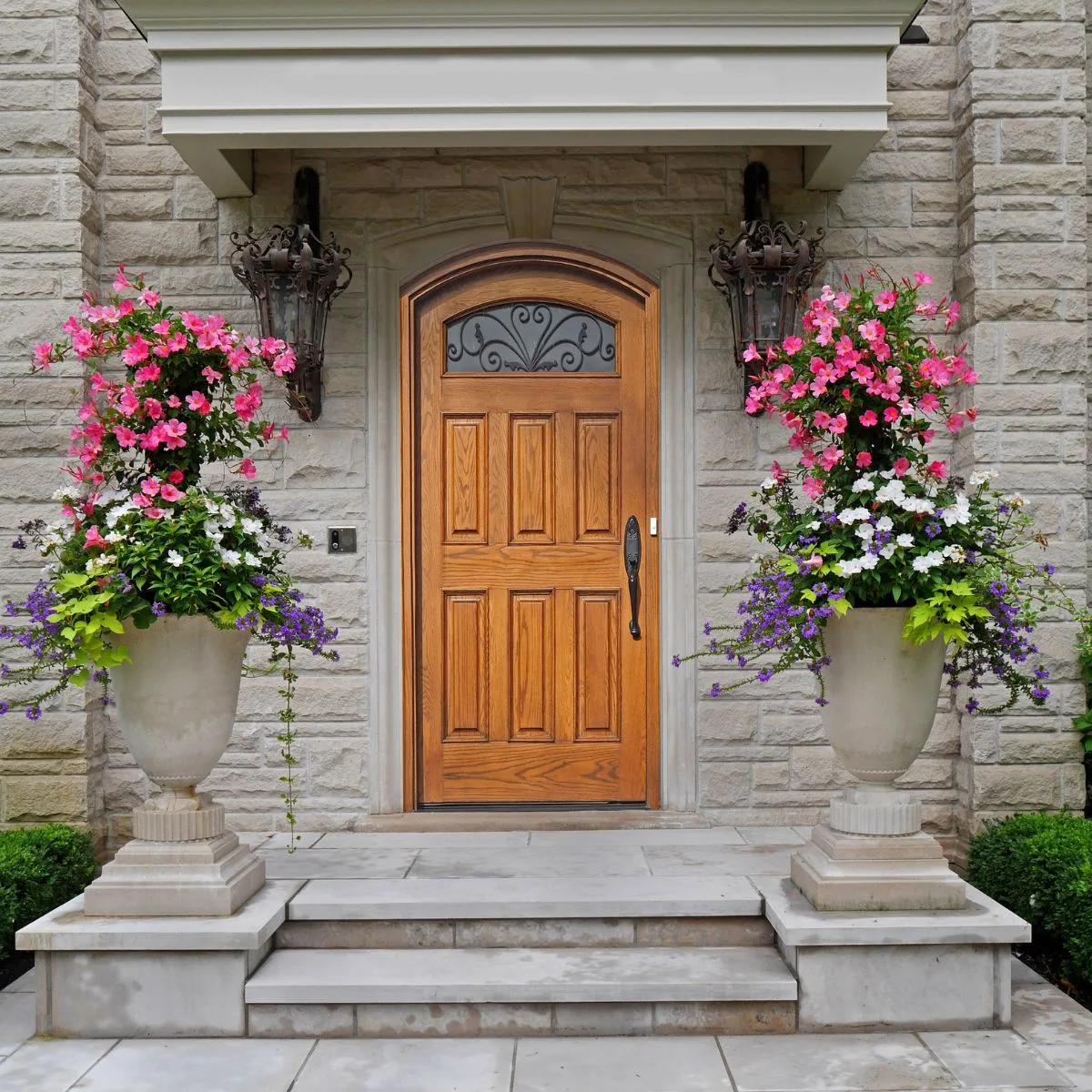 Tiered plant stands
Tiered plant stands offer a unique and stylish way to display your container garden on your front porch. With such a range of sizes and styles available, you can find the perfect stand to fit your space and showcase your favorite plants.
But it's not just about looks – tiered plant stands are also a practical way to maximize your space and showcase a variety of plant sizes and colors. They're also a convenient way to display plants that may need to come indoors in the winter.
Plant combinations to try on your front porch pots
Before planting, take a little time to think through your color scheme. It doesn't have to be complicated, and you can use the suggestions below to pair plants that always look great together.
Red and blue flowers
Pair bright red flowers with any shade of blue for a classic look. Remember to add a draping plant like creeping jenny or Virginia creeper to soften the edges of your planter boxes.
Red and white petunias
You don't always need to use different types of plants; mix and match two colors for a vivid, eye-catching look.
Purple petunias and yellow daisies
These two complementary colors always look amazing together. Pair any purple flowers with yellow blooms like daisies, blooming hearts, and yellow begonias.
Pink snapdragon and golden creeping Jenny
Bold pink and lime green are classic colors that add a splash of color and give a playful, energetic feeling.
Add multiple colors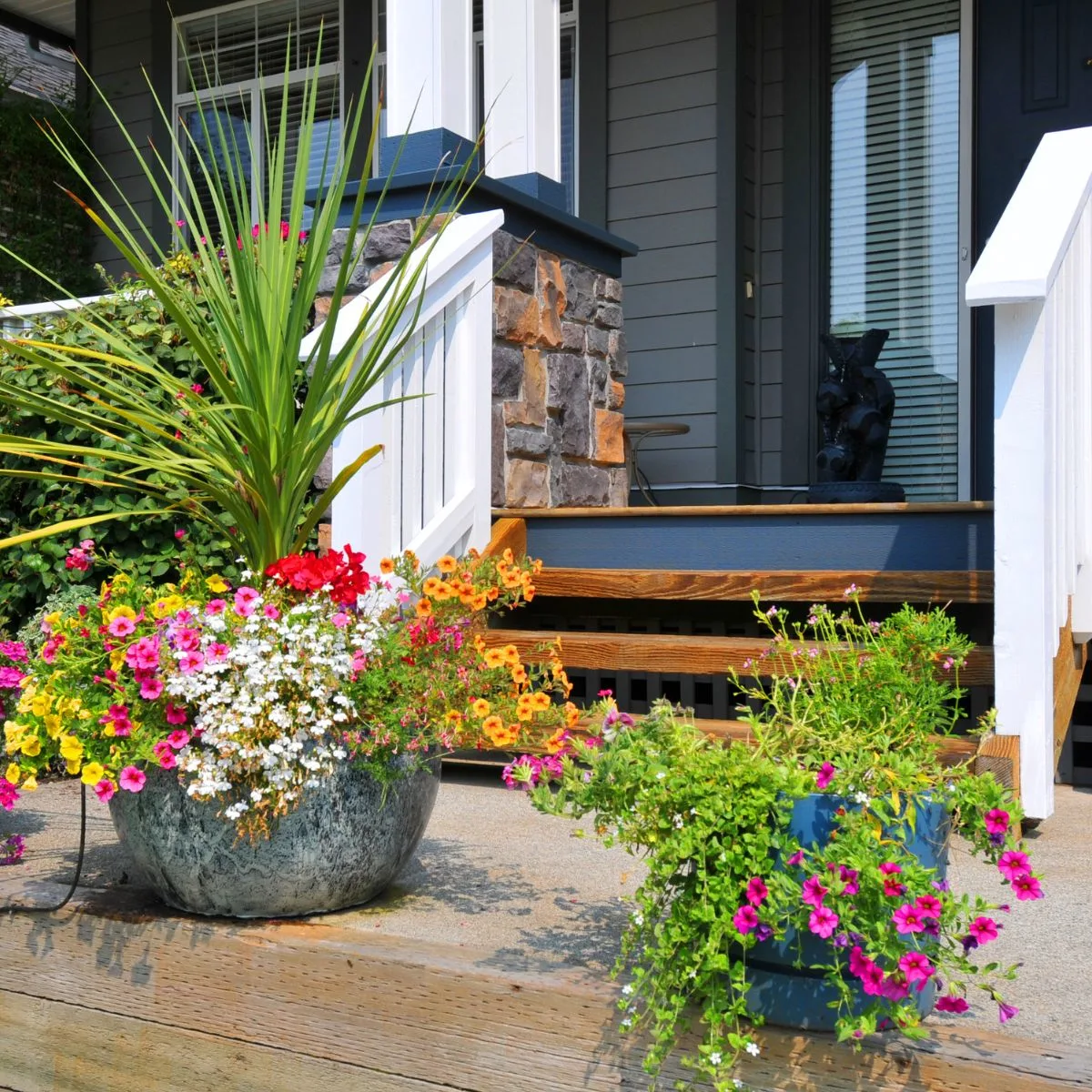 Choose either warm or cool colors and add 3-5 plants that fit within either color scheme. Don't forget to add some foliage like this cordyline for extra height.
How to incorporate pots in porch decorating
There are so many ways to arrange pots and planters, but these tips can help you simplify the process.
Experiment with different container colors and textures to create a cohesive look. Use brightly colored ceramic pots or rustic wooden crates for a unique touch.
Get a pair of identical flower pots. If designing clusters of planters or pots feels intimidating, buy two identical flower pots to frame your front door, a gate, the top of your steps, or another entrance in your yard.
Follow the rule of odd numbers. In interior design, it's common to cluster odd numbers of items together to make visually-appealing vignettes or scenes. Group a large planter with two others in smaller sizes. Play around with arranging these items until you're happy with their look.
Contrast your front door color. If you have a colored front door, choose contrasting pot colors. For example, a blue front door will look great next to orange terracotta pots. A black front door will look great with white planters.
Since so many options are available, it's best to be brave and dive in! Try holding up the photos in this post next to your front porch to get a sense of which type of planter and combination of flowers will work best.
Be careful not to overthink it; schedule a date to visit your garden center as soon as possible!
Adriana Copaceanu is a passionate nature lover living in the country on her dream property where she grows vegetables, lavender, and wildflowers that she shares with the wildlife they attract. When she's not in the garden, she loves spending time with her chickens and planning her next nature project.