I often find that I feel most connected to God when I am outside, completely engrossed in the wonders of creation. Since our passion (gardening) is so closely tied to the earth, I imagine most gardeners have a similar experience. While simply resting or meditating in the garden can be a spiritual practice in itself, we can make the connection between our faith and our hobby even more tangible by planting flowers in the Bible.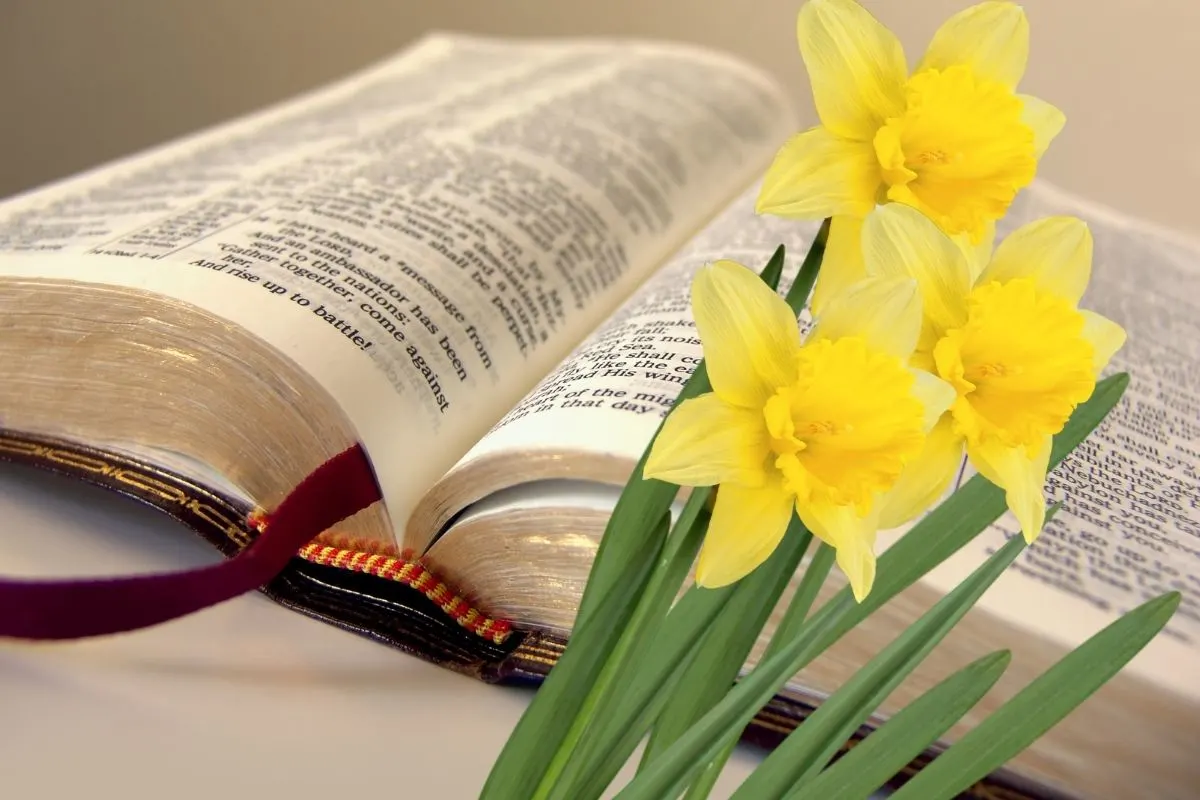 Although our fast-paced society has reduced the time we spend in nature, people in ancient Israel lived much closer to the land. Given this, the Bible contains numerous references to plants in both the Old and New Testament. Jesus often used agricultural metaphors in his parables to make them more relatable to his audience.
Unfortunately, we cannot always be certain exactly which species of plant is being referenced in the Bible. Oral history did not always keep facts straight, as the overall message is more important than the specific flower mentioned, and some details were lost in translation as well. Careful research paired with knowledge of native plants in the Holy Land has led to closer, if not always exact, identification of plants in the Bible.
Flowers in the Bible
The following list includes flowers in the Bible according to the Biblical Botanical Gardens Society and Old Dominion University. While this list strives for accuracy, a biblical garden should focus less on factual correctness and more on spiritual connectedness. May these flowers further your faith.
1. Anemone (Anemone coronaria)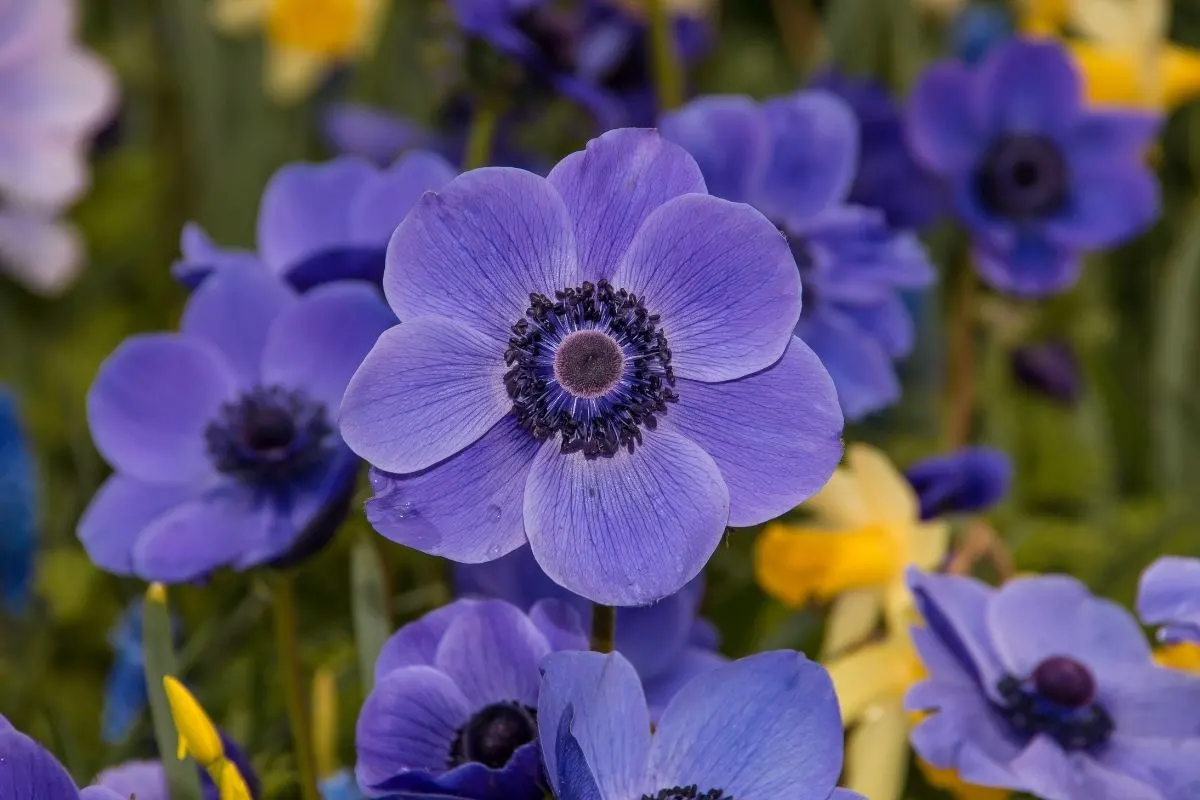 Matthew 6:28-30; Luke 12:27-28
The "lilies of the field" that Jesus referenced in his teaching on worry were likely not lilies at all but rather more common wildflowers, such as the crown anemone, or simply flowers in general. The early spring blossoms of crown anemone are typically crimson with black centers but may also range from white to purple.
2. Black cumin (Nigella sativa)
Isaiah 28:25, 27
Also called black caraway, fennel flower, or nutmeg flower, black cumin features pale blue flowers, edible seeds, and fine, feathery foliage. It is translated in the Bible as "caraway" (NIV), "fitches" (KJV), and even "dill" (JND).
3. Broom (Retama raetum)
1 Kings 19:4-5
Job 30:4
Psalm 120:4
Jeremiah 17:6; 48:6
A dense, twiggy shrub, the white broom has small leaves for just a short period during the rainy season and masses of small white flowers at the end of winter. Although called a juniper in the King James Version, it is unrelated.
4. Caper (Capparis spinosa)
Ecclesiastes 12:5
Known for its edible immature flower buds, caper is one of the commonest bushes in the Middle East. In an unusual reversal, it retains its foliage during the dry season and drops it in the rainy season.
Caper produces showy white flowers. Most versions of the Bible translate the word as "desire."
5. Daffodil (Narcissus tazetta)
Song of Solomon 2:1; Isaiah 35:1-2
These sunny spring flowers may actually be the mistranslated "rose of Sharon" in Song of Solomon and the "rose" or "crocus" in Isaiah 35. The N. tazetta might be the oldest cultivated daffodil and features white petals around a golden yellow corona.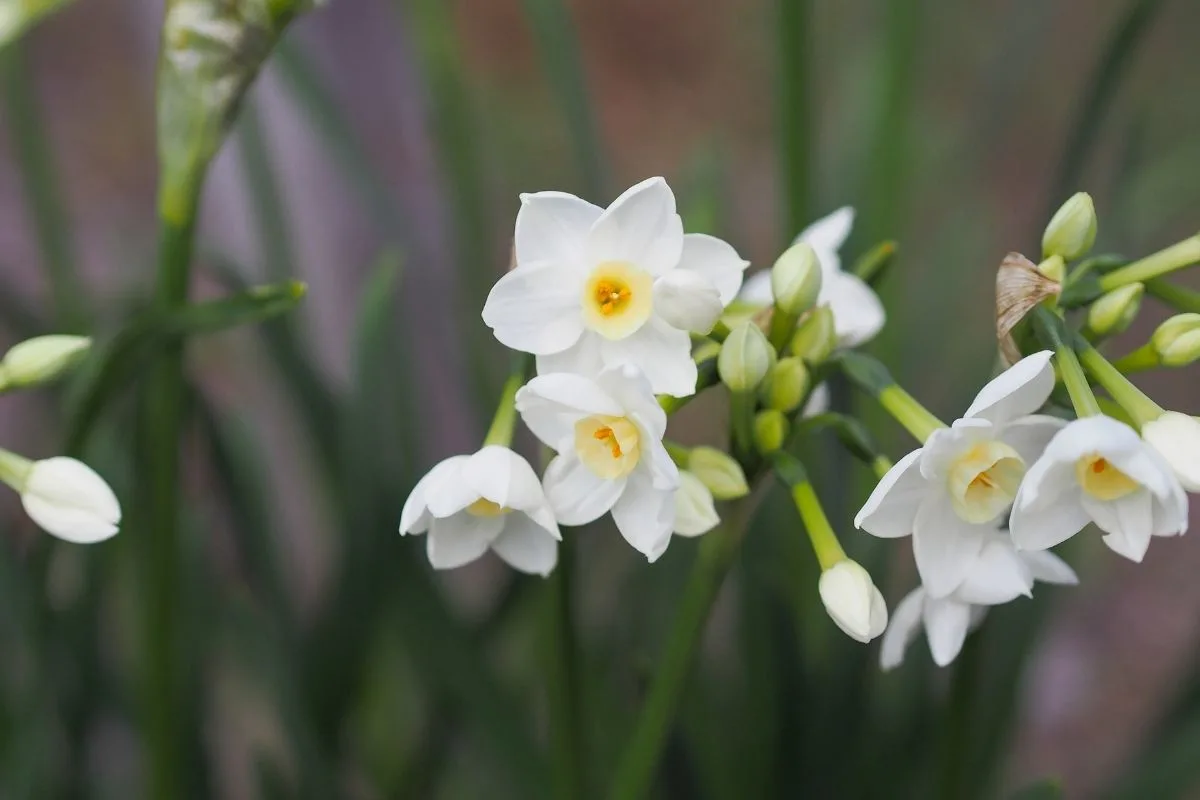 6. Dill (Anethum graveolens)
Matthew 23:23
Although a common kitchen herb, dill produces large, showy umbels of tiny yellow flowers above attractive feathery foliage. It is mentioned only in Matthew 23 when Jesus references tithing spices while criticizing the actions of Pharisees and teachers of the law.
Learn how to grow dill.
7. Henna (Lawsonia inermis)
Song of Solomon 1:14; 4:13
A tall, branched shrub, henna blooms in spring with masses of small, white, fragrant flowers. In Song of Solomon, Solomon compares his beloved to henna blooming in the desert.
8. Hyssop (Origanum syriacum)
Exodus 12:22
Leviticus 14:4, 6, 49-52
Numbers 19:6, 18
1 Kings 4:33
Psalm 51:7
John 19:29
Hebrews 9:19
Hyssop appears 12 times in the Bible, making it one of the better-known biblical plants. It was used to paint lamb's blood on the doorposts during the first Passover and had other ceremonial uses. A relative of oregano, this aromatic herb produces clusters of small, yellow flowers.
9. Laurel (Laurus nobilis)
Psalm 37:35
Philippians 4:1
1 Thessalonians 2:19
2 Timothy 2:5
2 Timothy 4:8
James 1:12
Laurel produces small greenish flowers in spring amid leathery, evergreen leaves commonly used in cooking as a seasoning. David mentions the small tree (or shrub) once in Psalms, and Paul, Peter, and James reference the crowning laurel wreath in their writings.
10. Mallow (Malva moschata)
Job 30:4
Mallow blooms from early summer to fall with pale pink, saucer-shaped blossoms on upright, branching stems. The thick leaves are edible but sour, leading to some Bible versions translating mallow to "salt herbs" or "saltwort."
If you like pink flowers, you might like to add a pink blossom tree to your garden.
11. Mint (Mentha longifolia)
A common culinary herb in the Middle East, mint is mentioned among other herbs in a reference to tithing in Matthew and Luke. This aggressive groundcover produces spikes of pale flowers above its aromatic foliage.
12. Mustard (Brassica nigra)
Matthew 13:31-32; 17:20
Mark 4:31-32
Luke 13:19; 17:6
Jesus compared both the kingdom of God and faith to a mustard seed. Black mustard grows up to eight feet tall from its tiny seed and produces bright yellow flower clusters in summer. Unfortunately, mustard is highly invasive, so if you choose to grow this plant, take great care to harvest all seed pods before they ripen and open.
13. Poppy (Papaver rhoeas)
1 Peter 1:24
The fleeting red bloom of the common poppy is likely what Peter had in mind when he wrote, "All flesh is like grass and all its glory like the flower of grass. The grass withers, and the flower falls." The single blossom of each poppy plant opens, smooths out, and falls in a single day.
14. Rue (Ruta chalepensis)
Luke 11:42
Mentioned only in Luke 11:42 by Jesus, rue is widely grown in the Middle East for use in tea and as a seasoning. This perennial herb has gray-green foliage and produces clusters of tiny, bright yellow flowers.
15. Saffron (Crocus sativus)
Song of Solomon 4:14
A type of crocus, saffron produces light blue flowers and is the source of the most expensive spice known today. Song of Solomon includes saffron among a list of garden plants.
Growing flowers in the Bible
Growing conditions in the US do not often match up with those of the Middle East, though we can still grow many of these biblical flowers in our own gardens. Before choosing to plant a flower, consider its growing requirements and make sure it is not considered an invasive plant in your area.
We may not know exactly which species of plant was meant by "lily of the valley" or "rose of Sharon" in the Bible, but we have some good guesses as to which specific plants such vague botanical terms might represent.
Here are a few more plant terms you may find in different translations of the Bible:
wild flowers
open flowers
flower of the field
olive tree
almond blossoms, almond flowers
dry grass
flower of the grass
lily blossom
branches of palm trees
cluster of henna blossoms
apple tree
unripe grape
sweet flowers
If you would like to turn your hobby into a spiritual practice, creating a garden with some of the above biblical flowers is a great place to start.
Final Words
When you want to bring the Word of the Lord to your garden, you can just choose some of the beautiful flowers on this list. From the lily of the valleys to anemone flower blooms, the beauty of flowers from the Holy Bible is easy to see. Just like all of God's amazing creations, these flowers are here to show us the love of God in our everyday experiences. Your garden with Bible flowers can be a beautiful place to relax and pray or reflect on a spiritual message as the sun rises and you start your new day.
The use of flowers is prevalent in the Bible and there are many New Testament references as well. It's interesting to think that some of the very flowers we grow and appreciate today could have also been present in Biblical times. It's a great reminder of the fact that while many things have changed, God's love remains the same. We can see it in the spring crocuses and in the bed of spices; in the lilies of the field and in the rose of Sharon. The glorious beauty of God's love is shown in the petals of each precious flower. Allow these flowers of the field and the word of our God to touch you each and every day and see how much better you feel. Flowers are a wonderful reminder of the beauty in the world and how blessed we are to be alive today.
Are there any flowers you would add to the list? Do you currently have your own garden of flowers from the Bible?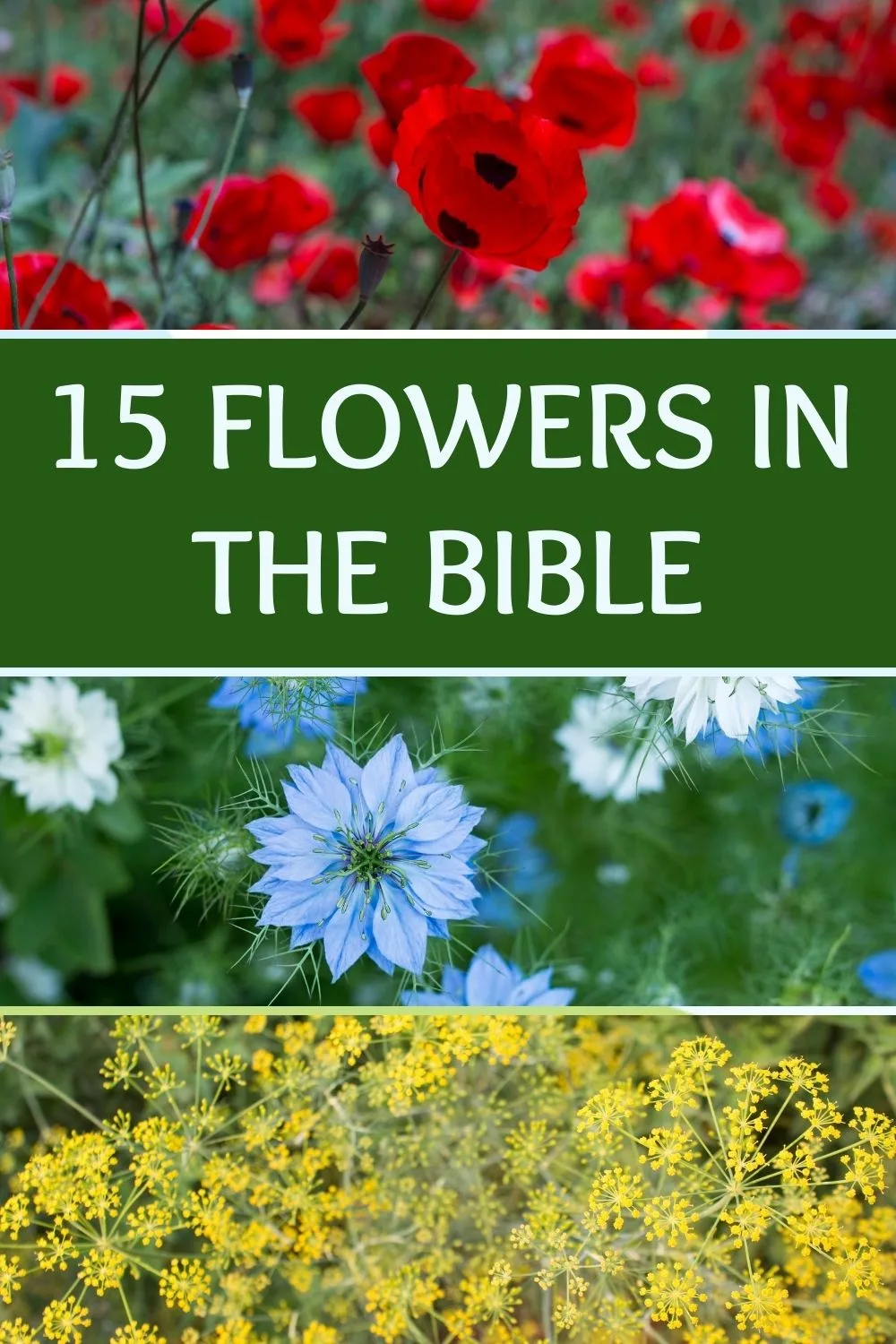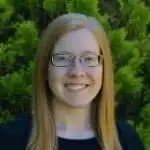 Serena Manickam is a freelance editor and writer and sustainable market gardener in rural Virginia. She holds a BA in environmental science and runs Fairydiddle Farm, a small market garden in which she grows no-spray produce and herbs to sell at a local farmer's market.