This page may contain affiliate links. Please read my full disclosure policy for details.
Container gardens are a popular option for new gardeners. They offer a number of benefits. For starters, they can be an ideal option for those who don't have a lot of space. You can place the container on your porch or balcony.
The Vegetable Gardener's Container Bible: How to Grow a Bounty of Food in Pots, Tubs
Easy Container Gardening: 5 Steps to Grow Fresh Organic Vegetables in Small Urban Spaces
Container Gardening Month by Month: A Monthly Listing of Tips and Ideas
Container gardening can also be a good option if you don't have good soil or a lot of sunlight. You can place the container in the small area of your yard that does receive sun. You won't have to worry about watering a large area of land – just a container.
Another one of the benefits of a container gardening is that your plants will be safe from pests and critters who could wreak havoc on your garden otherwise.
When it comes to container gardening, the possibilities are endless. Whether you want to plant flowers or vegetables, you can grow just about anything this way. You can add a pop of color to your backyard or balcony, as well as grow delicious vegetables right out of garden containers.
Making Container Gardens Work for You
Although container gardening offers a number of benefits, there are also a few things you'll want to keep in mind for maximum success.
There are several types of garden containers to choose from. These include:
Terra cotta: Terra-cotta garden containers are a popular choice due to how inexpensive they are, but they're not able to withstand cold temperatures.
Concrete: Concrete containers fare well in just about any condition, but they're heavy – especially when they're filled with soil.
Wood: Wooden containers are another option. Cedar or nontoxic treated pine are popular options.
Metal: Metal garden containers are a great option, but they get very hot.
Plastic or polyurethane: While these garden containers are inexpensive, they won't withstand the test of time.
How to use your containers for gardening
Once you've chosen a type of container to use for your garden, it's time to determine how much you can plant in it. You won't want your plants to be overcrowded. A 10" to 12" pot is able to hold three to six plants, while a 14" to 16" pot is capable of holding four to eight plants and a 16" to 20" pot is ideal for six to twelve plants.
You'll want to add rocks to the bottom of your container garden before you add soil or plants. The rocks will help with drainage. You'll also want to opt for potting soil, which helps containers drain and hold moisture. This is important because containers aren't able to retain moisture as good as traditional soil. Container gardens also tend to get hotter during the day.
Since container gardens do dry out more easily, it also means you'll need to water them more frequently. They should be watered at least daily. It's ideal to water your container garden in the morning. But you'll want to check again in the evening. If the first inch of soil is dry, then you'll want to water your container plants a second time.
Giving your container garden proper care can help you reap the benefits of an incredible garden!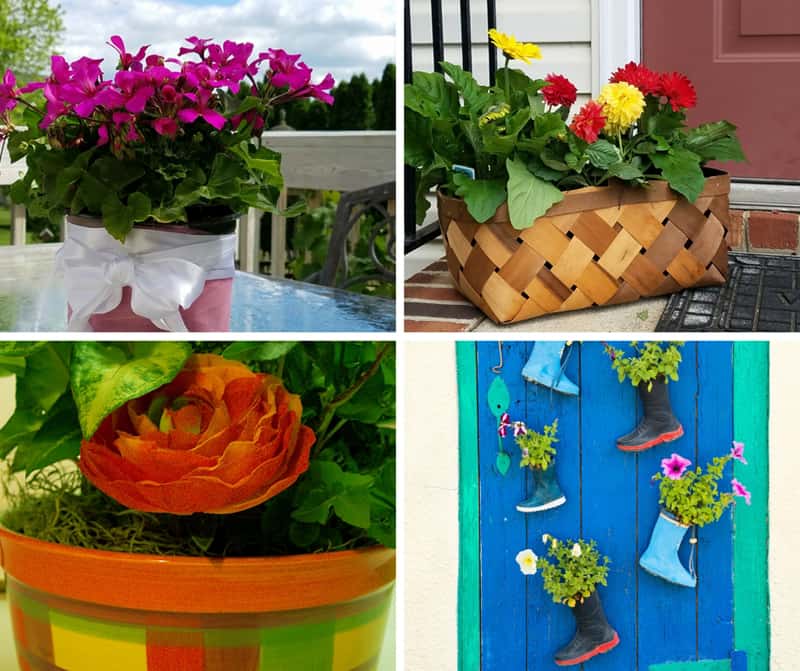 Spring is such an exciting time for garden lovers everywhere! We get the itch to try new plants …
Brighten up your outdoor spaces with ceramic planters and vases filled with gorgeous flowers that entice the senses …
While having a large garden plot with a large variety of flowers, herbs and vegetables might be your …