Picture this: you're watering your garden with a standard garden hose, and suddenly, it kinks cutting off the water flow. You point the hose at your face to see what's wrong, and it "miraculously" becomes unkinked, and you get a shower! I am sure you get the picture. It's hilarious to see it happen to the neighbor; however, if it happens to you, it's a bit more humiliating.
If you want to put an end to future scenarios described above, a retractable garden hose may be the answer. The following buyer's guide will cover the best retractable garden hoses on the market today. In addition, there will be a series of frequently asked questions to answer any burning questions you might still have.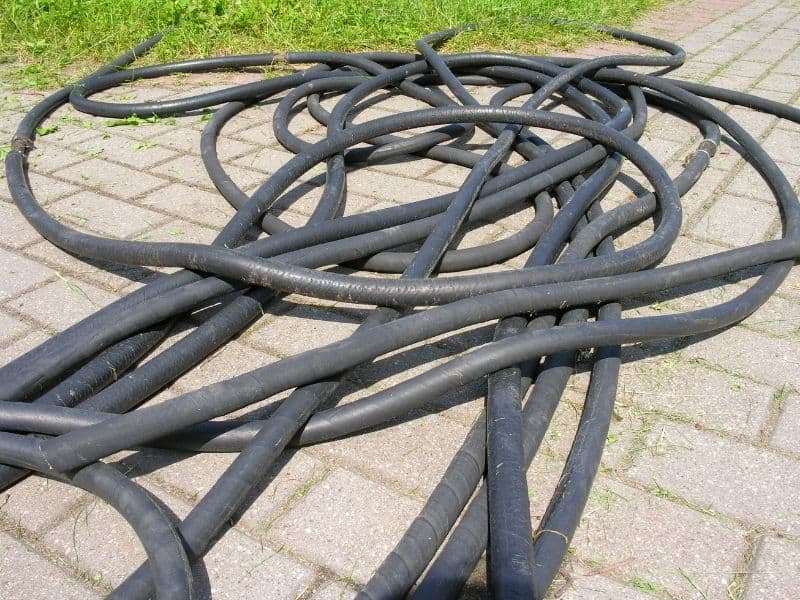 The Best Retractable Garden Hoses Available
This section will describe some of the best retractable garden hoses we found available online today. The upcoming section will go into elaborate detail about the special features of each of these hose products. Additionally, we will list some pros and cons to make your final purchasing decision easier.
Learn more about hoses:
1. Hozelock 2415 2-n-1 compact reel

The Hozelock 2415Compact 2 in 1 Reel is 82 feet long. It can be easily mounted up on the side of your house or utilized as a free-standing reel. The portability of this retractable garden hose gives it the number one spot in this buyer's guide.
Ideal for large gardens
This Hozelock retractable hose is perfect for getting every inch of your outdoor garden wet. Because it is so lightweight and includes a folding carry handle, this hose is completely portable. Allowing you to carry it around as you water your garden.
An extremely heavy-duty retractable garden hose
The Hozelock retractable style garden hose arrives to you with simple-to-use instructions. The hose is 25 millimeters (or 82 feet) in length, making it a multi-purpose tool for your garden. The nozzle has a threaded tap making it compatible with a variety of connecting taps.
The casing is enclosed which gives this retractable hose additional protection against wear and tear. The Hozelock garden hose is accompanied by a large winding handle that makes for simple, hassle-free manual rewinding.
The Hozelock Compact 2 in 1 Reel also comes as a Compact Reel plus Multi-Spray Gun Plus; Compact Reel+Hose Fitting Starter Set and Compact+Spray Gun. The product is accompanied by a lockable flow trigger that minimizes water waste by 40-100%.
The Multi-Spray Plus retractable hose is ideal for all watering needs outside. The high-quality, ergonomic handle makes it easy to hold and control the flow of water. In addition, this product has a variable control trigger. The flow of water is controlled by how hard you squeeze the trigger.
Pros:
The reel can be free-standing or the wall mount
Hassle-free wind/unwinding handle
Portable and lightweight
Cons:
The winding mechanism may stick
Sometimes the hose kinks when winding it
2. Giraffe retractable garden hose
This product gets this spot in the buyer's guide because of its unique features. It is lightweight, and retracts so easily even a child can use it! Below are some interesting features of this retractable garden hose.
Retractable function
A gentle tug on the reel, makes it automatically retract. Allowing it to easily roll up without any kinks. This hose definitely qualifies as one of the best retractable garden hoses available.
The best retractable water hose that has a reel
The 130-foot reel and the fact it is a pre-installed hybrid hose is another good reason it is number one. It is also capable of locking at any desired length. This hose has the capacity to get every square inch of the garden watered.
Resistant to harsh weather conditions
Resistant to abrasion, and flexible in all weather conditions. This hose is long-lasting and leak-resistant. A complete 130 ft. ½ inch hose that has passed a pressure test of 200 PSI and a bursting pressure test of 600 PSI.
Handy rotating bracket
There is a 180-degree rotating bracket with a few screws involved in the assembly of the hose's reel. There is also a system that can quickly release which makes for simple removal and storage and gives creative answers to all your reeling requirements.
Pros:
The expandable mount may be filled with foam to provide additional support
Heavy-duty constructed hose
Makes reeling in simple
Cons:
The retractable reel stopped working after a short time
Rubber tracking doesn't last
3. Green Friendly Home Garden Hose
This next expandable garden hose made by Green Friendly Home gets the #3 spot on our list. This hose has a 4.5 gold star rating and several customer ratings. It is an expandable water hose, made of a strong, no-kink hose fabric. With ¾-inch solid brass fittings and spray nozzle, you will find this GreenFriendlyHome product is built to satisfy.
75 feet of hose
75 feet long! Besides being one of the most durable expandable garden hoses available, it is also lightweight. It doesn't matter if you're 9 or 90 years of age, you are going to enjoy using this hose. It can even be conjoined with other 25ft, 50ft, 75 ft, or 100 ft hoses.
Expandable
This watering hose has an expandable, multi-layer hose pipe. It will expand up to three times following usage and mild hose stretching. Additionally, it handles over 4 bar of water pressure. Advanced technology proves this multi-layer, inner hose is stronger and thicker. Having a 37500 outer hose fabric that is high-density and greener for the environment.
May conjoin with another standard garden hose
This expandable hose has a flexi inner hose pipe that is rubber, making it even more flexible and easier to use. The material it is made from is the strongest latex hose pipe that is the highest grade. It has brass fittings that are durable and rust-free. This hose will provide you with excellent performance and may be joined to another hose nozzle sprayer or garden hose faucet. Or, if you desire, you can use a hose box, pail, or hose holder for storage.
Pros:
Very easy to use! Simple to take out and put away never gets tangled like traditional garden hoses.
Made with quality, durable, and lightweight
Excellent water pressure coming from the nozzle
Cons:
The hose may "stick" to concrete when dragging it on this type of surface.
This hose may fray easily
4. RL Flo-Master 65HR8 retractable hose reel
The RL Flo-Master 65HR8 Retractable Hose Reel is #4 on our list of fine retractable hoses. It is a spring-loaded hose with a stopper measuring a whopping 65 feet in length. The guide is automatic, which averts any overlapping of the hose during the retraction process.
Removable wall bracket
The bracket of the RL Flo-Master can be detached and there is a convenient handle included for carrying. Brackets used for mounting permit the unit to swivel at 180 degrees.
Sixty-five feet makes for a long hose
The RL Flo-Master 65HR8k has 65 feet of ⅝ inch hose. This long hose has a brass threaded end that has been reinforced for extra durability. It also comes with an 8-pattern nozzle.
Pros:
The hose is spring-loaded with a stopper
The automatic guide deters overlapping
65' of hose will water a lot of lawn!
Cons:
May start to drip water after a while
Hose connection might come loose
5. TomCare 50-foot expandable garden hose
TomCare makes this flexible, expandable garden hose with 10-function spray nozzles. It has a super durable 3750D Latex core and ¾" fittings that are made of solid brass. This may be the last on our list, but its value is certainly not the least!
Lightweight for ease of use
Weighing in at an extremely lightweight 2.2 pounds, it can be carried easily wherever you need it outdoors. The durable casing made of polyester can easily bend into whatever various shapes you may need it to be.
A great option for watering
The unique design of this flexible garden hose allows expansion up to 50 feet. It can then retract down to its initial 17 feet. Making for much easier storage options. It has brass shut-off valves that are built-in; making it simple to regulate water flow and ensure no leaking. All of this makes it a great option for water and convenience to you.
Pros:
The spray nozzle has 10 convenient settings
The extreme durable latex core
45 days Money-back Guarantee/12 Months Warranty
Cons:
Poor material quality may cause leaking
It may not last very long
Important Things to Know about Retractable Hoses
When shopping for a retractable garden hose you need to ensure the product you buy meets certain criteria factors.
Portability – This is a big criterion when choosing the retractable hose right for you. You want a garden hose that can serve a multitude of purposes. The hose you buy needs to be able to handle all the watering chores of your household. This includes watering the garden, giving the dog a bath and even washing your car. Ensure that wherever you mount your retractable hose and reel it will be easily accessible.
The hose length – The length of a retractable hose is important. Hoses are available in a variety of lengths, from 25 to 100 feet. Of course, the job you need a hose to do is going to depend on its length. If your garden is only a few feet away from a spigot, you will not need 100 feet of hose.
Hose diameter – This is also something of importance when hose shopping. The common hose diameter is ½ inch. However, you may find them with a diameter of ⅝ to ¾ of an inch in diameter. The diameter of your hose is what controls the water flow.
Materials – Just as hoses come in a variety of sizes, they are also made from a variety of materials. In general, most hoses are made from polyurethane vinyl or rubber. The least costly ones are constructed from vinyl, these hoses are lighter in weight but have a shorter lifespan. If you are looking for more flexibility, then you will want a hose made of rubber. These rubber hoses are less likely to become abrased or cut; additionally, they are a bit more costly.
Frequently Asked Questions (FAQ)
Who sells retractable garden hoses?
You can purchase a retractable garden hose at most home improvement or hardware stores.
Are retractable garden hoses a good purchase option?
To anyone who owns a standard garden hose, you will find that the purchase of a retractable garden hose is an excellent option.
How do you use a garden hose reel?
The reel to a garden hose is angled; this ensures it will not kink, restricting water flow. All that is required of the consumer is to wind the hose gently on the reel. Learn more about non-kinking water hoses.
How do I operate an auto rewind hose reel?
The way you operate an auto rewind hose reel is simple. There is a spring in which the action of pulling the hose creates tension on it. This tension permits the hose to rewind itself back inside the reel. The tension then increases in the spring as the hose is pulled out, which makes it harder to pull.
How do you roll a garden hose without a reel?
The length of the hose is dependent on how you would roll it up without the assistance of a reel. For a standard-size garden hose, you can use your arm to wind it gently up. However, to roll a longer, 75-100 foot garden hose, you will need to get creative.
Can a damaged expandable garden hose be repaired?
The answer is yes. For a short-term repair, one may utilize a tactic known as patchwork. However, once it has been exposed to high pressures, it is likely to tear again. A solution that is more permanent? Break the hose and join the pieces together with connectors.
How do I mount my retractable hose to the reel?
This is done by driving the right screws into the screw holes and then into the wall until it fits snugly. Twist the connector located on the short hose of the reel to the hose bib. Ensure to adhere the garden hose's end to the reel's threaded connector. Now you can turn the crank on the hose reel and roll your hose on it.
Can I buy a reel to turn a standard hose into a retractable hose?
It is possible to purchase a hose reel apart from the hose. However, it is more cost-efficient to purchase one that already has a retractable hose on it. An advantage to this is you will know the reel and hose are compatible with one another. If you purchase the two separately, this could turn out to not be the case.
Is it safe to drink from a retractable water hose?
It depends on two factors, whether or not it is safe to drink water from a retractable hose: the origin of where the hose is linked and what elements the hose is made of. First, you must speculate that your hose is linked to a water source that is safe. Next, verify if the hose has been listed as being safe to drink water from. If it hasn't been listed safe, perhaps the elements it is made of, may extract harmful substances into the water. If this is the case ensure you deter kids and pets from drinking water from this hose as well.
How do I attach my retractable hose to an outdoor tap?
The coupling to your retractable water hose should be able to screw directly onto the outdoor tap. This is possible because taps outdoors are all made a standard size. You can always purchase an adapter if this is not true in the case of your outdoor tap.