Every gardener needs a good garden hose. Having a good working watering hose is important to me, so it's one of the most essential gardening tools in my arsenal. It's because I can't imagine watering every nook and cranny of my garden with a simple watering can. So today I will show you the best garden hose for your garden (in my opinion).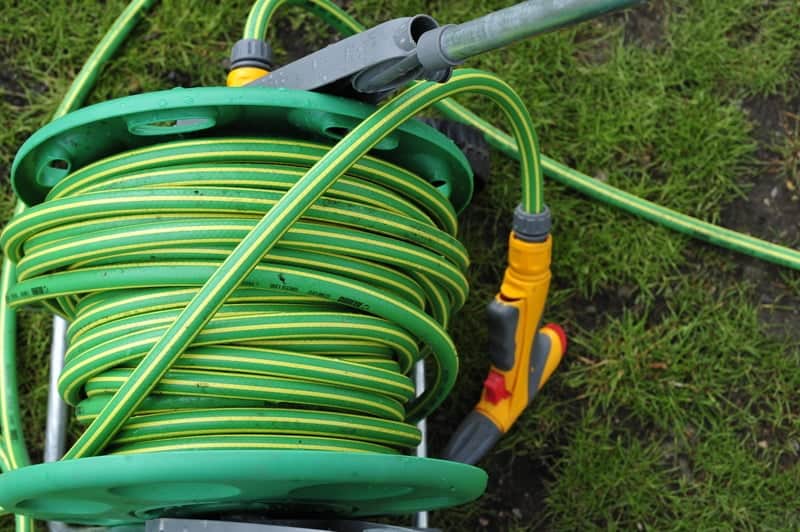 Think of all the hours you'll spend watering the flowerbeds. Buying a garden hose is a smart investment. That is if you manage to get your hands on one of the better garden hoses.
The kind that:
doesn't get tangled up
provides optimum water pressure
doesn't bends when you move it
is easy to store
Other than that, your garden hose needs to meet your other gardening requirements: length, durability, flexibility, etc.
The good thing is that most garden hoses tick all the boxes in this checklist. I've rounded some of the best ones to nudge you in the right direction.
What's the Best Garden Hose?
Let's look at the top picks for garden watering hoses.

1. Best Expandable Garden Hose
An expandable garden hose is a hose that doubles up (or triples) in size once the water starts flowing through it. Their elasticity is due to the latex and PVC construction that allows it to expand when you turn on the flow.
GrowGreen Heavy Duty 50′ Feet Expandable Hose Set with All Solid Brass Connector + Storage Sack
The Grow Green's Heavy Duty Expandable Hose Set is my favorite from this category. The hose appears to be 17ft long contraption when you purchase it. However, you'll see it expand and turn into a 50 feet long device once you turn on the water.
The hose miraculously goes back to its original size when you cut the water supply. The best thing about this product is that it can withstand frequent expansions and contractions without getting worn out. So you won't have to worry about leaks and burst pipelines when you're using it.
What about its performance?
The hose is designed to provide adequate water pressure for basic gardening activities. Its expandable size allows you to cover the whole premises without any trouble. Additionally, its high-quality construction ensures that it lasts for at least a couple of years.
Lastly, its flexibility and small size make it easier to store in small places. I prefer storing mine in the garden shed.
Pros:
Built in expandable design that becomes super long.
It requires minimum storage space.
Pressure resistant construction to minimize leakage.
Secure brass connectors for ease of use.
Durable and strong.
2. Favorite Flexible Garden Hose
Want a hose that doesn't go all bendy when you try to coil it?

Flexzilla Garden Hose, 5/8 in. x 50 ft., Heavy Duty, Lightweight, Drinking Water Safe
Then you should check out the Flexzilla Garden Hose. This super long (50 ft) garden hose lets you enjoy hassle-free watering sessions. Its flexibility and lightweight gives you the freedom to water your plants without any trouble.
Made from high-quality materials, its lead-free design
Pros:
Lightweight and easy to maneuver around the yard.
It has 2x wider diameter for better water flow.
Superior flexibility compared to an average garden hose.
Won't kink or twist under extreme water pressure.
Durable in all weather conditions.
Eliminates leaky connection with help of doable O-shaped rings.
3. Best Lightweight Garden Hose
Flexi Hose 50 FT Lightweight Expandable Garden Hose | Ultimate No-Kink Flexibility – Extra Strength with 3/4 Inch Solid Brass Fittings & Double Latex Core | Rot, Crack, Leak Resistant
Nothing irks me more than a heavy garden hose. Its bulky body requires a lot of pushing and shoving to move it from one place to another. So you end up with more work to do than usual, and a backache on top of it. That's why you should opt for a lighter and more flexible garden hose instead.
The FlexiHose is one of the best light weight water hoses. It's extremely light and manageable to use for everyone in the family. Its expandable size makes it feasible for watering big backyards. Plus, the fact that it "shrinks" ensures that storing it isn't an issue.
On the functionality front, it's super dependable. For instance, the secure brass connectors make sure that there are no leaks or bursts if the water pressure is too high. Additionally, it's got a small on/off valve present at the end of the hose to help control your water supply.
Other than that, it's highly durable and won't bend or burst like other so-called "light and flimsy" garden hoses.
Pros:
Lighter than most heavy duty hoses
Easy to use
Manual on/off valve to regulate water supply
Sturdy brass connectors to minimize leakage
Kink-resistant body
Expands 3x when you turn on the water
4. Best Rubber Garden Hose
They say rubber hoses are probably the most reliable watering tools.
The Craftsman Garden Hose Rubber Premium certainly complies with this saying. This basic black contraption looks and feels like a standard hose. Yet, it surpasses the functionality of most common hoses available in the market. The clever design contains everything from crush-resistant brass connectors, temperature tolerant material to a kink-free construction.
Craftsman Garden Hose 100 ' X 5/8
The hose is 50 ft long. However, I can assure you that this hose won't twist or turn when you shift it around. Plus, the 500 psi stream ensures that you've got enough water force to water the garden and clean your car.
All these features make it a multi-purpose watering device.
Pros:
500 psi single stream
Durable and sturdy built that minimizes wear and tear
Flexible design eliminates chances of kinks, twists and bends
Lightweight makes it easy to carry
Well-fitted brass connectors manage to prevent leaks
Can handle high and low temperatures without wearing off
5. My Favorite Black Garden Hose
Are you looking for just a standard black garden hose?
TheFitLife Flexible and Expandable Garden Hose – Strongest Triple Latex Core with 3/4
Then you should give FitLife's Flexible Expandable Garden Hose a try. This long-lasting, super sturdy and extremely flexible hose is a force to be reckoned with. Its ability to expand 3x times more than its size makes it the perfect fit for a big yard. Additionally, its compact contraction size allows it to be conveniently stored in a small storage space.
Other great features include a protective triple-layer construction, metal connectors and an 8 pattern spray nozzle. With the nozzle's help, you can switch things up in the garden by changing stream patterns and regulating the water flow.
Pros:
A heavy-duty small storage spacey hose with a long lifetime
Expands within seconds of use
Super flexible and easy to coil
Works well in all sorts of conditions
Secure brass fitting minimizes leaks
It comes with a versatile spray nozzle
6. Best Garden Hose for Elderly
Aging is an inevitable process which often demands sacrifices due to ailing health. One of these compromises includes the inability to perform simple activities like watering your plants. However, you can evade this possibility with Bionic Steel Pro Garden Hose.
Bionic Steel PRO Garden Hose – 304 Stainless Steel Metal 100 Foot Garden Hose – Heavy Duty Lightweight, Kink-Free, and Stronger Than Ever with Brass Fittings and On/Off Valve – 2019 Model
How? For starters, this hose weighs only 7 pounds, which makes it more manageable than heavier counterparts. Elderly gardeners with mobility issues can move it around without any difficulty. Plus, its bendable body eliminates the chances of kinks and twists when you try to coil it.
Other than that, its strong metallic body that protects it from getting crushed or dented due to external pressure (e.g., if a car runs over the hose it won't crush or break). Subsequently, it's designed to perform better than regular rubber hoses because it is heat-resistant and can survive cold temperatures.
In short, it's a strong, hard wearing hose that's doable for all seasons.
Pros:
Lightweight and ease of use make it ideal for elderly gardeners.
Resilient stainless steel body that doesn't rust or melt.
Super flexible and easy to store.
Maintains its shape and functionality under all weather conditions.
7. Best Garden Hose for a Small Garden
Are you looking for a hose that's small and efficient?
The Garden Hose Water Hose is the perfect solution. This compact, expandable hose can be stowed away in your small garden shed without any trouble. When in use, it doubles up its size to permit unrestricted movement.
Garden Hose Water Hose Expandable Hose Nozzle Pocket Flexible Hose Long Hoses Lightweight 50ft foot Expanding Best Garden Hose No Kink Quick Connect Compact Small Gardening Strong Garden Hose Nozzle
My favorite part about this hose is its cool blue color (I know: I might be vain, but it's such a pretty color!) and multi-function nozzle. From full jet stream to a soft mist – the nozzle features seven modes that cater to all your needs. So, you can clean your car, wash your dog and water your plants with ease.
Pros:
Wonderful design that contracts into a compact size
User-friendly design that makes it easy to use
Built with seven spray modes that ensure versatility
Expandable size ensures feasibility
Coils effortlessly due to its flexible structure
8. Best Garden Hose for Sprinkler
Do you wish to step up your watering technique?
Flexon 50-Foot Three Tube Sprinkler Hose FS50
Things like sprinkler controllers and self-irrigation constructions and other watering tools are a great way to change things up in your yard. Apart from this, you should also give sprinkler hoses a go.
The Flexon's 50 Ft. 3-Sprinkler Hose is one of the best garden hose for this venture. The hose is designed to work both as a soaker hose and a sprinkler depending on its direction. This super long hose comes with a three configuration tube that optimizes your watering session. Its stream can reach to approximately 40 ft ahead. This makes it ideal for big backyards and estates.
Pros:
50 ft length to provide maximized coverage
Innovative 3 configuration tube improves water output
Dual-mode allows you to soak/sprinkle the lawn depending on its position
Removable cap increases its length and helps flush out minerals
9. Best Garden Hose for Hot Weather
How many times has your garden hose melted in the summer?
The answer is plenty of time. If you live in a sunny area with extreme weather conditions than an average garden hose won't suffice. You need something tougher and more resilient than your usual purchases.
This is where Apex's Commercial Hose comes in. Although this product is a heavy-duty hose that's made specifically for industrial usage, I feel that it seems apt for residential purposes too. The hose is made entirely out of hard-wearing rubber that lasts for years. Besides this, the sturdy brass connectors keep the hose secure and minimize leaks.
The best part is that it can resist heat as high as 180º and cold temperatures that go below the freezing point.
Pros:
Well-designed hose that comes with a 7 year warranty
Heat-proof material prevents the hose from melting
Brass couplings stop keeps leaks in check
Made from highly durable and crush-resistant material
10. Best Garden Hose Reels
Liberty Garden 709 Steel Wall/Floor Mounted Hose Ree
Suncast Resin Swivel Hose Hideaway with Hose Guide
Liberty Garden 713 Revolution Multi-Directional Garden Hose Reel
This companion gardening tool is a must-have for gardeners everywhere. I believe that a hose that's lying around the yard is like an accident waiting to happen. You might trip over the hose or find it tangled up in a complex knot that can't be untied.
That's why instead of coiling it somewhere in the corner, you should place it inside a hose reel. The reel helps you to store it safely. More importantly, it simplifies the process of rolling the long hose with its hand-crank/auto-reeling feature (try these best retractable garden hoses).
Here are my top picks for garden hose reels:)
The Bottom Line
On the whole, gardening without a hose is like baking without a whisk. There are other alternatives out there in the gardening world. However, they don't possess the efficiency, performance and convenience of a good gardening hose.
So my suggestion is for you to stop wasting time on cheap knock offs that giveaway after one watering session. Go grab a hose that is durable, flexible and easy to use.