If you spend any significant time in the garden, you know the importance of a good pair of gardening shoes! If you want to keep your feet safe from the garden muck, mud, and hazardous tools, you need to make sure you have the best gardening shoes on your feet.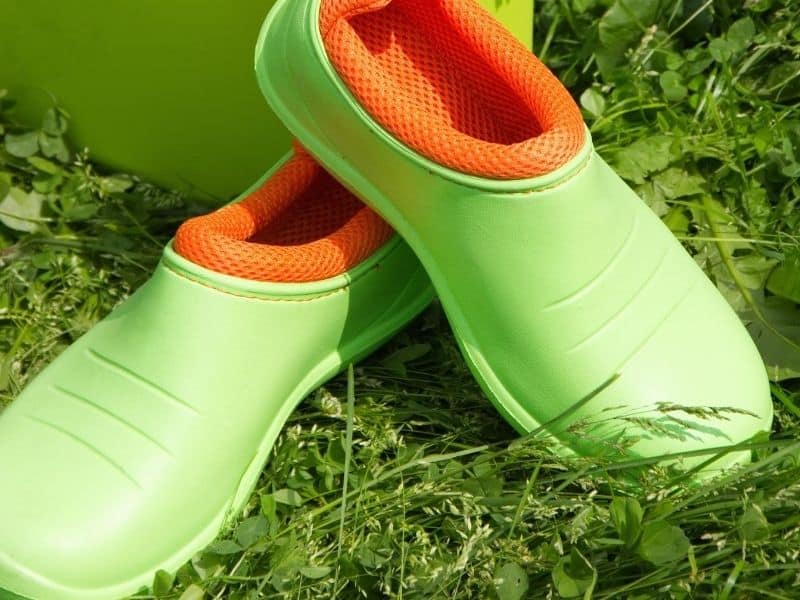 Shoes You Shouldn't Wear In The Garden
I know you might be tempted to just slip your feet into whichever pair of shoes are by your door, but you may want to think again!
Gardening barefoot is a thing, but not safe at all. If you want to connect with the earth, do so on soft grass or somewhere you know you won't step in a pile of mud, or a sharp garden tool or rock.
Those really nice sneakers you love when you go hiking will get green soles, or even worse, get ripped up when you step on that rake you forgot to turn teeth down.
Flip flops? Ouch! An accident waiting to happen. Just think of an anthill you might accidentally disturb. It's not worth taking that chance.
Sandals are easy to slip on and off, but they provide no safety in the garden. They'll probably break easily too, as the ground in the garden is uneven.
And don't even think of your house slippers: not only will they get dirty (and you'll bring that dirt back into your house), but they offer no protection at all.
Our Top 5 Pics For Garden Shoes That Rock
What Are The Best Gardening Shoes?
Choosing the best gardening shoes is very important. It's worth doing a bit of research before you buy. you want your garden shoes to be comfortable, easy to clean, and above all, protect your feet from injuries.
Reasons to get a good pair of gardening shoes
I hope that by now you know you need a pair of quality gardening shoes. But if you're still not sure, let me give you several reasons why you should buy garden shoes.
save your favorite shoes from getting destroyed
waterproof to keep your feet dry and comfortable (these are the best water-proof garden shoes!)
the right support (flip flops won't support your feet while digging in the garden)
easy to clean
effortless slip-on and off
make your time in the garden more enjoyable
they'll guard against garden tool accidents
lightweight, durable, and even stylish
keep your toes safe from fire ants, snakes, and other garden creatures you might encounter
Garden shoes for wide feet
There's nothing worse than shoes that are too narrow for your feet. Who wants to work in the garden if their feet hurt? Not me! So, if you have wide feet, these shoes will feel good on your feet, and you'll enjoy your garden work a lot better.
Muckster ll Men's Rubber Garden Shoes
HMAIBO Garden Clogs Shoes – Breathable Lightweight
Merrell Men's Jungle Moc Slip-On Shoe
Garden shoes for narrow feet
Slip-on garden shoes for narrow feet are not easy to find, but you can buy regular width and wear socks to fill in the extra space.
Are crocs good gardening shoes?
It depends. While crocs have many of the qualities needed for a good garden shoe (lightweight, easy to clean, easy to slip on, etc.), they lack good heel support. So, if you're just going to pick a few things to cook dinner tonight, they'll be just fine. But if you're planning to pull weeds, plant a raised bed, or do any time-consuming tasks in the garden, you should wear better garden shoes.
Where to buy garden shoes?
If you have a specialty show store close by, go there first. But you can also find garden shoes at garden centers, Walmart, Target, and other local show stores. Or, you can buy them on Amazon: you'll find the biggest selection there, and reviews from people who already bought and used those shoes. Of course, the disadvantage is that you can't try them on.
What are garden clogs?
Garden clogs are shoes that have an open heel. They are easy to slip on, comfortable, and a cinch to clean: perfect for quick garden tasks.
I LOVE the picture garden clogs. Here are a few examples of what's available.
Backdoorshoes Meadow Design
Sloggers Women's Waterproof Rain and Garden Shoe
Western Chief Women Garden Clog, Dried Daisies
Waterproof Comfort Shoe – Floral Fun Print
Why do you need garden shoes?
There are several reasons you need garden shoes:
comfort
safety
keep your feet clean and dry
save your dress shoes and sneakers from ruin
How to care for your garden shoes
While garden shoes are easy to care for, there are a few things you need to know:
if your shoes are made of rubber (and most garden shoes are), DON'T let them lay in the sun. They shrink quite a bit and you won't be able to use them anymore (ask me how I know!)
clean them before you put them away – if the garden is muddy, the easiest and fastest time to clean them is before you go into the house. Just hose them down while the mud is fresh. Once it dries up, you'll need to actually scrub them.
if you sweat while wearing your garden shoes, sprinkle some baking soda in them after you clean them to deodorize.
What are the best brands of garden shoes?
Some brands that specialize in making garden shoes are: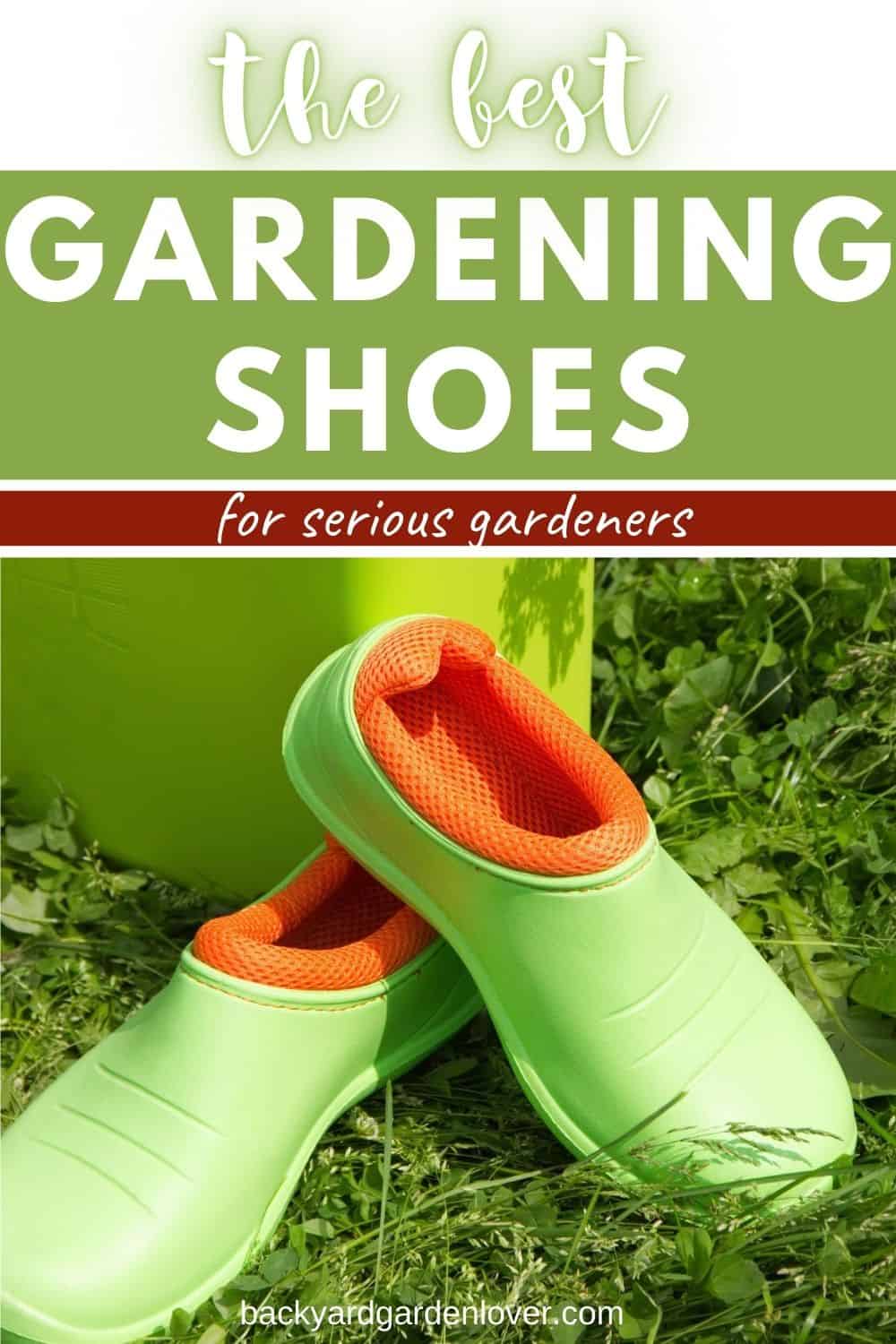 I hope you found the best gardening shoes for yourself and you'll enjoy years of gardening bliss because of it.