If you're looking for improved footwear for your gardening, there's a better solution that doesn't involve using your falling apart old shoes. Wearing a pair of muck gardening boots for women offers you a cleaner, easier way to garden, even on the muddiest days.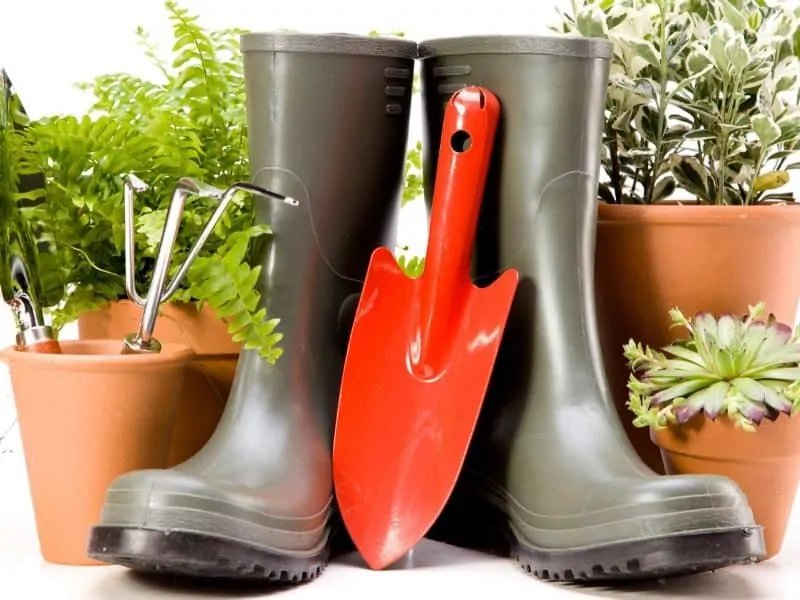 Take a look at the benefits of using a proper pair of gardening muck boots for women. If you are a woman who loves spending time in her garden, or if you love a woman who tends to her garden often, you'll want to read on to find out more about this great footwear solution for gardeners.
Why Get Muck Gardening Boots for Women?
Muck boots have many advantages for gardening over other shoes, even other boots that are made for gardening. These gardening boots are easy to clean. They also allow you to easily wade through the muddiest garden areas. Cleaning them up is a breeze.
They're also easy to put on and take off. They even keep your feet clean with their waterproof material, something that some gardening boots, and especially shoes, don't always do or do well. Kick off those old muddy shoes. Graduate to much better gardening footwear with muck boots.
Cleaning is a breeze
Even with the cheapest muck boots, cleaning is easy. No more having to constantly work at getting your gardening footwear to look decent.
Avoid the scraping and scrubbing that comes with other types of boots and shoes by going with a pair of waterproof muck boots. Simply rinse and go. Enjoy these easy to clean, as well as fast-drying garden boots. Always ready when you are!
Related: Kujo Yardwear garden shoes, the best shoes for cutting grass
Easily wade through a muddy garden
Do you find yourself getting stuck in your muddy garden? All you need to do is make a visit to your local muck boots outlet store (or online here) and find a pair of gardening boots that will do the job.
With other shoes and boots, you might get stuck while digging and planting. Muck boots are meant especially for this purpose. They are easier to move in and out of muddy and wet situations. This means you are less likely to have that kind of frustration and can enjoy more gardening time.
Slip-on or off quickly
One of the main concerns that the original muck boot company had in creating their boots was the ability to easily put them on or off.
Muck shoes for women are easy to slip in and out of quickly. This is extremely important when gardening. When your boots are all covered in mud, you don't want it to be difficult to remove them. This could cause splash and splatter, which pretty much voids the reason you're wearing them.
With muck boots, you can take them off in seconds without all the tugging. They are also just as easy to throw on when you are ready to dig into some dirt for weeding, planting, digging holes, and so much more.
Keep your feet dry with the waterproof material
If you're looking to keep your feet clean in the garden, look no further than the gardening boots for women from the Muck Boot Company. Whether you need to dig a small section for garden beds, make deeper holes for tree planting, make a garden stream or pond, or do some other type of outdoor dirty work, you need good waterproof boots.
There are multiple styles and shapes, depending on the type of work you will be doing, as well as for comfort and fashion sense.
Muck boots may slip on/off easily, but that doesn't take away from the ability to protect your feet from the dirtiest of jobs. These hearty and low-cost specialty boots for women really can do it all.
Best Gardening Muck Boots For Women
Which one will it be?
Muck Boots Womens Muckster II Mid RHS Print Gardening Shoe Moss Green/Tomatoes Size UK 7 EU 41
The Original MuckBoots Adult Scrub Boot,Garden Green,9 M US Mens/10 M US Womens
Muck Boot Women's Muckster II Mid Ankle Boot, Red/Multi Floral, 10 Medium US
The Original MuckBoots Daily Garden Shoe,Plum Vine,4 M US Womens