Do men really take time to think what they wear in the garden? I know my husband doesn't, and he ruined many pairs of his good shoes going in the garden to do "just a couple things". While most men might think any shoe is good for gardening, I beg to differ. Here's a list of the best gardening shoes for men, so you can buy him a pair as a gift 😉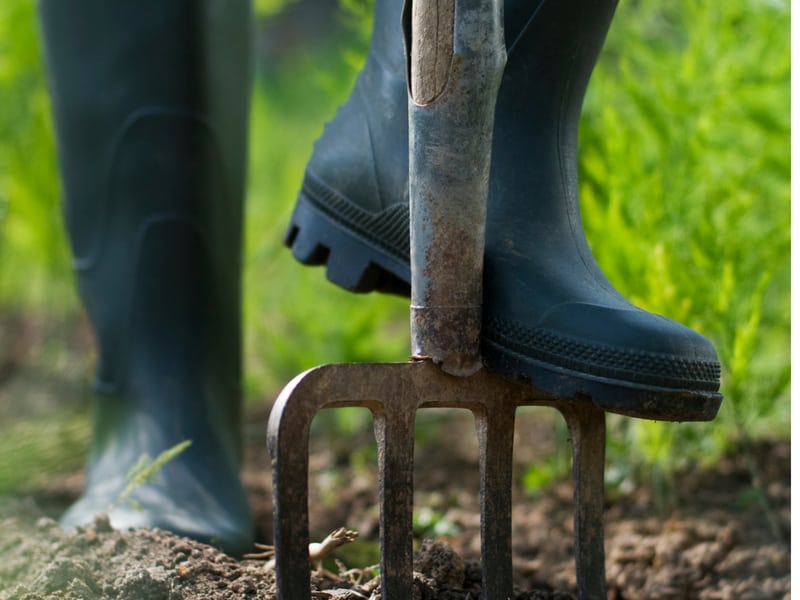 Benefits Of Wearing Garden Shoes
Trust me, there are lots of benefits to wearing garden shoes while working in the garden. Here are just a few:
keep your feet safe. Have you ever stepped on a spade or rake teeth facing up? Yeah, me too! Luckily, I was wearing my lady garden clogs and my feet didn't suffer.
easy to slip on and off, unlike most regular shoes
easy to clean: just hose them down and you're done!
keep mud out of your house. Your wife will thank you for this.
keep you comfortable. This is so important! Garden clogs (or any yard work shoes, for that matter) are made to support bending, walking on rocks and sticks, etc.
Best Gardening Shoes for Men
1. Muck Boot Co. gardening shoes
The Muck boot shoes have removable, washable insoles, are 100% water proof, and will keep your feet warm in the winter and cool in the summer. What more could you want?
These gardening boots for men can accommodate every taste. You want a low rubber shoe for the garden? You got it. Would you rather have an ankle boot to keep your feet from twisting? Muck Boot Co. has it. And if you want a garden clog you can slip on and off easily, you'll find that too.
I LOVE the variety this company offers for men's outdoor work shoes.
MuckBoots Daily Garden Shoe
The Original MuckBoots Adult Scrub Boot
Adult Daily MuckBoots Garden Clog
2. Sloggers garden shoes for men
These men Sloggers garden shoes are great for gardening, but they can double up as office shoes on rainy days. Just shine them up and off you go. They look good enough for it 😉
They are made in US from lightweight material: big plus for me!
Men's Waterproof Sloggers Shoe with Comfort Insole
Sloggers Uni Brown Garden Sandal
Men's Premium Sloggers Garden Clog
Fun Fact: did you know there's a secret shoe garden in San Francisco? People planted their old shoes there. Something those of us having a hard time throwing away old shoes that end up as garden shoes could do. Take a peek at it below.
3. Sunville men's perforated garden clog shoes
Sunville Men's Perforated Garden Clog Shoes,9 D(M) US, Black
If you need a pair of garden clogs to slip on quickly that won't break the bank, these are the ones that you need.
Being able to slip on a pair of shoes easily to head out to tend to the garden is important.
And while they are excellent for gardening needs due to the breathability, they can also double as a great second pair of shoes to take with you when you go camping or fishing as well. The lighter and easier to clean, the better.
Other uses for these men's garden clogs:
use as slippers around the house
for walking your dog
great for quick trips to the grocery store
shower shoes (when camping or at the beach)
4. CIOR men's barefoot quick-dry garden shoe
Perfect for rainy days, these garden shoes dry quickly and have a good grip.
They can be used for other activities too take them to the beach, to the pool, when you wash your car, and many other outdoor activities.
And if you want to try your hand at yoga, these shoes are the ones to give it a go with.
Lightweight and compact, they're easy to pack as well. There really isn't anything that these barefoot quick-dry gardening shoes can't handle.
CIOR Water Shoes Men Women Aqua Shoes Barefoot Quick-Dry Swim Shoes with 14 Drainage Holes for Boating Walking Driving Lake Beach Garden Park Yoga,SYY04,w.Black,42
5. Amoji unisex garden clog slipper
Nice looking, simple garden clogs. The Amoji garden clog slippers will let your feet air out (all debris will stay out as well).
No matter the width of your feet, these are the clogs that you are looking for. Super simple to slip on, and breathable as well.
You'll no longer have to worry about the aftermath of sweaty feet and smelly shoes!
Amoji Unisex Garden Clogs Shoes Sandals House Slippers Room Shoes Indoor Outdoor Shower Shoes Sport Quick Dry Home Summer Breathable Light Walking Women Men Ladies Black 10US W/8.5US M
6. Stormwell gardener clog/welly shoes
These gardener clogs are great for working in mud and wet grass due to their soles having a really great grip. Plus, they are water-resistant!
No more wet feet or socks with these great garden clogs.
And if you are covered in dirt or mud after a day of working in the garden, you can hose them off, let them dry and they're good as new. I think you'll like hat very much!
Stormwell Unisex Gardener Garden Clog/Welly Shoes (12 US) (Green)
7. Fresko men's garden clogs
For those who are ready to just be outdoors and get things done, these shoes deserve a look! They are comfy, lightweight, easy to put on, and simple to clean. Plus, they have a really nice thick sole too!
Having the strap on the back side of these garden clogs make them a great choice for your busy lifestyle. You won't have to worry about them slipping off or your feet moving around inside them when you are working outdoors or playing in the water.
Fresko Men's Garden Clogs, M1033, Black/Grey, 10 D(M) US
8. Dikimar Primera gardening shoe
Looking for something simple for the unpretentious?
While the fashion police may not give these the highest marks, they do the job. Slip on, slip off, hose off, and you're done!
No more worrying about getting your shoes dirty when digging in your garden. Think about how much time you'll save with these easy and functional gardening shoes.
Dikimar Primera Gardening Shoe / Mens Shoes / Garden Shoes (9 US) (Green)
9. Neoprene waterproof garden shoe
Rubber slip resistant sole, anti-skid, and wear-resistant.
These gardening shoes also have thick, soft and removable insoles. And for those cold and rainy days?
Thermal insulation. If you are looking for a shoe that seriously has it all, these are a must for you!
LH Unisex Neoprene Waterproof Garden Shoe
10. Tall Plain Fishing Garden Rubber Waterproof Wellingtons
Working in the garden when it's raining is not my idea of fun. But sometimes there are important things to take care of even thought it's raining cats and dogs. During summer storms 9or long fall rains), you might need ot work on garden drainage, or support taller plants that are falling over, or keep the slugs away, or whatever your garden needs these stressful times.
That's when these tall waterproof rubber Wellingtons are perfect: tall, easy to clean, good grip, and comfortable.
Let's face it…for those rainy seasons, it's imperative to find a pair of boots that can do the trick. And for that purpose, these garden boots are perfect. They are tall, easy to clean, have a good grip, and are comfortable. Talk about a checklist of positive with this great choice! And one other bonus to add to the list? They are easy to slip on and off as well!
Mens Original Tall Plain Fishing Garden Rubber Waterproof Wellingtons – 8 – NAV41 BL0181
There you go: lots of great options to choose from. Your feet deserve the best support. And when you need to stay safe in the garden, these are the best gardening shoes for men 😉
Get your favorite pair of the bunch. And enjoy garden time!