No one likes to cut the grass, or pull weeds. Both are jobs that no one can escape. If you've been using your old sneakers as an all-purpose yard shoe, and getting your feet wet from morning dew, you might want to look for a better option: a new pair of shoes that are comfortable to wear, will keep your feet dry, and offer excellent traction in wet conditions. And today I'll share with you what I think it's the perfect shoe for working in the yard and garden: Kujo Yardwear Garden Shoes.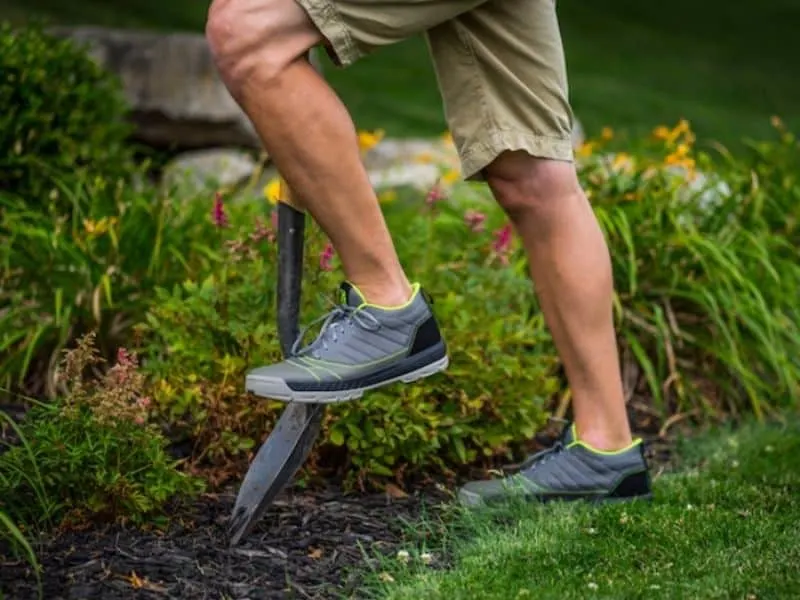 Disclosure: My husband received a pair of Kujo Yardwear garden shoes to try them in order to share our opinion about their products, but this isn't a sponsored post.
Made by Kujo yardwear, a backyard lifestyle brand offering footwear and apparel specifically designed for working in the yard (landscaping, gardening, and mowing), these lightweight and breathable shoes keep your feet cool and comfortable as you walk around in them all day doing garden or landscape work.
The best part about these shoes? You don't have to worry about dirt getting stuck in any tiny spaces because they are completely closed off from top-to-bottom! Remember coming in from mowing the lawn with yucky, muddy socks? You can not keep your white socks white, as dirt won't have a chance to get in.
Kujo offers a variety of styles to suit different needs including men's and women's shoes, as well as boots. Kujo yardwear shoes come in black and gray, as well as black with light green or purple accents, depending on what you prefer. I like having choices!
Why buy Kujo shoes?
If you're wearing your old athletic shoes to mow the lawn and do your garden work, if your feet end up soggy because of water seeping through, or because of sweating, if you're slipping on your hilly yard because the old shoe's tread is worn, and the rips in the old shoes are allowing grass all over your feet, you need a better shoe: you need the Kujo yardwear garden shoe, created by Shawn Langton. They have many great qualities, including:
lightweight design that makes them very comfortable to wear for long periods of time
breathable to help with sweating in hot weather; they also have an anti-odor lining to help with smelly feet
good grip to keep you on your feet while mowing an incline
waterproof material to keep your feet dry
durable rubber bottoms, so you don't have to buy shoes every few months
Kujo yard shoes features
Dynamic Grip sole with 6mm aggressive lugs for responsive traction.
Natural Flex bi-directional flex groove system for enhanced agility and movement.
True Form compressed EVA midsole with molded cushioning for all-day comfort.
True Shape construction is contoured for natural alignment with asymmetric toe boxes for a true fit.
Aero Strength anti-fatigue technology utilizing durable Transparent Sonic Welding for lightweight support and stability.
Gusseted Tongue keeps debris out and socks clean.
Smart Fit Design cradles the foot for stability and comfort during all-day wear.
Waterproof Segmented Polyurethane protects the toecap and lower from water, while providing durable lightweight support.
Air Mesh upper provides flexibility, breathability, and lightweight comfort.
Antimicrobial Wicking Liner provides breathability for fresh and cool wear.
Kujo Yardwear Garden Shoes For All
Kujo shoe for men – best men's yard shoe
While women mow the lawn too, at my house that's a man's job. Since I want to make sure my husband has dry, clean feet while doing this kind of work, getting him a pair of Kujo shoes was a great idea.
The Kujo shoes for men come in black or gray with light green or purple accents, but hubby prefers black, so that's what he got.
Kujos are available at many shoe stores nationwide, as well as online through the company's website, which is where we got my husband's.
Kujo shoe for women – best women's yard shoe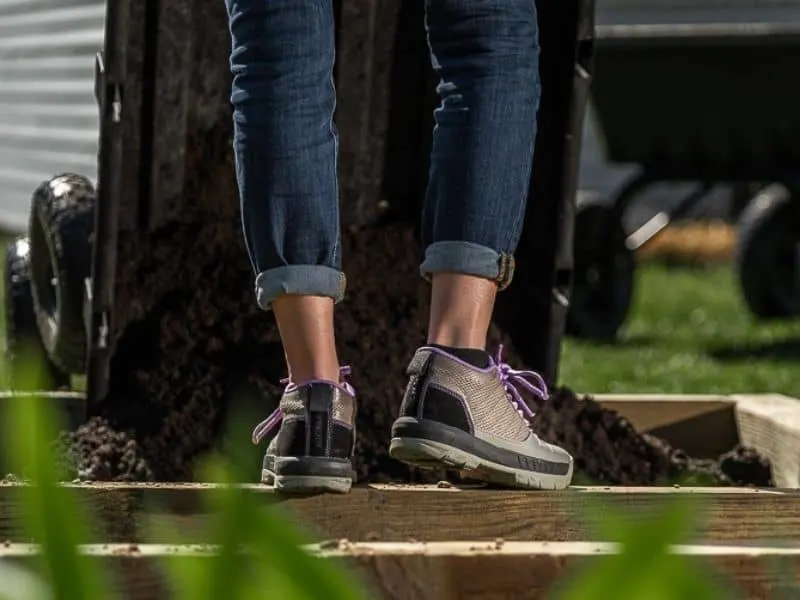 Of course, men are not the only ones who may want to use the Kujo shoes. Women, too! If you're a woman and spend time in the garden trimming, pruning, mulching, and mowing, you'll want to make sure you were the best shoes for the job, and your feet and back are comfortable. And the Kujos are just as great for women as they are for men.
Kujo boots
For the serious landscaper (maybe you're a professional landscape designer), Kujo shoes may not enough. You need Kujo boots!
Kujo makes a landscape boot you must see! Here are just a few of the features of the Kujo X1 landscape boot:
water-resistant mesh
includes a waterproof toe cap
ASTM rated composite safety toe
superior ankle support, for those times you need to walk a steep slope or uneven ground
weighing in at only 22oz, Kujo offers one of the lightest safety toe boots on the market for all-day anti-fatigue wear
aggressive rubber outsole
Buy Kujo shoes from Amazon
You can buy your Kujos from the brand's store, but you can also get them through Amazon 😉
Black/Green Kujo Shoes For Cutting Grass – Unisex
Kujo Yardwear Men's X1 Landscape Boot Composite Toe
Grey/Purple Kujo Yardwear Garden Shoes – Women
FAQs
Where are Kujo shoes made?
The Kujo footwear is made in Cleveland, Ohio. Their outdoor footwear brand specializes in shoes designed specifically for yard work.
Does Kujo offer free shipping?
Yes, every one of their shoes ships free of charge. What's even better is that they also offer free exchanges (in case the fit is not perfect), and even free returns, if you decide their shoes are not for you. No questions asked. And they have great customer support!
Other Favorite Garden Shoes
Adriana Copaceanu is a passionate nature lover living in the country on her dream property where she grows vegetables, lavender, and wildflowers that she shares with the wildlife they attract. When she's not in the garden, she loves spending time with her chickens and planning her next nature project.