A storage shed is a very important part of any serious gardener's life. It's a safe place to keep garden tools, potting benches, hoses, and soil amendments. Adding the right storage shed accessories will help keep things organized, safe, and pleasant to look at. They'll also make life easier 😉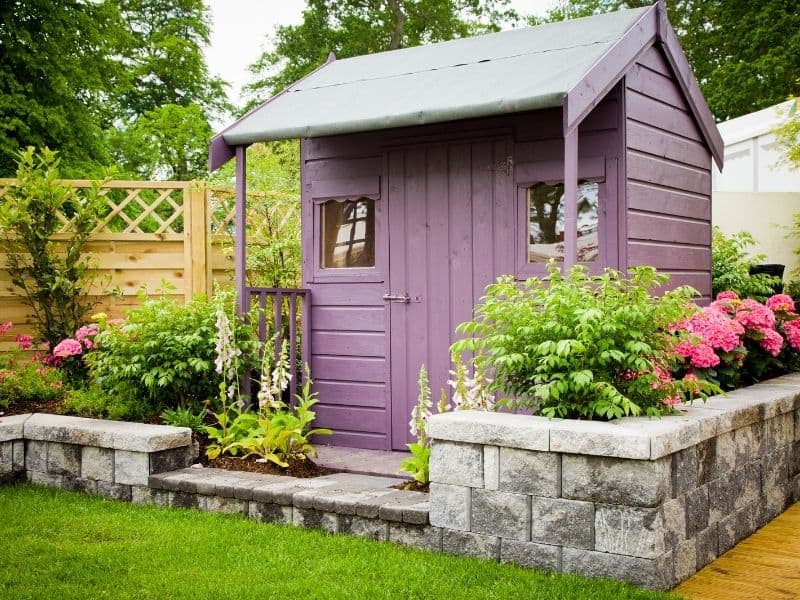 Best Storage Shed Accessories
1. Benches
It's nice to have a potting bench in the shed to store the containers and work at potting and repotting plants in the spring.
But also add a bench in front of the shed, so you can rest a while after working in the garden. Sitting by the shed, especially if you landscaped it nicely, will be a nice treat at the end of the day.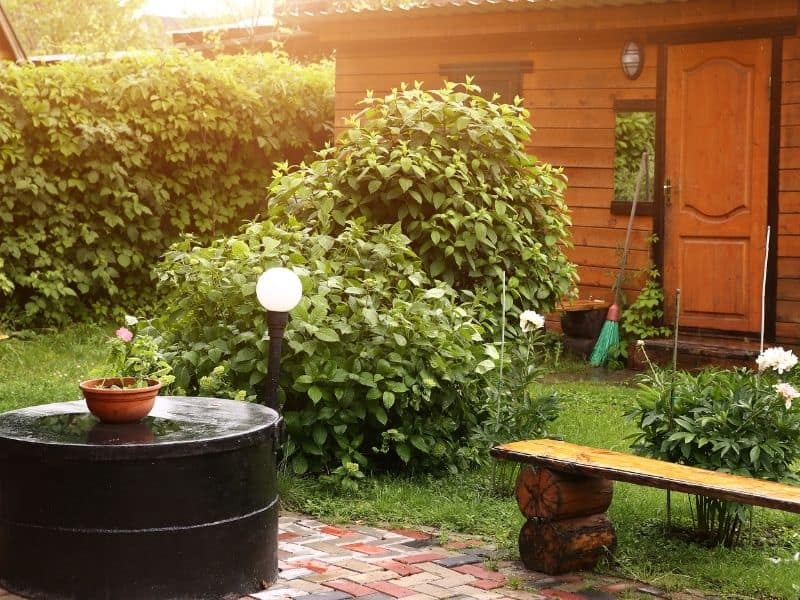 There are also many different kinds of outdoor storage benches to choose from. Some come in kit form, unpainted, so you can finish them exactly the way you'd like to, while others are made of materials that are already colored, so you just need to set them up.
This Suncast PB6700 Patio Bench is inexpensive, and a great addition to outside the shed, making a good spot for storing things you might need quickly in the garden, such as gloves, small hand tools, a garden kneeler, and some garden shears.
This storage bench/deck box made from weather-resistant polypropylene materials prevents rusting, peeling, and denting is a beautiful addition to the shed, and it's the perfect place to store outdoor patio furniture cushions, outdoor toys, pool accessories, and beach towels.

Suncast makes a simple deck box that can also double as a simple bench. Customers (close to 4000 of them!) love it and give it great reviews.
As you can see, there are lots of options for excellent storage benches to add to the shed.
2. Shed windows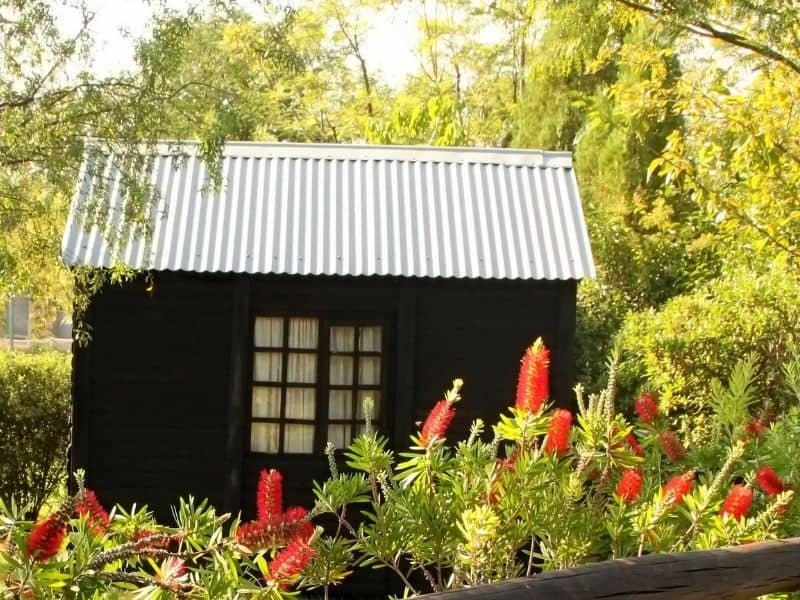 When you're building a storage shed, you'll want some windows for natural lighting. Just cut a rectangular hole in the plywood, insert the window, and affix screws that you can drill in with a drill and bit (using sealant around the edge to make sure that it doesn't leak).
Shed windows can have some interesting shapes. Imagine adding windows with rounded tops, or a hexagonal window. You can create a beautiful looking shed!
3. Rack shelves for organizing your shed
If you're searching for an excellent way to help keep all of your tools organized and out of the weather, then consider placing rack shelving in your storage shed (this is one of the most popular ones).
Many people spend hours on end taking care of their lawns and gardens, but when it comes to keeping their tools organized, they have a hard time. This is especially true where smaller tools are concerned because the smaller they are, the harder it is to keep up with them. However, the task of staying organized can be made easier by using rack shelving.
There is a wide variety of shelving available making it fairly easy to find the ones that would suit your needs the best. You can find a nice selection of corner shelves, tall shelves, and wide shelves to fit any size shed.
Adding shelves in your storage shed is easy, especially if you do it the right way.
Start by cleaning out the shed and making any necessary repairs.
Next, decide where you would like to place the shelves in the shed and how many you will need. You may want two racks to line up along the side of the building or one down the side and a corner rack.
Once you make this decision, measure the space you have in these locations so you'll know what size shelves you need to purchase
After you purchase the racks and get them in place, you can begin organizing all of your tools in whatever order is convenient for you.
If you have a tendency of changing things around every so often, just buy shelving on wheels. This makes it easy to switch places and move things around any time you're ready to make a change. It also makes it easier to keep your shed organized.
Adding shelves in your storage shed is an excellent idea that can make a huge difference in how well you keep your tools organized. This will help to keep all of your tools in good shape and your storage shed will always be neat and orderly, just like the rest of your home.
4. Solar shed lights
You may think there is no need for a shed light, but have you ever needed to get something from your storage building at night? If your shed doesn't have a light, you may be in trouble. A flashlight is often not enough to navigate a storage building.
If your shed doesn't have a light, you probably don't want to get a regular light for your shed, since it would involve digging, pulling electricity from the house, etc.
Instead, find a solar shed light and install it in no time. You'll also have the advantage of free shed lighting since the solar lights are using natural sunlight to get charged.
5. Shed organizers
Outdoor buildings are an incredibly useful addition to whatever kind of property that you happen to be living in. Arrow storage sheds can provide lots of useful help in storing all types of things.
Unfortunately, things can get very messy if you do not have the proper types of organizers in your outdoor storage shed. Here are some great ideas for making your outdoor storage shed a little more organized.
Having plenty of shelf space is always good. Shelves will be useful for storing things like planting pots and containers that have things like screws and nails and even packets of seeds for gardening.
To avoid getting things mixed up you can get dividers for the shelves that will keep all your items just where they are supposed to be. You can get shelves that you can attach directly to the walls in the storage shed and you can also get bookshelf style shelves that will go from the floor to the ceiling.
If you do a lot of woodworking and DIY type projects, you will want to get organizers that have separate compartments to store all of your different nails, screws, washers, nuts, and other small items that you would be working with.
You could also add shelving in your storage shed for keeping all of the wood, tile, cement, and anything else that you use for your different projects that go on throughout the year.
As a gardener, a storage shed is great for storing barrels with potting soils and different fertilizers.
Attach hooks to the wall of the shed and hang up gardening tools such as rakes and shovels. You could get a chest of drawers to help organize all of the different seeds you saved from the garden.
6. Shed floor and foundation
When you buy a storage shed, you often look at the price, quality, and type of materials used for the shed, and how long it might last. Other things that are sometimes considered include maintenance requirements, and accessories available.
Not everyone thinks about floors and foundations for their outdoor buildings though, and some people are surprised to find out after the fact that most sheds don't come with a floor. Instead, you're expected to choose and install or build your own foundation for the shed before putting it into place.
Now, creating foundations and floors for outdoor storage sheds is not too difficult, but you do need to know how you're going to use the shed so you'll install the proper flooring for it.
If you're simply putting an outdoor storage shed in place to use as a generic storage room for seasonal items or family keepsakes, you can simply use bare ground for your shed flooring. Keep in mind, however, that the ground is dirty of course, but it can also become wet. If your storage items are in simple cardboard boxes, things could be ruined by weather changes, and mice or bugs getting into the storage shed through the ground.
So if you plan to use a bare ground floor for your shed, be sure you're storing your belongings in solid plastic and waterproof containers and bins. It's also best to locate your shed somewhere in the yard where there is a slight rise to the ground, so water will not collect on the floor.
A better flooring option for outdoor storage sheds is to create a simple concrete foundation. This can be done using poured concrete or by placing concrete blocks side by side. Make the concrete foundation approximately one foot larger than the shed on all sides, to be sure water is not able to get in under the edges.
Another popular shed flooring material is wood. A wooden platform can be easily built using standard two by fours, and the shed simply sits down on and attaches to this platform. Like the concrete base though, be sure to build your flooring at least one foot larger than the shed on all sides.
Storage shed accessories recap
As you can see, having a shed is not enough: you need to get the right storage shed accessories to help you keep your shed organized and have easy access to tools and other things you stored there.
You may not need all of the accessories above, but some of them are must-haves, and I hope you now have a better idea of what would make your storage building the best possible for your needs.