Most gardeners these days have a storage shed in their backyard. It's a great way to organize gardening tools, seeds, hoses, pots, and so on. But sheds are not just for storage anymore. Here are 7 ways to use your shed for more than storage.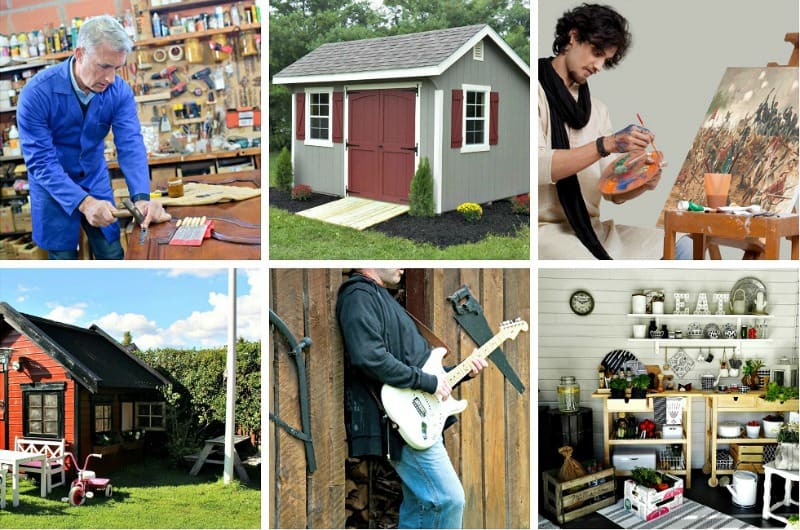 7 Ways To Use Your Shed For More Than Storage
Many of these new ways to use a storage shed will necessitate a bit of a transformation of an original shed. Most will need insulation, electricity, cooling and heating.
Depending on what you'll do in your shed, you might need some permits. Make sure you do your homework before embarking on one these projects.
1. Artist shed
If you or one of your children are artistically inclined and shed could be a great alternative to just having a corner in your house. A separate art studio would not only be helpful in keeping the mess out of your home (we all know how messy artists can be), but it could also create a special atmosphere where your creative juices could be encouraged.
For an artist's shed, you'll need a building with large windows for as much natural light as possible. And of course, a nice flower garden and some bird feeders close by could be great inspiration for the artist.
2. A she shed or man cave
More and more popular these days, she sheds are the perfect oasis women create for themselves. And man caves are that place where thy can have their freedom to be themselves 😉
Some days we just need to get away from it all: the noise and busyness of life!
What better way to cure the feeling of being overwhelmed by life than to go to your private retreat, light some candles, and get back in touch with yourself?
A shed could provide a perfect place to meditate, think, read, or just relax. You can also bring some of nature in with you: rocks, flowers, and a bamboo mat can give you the smells and textures you miss when you spend a third of your life at work.
Technology is great – I'll be the first to say that – but sometimes you need to unplug…and enjoy being in your own world.
I find that a brief time-out from the busyness of life helps me to focus because I come back refreshed, happier, and more content with life. I'm a nicer person to be around. Time away from everyday stress is an important key to a long and happy life.
If yoga is your thing, a shed like described above could be the perfect location for you to concentrate on your forms without distraction. Put on some soft music, light some candles, perhaps a fan to create a gentle breeze… I'm feeling more relaxed just imagining and writing about it!
3. Home office shed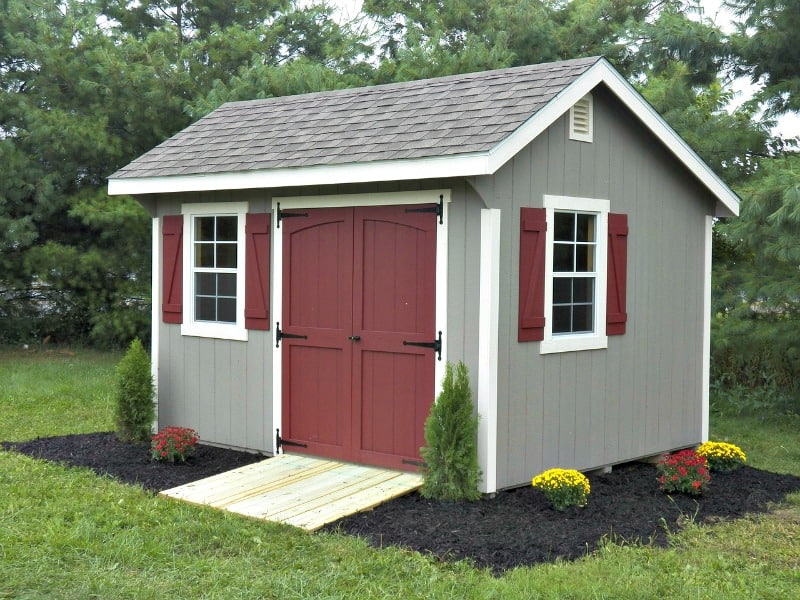 If you have a small house and work from home, you might get distracted by the chores around the house or other activities your family is involved in.
In this case, you could transform a larger storage shed into a home office, where you could be able to focus on your work.
If you receive clients, it's also a nice way to have a neat, organized, professional-looking office than just meeting in your living room or having to meet at a coffee shop.
What kind of work-from-home jobs can you do from a shed? Writers might find a wooden shed the perfect spot for writing.
Other jobs you can do in a shed are anything that involves working online: virtual assistant, medical transcriptionist, web designer/developer, travel agent, instrument teacher, etc.
Wooden sheds give the feel of a nice cozy cottage and might even have windows and finished floors. Some of them have flower boxes, roof accessories, and other details to make them even more special.
4. Summer kitchen
With the garden in full swing, summers are filled with harvest processing: cleaning, cooking, freezing, etc.
A summer kitchen could save your home from dirt, bugs, and heat if you decide to do all the processing in your kitchen shed.
5. Playhouse for the kids
If you want to try something new and interesting with your shed, turn it into a playhouse for your kids. They'll spend hours upon hours in their little hose, especially girls.
If you can't afford one of those fabulous playhouses you see on TV or in magazines but you want to find an alternative for your children, consider a shed playhouse.
You can either transform an existing shed or you can purchase one just for this purpose. If you start with an existing shed, it's very important that you clean it properly. You need to be sure you can fully remove anything that might be dangerous to children playing.
If you decide to buy a new shed, all you need to worry about is getting the right size and style for your needs and getting it all set up for your children.
Either way you go, make transforming the shed into a playhouse a family event: it will be a fun family bonding experience while also giving the children a chance to have a say and to be hands-on with their future playhouse.
When the setup of the playhouse is complete, you can work on decorating it, bringing in toys and other items, and making it feel like home to your children.
6. Craft or workshop shed
If crafting materials are taking over your house, you might need to move your crafting materials in your own craft shed.
Tips for storing your crafting supplies:
Make sure your backyard shed is clean and organized.
Add any shelves or cabinets needed to give you more storage space.
Separate all of your supplies and place them in plastic storage containers.
Label each one of them so it'll be easy to find what you're searching for when you need something.
Arrange the containers in the shed so they are in some type of order that's easy for you to keep up with. This way, you can go straight to the container you need.
Using a backyard shed to store your craft supplies is an excellent idea. It cleans all the clutter and messes out of your home but you still have a place to keep your items in good shape. As long as you keep it organized, it'll be easy to keep up with everything you have.
Try a Rubbermaid shed for this.
7. Potting shed
A potting shed is a perfect refuge for gardeners. Warm enough to start new plants in the spring and cool enough to store bulbs in the fall, potting sheds are a nice working area for beginners, as well as experienced gardeners. see more ideas for garden sheds.
Add some shelves for pots, and potting utensils, and if you can, make sure you buy yourself a potting table or a potting bench to make it easy on your back.
Decorate your potting shed with fun-colored window shutters and flower boxes. And create a nice walkway for added curb appeal.
I hope you enjoyed these new ideas for storage shed uses.