Gardening can be relaxing, it can be therapeutic, or it can be frustrating if you simply do not know which plants work best in your particular garden. Rock gardens are a wonderful way to amp up the visual interest in any landscaping, but placing plants that are not only going to look good but also thrive, can be a challenge. Here are some of the best rock garden plants to use for a successful alpine garden.
Rock Garden Plants And Ideas
Need some inspiration? This book has some amazing ideas for rock gardening. And you can also look at my quick and easy guide to rock gardens.
Alpine rock garden plants
Alpine plants thrive in mountainous regions, which means that they like rocks and are usually drought-tolerant.
These plants can thrive in rocky soil. They do well in areas that have thin soil, and soil that may not be very fertile. They also do well with sun and direct sunlight, and they can thrive if you find the right drainage for them and the right space in your rock garden.
Alpine plants are hearty and can survive the cold, but they do not like to be overly wet, a condition that is relatively easy to avoid in a proper rock garden. Alpine plants are almost always low-growing or low-profile, so you want to make sure they can be seen over your rocks.
Rock cress (Aubrieta Deltoidea)
This plant is a mat-like plant, which means that it grows tight and low to the ground in a sheet or mat-like formation. It is not going to grow tall and luxurious and flower boldly, rather, it is tight to the ground and grows into a tight mat over time as it is allowed to grow.
It blooms into some gorgeous bright purple flowers and is considered to be a semi-evergreen plant. Rockcress can creep or spread and would be a great colorful ground cover for anyone that has space to fill and wants a pop of color that is going to grow well in rocky soil.
Creeping phlox (Phlox Subulata)
This is another low-growing ground cover plant. Creeping phlox is evergreen, which means that it is going to be lovely and green all year round. It is a perennial that with proper care and the right conditions, can live for years (my mom has it in front of her house and she's been living there for 11 years, and it's thriving!).
The flowers can be dark or light pink, purple, fuchsia, white, and even a few variegated species. If you are looking for a splash of color in the spring, it's a great low-maintenance plant.
The leaves are small, dark, and needle-shaped. Creeping phlox blooms for about three to four weeks out of the year, and the rest of the year it has a lovely green leaf to look at. It can be grown on slopes, between other flowers, or as a bright ground cover.
Alpine lamb's ear (Stachys Byzantina)
This plant is an evergreen perennial and is a lovely addition to any garden. It has long, lamb's ear-shaped leaves that are silvery sage green in color and that are fuzzy like an actual lamb ear.
Though they are known for their leaves rather than their flowers, they do flower in late spring and early summer months and the flowers are a purple spike-shaped flower that complements the silver of the leaves so well.
The lamb's ear plant grows rather thick, and you can make it grow even thicker by removing the flowers after they have wilted. They are easy to grow plants that can be paired with nearly anything, and they are great if you want to fill in any bare spots that need a truly low maintenance plant.
Succulent rock garden plants
We all know and love succulents for their quirky shapes and colors and their ability to withstand even the worst plant care imaginable. It is this tenacity that makes them perfect for a rock garden and for any less than desirable garden space you might be trying to fill.
Most succulents grow in very hot, very dry, and somewhat barren climates, making them a great choice for a rock garden that might be lacking in nutrient-rich soil.
Succulents grow well in direct sunlight, they do well with minimal water and can sustain life with minimal effort on the part of the gardener. They also come in tons of different shapes, sizes, and colors making them a fun contrast to the rocks in any garden.
Ivory towers/giant string of buttons (also known as Crassula Perforata)
This is a fascinating plant that grows upwards and has a stalk that is surrounded by thick, stacked leaves that are joined in pairs and that give this plant a very regal appearance.
Rather than the short, stubby succulents that we all recognize, this succulent is going to be different and is going to help make your garden shine. The leaves are a deep green that with age will be lined with a dark red or pink. The ivory towers plant can grow up to 18 inches tall, and it blooms white flowers along the bloom stalk that grows from the top.
Parodia Erubescens
If you prefer the prickly cactus or succulent variety this is the plant for you! Parodia Erubescens is the quintessential tiny ball succulent with the big spikes that we all picture in our minds when we hear the word cactus.
This is a smaller succulent, but it is no less beautiful than larger versions. It has a structure with 22 ribs that are all covered with dense needles, both large and small. The larger spines are copper in color which contrasts nicely with the light green of the plant itself.
This succulent can grow up to 7 inches tall and 4 inches wide when they are fully grown. It thrives in sunlight and does not need very frequent watering. If you live in a warm climate that does not get snow or frost, you might want to add one or more to your garden.
Hens and chicks (Sempervivum)
This is a fairly simple succulent that we have all seen at one time or other in all likelihood. Hens and chicks are low growing: they typically do not grow more than a couple of inches tall (even the larger varieties), and they have a gorgeous, classic rosette shape. They grow in clusters and will spread as they mature which means that from one plant, you can cover a fairly large space.
Sempervivum can grow for years and thrive in just about any place that you put them. They can grow both indoor and outdoor and are able to grow from clippings even if they are not yet rooted. That makes them great candidates for transplant and for filling out different parts of your garden.
They can be deep red, dark brown, deep green, or light green along with a ton of other color variations as well.
Shade rock garden plants
So far, we have been discussing plants that do well in rocks, just in rocks, with no particular attention paid to sun exposure. It is helpful to look at plants that do well in shaded areas as well.
If your rock garden is situated in a very shaded area, you may be wondering what type of plant can survive with little sun. Rest assured, there are plenty. Here are a few plants that will thrive with little sunlight.
Hosta
Hosta is a very hearty plant that is going to grow pretty much wherever it is planted.
This plant has large, low growing leaves that fan out and get larger every year when they come back. They are perennial and come back each year lusher and grander than the year before.
Hostas do incredibly well in low-sun areas. Though a Hosta is very versatile, there are some varieties, namely those with very light leaves, that do better in sunlight.
If you are planting Hosta to fill a shaded rock garden, look for plants that have very dark leaves. HAving darker leaves will help them to survive in low sunlight. Hosta needs adequate drainage and prefers soil that is well-drained. When they flower they shoot up stalks with small purple or white flowers.
Cyclamen
Cyclamen plants are often sold as houseplants, which means that they can do well without a lot of natural sunlight.
These plants have flat, broad leaves that are rich and dark, and they have tall, stalky flowers that shoot up straight from the leaf clusters. They prefer cool temperatures, but they do not like frost and cannot tolerate snow, so they are not suited for snowy climates.
The biggest issue that comes with this plant is that they do like a very specific amount of water. They can wilt and yellow if over-watered and can wilt and die if they are under-watered.
Cyclamen can bloom multiple times in one season if you water them properly and prune off dead flowers to help focus on new growth for the plant.
Ferns
Ferns are an outstanding plant if you have little to no sunlight in any particular area. These plants grow in forests, typically in areas where the tree cover is quite dense and the filtered sunlight is not that great.
Ferns do like composted soil that is rich and dark, so if you are planting a fern in your rock garden, you may have to add special soil to get it to thrive. These plants also respond well to liquid fertilizer if you cannot properly compost the soil that they are going to be planted in.
Though they grow from one root ball their leaves can be very long, and they can spread when they are planted. Ferns are usually dark and are a great plant for shaded rock gardens.
Full sun rock garden plants
There is a good chance that your rock garden is situated in a sunny space that is going to get full sun all day. Full sun plants are a great addition to any rock garden.
Sea Thrift
Sea thrift is a flowering perennial that thrives in sandy soil and doesn't mind dry, poor conditions! The creeping sea thrift has white, red, violet, or deep pink blooms that bloom in early spring as well as late summer, to keep you going all year round with gorgeous color!
Columbine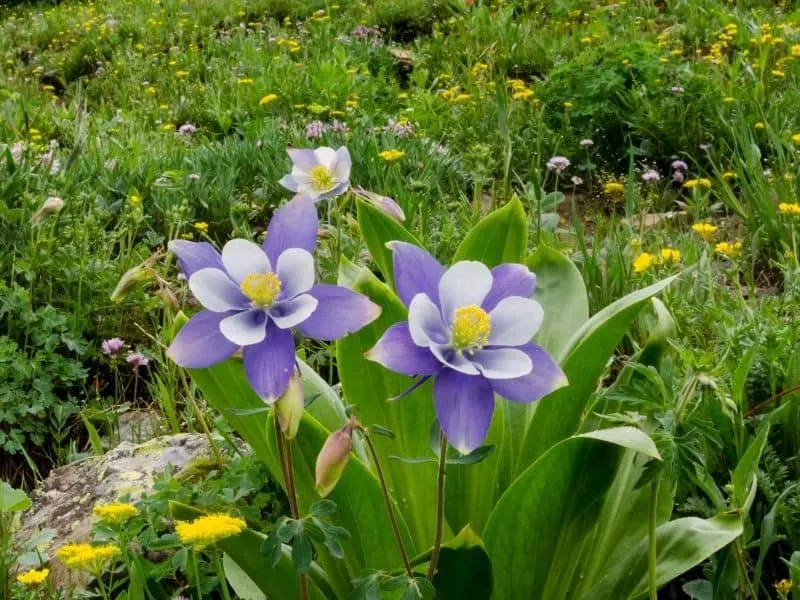 A great plant for full sun rock gardens, columbine is a low-lying, self-seeding plant that will spread through your entire rock garden to give you a gorgeous bed of soft green foliage accompanied by precious flowers that come in a variety of colors.
This is a very low maintenance plant that will spread easily from where you have planted it and that takes very minimal intervention on your part to keep it looking great.
When it is let to grow it can grow up to three feet tall and two feet wide and has some gorgeous wispy flowers. You can cut it back in the fall to gather the seeds then spread them and get more of this lovely plant in the spring.
Other plants to try for a beautiful rock garden
Plant selection can be a fun indoor activity, that you put into action once you found all you want to do for year-round interest for alpine regions that may have a harder time with a traditional flower garden.
ornamental grasses – they give height and a wispy look to your garden (try blue fescue: it's gorgeous!)
coral bells – perennial plants that will add some gorgeous colors to your rocky landscape
evergreen candytuft (iberis sempervirens) – will create a stunning carpet of snow-white flowers
wooly thyme – easily spreads between every crevice
red creeping thyme – will add a pop of color between the rocks; its tiny pink flowers are absolutely adorable!
basket of gold (perennial Alyssum saxatile) – such pretty yellow flowers!
ice plant – makes a showy alpine garden accent
pasque flower – love the shades of purple!
ashy cranesbill (geranium cinereum) – pretty pink flowers with striking black stamens
Rock garden must-haves
Flowers are great, but there are a few other things every rock garden must have:
small plants
stone walls
water feature
rock walls
Irish moss
green leaves
drought-tolerant plants
rabbit resistant plants
bright evergreen foliage
small stones
What You Should Know Before Planting A Rock Garden
Though you might think that a rock garden is simply arranging some rocks and planting plants between them, there is really so much more to the perfect rock garden. There are a few different aspects that you do need to keep in mind to make sure your rock garden is sure to be a success.
Drainage
Good drainage can affect how well your plants grow, how your rocks and soil settle, and the overall makeup of your rock garden. Gardens that are not properly drained, can end up being muddy messes and your rocks can end up sinking while your plants die from epic overwatering.
At the same time, you want to make sure your soil is going to retain enough moisture to keep your plants alive. Rockeries typically do well in sloped areas where the water can drain down, and you can plant your plants accordingly. Plant those that need more water at the base and those that need less further up where water is scarcer.
Plant choice
Your plant choice can make such a huge difference in how well your garden does. If you have a stone garden that is in full shade 70% of the time, you want to choose plants that are going to do well in low sunlight and with more shade.
It is important as well that if you have a garden that is mostly in the sun, you choose plants that can handle direct sunlight. Plant choice based on sun exposure and water can make a huge difference in how well your garden does and in how well your plants do within your alpine garden.
Climate
In a similar vein, you want to make sure that your plants match the climate you live in as well. A tropical plant is not going to survive the winter in a cold area if you plant it in a rock garden.
Also, those plants that do better in cold climates are likely to wilt in very hot climates. Taking your climate into consideration can make a big difference when it comes to your garden. Plants are very specific in what type of climate they can survive in so plant choice based on where you live is a big issue when planning your rock garden.
Soil
Your soil should be suited to the plants that you are trying to grow: some may need well-fertilized soil, while others will need sandy soil. If need be, you may end up having to move soil into your rock garden to be able to grow the plants that you want. If your alpine garden is on a slope, you also need to take soil erosion into consideration to make sure that you are replacing soil as it washes away.
Care
Alpine gardens might not need as much diligence and care as a typical garden, but they do need care. Taking the time to make sure you are properly watering, weeding, and fertilizing your rockery can mean all the difference between a garden that flourishes and one that ends up being just rocks.
Caring for plants, weeding, watering, and making sure your rock garden is set up for success is going to mean so much when it comes to the success of your rock garden.