If you're looking for sweet-smelling plants to add to your garden, balcony, or patio, consider potted lavender: it's easy to grow, comes in various types and colors, and will bloom for many years. While growing lavender outdoors in the soil in a sunny location is best, container-grown lavender has its advantages:
Better soil control.
The possibility to move it around.
Protection from frost.
A beautiful plant that smells nice in your home.
Here's how to care for potted lavender.
Why Should I Grow Lavender in a Container?
There are many reasons to grow lavender in pots. For one, if you like a type of lavender that doesn't grow in your zone, growing it in a container helps you preserve it for next year. When we planted our 300 lavender plants a few years ago, our local nursery had Goodwin Creek lavender, which grows in zones 7 through 9. This lavender type is gorgeous, with its silver-grey foliage and long, graceful, dark purple flower spikes!
We planted 30 of these in the ground (we live in zone 6, but hoped that since our local nursery sold it, they might survive), only to be heartbroken when every single one of them died the following winter. I wish I had the inspiration to plant some plants in containers I could move indoors or in the greenhouse.
If you love lavender tea or use lavender in your baking and cooking, keep a potted edible lavender in your kitchen or dining room area for easy access.
Lavender planted in containers can easily be moved around in the garden to create the perfect look during the year.
And, of course, if you love making scented gifts to gift your loved ones (make a dream pillow), keep a few potted True Grosso or Provence. Of course, these grow much larger and will need more room. So, keep them on your enclosed patio or balcony.
Lastly, you could grow lavender indoors because it will bring you many happy smiles throughout the year. Container gardening is an easy way to garden in small places or when you can't physically work in a full-size garden.
How to Care for Potted Lavender
Choose the right pot for growing lavender
The planter you use for your lavender is essential. Here are a few simple factors to look for:
Good drainage
Lavender thrives on being dry and doesn't like its roots too wet, so well-draining soil is crucial for growing healthy lavender plants. Ensure your pot has holes in the bottom to release excess water and avoid root rot. You can add some rocks at the bottom of your pot and use the right lavender potting soil.
Types of pots
The type of container for lavender is not overly critical, but some are better than others!
Plastic containers
Good as a temporary solution when you're on a budget. It also has a wide variety of sizes.
Not so good because it breaks easily, isn't environmentally friendly, and won't last you as long as other options.
Clay pots
Good for traditional and aesthetically pleasing vibes and on a budget.
Not so good: they're pretty heavy, can crack, and can't withstand frosts.
Ceramic pots
They are good for holding moisture and looking pretty indoors.
Not so good as they can easily chip.
Select the proper soil
Next, you must choose some soil for your new potted lavender. Here are a couple of important aspects to consider:
Lavender prefers dry feet, so well-draining soil is crucial! Combine seed starting or potting mix with sand, perlite, and gravel to enhance the drainage. Lavender likes neutral to slightly alkaline soil, so keep this in mind! Learn more about the best potting soil for lavender.
Give it enough sunlight
If there's one thing about lavender, it loves sunlight. Flowering requires at least six hours of full sun daily, so placing it in a spot with sunshine is a must!
The ideal spot for placing potted lavender is anywhere with full, all-day sun. Try putting it on the windowsills of south-facing windows or outside on a balcony or patio in the sun.
TIP: make sure you rotate your pot every few days so that the whole plant gets good sunlight coverage; this ensures it grows in every direction and isn't lopsided!
Watering tips
As I mentioned, lavender thrives in dry conditions, but that doesn't mean you should skip watering day! Potted plants need more water than in-ground plants. Water your lavender once a week during the warmer months and less frequently during the winter, ensuring the soil doesn't get soggy.
A good rule of thumb is only to water your plants when the soil has completely dried. You can check for this by dipping your finger at least two inches into the soil.
Another good way to water your potted lavender is to try bottom-watering, where you place the pot in a bowl of water for a couple of hours and let the plant soak up the water through its drainage holes. Bottom-watering is an excellent way to let your plant drink what it needs!
Pruning and harvesting
Even if you don't want to harvest your lavender, you should! Pruning lavender encourages new growth and a second flowering, so you get more pretty flowers out of your plant.
Cut around a third or a fourth down the stems, but don't cut into the woody part!
The best time to harvest your lavender flowers is when half bloomed on the stem. Once cut, you can use them in cut flower bouquets or dry them for sachets, potpourri, and other craft uses.
Fertilizing and feeding
You don't need to fertilize lavender. It thrives in poor soil, so you're off the hook for fertilizing lavender. However, if you think yours needs help, add a small layer of organic matter.
Learn more about fertilizing lavender.
Transplanting
Occasionally, you may need to transplant container-grown lavender to a larger container. As a perennial, it will come back year after year and eventually outgrow the original container in which you'll plant it.
How To Use Potted Lavender In Your Landscape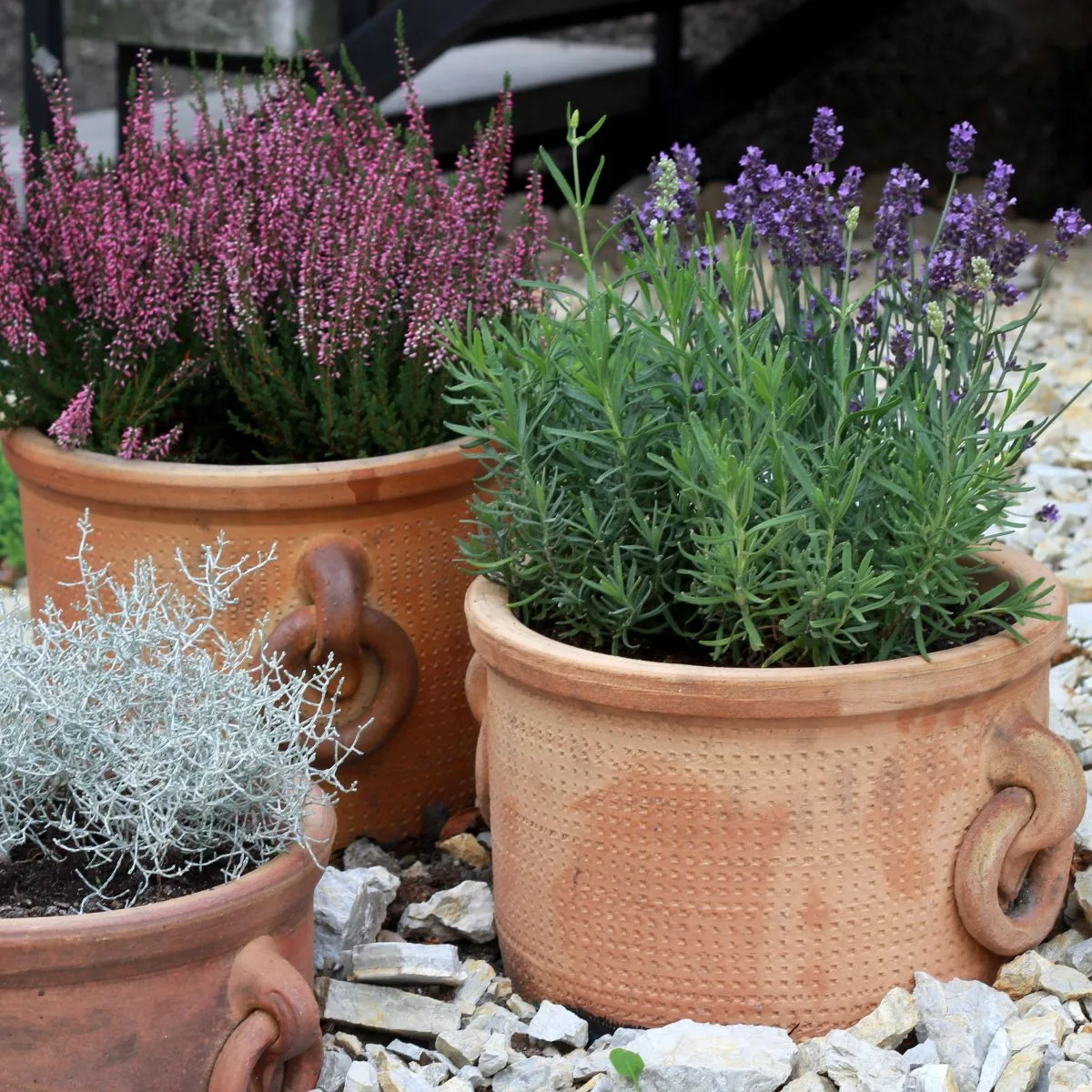 Here are some creative ways to incorporate potted lavender into your outdoor space:
Patio or deck decor: place potted lavender on your patio or deck for a pop of color and fragrance. Use different pot sizes and heights for visual interest.
Container gardens: create a container garden with a mix of herbs and flowers, where the lavender takes center stage. Pair it with rosemary, thyme, or sage, and you'll have an herb garden ready for culinary exploration.
Line pathways: low-growing varieties can create a beautiful border, and the gentle fragrance will waft through the air as you walk by.
Use them as accent plants in your raised garden beds. Their purple blooms contrast sharply against green foliage and other brightly colored flowers.
Topiary: add lavender pruned into topiary shapes to your front door
Create mixed planters: when paired with lavender, flowers like geraniums or marigolds create visually stunning and aromatic displays.
Use in balcony gardens: use wall-mounted planters to grow small lavender varieties.
Love Lavender? Check Out These Lavender Tips
Adding potted lavender to your home can easily create a cozy environment. Give it a try now that you know how to care for it!
Adriana Copaceanu is a passionate nature lover living in the country on her dream property where she grows vegetables, lavender, and wildflowers that she shares with the wildlife they attract. When she's not in the garden, she loves spending time with her chickens and planning her next nature project.