A Mediterranean herb, lavender thrives in poor, dry soils. So does it need fertilizer? The short answer is probably not. But depending on your specific growing conditions, you may need to amend the soil to improve drainage, adjust pH levels, or even, yes, add nutrients. Here we will explore how to properly amend the soil and, if it needs it, the best fertilizer for lavender.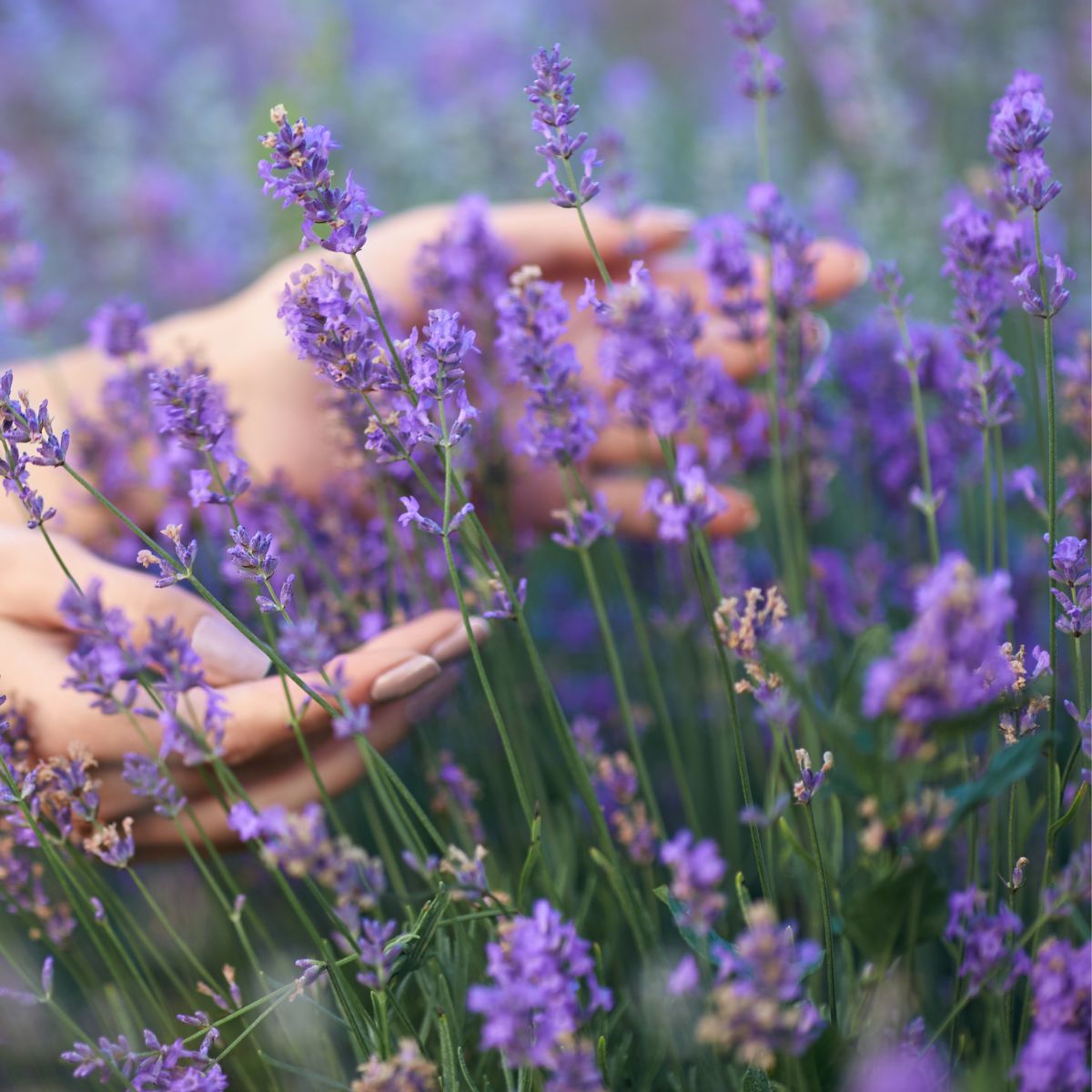 Does Lavender Need Fertilizer?
In its natural habitat, lavender grows in sandy, rocky soil with little nutrients. It follows, then, that we should focus more on the structure and drainage of our soil than on the nutrient levels. If you have already planted lavender and it appears to be growing happily on its own, fertilizer is likely unnecessary.
Fertilizing healthy lavender plants can actually be harmful, creating an imbalance in the soil that ties up iron and other nutrients, causes winter injury, and diminishes the overall health of the lavender. The plants can also enthusiastically suck up the extra nutrients, pushing out a fresh burst of new growth, and then become overwhelmed by it all and weaken or even die.
But if your lavender plants don't seem to be living up to their full potential, they may benefit from a little extra boost – just take care not to overdo it (more on this below). And if you don't have plants in the ground yet, you'll want to make sure the soil is properly prepared so the lavender has the best possible growing conditions.
The Best Fertilizer for Lavender
The best soil amendments for lavender will depend on several factors, including growing conditions and age of the plant. The following sections are divided by stages – preplanting, planting, and postplanting – and include a section on container growing.
Preparing the soil for lavender
The ideal soil for growing lavender is dry sandy loam with an alkaline pH. Soggy soil or heavy clay can lead to shallow roots, weak plants, and rot. Unless you already have nice, loose soil with excellent drainage, you will likely need to improve your soil structure before planting lavender.
To do this, mix in coarse organic matter like bark mulch, wood chips, compost, or a combination. Limestone gravel is also a good option and has the added benefit of raising the pH. Avoid manure, most of which has too much soluble salt for lavender (with the exception of horse and llama manure).
And although it may seem like a good idea, adding sand to clay soil can actually make it worse, as the sand and clay mix to form something akin to cement. Raised beds, however, can be built with a mixture of topsoil, compost, natural sand, and limestone gravel.
For the best possible growing conditions, you can have your soil tested for nutrient and pH levels. Send a sample in to your local Extension office, noting that you would like to grow lavender. In addition to your test results, they may be able to provide specific recommendations for amending your soil for growing lavender. Add nutrients to the soil based on any recommendations offered or deficiencies displayed by the test, and add lime to increase the pH if necessary.
Planting lavender
When propagating lavender, use well-draining seed starting mix or potting mix. Some growers prefer making their own custom blend, though when just starting out, it may be easier to use a purchased mix at first. For best results, look for something with plenty of perlite or vermiculite, such as high porosity Pro-Mix.
Transplants may appreciate a bit of special care at planting to give them a strong start. After digging a large hole, mix a small amount of fertilizer into the bottom. Bone meal, blood meal, and kelp are all good options. Add a bit of lime if the soil is acidic. Toss in a handful of soil so the roots don't come into direct contact with the fertilizer and burn, then plant the lavender and water it thoroughly.
Fertilizing established lavender
Once your lavender plants are established, they likely will not need any fertilizer. However, if they appear to be struggling (and you have ruled out pests and diseases), you can test the soil for nutrient deficiencies or try adding an all-purpose, slow-release fertilizer or quality compost.
Add fertilizer to just a few plants at first, and see how they respond. If they show improvement, you may want to fertilize the rest of the lavender plants as well. Some growers find a good dose of fertilizer in early spring or right after harvesting to be beneficial. Liquid fertilizer can easily be applied through drip irrigation.
Fertilizer for container lavender
Lavender grown in a container will need slightly different care from lavender grown in the ground. For one thing, its nutrient access is limited to what is available in the potting soil in the container. This means that it will eventually need fertilizer. Again, apply an all-purpose, slow-release fertilizer in early spring. Or, when repotting, mix in fresh compost with a well-draining potting mix.
Lavender typically grows well left to its own devices, granted it has excellent drainage and plenty of sunshine. But sometimes, even though it thrives in poor, rocky soil, it needs a little extra help. Properly preparing the soil for lavender can go a long way toward healthy growth, and in some cases, a small dose of fertilizer at the right time can give lavender a boost toward healthy, bountiful blooms.
Learn More About Growing Lavender