Herbs are delicious and chock-full of power. They flavor our meals, garnish our dishes, and service our bodies with essential nutrients and antioxidants (to get rid of those nasty impurities). For such seemingly small plants, they embolden and spice up a large part of our lives! Here are 10 herb garden ideas to inspire you.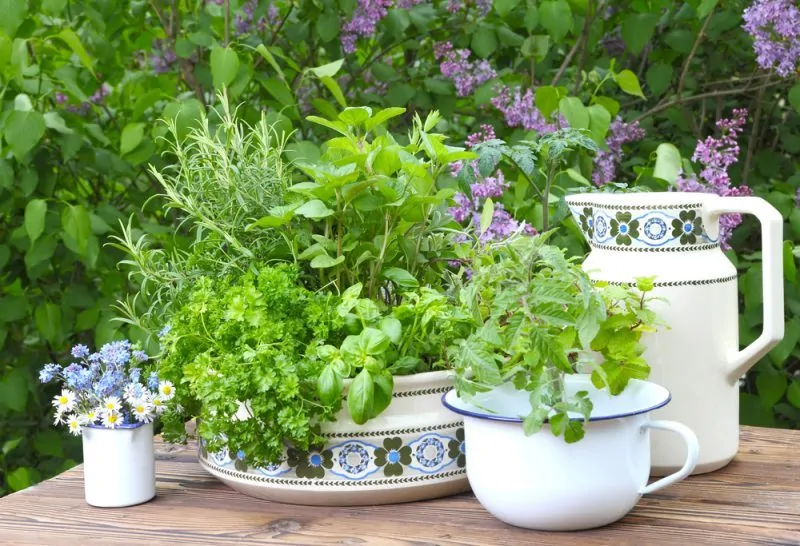 Charming Indoor Herb Garden Ideas
If you're looking for a tasty herb garden that compliments your decor, look no further. I've gathered 10 wonderful suggestions to get you motivated and your – indoor or outdoor – garden growing. Herbs are aromatic and visually lively, and growing them in an aesthetically pleasing herb garden can really tie your living space together!
Let's begin with my favorite indoor ideas:
1. Flowerpot herb garden with name tags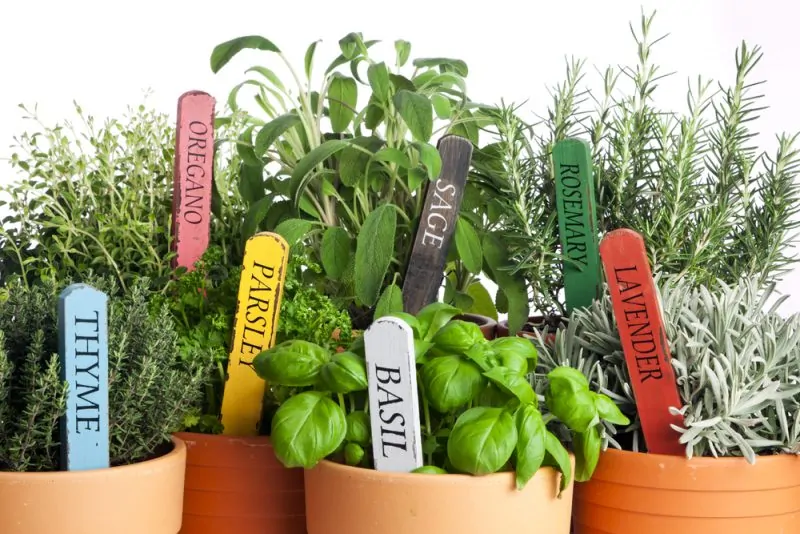 One of the cutest ways to customize your herb garden is by labeling each plant with wooden, rustic-colored tags. Yes, the herbs in the photo may be planted in plain flower pots. But, the farm feel of the name tags and modestly-styled pots are sure to add a cutesy rural air to your kitchen!
This is a quick and painless method of personalizing your herbal plant pots. You can easily make your own version of these (or find and purchase them online).
Herb Garden Markers
Bamboo Plant Labels in Gift Box
Herb Stakes
2. Mason jar herbs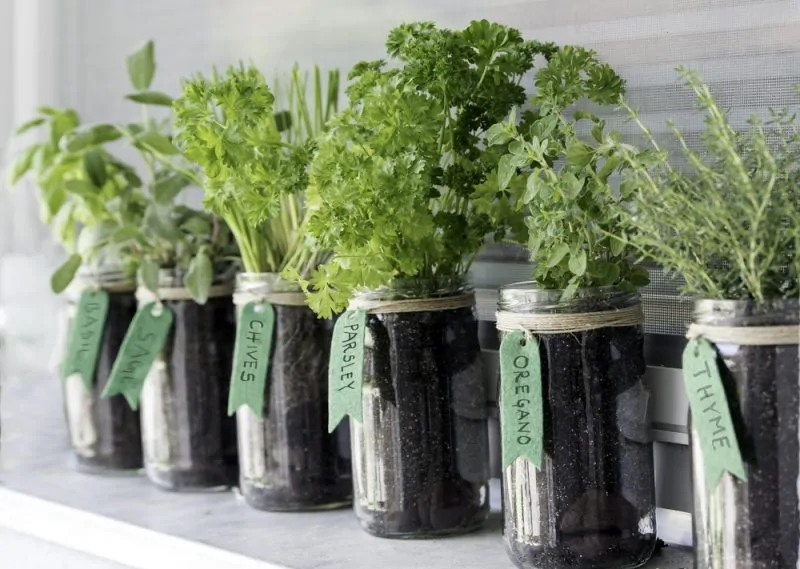 Mason Jar herb gardens are hassle-free and farmhouse chic! The all-around glass is perfect for watching your tasty herbs grow, and are truly cost-effective containers that you can find in virtually any home store. The only thing that's really left for you to put effort into is tagging your plants.
The items you'll need for tags are:
Twine
A colored felt of your choice
Scissors
Something to write with
3. Bucket herb garden with a metal tray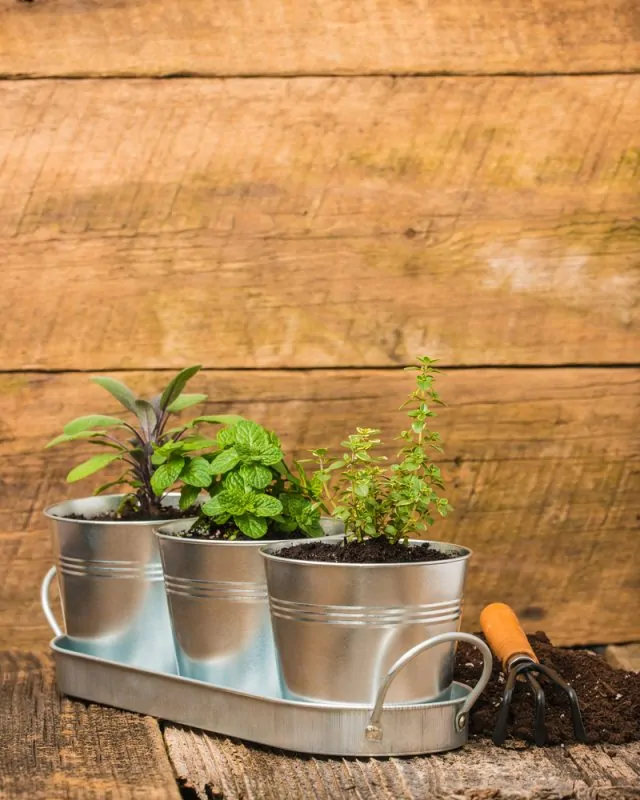 Though the bucket containers are adorable all by themselves, what's beneath them is what makes this herb garden so great. The tray is not only aesthetically appealing, but it could also be useful.
Drilling small holes in the bottom of the buckets would allow excess water to escape into the tin below. This would keep your plants from drowning if you accidentally water them too much! Draining herbs indoors can sometimes be a pain, and this cutesy herb garden makes draining water a piece of cake!
4. Coffee mug herb garden
Most of us have unused coffee mugs sitting in our cabinets – I know I do. Old coffee mugs are one of the most adorable ways to create an herb garden indoors. They're put together with little effort (you just have to worry about the plants), and they look great on a kitchen window sill!
Because of their small size, you won't have to worry about if you have enough room in your kitchen for an herb garden. These make the perfect little gardens for apartments and small (or fully decorated) kitchens.
5. Vintage wooden crate herb garden
If you have a larger space to fill in your home, this wooden crate herb garden could be just the thing. The vintage, farmer's market charm is a classic and the rope handles truly tie the whole look together. Individual pots for your plants will need to be set inside to make this herb garden idea more practical.
You can also use a wine box for the same countryside effect.
Delightful Outdoor Herb Garden Ideas
Indoor herb gardens are absolutely precious and look great in the kitchens of those who don't use a lot of herbs (or herbs very often). However, for the green thumbs that enjoy experimenting with various herbs regularly, large, outdoor herb gardens are better suited.
Without further ado, here are my favored picks for outdoor herb garden ideas that you're sure to love:
6. Wheelbarrow herb garden
Wheelbarrows have been crucial for the dedicated gardener for centuries. And what better way to reuse an old wooden wheelbarrow than to turn it into an herb garden? The large area will comfortably house a decent number of herbs and likely give you all the spices you'll need for the growing season.
As an added bonus, you'll also be giving your yard a popular, rustic aura that is sure to spark nostalgia for "the good ol' days".
7. Stone spiral herb garden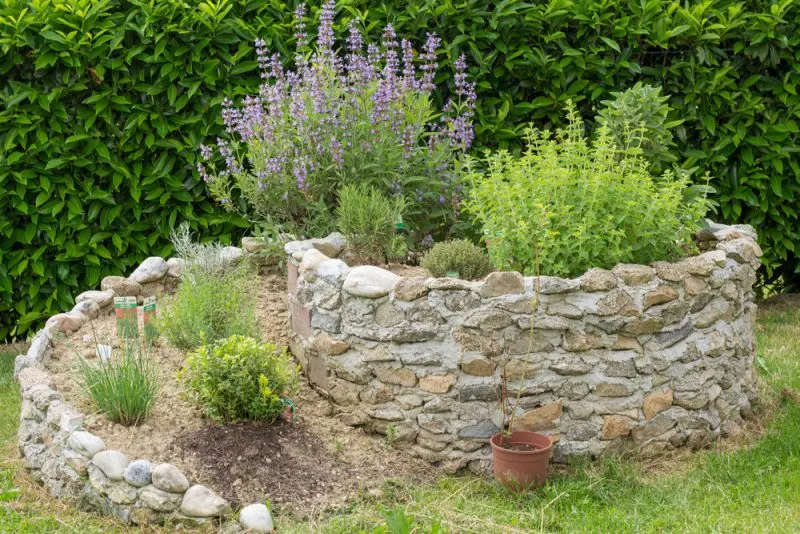 For homes with open backyards, this spiraled herb garden made of stone would be a lovely addition. The wide planting area of this garden would make spacing herbs a breeze. The variety of herb colors and textures would only enhance the interesting appearance of this garden.
Not to mention, the taller main base could be useful to individuals who may have a difficult time bending down to collect their herbs.
8. Stacked square herb garden
Tiered herb gardens are ideal for properties with limited outdoor space. They bring intrigue with their symmetrical appearance and allow gardeners to layer multiple herbs in a small area. This herb garden is great for separating various herbs that may not get along too well, also.
9. Antique claw-foot herb garden
Antiques have become one of the most popular design elements in recent years, and this clawfoot bathtub is no exception. For those who are fond of the beautifully unusual, this herb garden may just do the trick! This herb garden tub already comes with a drain and is big enough to be home to all of the herbs you'll ever need.
10. Hanging coconut shell herb garden
This hanging coconut shell herb garden is an eco-friendly choice. These are sure to give any outdoor space a tropical look (and save money in the process)! You can make your own with halved coconuts, wire or twine, and a drill – it's that simple to bring the tropics to your outside living area!
After All is Said and Done
Herb gardens can be a backyard design idea that adds a little spice to the overall feel of your personal space. Whether you're looking to implement an indoor or outdoor herb garden into your home, you're sure to get wonderful decorative use out of them (and mouthwatering plants).
The right herb garden can really transform the look of your kitchen, backyard, or greenhouse and bring a new life to your home. I hope these herb garden ideas sparked your creativity and got you excited about having your own homegrown herbs!