I love using fresh herbs in my cooking! Going out to my kitchen herb garden just a few feet away from my back porch and getting just what I need for my salad, or that finishing touch for dinner is just perfect. Couldn't ask for more!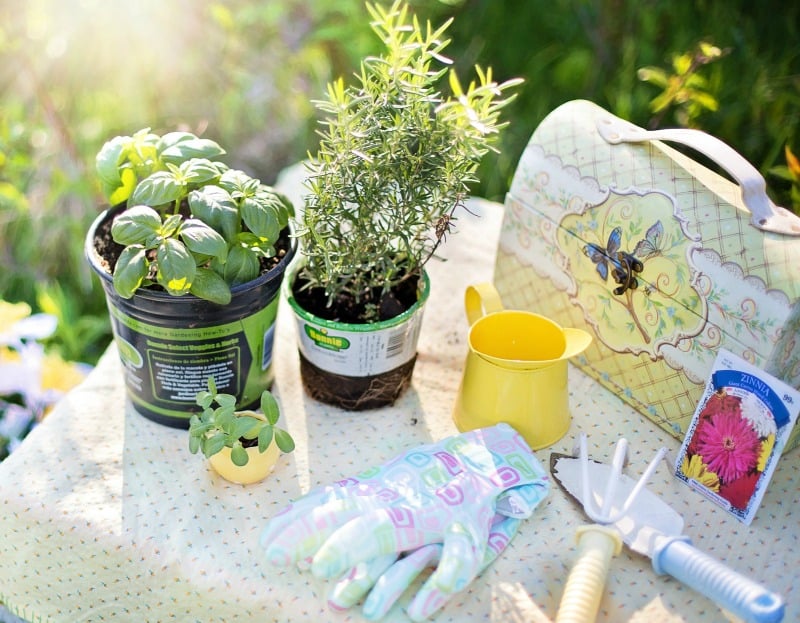 Planting herbs as near to the kitchen door as possible is a must! Plant at least some of your herbs in pots you can bring inside. That way, when the cold weather comes you can still enjoy fresh herbs.
I find it easier to bring in established herbs from pots in my garden than start an indoor herbs garden from seeds.
Related: Indoor winter vegetable garden
Best Herbs For Your Kitchen Garden
Package of 500 Seeds, Lovage Herb (Levisticum officinale) Non-GMO Seeds by Seed Needs
The best kitchen herbs will be different for all of us, depending on our cooking style. I come from Romania and we use a lot of dill, celery, parsley and lovage in our cooking. So you'll find lots of these herbs in my kitchen garden.
I also planted some mint (this is best planted in pots, as it can be invasive: ask me how I know!!!), and tried sage one year (which unfortunately, didn't get used a lot).
Make sure your herb garden is planted in a sunny spot: most herbs love plenty of sun.
Some hardier herbs might be available year round in your area: rosemary, thyme and bay for example. Even so, it's good to cut them back in the fall to encourage a thicker bush next season. If you trim them in the fall, you can either dry the herb cuttings or strip the leaves and freeze them.
There are a few other herbs that can be picked throughout the winter months: sage, chives, tarragon and parsley. I would suggest you pick some when they're at their peak to freeze or dry, as they can get a bit ragged if they get hit by frost.
Mint, basil, coriander, dill, and fennel will only be available in the summer and fall.
If you have a greenhouse, basil and coriander will do much better. And if you are growing tomatoes, any type of basil makes a great companion plant.
Kitchen Herb Garden Ideas
1. Raised bed herb garden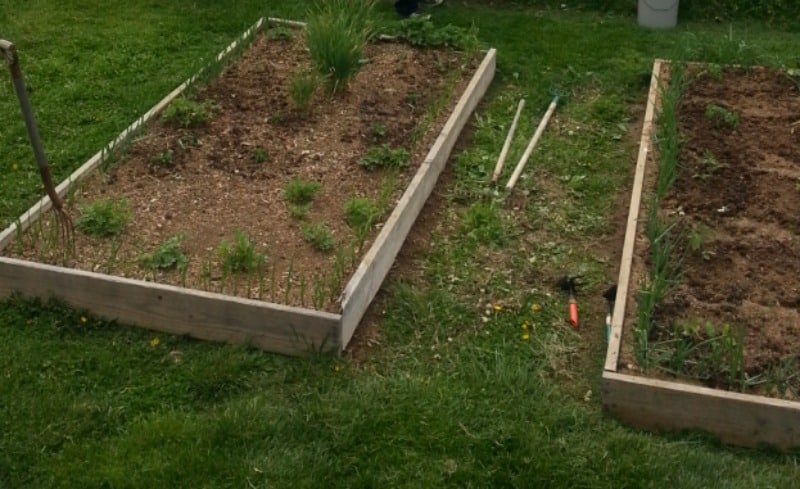 If you already have a raised bed vegetable or flower garden, you can plant herbs in between your veggies and flowers. Companion planting is a great way to keep pests away naturally.
Since insects usually detect their target vegetable by smell, if you plant a herb with a distinct aroma next to a vegetable that is being sought by some insect, hopefully your vegetable will be hidden 😉
Here are just a few examples.
Basil, mint, chives, borage, thyme and parsley work well with tomatoes.
Caraway and coriander are a great companion to peas, and potatoes benefit from having horseradish and thyme nearby.
The carrot root fly will have trouble finding their prey if your carrots are growing with chives, rosemary and sage.
And if you plant a vegetable garden with thyme, sage, rosemary, lemon balm or garlic around your cabbage, and they will keep it safe for you.
Of course, as much as there are good companions, there are also bad matches. When you plant a vegetable garden keep beans and peas away from chives, and dill is detrimental to carrots and tomatoes.
2. Vertical herb garden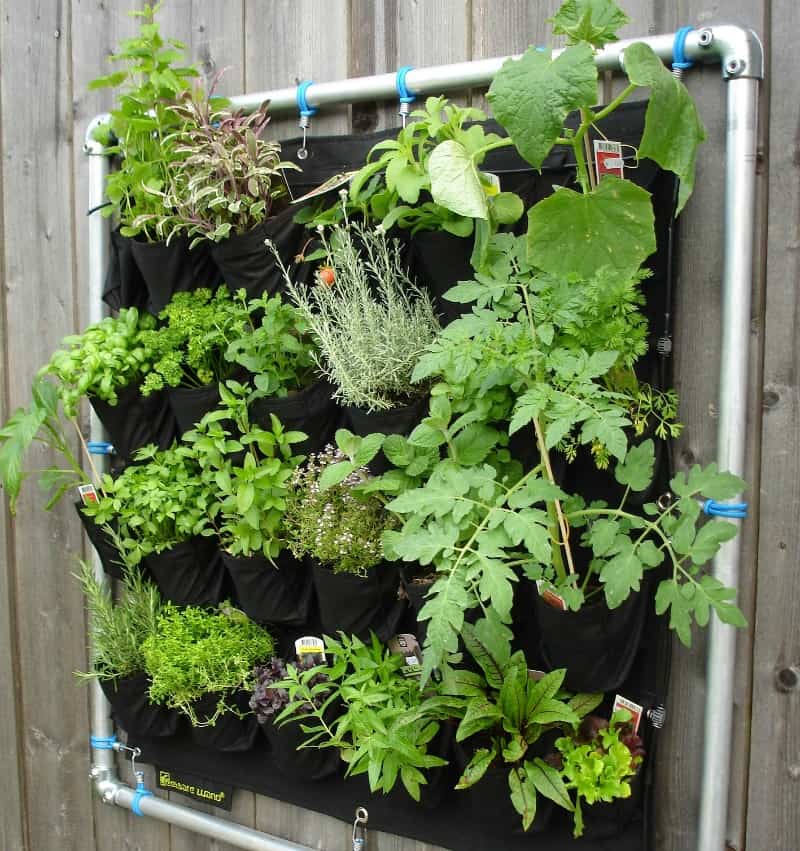 If you live in a small apartment, or space is at a premium, grow your herbs vertically. You can create your vertical garden both, indoors or outdoors.
You can create a vertical garden many different ways:
attach some light weight pots to a trellis or a wooden plank
use a shelf to hold your herb containers
make your own vertical support from an old pallet
use one of these new pocket vertical planters
3. Window herb garden
I love a windowsill herb garden in my kitchen. It usually contains my most used herbs and it comes in handy every day. No need to go outside and get herbs for cooking.
To have a successful window herbs garden you'll need to choose a window that gets a lot of sunshine throughout the day. You also need warmth for your windowsill herb garden.
Make sure you use pots with good drainage and saucers. If you want to get fancy you can use nice ceramic or porcelain containers.
You can also use a window herb garden kit or a wooden window box you make yourself. So many possibilities!
4. Container herb garden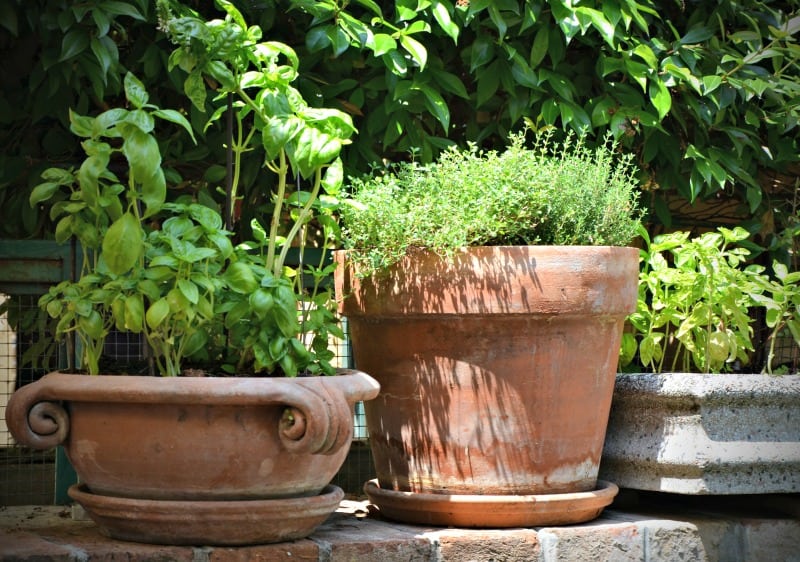 Herbs also make great container plants, and pots not only look attractive on the patio, they are usually convenient and smell great too.
You can use some large pots with a combination of herbs, or you can use smaller pots, each housing one specific herb. You can set your containers on your porch, next to your storage shed, in your flower beds, by your door, and many other places.
5. Potted herb garden ideas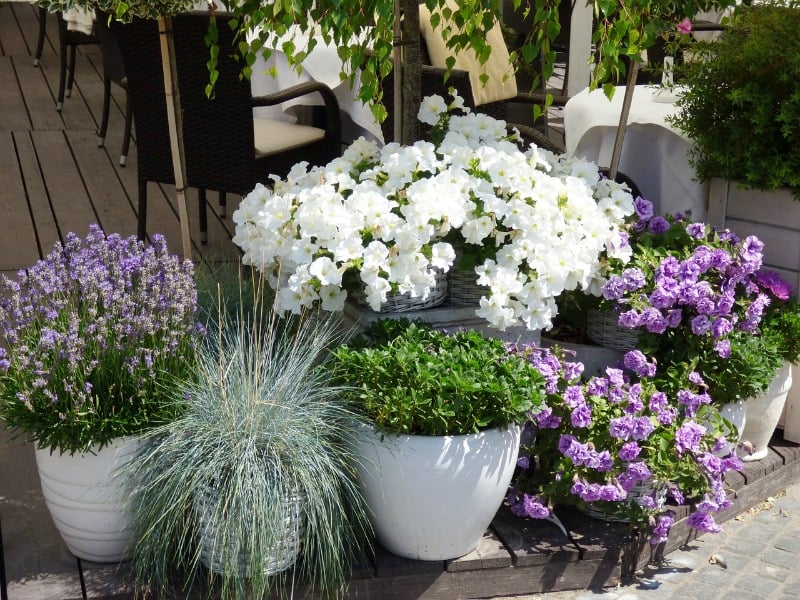 I love the combination of ornamental flowers and herbs. This beautiful arrangement is not only gorgeous, it's fragrant and useful in the kitchen and around the house;)
What a gorgeous combination! I love the purple lavender and pink snapdragon flowers together! You can definitely add more to the mix if you wish.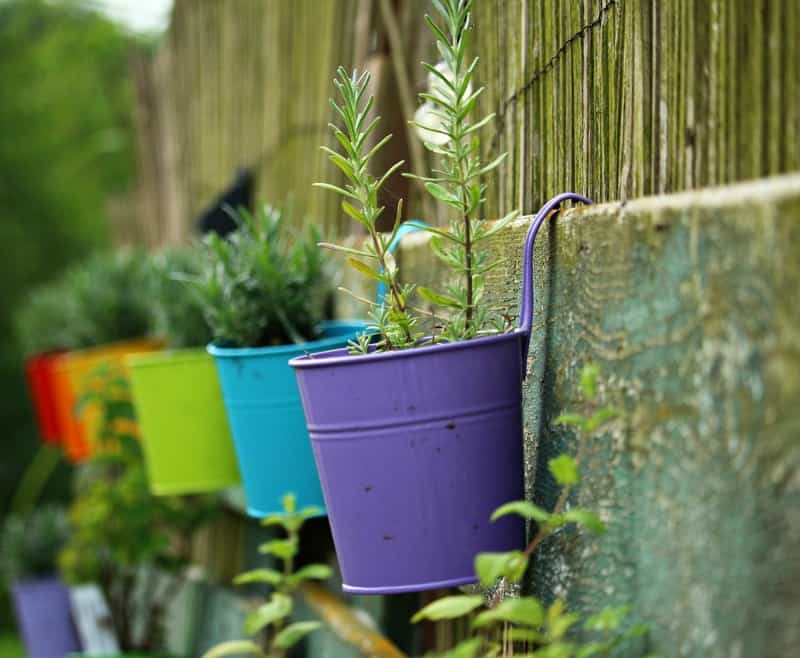 What an adorable idea! I love these colorful buckets with herbs hanging on the fence. How cute! and functional!
I hope you got a few ideas for growing your own kitchen herb garden.
If you are designing your garden for the kitchen and you would like to have vegetables all year round you might want to look at freezing vegetables, storing them in dry storage or preserving your harvest.