More and more homeowners are building backyard retreats where they can put up their feet and relax, or gather with a few friends around a real flame in a warming outdoor space. According to the American Society of Landscape Architects, fire pits have become the most popular landscape design element in the United States.
A wood burning fire pit is a great addition to any outdoor space. It only costs a few hundred dollars to get one and add to the ambiance of your outdoor living area. But future owners of wood burning fire pits need to be aware of their do's and don'ts.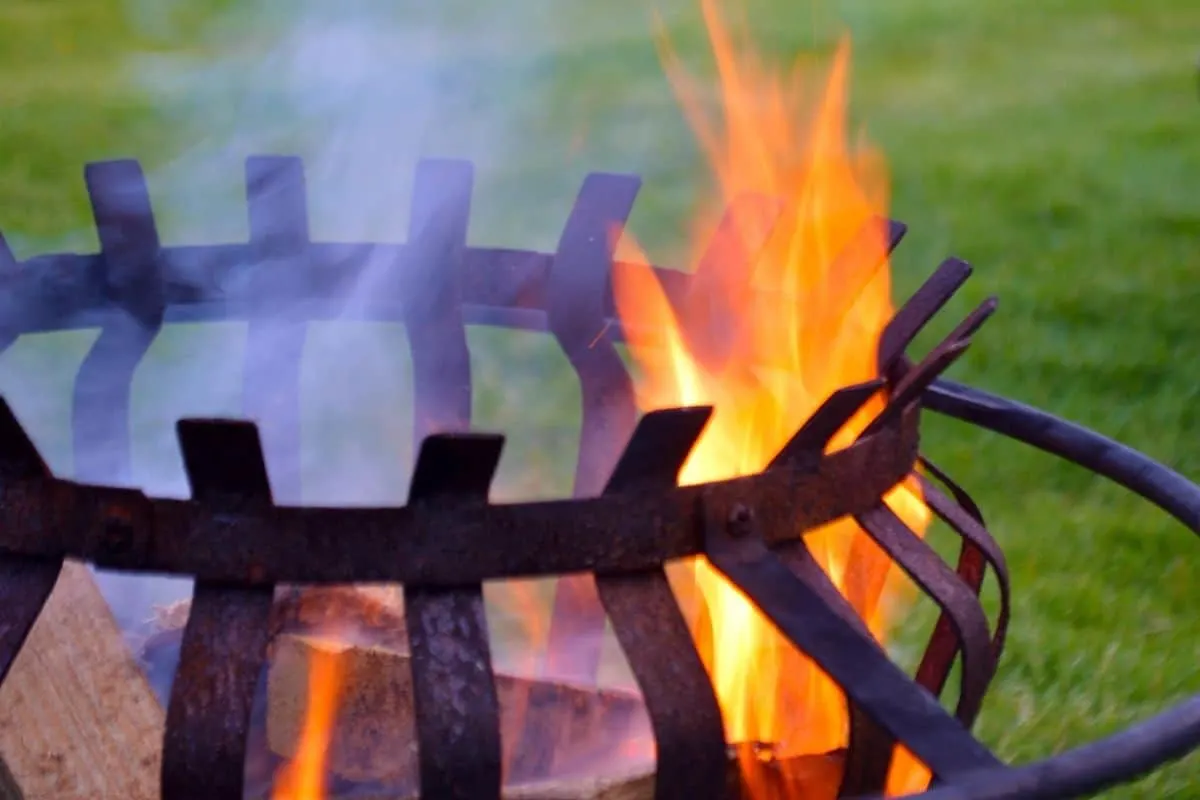 Do's and Don'ts for Operating a Wood Burning Fire Pit
DO keep your fire pit, whether it is wood burning or natural gas burning, safely away from your home and any wood or composite decks or gazebos. Fire pits should be operated no less than 10 to 20 feet away from a house or any other structure, like a detached garage or garden shed. The farther away from your house or outbuildings you place your fire pit, the safer it will be.
DON'T place your fire pit near shrubs or under trees. It isn't enough to keep fire pits at a safe distance from your house or other structures. You must also keep flames, ash, and embers away from low-hanging branches, tall grasses, or bushes that catch fire easily.
DO check your weather forecast before you start a fire. High winds increase the risk of embers blowing around and landing on your roof, on an outbuilding, or on dry vegetation. If your weather forecast calls for gusty winds, save fire lighting for another night. Your weather forecast may also advise you on outdoor fire bans that can (but don't always) include fire pits.
DON'T leave your fire burning overnight. Leaving a burning fire unattended is dangerous and illegal. Don't just let the fire burn down overnight. Always stop adding wood about an hour before you intend to go inside, and always put out the fire with water, sand, or ashes before you leave the area. Stir the ashes to make sure there are no hot spots that could reignite the fire or spread the fire to your surroundings. if there are hot ashes remaining, put out the fire again.
DO clean out leaves, twigs, limbs, and other seasonal debris that may accumulate in your fire pit. Don't make a plan just to burn it in a wood fire later. The problem with burning leaves and other small bits of plant matter that may blow into your fire pit is that they can easily escape your fire pit while they are burning. Embers from leaves and plant debris from your fire pit pose the same danger to your home as a wildfire.
DON'T operate your fire pit near any kind of flammable material. It's especially important to store firewood and kindling a safe distance (at least 20 feet) away from your fire pit. You also need to make sure lawn mowers, gasoline-powered saws and trimmers, and flammable plastics are a safe distance away from your fire pit before you start a fire.
How to Choose the Best Wood Burning Fire Pit
What are the best wood burning fire pits?
Choosing the best fire pit for your patio or backyard is a matter of deciding how you plan to use it. You may want to use your fire pit for barbecuing, or you may just want to sit around the fire with family and friends. If these are your plans for your fire pit, the basic requirements are just a wire mesh spark screen and a fire poker. You may also want a grill grate. Everything else is a matter of what fits with your patio design and budget.
If you are planning to move your fire pit between your patio and your lawn, you need to make sure it is relatively lightweight. You may also want a truly portable fire pit you can take on camping trips and weekends at the lake.
A wood burning fire pit is less expensive than a propane fire pit. The best wood burning fire pits come at price points from $50 to $400. Below are some examples.
Looking for smaller fire pits?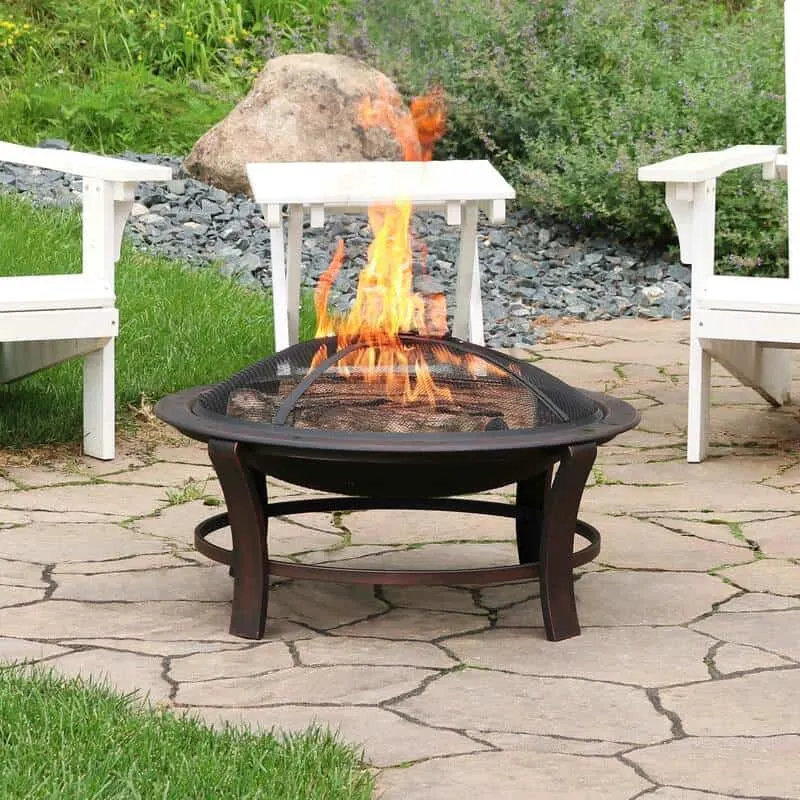 The Sunnydaze Elevated Outdoor Fire Pit Bowl is an affordable wood burning fire pit that offers all the features most homeowners want in their wood burning fire pits. It's on the smaller side, but just the right size for intimate gatherings.
It's large enough to seat four people comfortably but it's not so large that it is trouble to clean. Its fire bowl design makes cleaning up easy. This wood burning fire pit comes with a fire poker, log grater, and fire screen, and has a one-year manufacturer's warranty.
Looking for sturdy construction?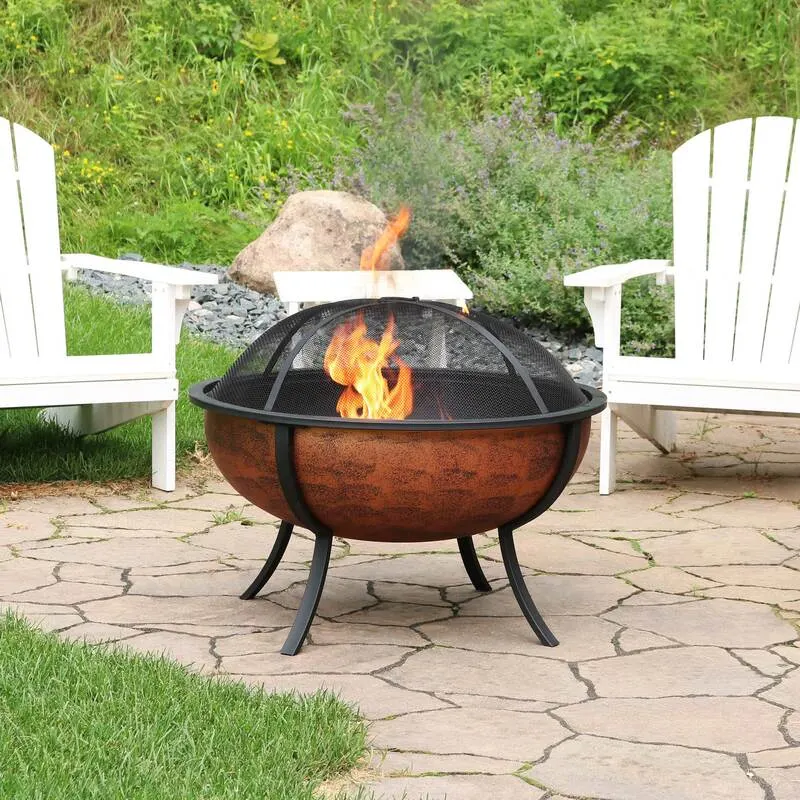 Serenity Health's Sunnydaze Large Copper Finished Outdoor Fire Pit Bowl fire bowl is a slightly larger wood burning fire pit finished in heat-resistant copper paint.
The 11.25″ diameter fire bowl features 0.7mm thick steel construction, sturdy enough to stand up to the weather but thin enough to transmit radiant heat.
Clean up is a snap: Just put the fire out, let the ashes cool, lift the bowl and dump it in the garbage receptacle.
Looking for a chiminea?
Serenity Health's Sunnydaze Open Access Outdoor Wood Burning Steel Chiminea Fire Pit is a space-saving but warm addition to any backyard gathering spot. Weighing just 20 pounds, this chiminea features sturdy steel construction and all the accessories homeowners need, one poker, one log grate, and one nested ring for the log grate.
If you brave drizzly weather, you will appreciate the rain cap to keep the rain out of the fire.
More wood burning fire pits
FAQs about wood burning fire pits
Can a fire pit be both gas and wood burning?
No, burning wood in a gas fire pit generates too much heat. Wood generates much more heat than a typical gas flame. Burning wood in a gas fire pit can damage the fire pit and even start a fire in your home.
Is a fire pit considered an open flame?
Fire pits generate open flames as you start burning wood. However, any covered fire pit or ground fire pit is less likely to come in contact with materials that can cause wildfires. Many cities and counties specifically exclude fire pits that are set in the ground or otherwise covered from burn ban orders. Check with local authorities for local rules.
Do wood burning fire pits give off heat?
Wood burning fire pits don't just give off heat, they give off more heat than gas burning fire pits. However, they are harder to start, and they generate more smoke and fumes.
Should you put sand in the bottom of a fire pit?
Sand soaks up heat and radiates it evenly even after embers have died out. It protects the metal bowl of your fire pit from the intense heat burning wood can put out. However, putting sand in the bottom of your fire pit makes cleaning more of a chore, unless you are willing to replace the sand every time you clean out the ashes.
What fire pit gives off the most heat?
Wood burning fire pits give off the most heat. Dense woods like oak and hickory burn hotter than lighter kindling. The heavier your fire pit, the longer it will radiate heat after the fire burns down.
Can you put a fire pit on a deck?
NEVER place a fire pit of any kind on a wooden or composite deck! The least that can happen is that heat from your fire pit will scorch and disfigure your deck. Repeated use can weaken composite decks. There is also the risk of setting your deck and your house on fire. Stone, concrete, or brick patios are safest.
What do you put in the bottom of a wood-burning fire pit?
Many people start with a layer of sand at the bottom of their wood-burning fire pit, and then add lava rocks, paving stones, fire pit glass, or bricks to protect the base and to radiate heat. (It's possible to use dirt, but cleaning will be messy.) Keep in mind that you have to remove ashes when you choose where to put the protective layers in the bottom of your fire pit.
What can I put around a fire pit?
Brick, stucco, flagstone, and poured concrete are good options for creating an attractive fire barrier around your fire pit. Flagstones can be laid free-form on the ground without mortar for a rustic look, or they can be cemented together to keep them from slipping.
How do I clean a fire pit?
Remove ash and the materials you have used to protect the bottom of the pit (bricks, sand, dirt, lava rocks, and so on). Wash the pit with a soft cloth and warm, soapy water. Then wipe it dry with a dry cloth. To avoid rusting don't let water stand in your fire pit.
Can you leave a fire pit burning?
Anywhere you live in the United States, there are laws against leaving a recreational fire burning unattended. Even if your fire has gone out, hot ashes and embers can be caught by the wind and start fires somewhere else. And even when your fire seems to have gone out, a gust of wind can reoxygenate the fire so it starts again.
Can I burn 'any' wood in a fire pit?
Wood that has been stained, painted, or pressure-treated will burn like any other wood, but it burns faster (so you use more wood) and it leaves a potentially toxic residue on your fire pit. Woods that contain natural creosote, or wood that has been treated with creosote (like railroad ties) will give off toxic fumes. Dry, cure, dense wood is always your best choice for the longest-lasting, most fuel-efficient fire.
Does a fire pit table give off heat?
Any gas-heated fire pit table will generate less heat than a wood burning fire pit.
Can I buy a stone fire pit online?
You can find cast stone fire pits online and in stores. They usually cost $500 and up.
Do you need gas lines for gas fire pits?
Gas fire pits require a permanent hook up into your natural gas system, whether you get gas from your municipal utility or you live in a rural area and rely on a gas tank. Professional installation of gas lines is recommended.
Are there any smokeless fire pits?
Yes. Those are gas fire pits. They are cleaner than wood burning fire pits but lack the beauty and aroma of a natural wood fire.
Are there any important differences between a cast iron fire pit and a stainless steel fire pit?
In theory, stainless steel will last longer, but cast iron can become an heirloom if it is repainted every few years. Otherwise, the main difference is which metal looks better with your patio design. Stainless steel has a more modern look, but cast iron offsets the look of copper.
Can I operate a fire pit without a heat shield?
Yes! Just sit a little farther back from the fire. You only need a mesh grate to catch ash and embers to eliminate a fire hazard.
Adriana Copaceanu is a passionate nature lover living in the country on her dream property where she grows vegetables, lavender, and wildflowers that she shares with the wildlife they attract. When she's not in the garden, she loves spending time with her chickens and planning her next nature project.