If you're looking for the best fire pit table to have in your outdoor space, you're going to enjoy these affordable, functional, and usable options. There are few things better in life than being able to sit out in your backyard around a glowing and warm fire pit. Add some simple, but needed ambiance to your outdoor area with a beautiful fire pit.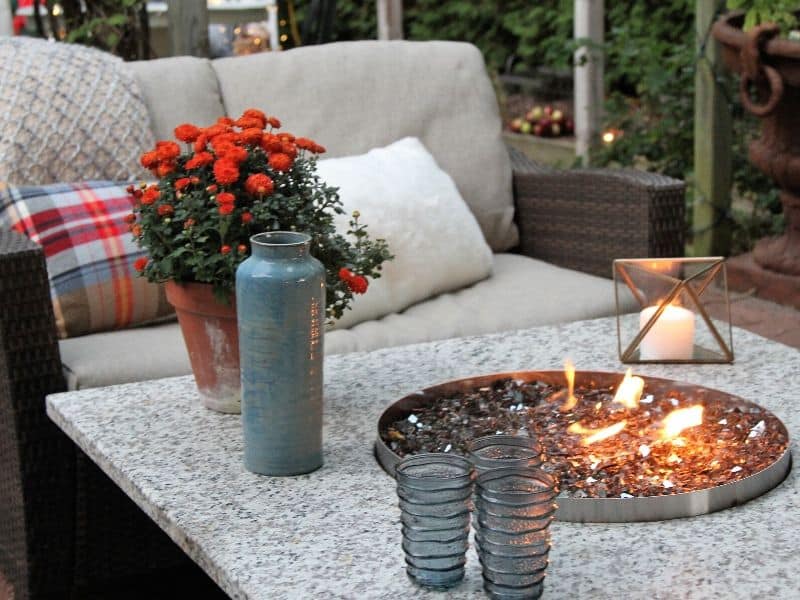 What is a fire pit table?
A fire pit table is just as it sounds. It's typically a tabletop space or area that has a fire pit in the middle of it. It's used for fun, cooking, or just adding a sense of uniqueness to your home.
What to burn on the firepit table?
That's really up to you. Some fire pits actually come with a premade insert that you just can light and let burn time and time again. Others are made with the option to add things into it to burn. This could be chopped wood or even charcoal. Then that fire pit can suddenly turn into an outdoor cooking option, too.
Can you put a fire pit table on a deck?
You can, but it's not recommended. The reason for this is that the fire pit has the potential to get hot. This means that you're going to be putting something hot on wood and that is just calling for a recipe for disaster.
Plus, if you're lighting a fire in your fire pit, there's a chance of sparks or embers flying through the air as well. The best way to use a fire pit is to have it in the yard or on concrete.
Best Fire Pit Table For Your Backyard
You'll find some of the best fire pit table options for your backyard here!
Photo Credit: serenityhealth.com
This gas fire pit is actually super simple to get set up and started. Plus, it has a bit of a rustic look and design to it that makes it really stand out.
This outdoor gas fire pit has lava rocks included so you literally just have to light and worry about nothing else.
Perfrect for a more relaxed ambiance, rather than cooking or anything else.
Photo Credit: serenityhealth.com
Hooking up the propane and lighting is all the steps you'll need with this outdoor propane gas fire pit. The lava rocks come with it and it creates a beautiful fire instantly.
There is a bit of an outdoor edge that goes around the lava rocks, but this is another example of a fire pit that is typically used for looks and ambiance, and nothing more.
The look of this fire pit makes it simple to imagine sitting in your outdoor space. Grabbing a cup of coffee in the morning or sitting around the fire at night seem like a relaxing way to use this beautiful fire pit.
Photo Credit: serenityhealth.com
What you'll receive with this fire pit is one that you can easily use anywhere in your yard. Add in some wood or charcoal and you'll have an outdoor cooking option in a very short amount of time.
Make certain to use the spark guard as well, to keep the embers and flames as controlled as possible.
This can be lit and sat around or used to cook up some hotdogs and marshmallows. YUM!
This propane fire pit has it all! Not only does it offer a surface area that can be used as a table during the summer months when you just don't need a warm fire, but it can then be easily transformed into a usable outdoor stove during those cold winter months.
Gather up the family to eat outdoors using it as a table during the warmer months or bring out some hot cocoa and sit around the fire together during the winter months.
Photo Credit: www.amazon.com
This set is actually a 4-piece set that offers the fire pit and furniture to go along with it. It was a 40,000 BTU tile-top and it was created to be a sitting area and focal point for your outdoor seating.
It's not hard to imagine kicking up your feet and relaxing in style and comfort with this simple set. It's created using calm colors that just look like relaxation.
Photo Credit: www.amazon.com
Even though this set might be higher priced than some of the other ones on the list, it's worth it to spend a bit more.
The outdoor patio set is made using Rattan wicker which will last through all the elements that Mother Nature throws at it. Plus, the chairs are actually rocking chairs. So, that is another unique element that many traditional outdoor patio sets don't offer.
Let's not also forget about the fire pit table. It's round in structure and size and made to withstand. This is the perfect set to have next to a pool or outdoor seating area that you can purchase once and not have to worry about again.
Why spend money on another option that you're just going to have to replace in a few years? With this set, you can be one and done and create an outdoor space that is relaxing and useful.
Photo Credit: www.amazon.com
This outdoor patio set screams comfort. There are so many opportunities to take this set and make it your own.
Lighting up the fire pit and having a snack, cuddling up on the sofa on a cold winter night and talking about your day, or even setting up a projector and having an epic outdoor movie night are all possibilities!
This outdoor set and fire pit open up the door to have your home feel so much bigger by utilizing the outdoor space that you already have available.
Your family could be outdoors more often, while feeling as though they're surrounded with luxury.
Photo Credit: www.amazon.com
From a price point standpoint, this outdoor fire table gives you the best value for your money. It's affordable, colorful, and simple.
It does have a fun design element to it, so it doesn't look as though it's cheaply made or anything like that.
This outdoor fire pit is one that you can set up outside in just a few moments of time and invite over the neighbors to hang out and gab for a while.
Fire pit table covers
Veranda Square Fire Pit/Table Cover, 42-Inch
Ravenna Square Fire Pit Table Cover, 42-Inch
Round Fire Pit Table Cover, 42 – inch
Once you decide to invest in a fire pit, you're going to need to purchase the appropriate fire pit table cover as well.
This is important because your fire pit is going to be out in the elements and can rust and corrode just like any other object. Protect your purchase by covering it and keeping it covered. It's really just as simple as that.
Fire pit tables can be used for so many things! From outdoor fun to cooking up some delicious food, everyone who owns a fire pit uses it for their own personal reasons.
What would you do with a fire pit table if you were to own one?
Oh, if you'd love a great fire pit in your backyard, get a wood burning fire pit.