Tomatoes are one of the many wonderful flavors of summer, and thankfully, they can be preserved to enjoy during the colder months. While freezing and drying also work effectively, canning results in the best flavor and texture. Whether you want to buy a bushel of tomatoes to can or are planning your garden for next year, read on for some tips on what tomatoes are best for canning.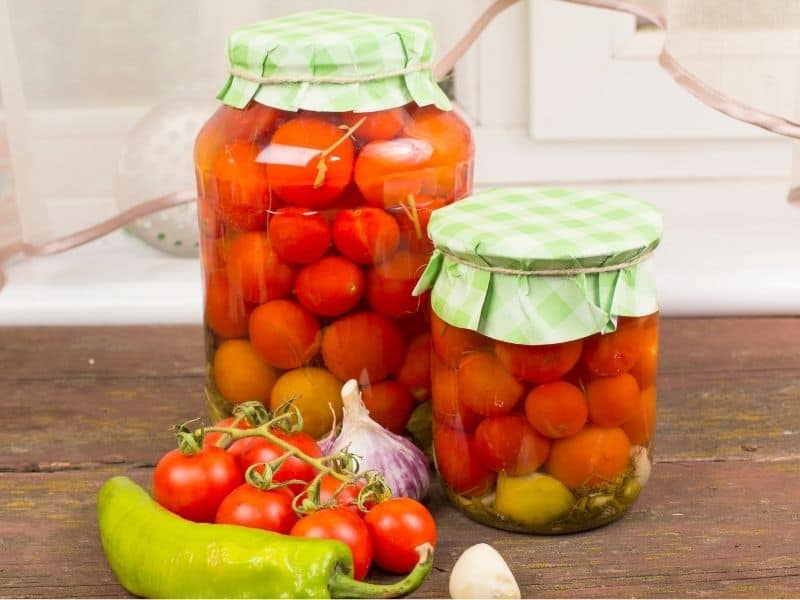 What Tomatoes Are Best for Canning
What makes a good canning tomato?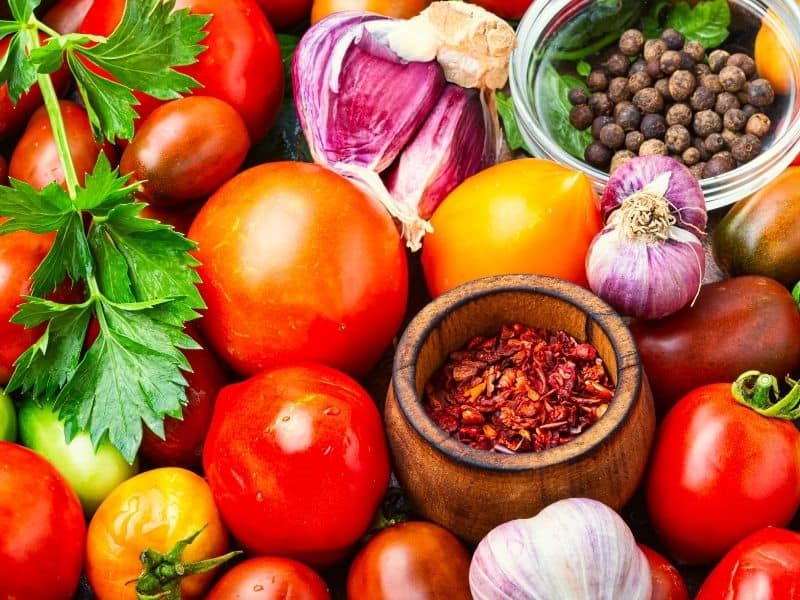 The desired qualities of a good canning tomato will vary depending on what you want to can: whole tomatoes, salsa, sauce, or juice. In general, the tomato should have lasting flavor, few seeds, lots of meat, and limited juice.
For whole tomatoes and juice, the moisture content is less of a concern than flavor. Other considerations for canning tomatoes for your garden include dependable yields, ripening timetable (spaced out or all at once), and disease resistance.
Numerous types of tomatoes can be used for canning, including both heirlooms and hybrids, so the varieties listed in this article represent just a small sample of good canning tomatoes.
Ways to can tomatoes
As mentioned above, tomatoes can be canned whole – or quartered, sliced, or chopped – or as salsa, sauce, juice, ketchup, or paste.
And then there's the canning method itself. Most common is the hot water bath, or boiling water canner, which involves boiling the filled jars for a designated period of time on a rack in a large pot.
Another popular method is pressure canning, which requires a pressure canner (not to be confused with a pressure cooker). Although it can take longer than the hot water bath, it uses significantly less water.
A third, less-known method, atmospheric steam canning, could be considered a hybrid of the other two. As the name suggests, a steam canner processes the jars using steam, but unlike the pressure canner, it doesn't use pressure.
With all three methods, the processing length depends on what is being canned, and the jars must rest undisturbed for 12 to 24 hours once removed from the canner to ensure a proper seal.
Best tomatoes for salsa canning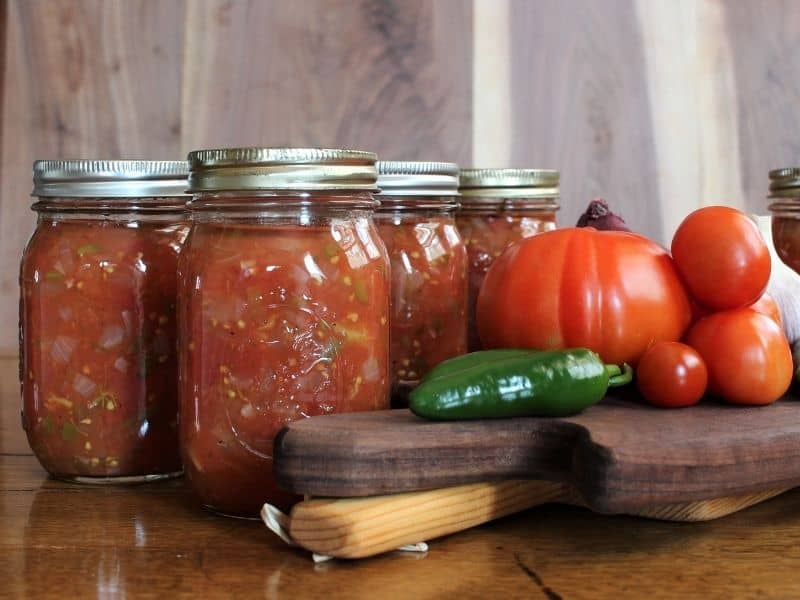 Although plum or paste tomatoes are best for canning salsa, as they result in a thicker product, slicing tomatoes can also be used. They will produce a more watery salsa, which can be remedied by draining off the juice after chopping the tomatoes, adding tomato powder or paste, and/or cooking the salsa longer. The varieties listed for sauce (see below) also work great for salsa.
Brandywine
(heirloom, 78 days)
An heirloom slicing tomato, Brandywine has a rich, spicy flavor and meaty texture perfect for salsa. With fruits often growing heavier than one pound, this plant does best when well supported.
Fresh salsa
(hybrid, 65-70 days)
This oversized plum variety produces five-ounce fruits that, when chopped, don't drip but stay solid and sweet. At only 36-40 inches tall, this determinate tomato plant is perfect for small-space gardeners.
Golden fresh salsa
(hybrid, 70 days)
Just like it's crimson cousin, Fresh Salsa, this plum tomato is firm, meaty, and dripless. The deep, warm yellow of Golden Fresh Salsa would contrast beautifully with a red variety for unique, colorful salsa.
Best tomatoes for sauce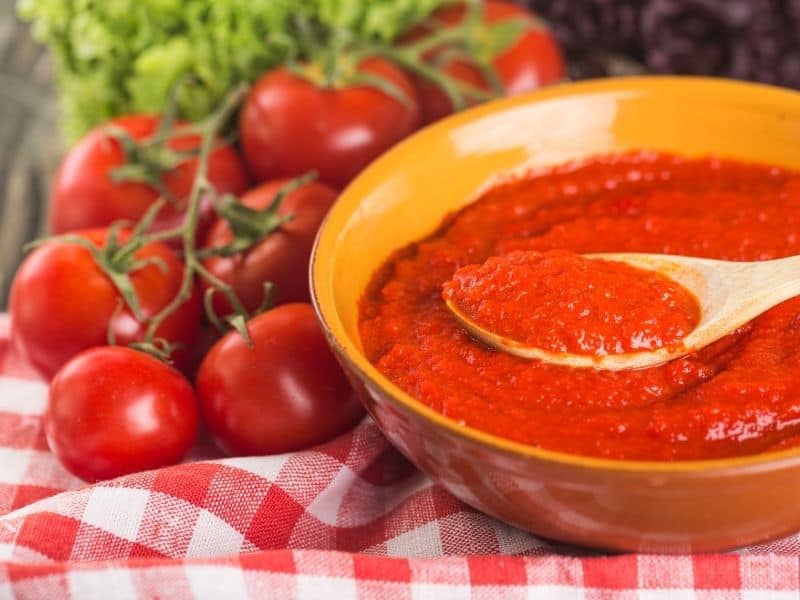 As with salsa, the best tomatoes for spaghetti sauce – or any tomato sauce – are plum or paste tomatoes. Small seed cavities and low moisture are the most important qualities in tomatoes destined to become sauce.
Amish paste
(heirloom, 80 days)
High yields and low moisture make this meaty heirloom an excellent sauce tomato. With roots tracing to Amish communities in both Wisconsin and Pennsylvania, it's at least 150 years old.
Big mama
(hybrid, 80 days)
As its name suggests, Big Mama is a large tomato, averaging five inches long and three inches wide. In addition to having the low moisture and small seed cavities characteristic of paste tomatoes, this variety is also easy to peel.
San Marzano
(heirloom, 80 days)
A traditional Italian paste tomato, San Marzano has a sweet flavor, few seeds, and dense, meaty flesh. It's also a low-acid variety, so be sure to add lemon juice or balsamic vinegar before canning.
Best tomatoes for tomato juice
With juice tomatoes, the biggest factor is flavor: good flavor that lasts even after processing. Big, juicy, slicing tomatoes often work better than paste tomatoes for canning juice, though just about any flavorful variety will work.
Better boy
(hybrid, 70-75 days)
This popular hybrid has large, fleshy, juicy fruit with excellent flavor and the perfect balance of acid and sugar. It produces large yields and grows well in most climates.
Marglobe
(heirloom, 73 days)
Known for making especially flavorful tomato juice, this variety was developed by the USDA in the early 1900s. Marglobe plants produce high yields, and the fruits ripen all at once, making them perfect for large-batch canning.
Sweetie
(heirloom, 70 days)
Although most people don't consider cherry tomatoes when looking for varieties to can, Sweetie is an exceptionally sweet tomato that makes excellent juice, sauce, or jam. Since the skins are removed with a strainer, rather than by peeling, size isn't much of an issue with juice tomatoes, anyway.
How to prepare tomatoes for canning
For salsa, sauce, and whole (or quartered, sliced, or chopped) tomatoes, the preparation of the tomatoes is the same. First, wash the tomatoes and dip them in boiling water for 30 seconds to one minute to loosen the skins. Then core and peel the tomatoes and, depending on what you're canning, quarter, slice, or chop them as necessary.
When making juice, simply wash the tomatoes, remove the stems, and trim off any bruised or discolored portions; the skins and seeds will be strained out later in the process.
How long can canned tomatoes last?
For best quality, canned tomatoes and tomato products, and, in fact, most home-canned goods, should be opened and consumed within 12 to 18 months.
They will likely last longer than that, but the flavor will deteriorate after about a year. Opened jars, of course, should be stored in the fridge and used within a few days.
What to do with canned tomatoes
Canned tomatoes are very versatile. Use salsa as you would any store-bought variety (on taco salads, burritos, tortilla chips, grilled chicken…) and tomato sauce on pasta or homemade pizza.
The uses for plain canned tomatoes are practically endless: soups, stews, casseroles, skillet dinners, or even sauce or salsa (in case you didn't can enough of those to begin with)! Tomato juice is an excellent base for soups and stews, such as gazpacho, chili, or vegetable soup.
So whether you're itching to try a new sauce recipe or looking forward to making Grandma's famous salsa, the foundation is the right tomatoes.
If you want to can multiple tomato products but don't want to grow a plethora of tomato varieties, look for multipurpose types. For example, Amish Paste, listed as a great sauce tomato, is also excellent for salsa, ketchup, and paste. And the flavorful juice tomatoes can also be canned whole. In fact, most tomatoes work well for this. Regardless of what you choose to grow and can, you will enjoy the flavors of summer all year round.
I hope you now know what tomatoes are best for canning. Have fun preserving all these delicious tomatoes.