Before anything else, let's all agree that having a great pressure canner rocks. When those garden vegetables are producing in high quantity and you can't consume them all at a fast enough pace, step aside and let your pressure canner help out and save the day.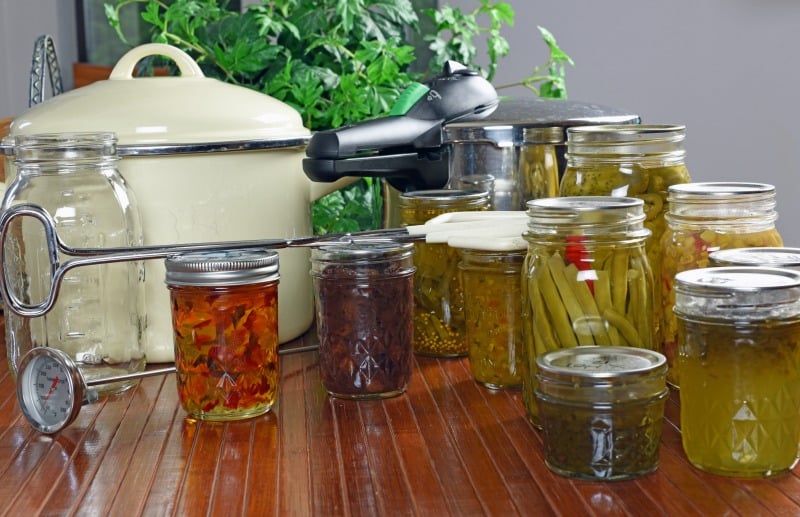 Pressure canners are a must if you're growing a garden and want to save some of the bounty for later. I gathered a list of the best pressure canners for home canning every beginner needs.
You can use a pressure canner to can tomatoes, green beans, beets, carrots, and many any other veggies and fruits.
Buying and owning a pressure canner is the perfect way to not waste ANY of those garden fresh veggies! Plus, you can use it for meats and fruits as well!
Why Should You Buy A Pressure Canner?
Plain and simple, to help you out! Pressure canning is a great way to preserve food for later months and also use up everything that is growing in your garden.
Pressure canning is a simple process once you get used to the appliance.
Here are my favorite reasons to buy a pressure canner:
it's easy to use
reduces cooking time
saves energy
if you don't have a lot of freezer space, canning is a great alternative
you can do dinners in a jar: how awesome is that?
a pressure canner can be used as a waterbath canner too, eliminating the need for one more think in your kitchen
Best Pressure Canners For Home Canning
1. Granite Ware Pressure Canner/Cooker/Steamer
Granite Ware Pressure Canner/Cooker/Steamer, 20-Quart
If you've been looking for a beginner pressure cooker that can also function in other capacities as well, this is the one for you!
The Granite Ware Pressure Canner/Cooker/Steamer comes equipped with:
Racks for Canner and Steamer
20-quart capacity
Heavy gauge aluminum for extra added strength
Customers can't stop singing their praises for the durability and variety of uses.
Some customers complain about the lack of instructions, but Amazon has a way to ask questions and learn anything from previous customers. There are already 94 questions and answers about this pressure canner: from "can you use it instead of a canner bath" to "will half gallon jars fit in this pressure canner" and more.
See all the questions and answers here.
Need to use it to believe it? Don't delay in ordering yours today!
2. Carey smart pressure canner & cooker
CAREY DPC-9SS Smart Pressure Canner & Cooker
The use of the Carey Smart Pressure Canner and Cooker is certain to give you peace of mind when it comes to any and all worries that you may have previously had.
Designed with function and ease in mind, you'll love knowing that you can pressure can or cook with confidence and trust in this appliance.
Each Carey Smart Pressure Canner & Cooker comes equipped with:
Digital Display and Timer
Many Built-In Safety Features
Temperature Sensor
Rave reviews are pouring in for this multi-use appliance and don't appear to be stopping anytime soon.
Customers love the fact that you can use this to can small batch items with ease while also having the option for larger as well. Plus, don't forget all the many functions that it can help you with in the kitchen!
3. All American pressure cooker canner
All American 21-1/2-Quart Pressure Cooker Canner
Offered in a variety of different sizes, this All American Pressure Cooker Canner may be the answer to your canning prayers.
Built to hold pint or quart jars, you'll have the option to can in whatever size you nees at the time. Every All American Pressure Cooker Canner comes equipped with:
Sturdy top handles to help with ease
Steam gauge
Easy to clean outer covering
With 5/5 star reviews on Amazon from over 2,800 customers, it's easy to see that this is a winning choice!
Customers love how quickly it works and are saddened by the fact that they waited so long before deciding to purchase.
Don't make the same mistake that they did, and hurry and order now!
4. Presto pressure canner and cooker
Presto 01781 23-Quart Pressure Canner and Cooker
Not only can this Presto Pressure Canner and Cooker pressure cook, but it also can be used as a boiling-water canner as well!
Talk about an amazing appliance with a dual purpose and use!
Every Presto Pressure Canner and Cooker comes equipped with:
Instruction and recipe book
The ability to be used on regular or flat ranges
Extended 12 year limited warranty
If you've been searching for a pressure canner that does all the hard work for you, look no further than this beauty.
Over 3,000 customer reviews agree that this appliance is a must-have due to the ability to cut canning time in half and the reliability that it provides.
5. Mirro pressure cooker/canner cookware
Mirro 92122A Polished Aluminum 5/10/15-PSI Pressure Cooker/Canner Cookware, 22-Quart, Silver
This pressure cooker, canner and cookware all-in-one, will get the job done perfectly each and every time. From start to finish, it makes the canning process an absolute breeze.
Every Mirro Pressure Cooker/Canner Cookware comes equipped with:
3 varying pressure cooker options
Side gasket pressure release
Cooking rack and user guide
Based on customer feedback, this pressure cooker is made of high quality and gets the job done!
Don't expect a ton of frills with this pressure cooker, but it excels at the basics of pressure cooking and canning!
Have you been hesitant about purchasing your first pressure cooker, because you didn't know if it would work for you?
I hope the information here provided you with enough guidance, and the knowledge that you need to take that first step in canning. You'll become a pressure cooker pro in no time 😉