If you had a bumper crop of tomatoes and need to find more ways to preserve them, you'll love learning how to make tomato powder.
Tomatoes are delicious! And if you've been blessed with extras this year, making tomato powder will not only save you some space, but will give you new ways to enjoy your garden harvest through the year.
How To Make Tomato Powder
So, you've make tomato sauce, (here are the best canning tomatoes), tomato paste, salsa, soups, salads, and more with your tomatoes this summer. But your garden is still producing and you need more ways to preserve your tomatoes.
Tomato powder is the perfect way to save those last tomatoes, once you're tired of canning and freezing.
Making tomato powder is easy. Start out by rinsing, then thinly slicing your tomatoes.
Then lay them out on your dehydrator tray.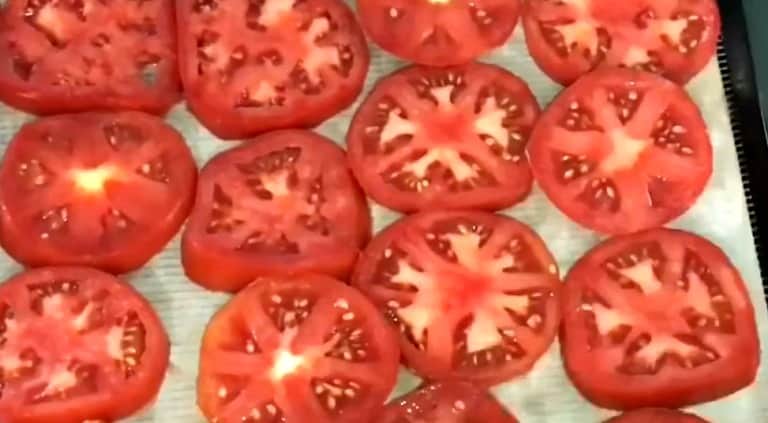 Let them dry until crunchy. This could take anywhere between 6 and 18 hours, depending on how juicy your tomatoes are.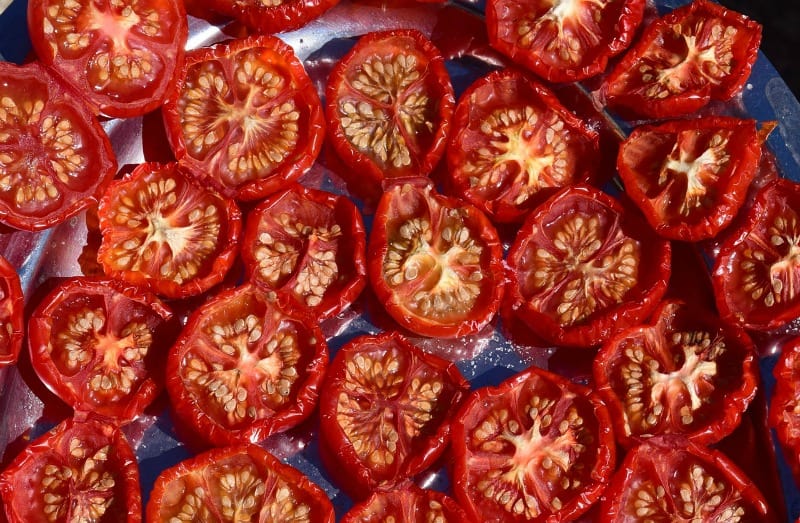 Once they are completely dry and crunchy, take them off the tray and place them into your favorite blender (I love mine!). Pulsate until tomatoes are completely powdered.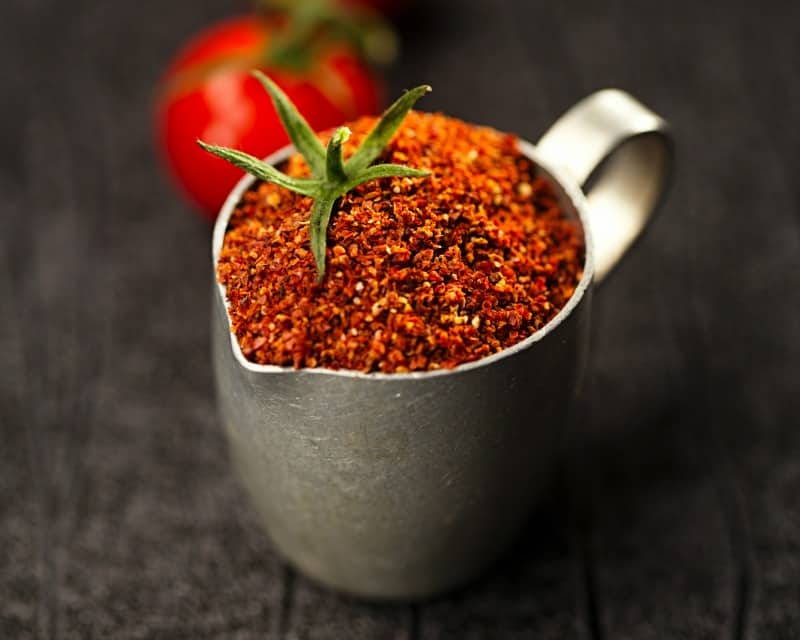 Once powdered, place in a tightly sealed glass container and place in a cool dark place. It should last up to a year if it's completely sealed.
If you like spicy food, you can add a couple of jalapeños to the dehydrator and blend them up with the tomatoes.
Make tomato powder from tomato skins
That's right! You can make tomato powder from the skins you normally throw away. Save the skin you peel before you can or freeze tomatoes, and follow the same process above: dehydrate and powder.
Or, if you used a tomato sauce maker like this one, dehydrate the skins and seeds and then powder them. Why throw away perfectly good , nutritious food from your garden?
Tomato powder recipes
You can make plain tomato powder just like I described above, but why stop there? Mix the tomatoes with some of your favorite herbs or spices and enjoy a world of yummy combinations.
Here are a few examples:
add your favorite herbs to the dehydrator, and powder them together with the tomatoes. Some of my favorite herbs that pair well with tomatoes are basil, dill, thyme and oregano.
make spicy tomato powder by adding a few dehydrated and powdered chili, habanero or cayenne peppers (how many depends on your tolerance for spice) to your tomato powder.
garlic flavored tomato powder is another way to spice it up. Add a few cloves of garlic to your dehydrator.
7 ways to use tomato powder
You can use tomato paste to make a lot of the same things you make with fresh tomatoes: tomato soup, paste, catsup, etc.
But I believe those are better made form fresh tomatoes.
Here are some ways I've used tomato powder:
added to soups to enhance the flavor
sprinkled on steamed veggies
added to mayo for a nice sandwich spread
thickened pasta sauce
mixed into my scrambled eggs
made Spanish rice YUM!
combined with nutritional yeast for a delicious popcorn flavoring
Why make tomato powder?
First of all, if you've already preserved tomatoes other ways, this is another way to try saving your tomatoes.
Here are some other reasons:
it packs a lot of nutrients

saves space

– this is huge for some of us!
perfect for hiking trips – it's light and easy to transport
Where to buy tomato powder
Now that you know how many ways you can use tomato powder, you might want more than what you can make from your own garden.
Or maybe you stopped by during the winter and really want to try it. Fear not: you can find tomato powder at specialty or spice stores, but if you don't have one close by, Amazon has it.
Dehydrated tomato powder is not only delicious, but it's also nutritious. Now you know how to make tomato powder, and even add your own twist to it. Hope you enjoy it!