Louisiana has a number of terrain types from forests to fields to swamps. It's well-known for the lively city of New Orleans, but its plants can be just as lively. Different ecosystems mean a wide diversity of plants for this Gulf state. This Louisiana native plants list includes everything from water plants to soaring trees.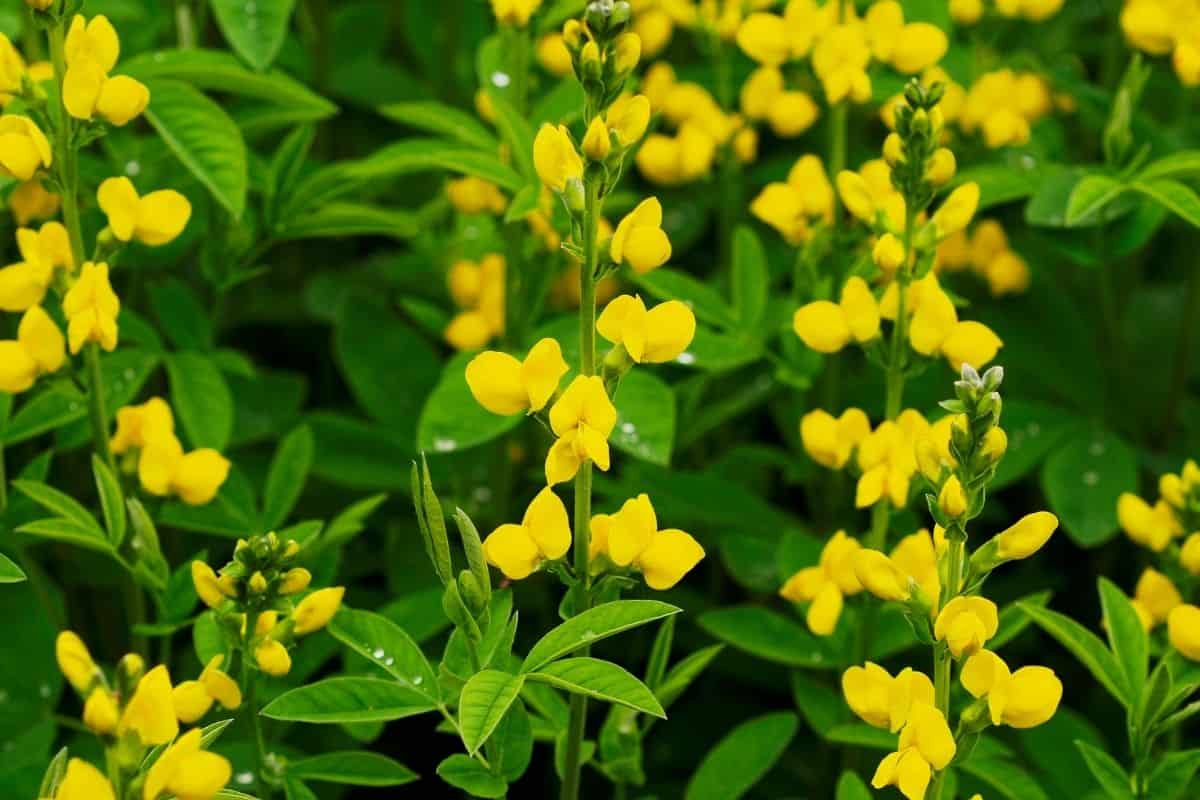 Louisiana Native Plants List
The colorful nature of Louisiana plants is well known to locals and tourists alike. The Garden District in New Orleans is famous for its many green spaces and the amazing plants that are cultivated there. Louisiana wouldn't be the place beloved by so many without its iconic colors and textures.
1. Century Plant (Agave americana)
Century plant is also called spiked alow and American aloe. Its thick leaves are a memorable bluish-green and grow upward. Measuring as tall as 6′, the leaves have spiny edges.
These plants take 10 years to mature, but once they do they grow tremendous, 15′-tall spikes that grow clusters of flowers that are yellow with a tinge of green.
This plant is spectacular in flower beds and rock gardens, but it should be planted away from foot traffic because of its spikes. They require full sunlight and soil that drains well and is gravelly or sandy.
Century plant is tolerant to drought and heat and doesn't attract deer.
2. Butterfly Weed (Asclepias tuberosa)
Butterfly weed is a plant that stands out with its bright-orange blossoms that will bloom all summer. It's perfect for attracting butterflies, including the famous monarch variety, as well as hummingbirds and bees.
This plant grows in bushy clumps and can grow to be 18″ to 24″ tall. Clusters of orange flowers are 2″ to 5″ across for a large burst of bright color. Plant them in full sunlight and in average soil that drains well and is either dry or medium-moist.
These flowers are often used in flower arrangements for their large clusters and bright, sunny color. They can also be used in dried flowers.
3. Cream Wild Indigo (Baptisia bracteata)
Cream wild indigo is a plant that grows up to 24″ to 30″ tall and blooms with showy, cream-colored flowers in the late spring and early summer. The blooms stay on for about three weeks, attracting butterflies and bees to their interesting, pea-shaped flowers.
After the flowers are gone, the grayish-green foliage is there to keep color in your flowerbed. It will then grow seed pods that turn black in the fall.
When the leaves are gone in the winter, the seed pods often remain, making this an all-year plant that will keep looking interesting even during the colder months.
You can use the dried seed pods in dried-flower arrangements.
4. Tickseed Sunflower (Bidens aristosa)
Tickseed sunflower is a full-sun-loving plant that blooms with bright yellow flowers that are 2″ across. They bloom in the summer and attract plenty of bees and butterflies as well as insects that are helpful to a garden.
When the flowers have gone, there are thin, barbed seeds left on the plant, attracting many types of birds.
It grows well in meadows and prairies as well as close to forests. Expect them to reach between 2′ and 4′ tall. Tickseed sunflower prefers moist soil that drains well, and it is resistant to most diseases and pests and is moderately deer-resistant
5. Crossvine (Bignonia capreolata)
Crossvine is an impressive woody vine that is self-clinging and covered in showy blooms. The flowers are trumped-shaped and measure about 2″ long. They have different shades of orange, red, and yellow and bloom in the late spring and into the summer, staying for about four weeks.
Green leaves are dark and glossy, staying evergreen in the mild climate of Louisiana. This vine grows to be as long as 30′ to 50′. Many people cultivate this vine to grow over a structure such as a gazebo, a fence, or a trellis. Plant crossvine in either partial share or full sun and in soil that is well-draining and rich in organic materials.
6. Watershield (Brasenia schreberi)
Watershield is a lovely plant that grows leaves that lay flat on the water. Looking like tiny lily pads, these plants grow to be just 2″ tall on small stalks that stay attached to the middle of each leaf.
It grows burgundy or purple flowers that bloom in the later summer into the early fall. Its flowers are about 1″ across and each blooms for two days. They release pollen and are pulled under the water after two days, and they grow their fruit there.
Found wild in a number of bodies of water, it grows best in full sun and in muddy, shallow areas of water that are about 8″ to 10″ deep. Perfect for ponds and lakes, they provide food for waterfowl and protection for fish.
7. Tall Thistle (Cirsium altissimum)
Tall thistle grows to be very tall- up to 7′ in height. As a native thistle, it isn't hard to control or invasive like many other types of thistles can be. It has branched stems that from mid-summer through fall will grow flower heads that are pink or purple and that look like pincushions and measure about 2″ across.
From these pincushions come a bushy, bluish-purple flower that lasts about six weeks. After that time, the flowers are replaced by cottony hairs that are easily blown around in the wind. After this flowering, the plant will die, but tall thistles do self-seed.
Plant them in either light shade or full sunlight in moist soil that drains well.
8. Swamp Lily (Crinum americanum)
Swamp lily is a perennial that blooms with small clusters of two to six bright, white flowers that are each 4″ long and have deep-purple stamens. It is an evergreen that has narrow leaves 2″ to 4″ long. Each plant can grow to be 2′ to 3′ tall.
Swamp lily is best grown in full sunlight and in soil that is very moist or wet, and it can be planted just below the water's surface. This plant can also be planted in water that is 6″ deep or lower. Grow it easily in shallow areas of ponds, in water gardens, or next to a body of water.
Swampy areas that are shallow often have these showy flowers that stand out among all the green.
Is hibiscus native to Louisiana?
Some species of hibiscus, such as the marsh hibiscus (also called rose mallow) grow alongside roadside ditches. There are other hibiscus flowers that grow well in LA, such as the Luna Pink Swirl Hibiscus pictured below.
What is the Louisiana state flower?
The magnolia tree was designated the Louisiana state flower in 1900. Easy to care for, and absolutely gorgeous when in bloom, the magnolia tree is a beautiful evergreen. Magnolia flowers smell delicious! Learn more about state flowers.

Where can I learn more about Louisiana's native plants?
Your local nurseries will have some information about native plants, but you can also check out the Louisiana Native Plants Society.