If you need an easy to maintain landscape for your home, check out this quick and easy guide about how to create a rock garden. You'll see that once you set it up, there's little need for fussing over this kind of garden.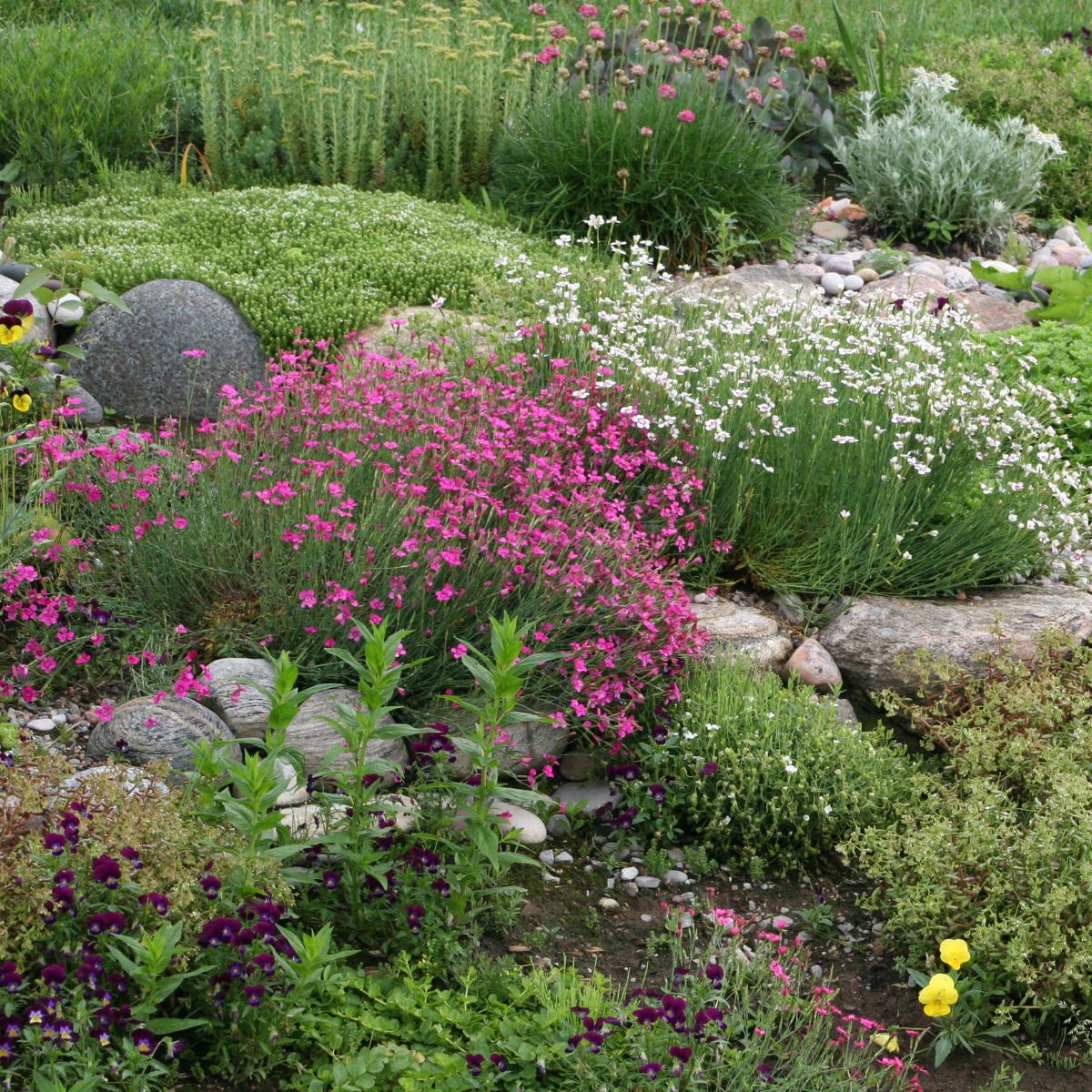 Rock gardens were originally gardens that were grown between rocks in the rocky soil of mountain regions. Today, rock gardens are found in many countries around the world and add an interesting feature to homes and businesses. These gardens often increase the curb appeal of a property or provide a relaxing little getaway for people looking to relieve the stress of a trying day.
What Is A Rock Garden?
A modern rock garden, sometimes called alpine garden, is usually a small plot of ground that features a variety of stones and rocks of different sizes placed aesthetically with a variety of plants growing between the rocks. Rock gardens can be created in naturally rocky areas, or have the rocks placed there by design. Some rock gardens are built around a single rock feature.
Rock gardens can be large and small and usually feature plants that thrive in well-drained, poorly irrigated soil. If you have a property that is mainly made up of sandy soil, this is an excellent place to build a rock garden since plants that grow well in rocky soil will also do well in sandy soil.
Rock garden features
While rocks are obviously the focal point of any rock garden, the number and type of rocks may vary from garden to garden. Some rock gardens are created using flat rocks to create a terrace-style garden. Other stone gardens have a combination of boulders, large stones, small stones, and even smaller pebbles and pea gravel. And yet others may be set against a stone wall, for a beautiful old time look
Just like the rocks in a rock garden may vary, so too can you plant different plants in a rock garden as well. The perfect plants in a rock garden can range from various varieties of ornamental grasses to small colorful flowering plants to cacti and even to planters simply set in the garden and even small trees or bushes.
Other features found in a rock garden may include a water feature such as a pond, a fountain, a waterfall, or even a birdbath. Your rock garden may even include small statuary or garden ornaments if you so desire.
How To Create A Rock Garden
Before actually starting to build your rock garden you should plan the garden out on paper. The first thing you need to need to is to find a suitable location for your garden areas that are slightly hilly work well as do areas that are in the sun most of the day.
Once you have found the ideal location for your rock garden, you need to determine the size and shape you want your garden to be. For many rock gardens built on rocky terrains, the shape is pre-determined by the terrain itself, while others can have the size and shape determined by you.

After you have decided where your garden will be as well as its shape and size then you need to prepare the ground for your rock garden. Start preparing the area by removing any grass and anything else that may be there. You then need to prepare your soil so that it drains well.
Your rock garden soil should contain 3 separate layers to ensure good drainage.
The first layer of your garden should be made up of gravel, small stones, broken pieces of concrete, or chunks of broken brick.
The second layer should consist of coarse sand (horticultural sand is best), which should be about 3 inches deep.
The top layer of soil should consist of equal parts high-quality topsoil, fine pebbles or gravel, and peat moss.
Once your soil is prepared then plan out the size of rocks you want in your garden and where you would like those rocks placed. Make sure that the large rocks look randomly placed instead of being placed in a balanced way that will look unnatural.

You will also need to make a list of the plants you plan on planting in your rock garden. Choose plants that will grow well in your area.
Choose the rocks for your rock garden
When choosing rocks for your rock garden you should choose rocks and boulders native to your area. There are plenty of places where you can get free rocks if you are willing to haul them away. Construction sites often dig up large rocks when preparing the soil for building and they are often happy to have you take those rocks away since they will have to pay to have them removed.
You can also talk to area farmers who also must remove rocks from their fields and will be more than happy to have you cart these rocks away.
If all else fails, most garden centers carry some rocks and gravel that can be used in your rock garden.
Once you have your rocks placed in your garden then it is time to choose and plant the various plants you want to plant in cracks and crevices of the rocks in your garden. Try to choose plants that bloom at different times so that you have plants blossoming all through the season.
Rock garden plants
The perfect plants for your alpine garden will depend on the different shapes of your rocks and your location. Choose a color scheme you enjoy from the plants below, and remember to use native plants whenever possible.
Early Spring
Dwarf primrose (Oenothera macrocarpa)
Hens and chicks (

Sempervivum tectorum

) (all-season growth)
Silver mound (

Artemisia schmidtiana

)
Lavender (Lavandula angustifolia)
Late spring and summer
Pussytoe (Antennaria plantaginifolia)
Dwarf columbine (Aquilegia vulgaris)
Alpine aster (

Aster alpinus

)
Pink (

Dianthus

)
Vancouver gold (Genista pilosa)
Fall
Dwarf Michaelmas daisy (Aster amellus)
Ornamental Grasses
There are many various types of ornamental grasses you can also use in a rock garden, especially if your rock garden has plenty of large boulders. Some types of ornamental grasses include:
black mondo grass (

Ophiopogon planiscapus

)
Blue fescue (Festuca glauca)
Lambs ear (

Stachys byzantina

)
Japanese forest grass (

Hakonechloa macra

)
Other features of rock gardens
If you are adding a water feature to your garden such as a pond, waterfall, or fountain, you will want to add this feature before planting any of your plants in your rock garden.
Statuary can be added after your garden is complete.
Pet rock gardens – a unique take on a rock garden
Many gardeners come up with unique ideas for their gardens and one of the cutest unique takes on a rock garden is a pet rock garden.
Some creative gardeners have begun to paint some of the rocks in their rock gardens complete with cute animal faces peeking out around the other rocks and different plants. These pet rocks add additional spots of color to these gardens and create a cheery relaxing place to sit and allow your imagination to roam.
Easy Rock Garden Designs
If you need an easy solution for your home's landscape, try one of these easy rock garden designs: they are a beautiful and low-maintenance way to add interest and texture to your yard. They can be designed in a variety of styles and sizes.
Japanese rock garden design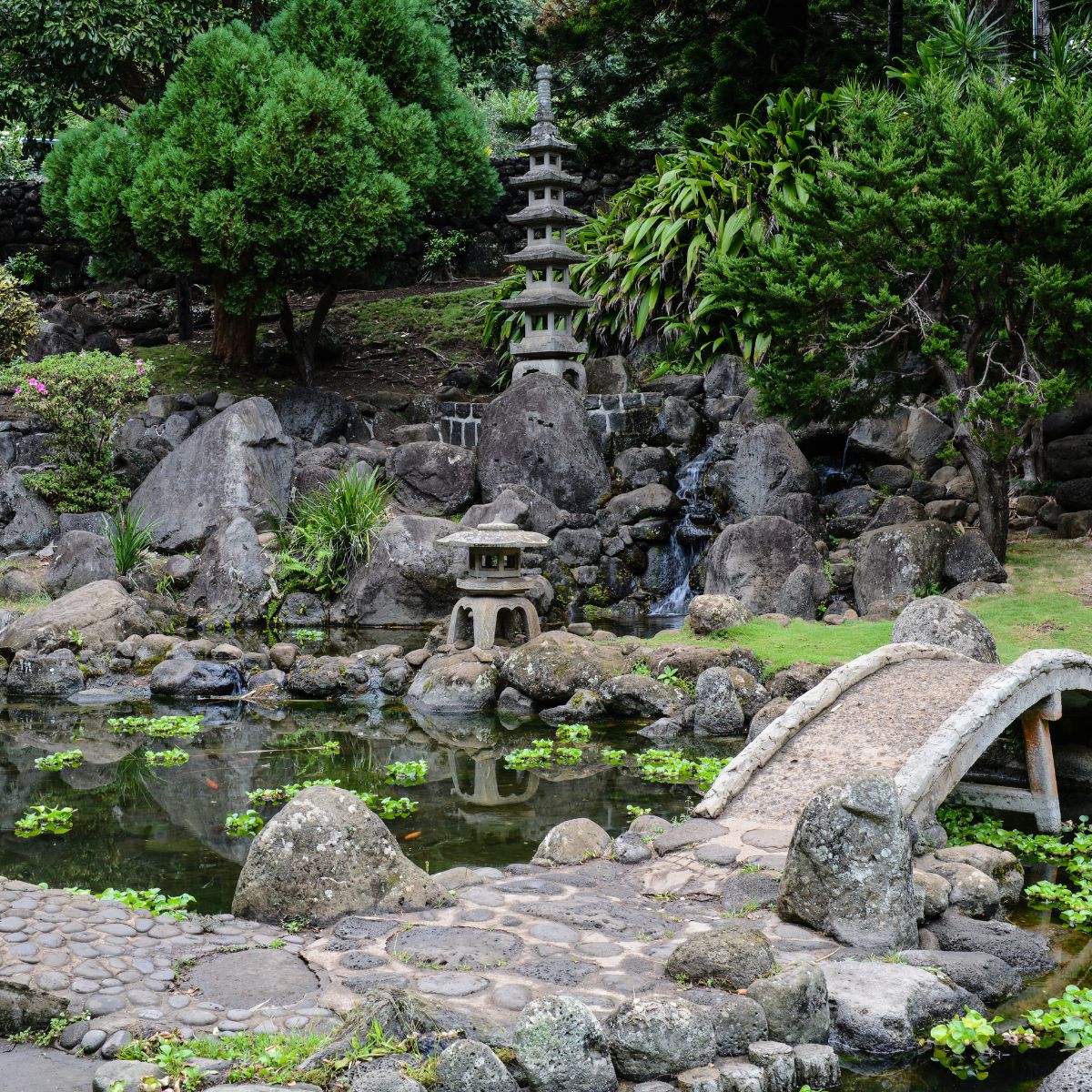 I love the Asian style gardens: they are so peaceful and beautiful. The pond and stone bridge compete the look of this Japanese garden.
Japanese zen rock garden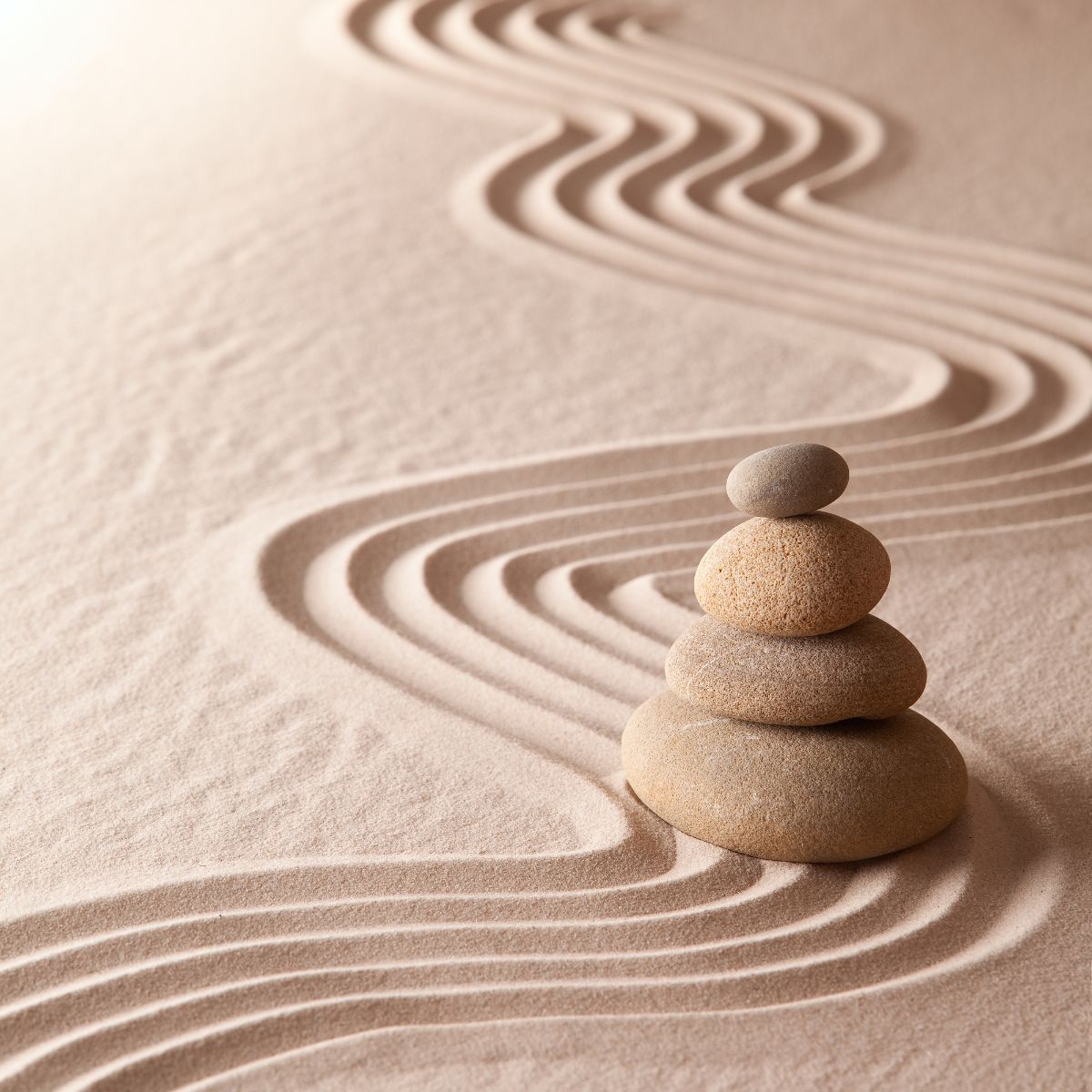 A Japanese rock garden, also known as a "Zen garden" or "karesansui,"consists of a flat area of gravel or sand, with carefully placed rocks and boulders. The rocks and boulders are arranged in a way that creates a sense of balance and harmony and are often used to symbolize mountains, islands, and other natural features.
The garden is typically viewed while seated, and the raked gravel or sand represents water or waves. Japanese rock gardens are often used for meditation, as the simple and serene design is believed to promote a sense of peace and tranquility.
Cactus rock garden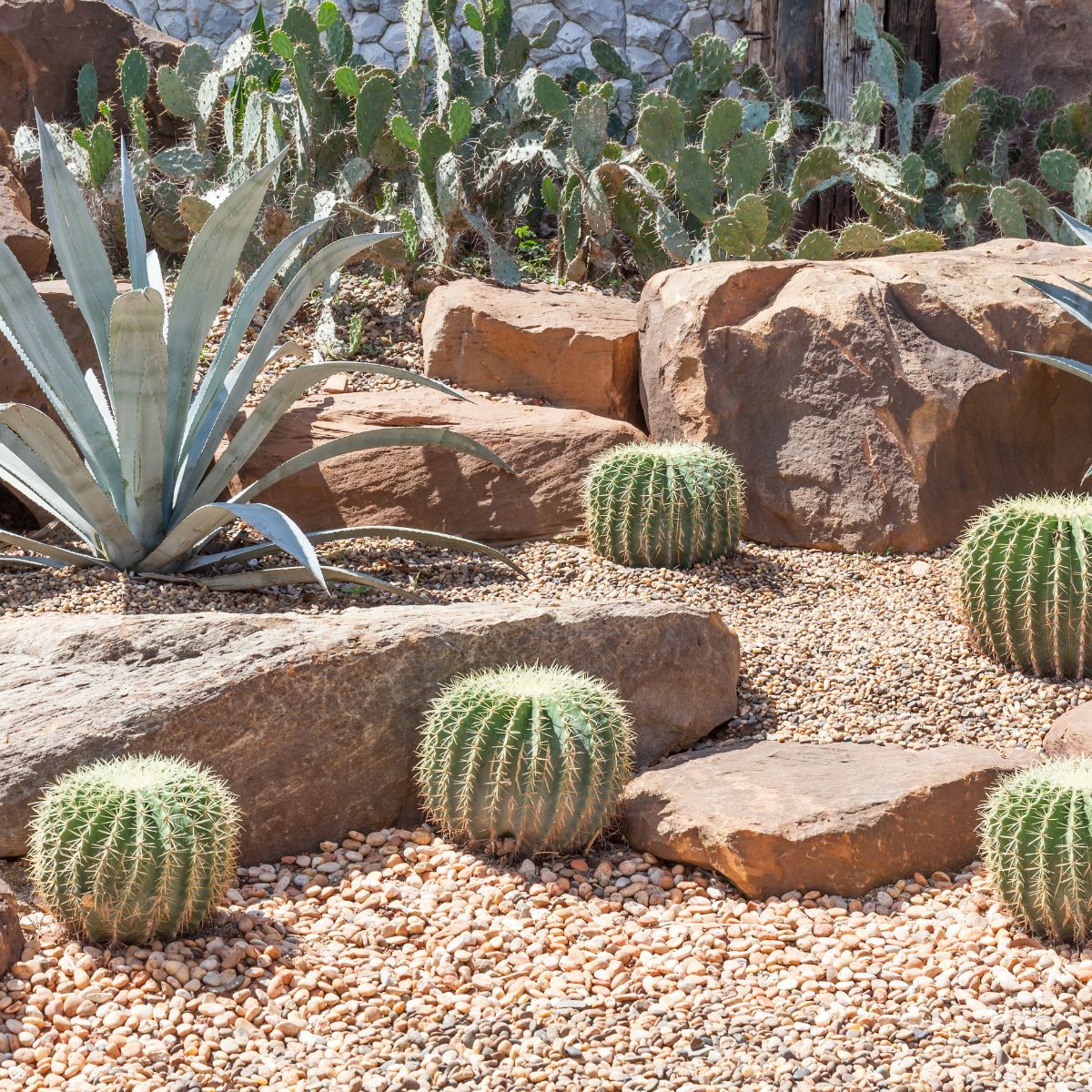 If you leave in an arid area, a cactus garden planted amongst rocks might be all you can do. I love the clean lines of the above garden.
River rock garden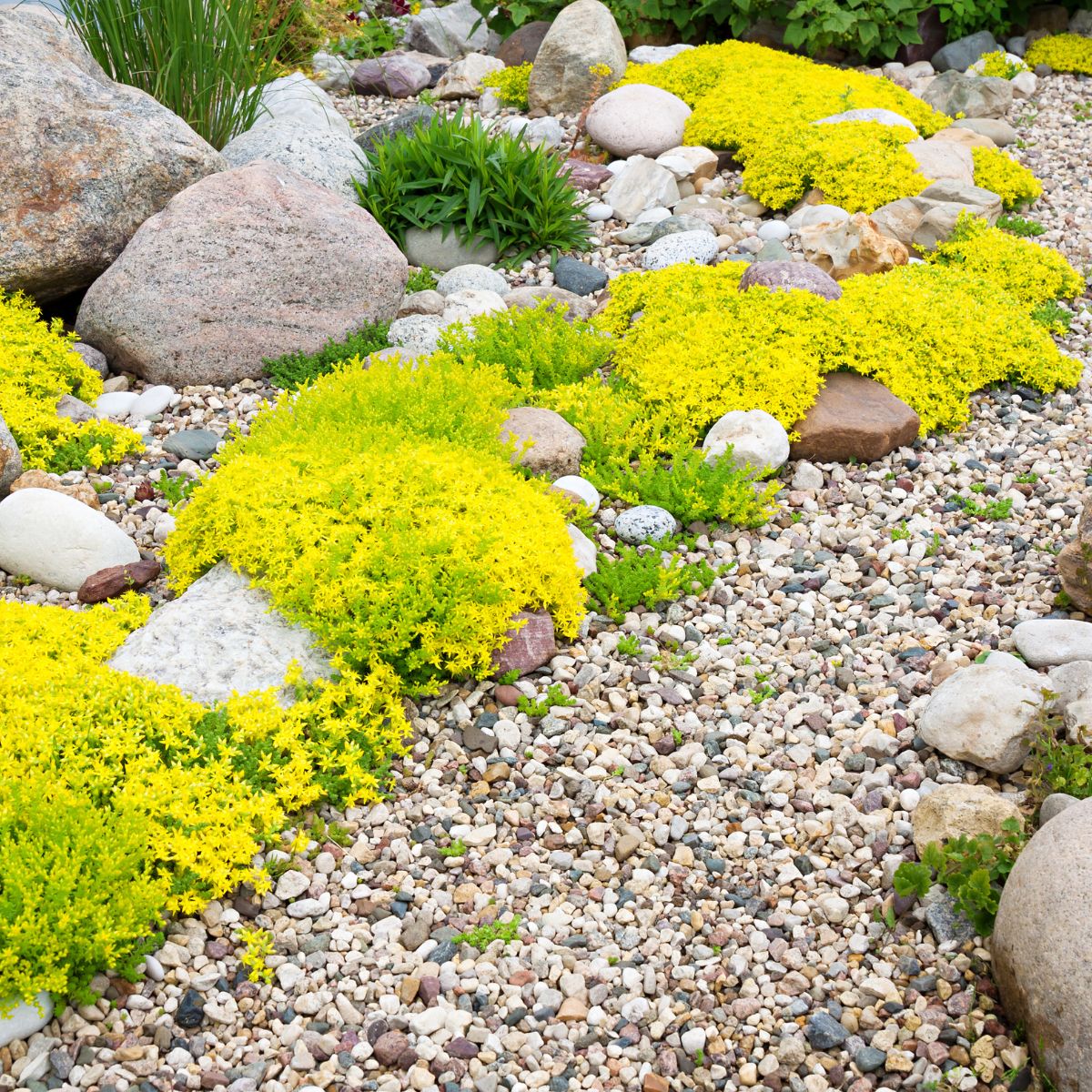 I love the colorful pebbles of the river rock in the image above, and the yellow ground cover makes it a cheery spot.
Other types of rock gardens
Desert rock garden – features cacti, succulents, and other drought-tolerant plants.
Alpine rock garden – features plants that are native to high-altitude, mountainous regions, such as spring crocus, forget-me-not, snowdrop, sedum and dianthus.
Mediterranean rock garden – features plants that are native to the Mediterranean region, such as lavender, and thyme.
Bonsai rock garden – features miniature trees, such as bonsai, that are grown and trained to resemble miniature versions of mature trees.
Cottage rock garden – features a rustic and natural design, often featuring irregularly shaped rocks and boulders, and is filled with a mix of small flowers and herbs.
Fairy rock garden – features whimsical and enchanting design, often featuring miniature fairy houses, statues, and other small decorative elements.
Modern rock garden – features a contemporary and sleek design, often featuring smooth and polished rocks and boulders, and is filled with minimalistic plants and flowers.
Black lava rock garden – black lava rocks are used around fire pits and other garden features, and less as a planting medium.
Moss rock garden – perfect for shady areas in your yard
Rock Garden Pictures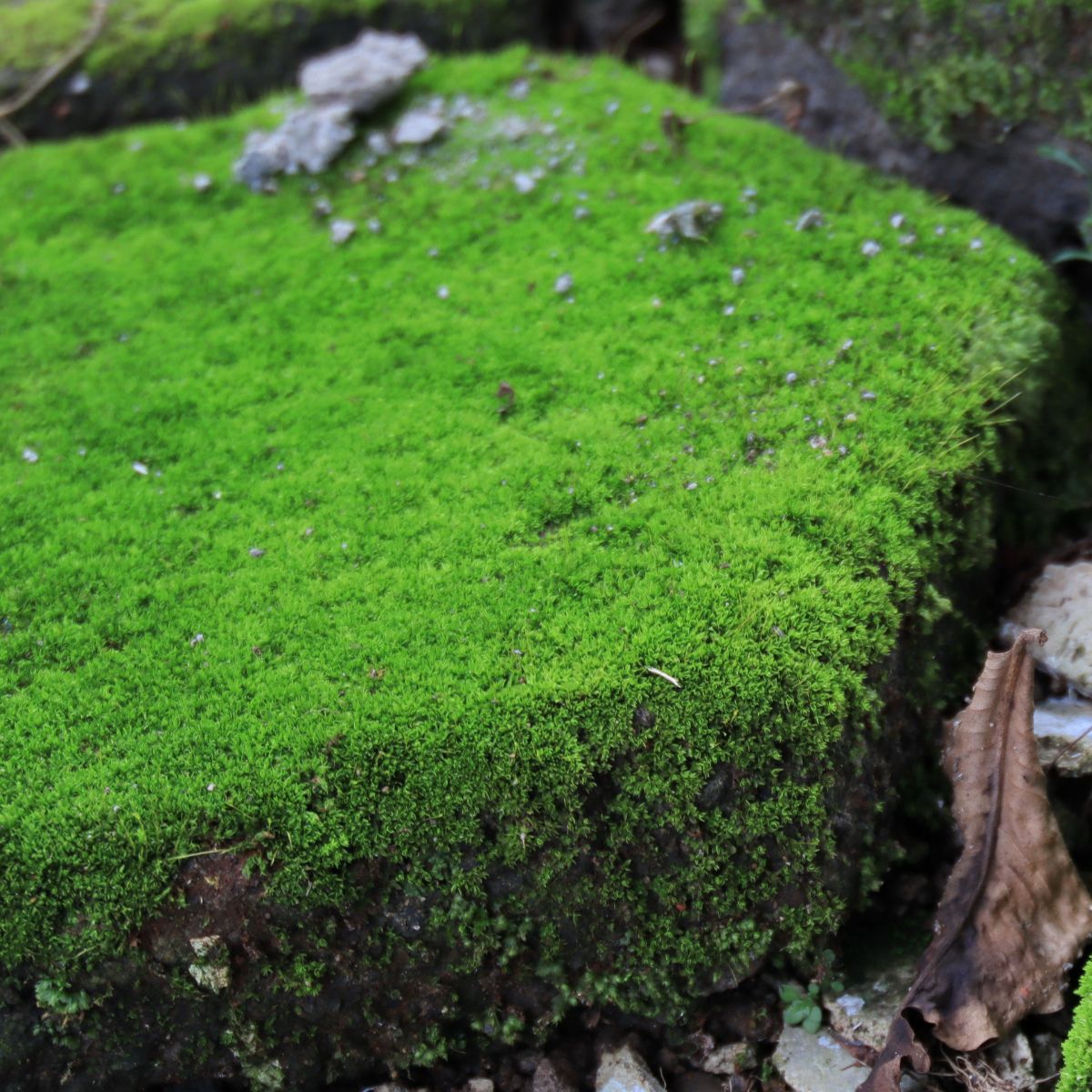 If your backyard is shaded, a few moss covered rocks will look great.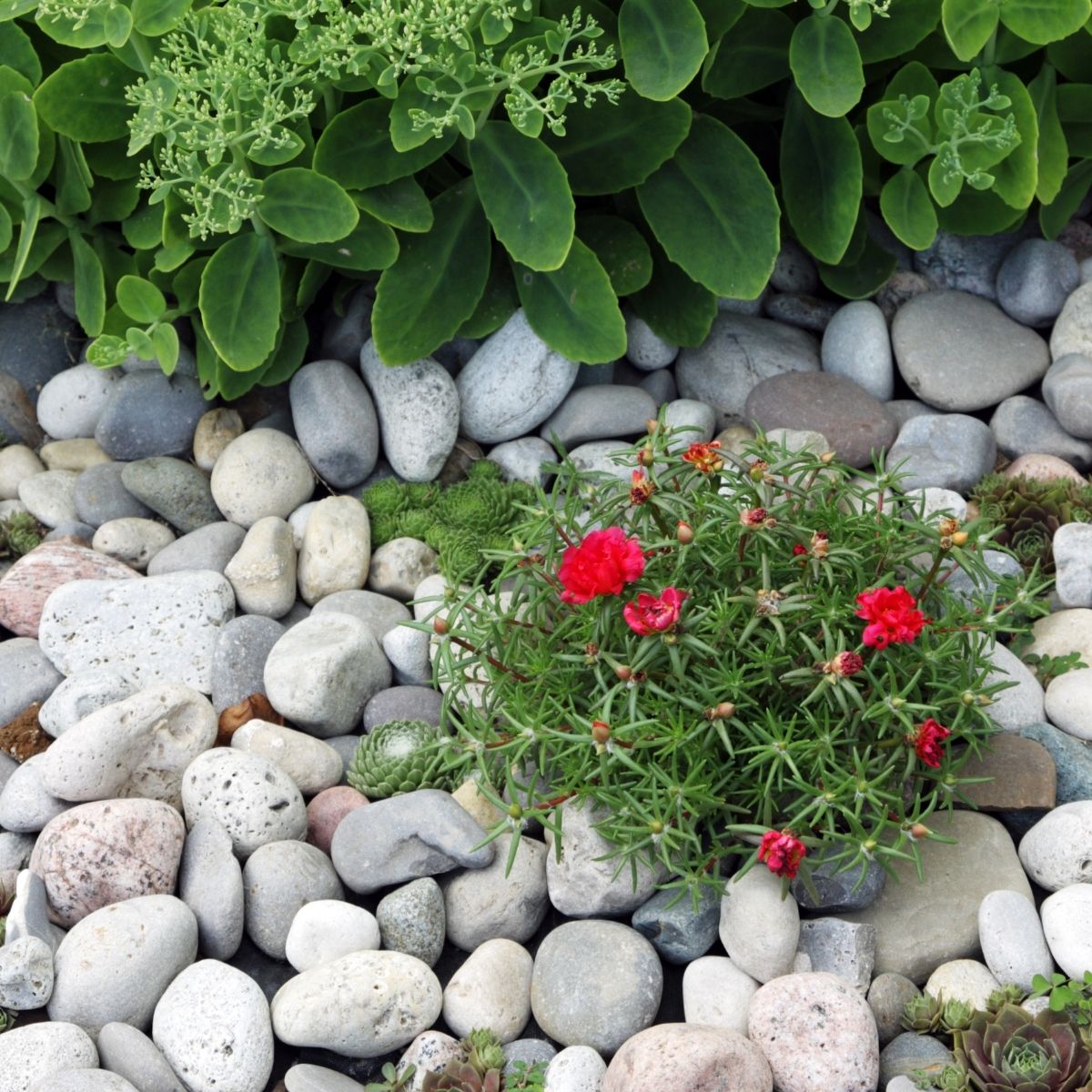 These red ice plants add a pop of color to the gray rocks, and I love the cute succulents too!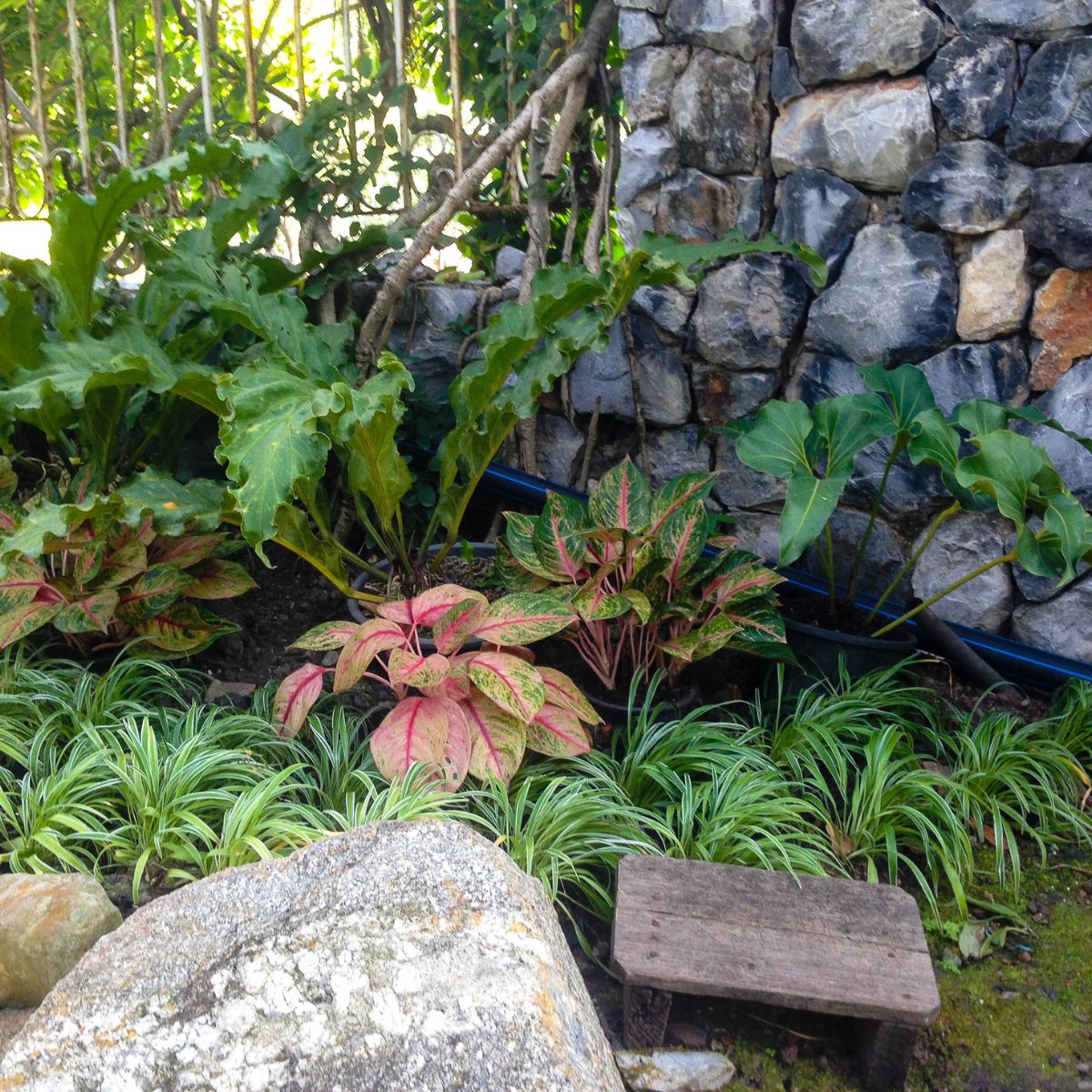 This cute corner garden is the perfect spot for a quiet afternoon with a good book. The colorful leaves add a bit of visual appeal, and the cute chair offers a resting spot.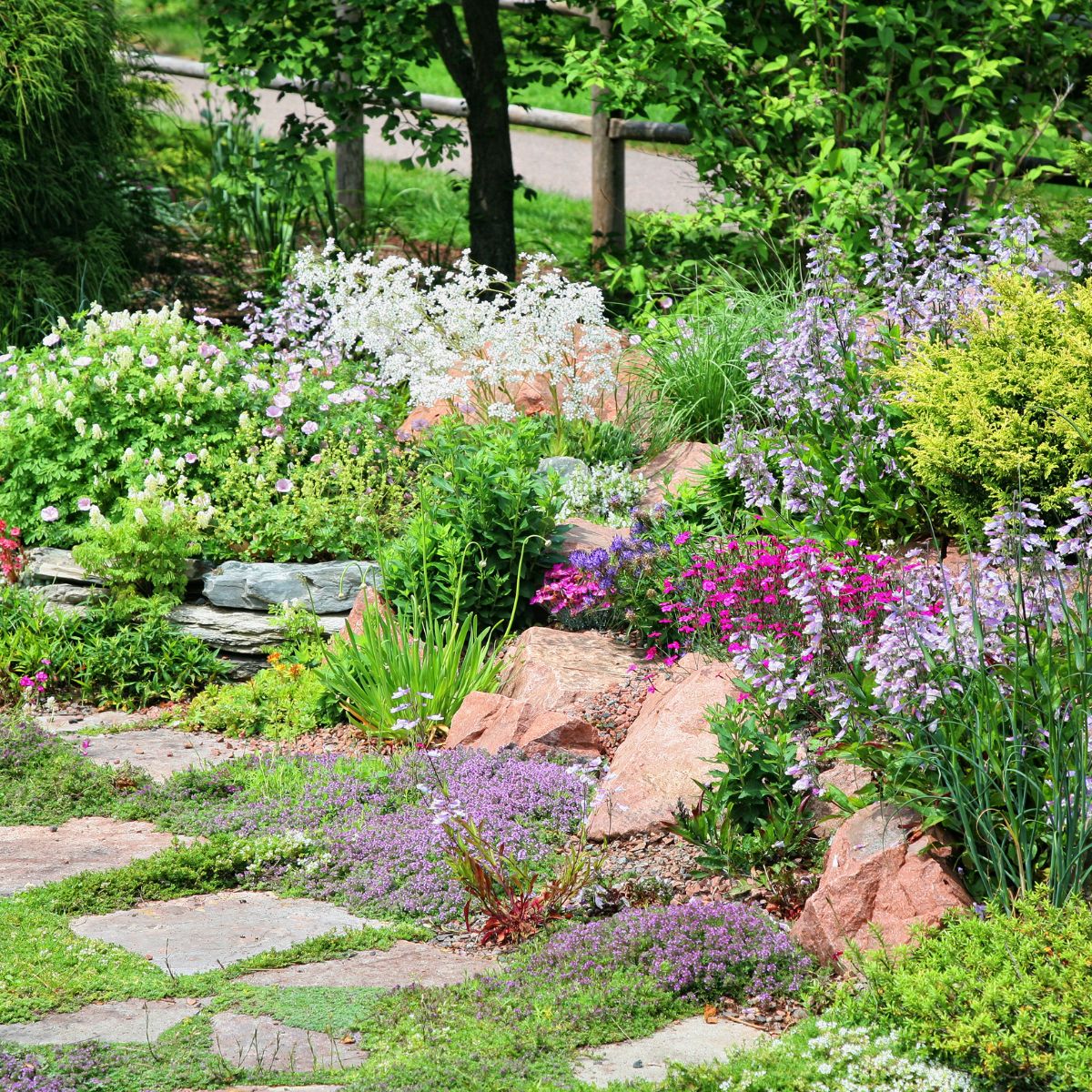 What a beautiful terraced garden! And so many elements included ins this small corner tucked away at the edge of the forest: flat pavers, terraced stone slabs, low growing ground cover, and tall flowers, all perfectly integrated for a stunning outdoor space and landscape design.
With so many rock garden ideas, it really easy to create your own rock garden. Rock gardening is a fun way to landscape a small space, by using a few small rocks, some smooth pebbles, maybe even a hard path. Add a few small plants, and you got yourself a stunning rock garden.
More Ideas For Landscaping With Rocks
If you're planning to create a rock garden, make sure to check these other ideas: