If you are lucky enough to have a bounty of apples, you might be wondering what you can do with them. Sure, an apple a day keeps the doctor away, but what do you do with the rest of them? You can give some away but you might still have a lot left over that you don't want to go to waste. If you're asking yourself what to do with apples, I have a few ideas for you.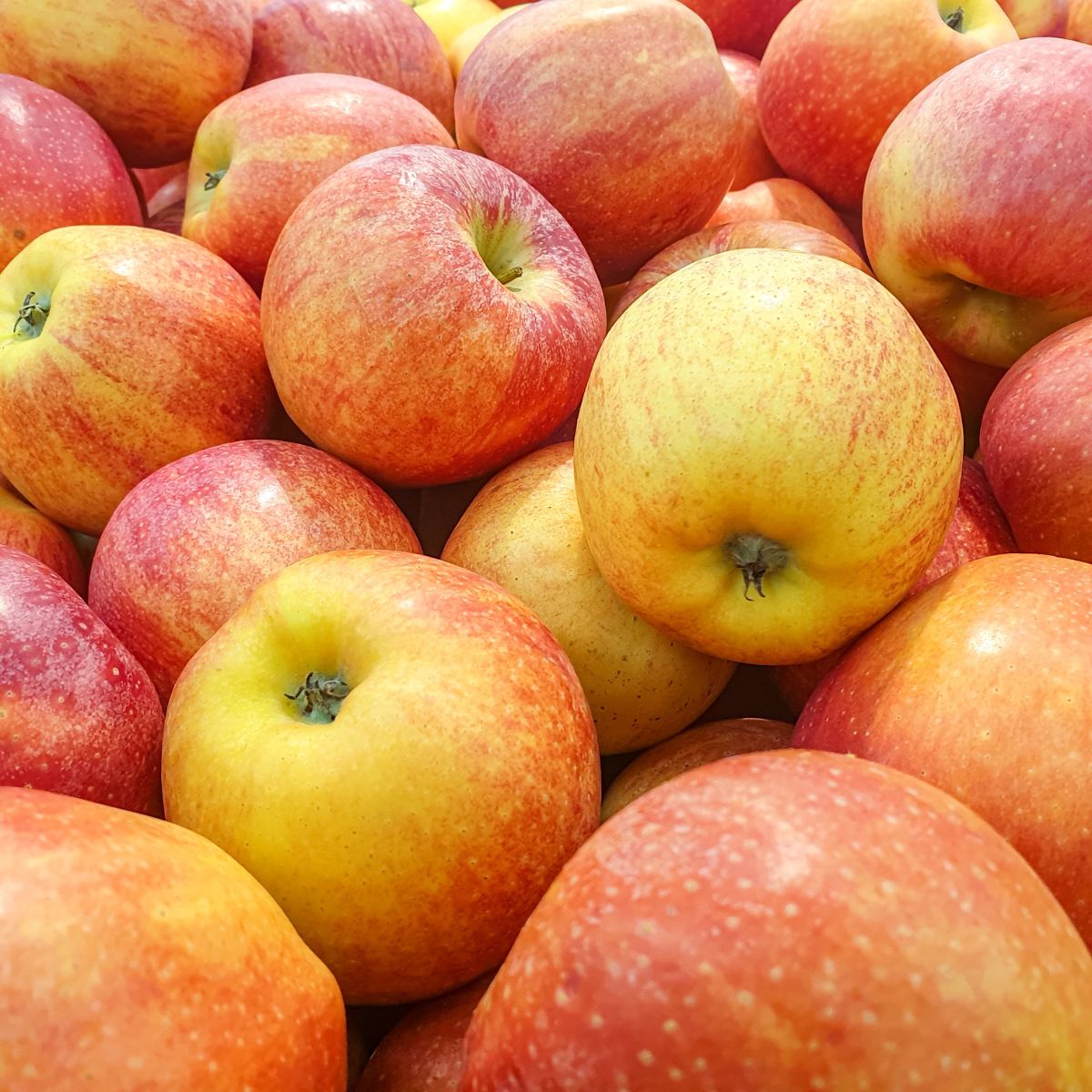 What To Do With Apples
Apples are healthy and delicious at the same time. I love fall time when there's so much going on in the garden! Harvesting and preserving tomatoes, squash, peaches, and of course, apples, is the highlight of my year. Here are just a few things I like to do with apples.
1. Eat them fresh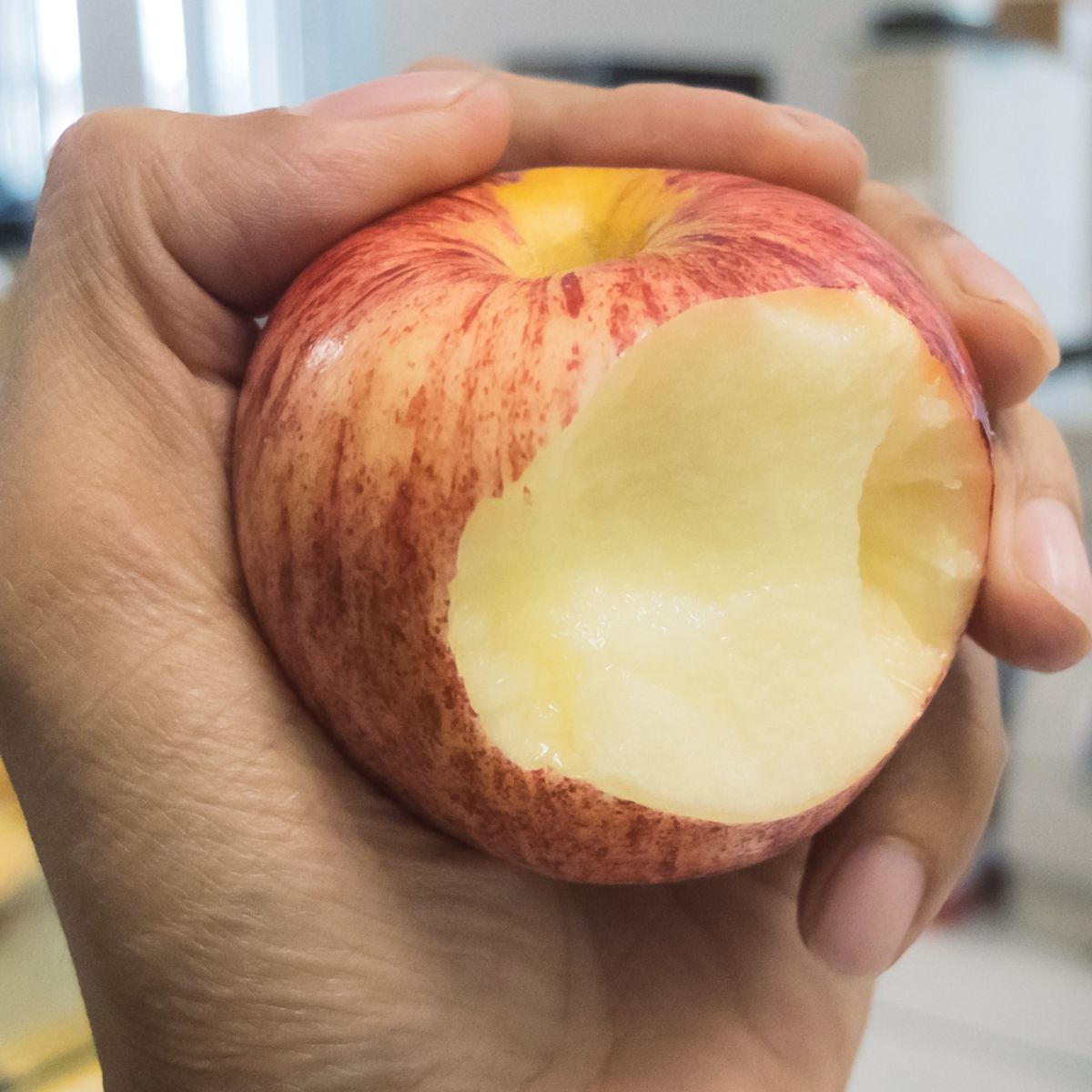 Biting into a fresh, crisp fall apple is so satisfying. You can add fresh apples to your breakfast, eat them as a snack, or have them instead of dessert.
2. Make apple juice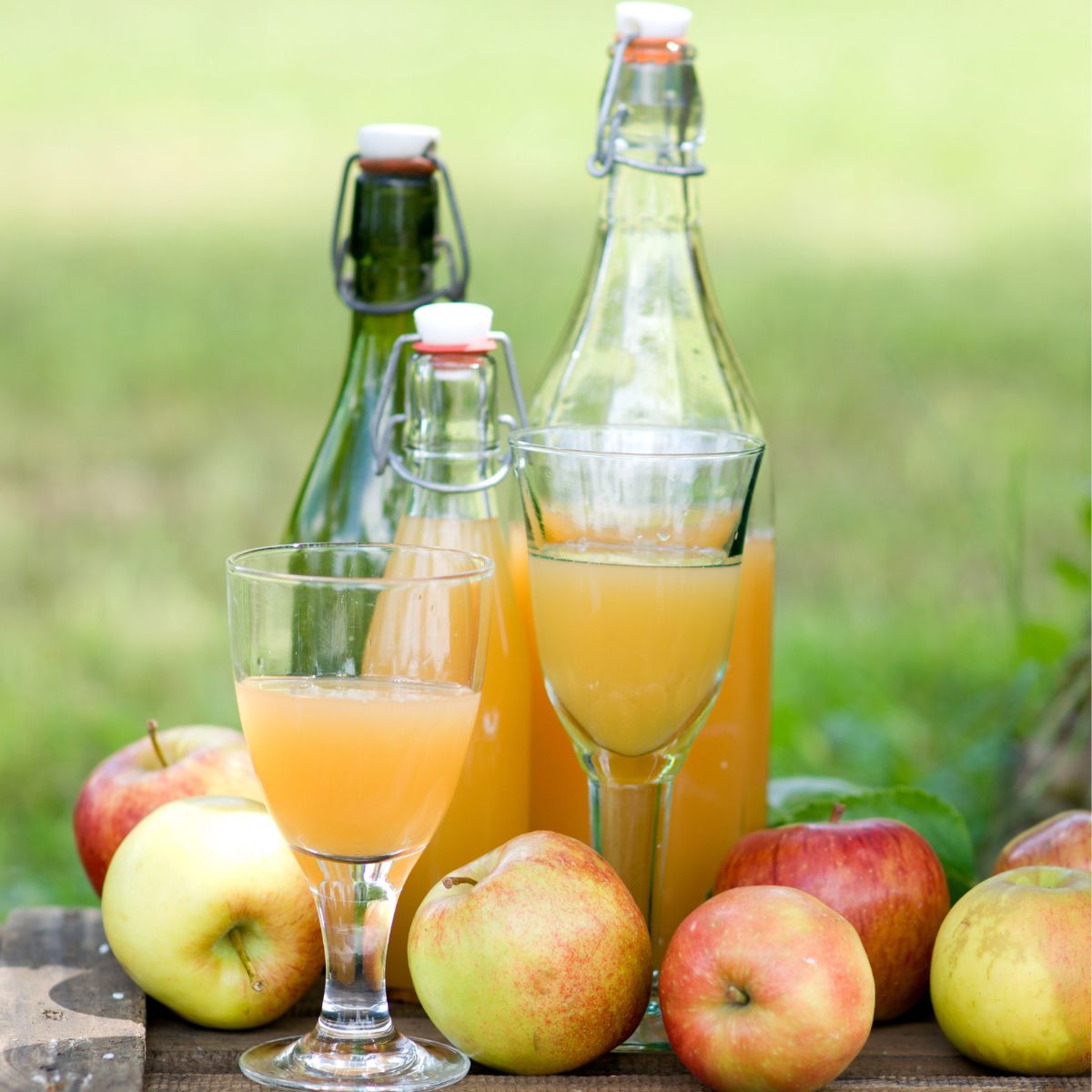 Here's one as common as applesauce but it's too good not to include it.
It's easy to make your own apple juice at home. Simply wash, chop, and core some apples, then use a juicer (we've been using ours for years!) to make delicious apple juice. Enjoy your homemade apple juice on its own or use it as a base for smoothies.
Of course, you can also use the leftover apple pulp to make muffins, pies, or apple bread. YUM!
3. Apple cider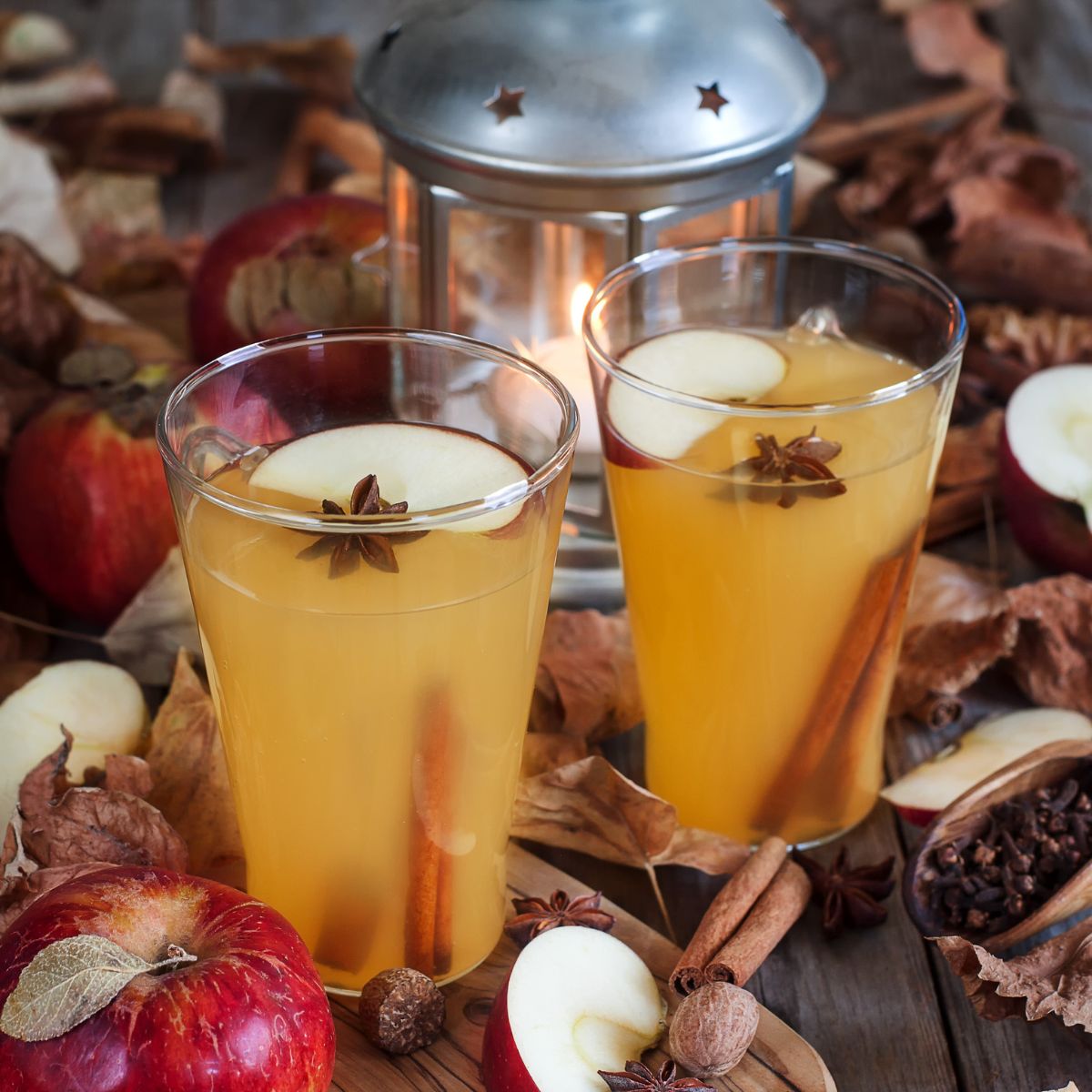 Add eight to ten apples to a large pot and completely cover with water. Add cinnamon, sugar, and your choice of spices to the water. Boil uncovered for about an hour while stirring occasionally. Reduce the heat, cover, and simmer for a couple more hours. Use a fine mesh and/or cheesecloth to strain the mixture and then refrigerate. YUM!
4. Turn them into apple cider vinegar
Most people buy apple cider vinegar, but did you know that you can make your own? And not only is it inexpensive (pretty much free if you use peels and cores), but it's also very easy to make. Once you make up a batch from your excess apples, you can bottle it up and use it the same way you'd use store-bought.
5. Add apples to your everyday salads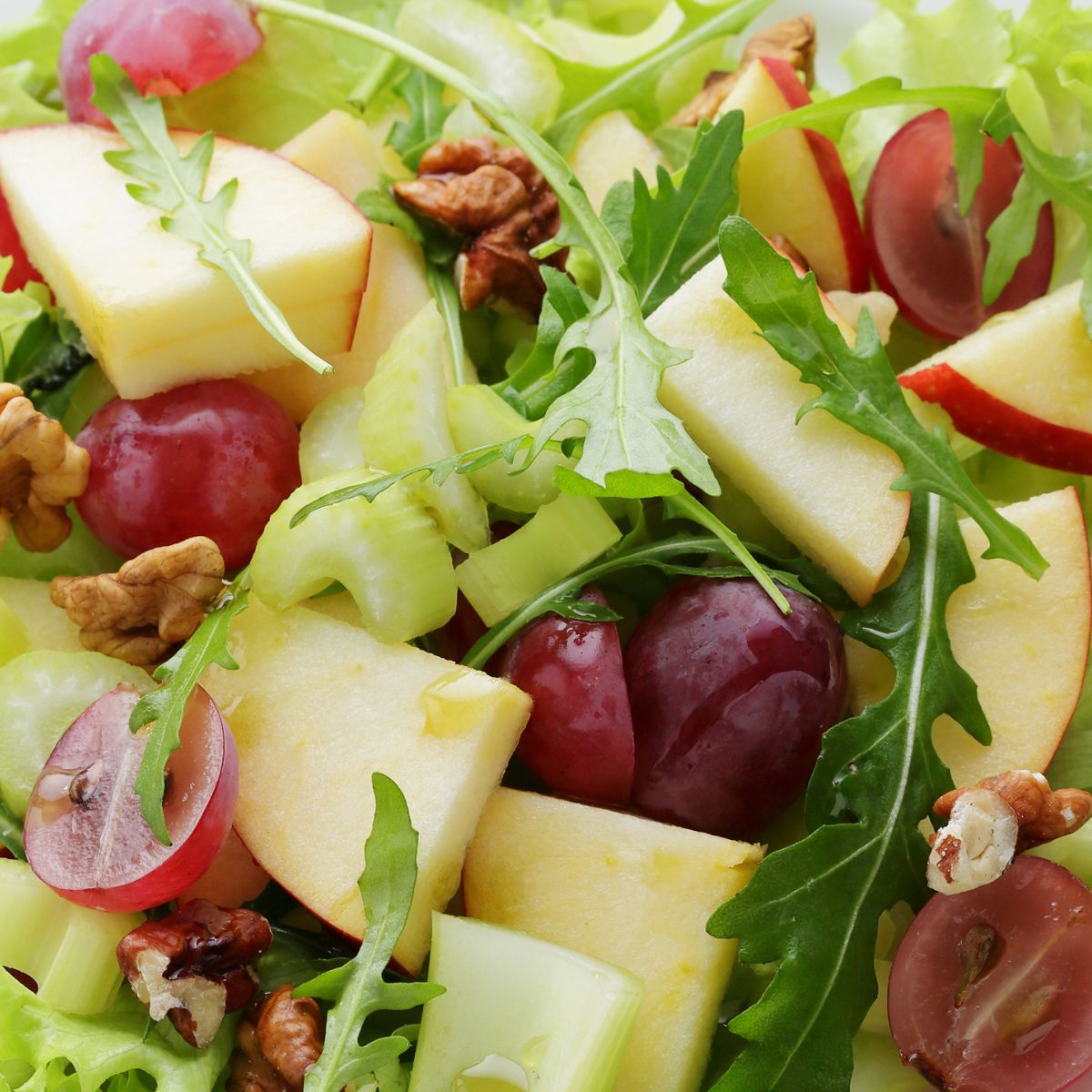 Another great way to enjoy your fresh apple surplus is to add it to your daily fresh salad.
Apples in a salad? It may sound strange, but apples can actually be a great addition to your next salad. Their sweetness pairs well with savory ingredients, and their crisp texture provides a nice contrast to softer greens. Plus, apples are a good source of fiber and vitamins, so they can help to boost the nutritional value of your salad.
6. Freeze them
While you can freeze apples whole (just wash and freeze on a cookie sheet, then place in a bag), it won't be the most convenient to use them when you need them. So, if you have time, slice them first, then freeze them.
You can use frozen apples to make smoothies, bake them into pies and breads, and make sauces for your meat dishes.
7. Make apple butter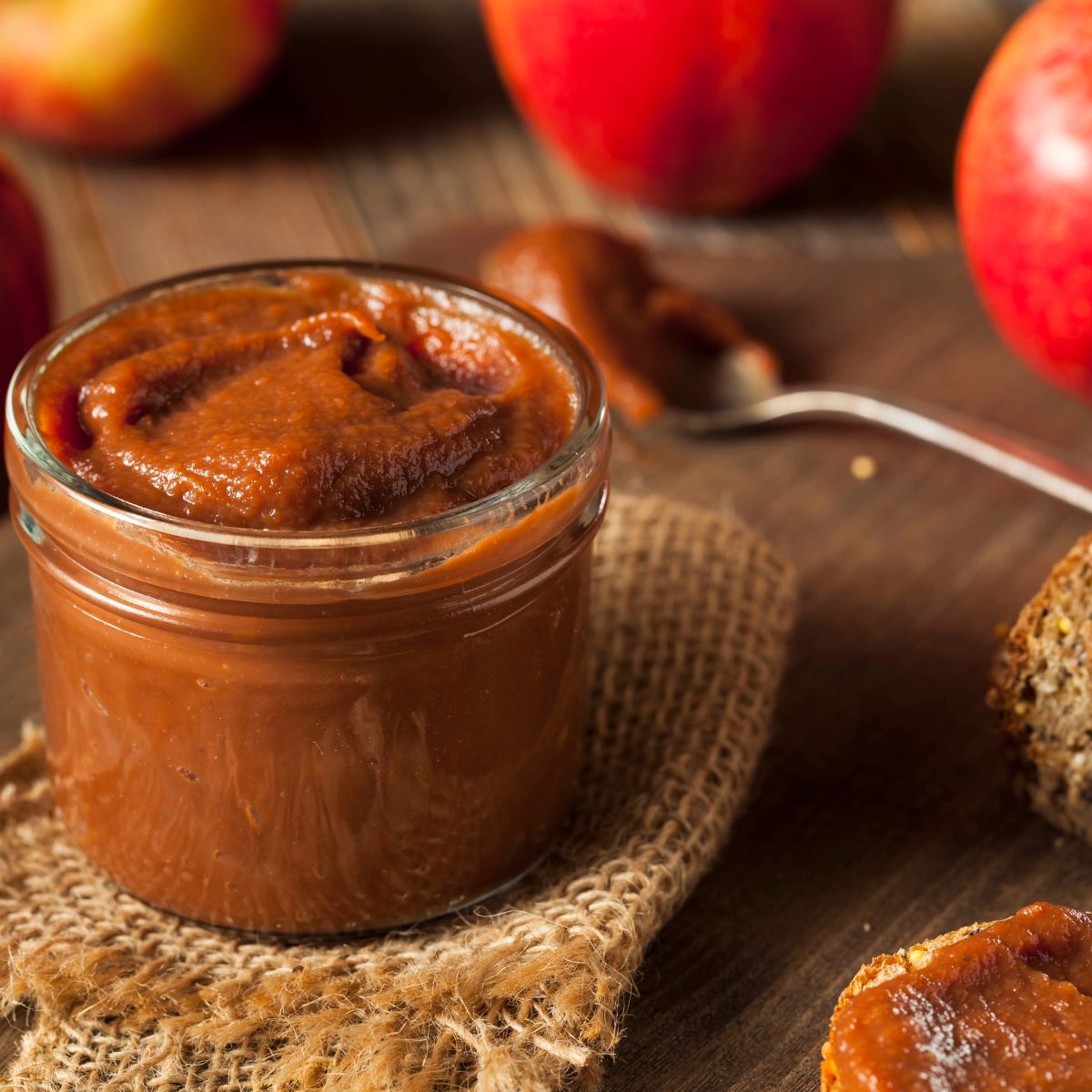 Apple butter is a thick, spreadable fruit butter made from apples. It is typically sweetened with sugar and spiced with cinnamon, cloves, and other spices. To make apple butter, the apples are first peeled and then cooked down into a thick pulp. The pulp is then combined with sugar and spices and cooked over low heat until it becomes thick and spreadable. Apple butter can be canned or frozen for long-term storage.
All you need to make creamy, delicious apple butter is four to five pounds of apples, light brown sugar, ground cinnamon, salt, a large mixing bowl, an immersion blender, and a large crock pot.
Peel and core the apples or you can leave the peel on if you prefer. Just wash them well before chopping and adding them to the mixing bowl with the rest of the ingredients.
Mix well, transfer to the crock pot, cover and cook until the apples are soft. Stir occasionally. Puree the apples and continue cooking until the apple butter reaches the desired thickness.
You can freeze it at this point, or get your canner out and can them.
8. Apple sauce (applesauce)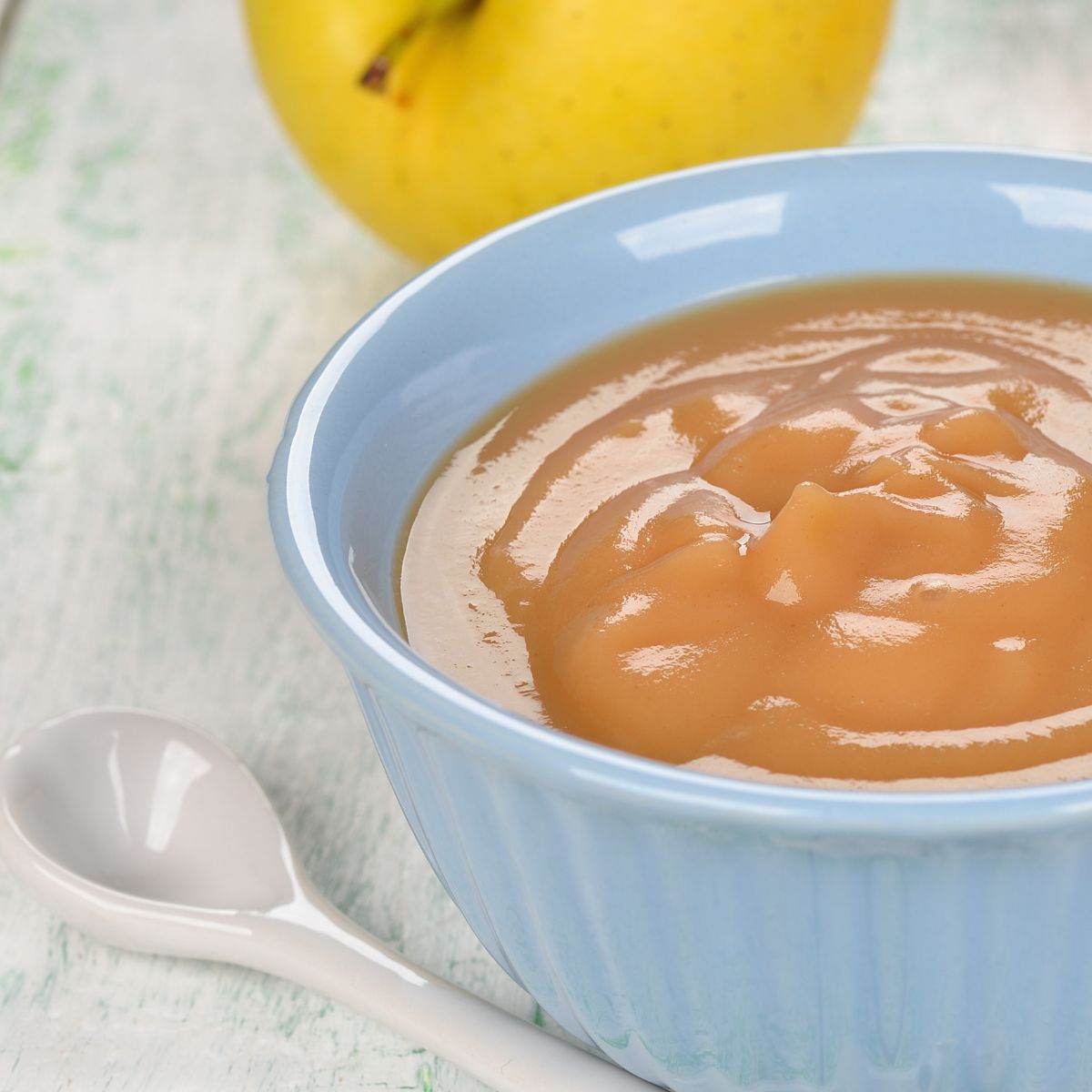 This is a great way to use up a lot of apples at once, and it's so easy to make. Just cook the apples down until they're soft, add some sugar and spices, and voila! You've got homemade applesauce.
Need more detailed instructions: Here are the steps:
Peel and chop approximately eight to ten apples and place them in a pot. Add about one cup of water and bring to a boil.
Reduce heat and allow the apples to simmer until they're soft enough to mash.
Add a little brown sugar and cinnamon along with any other ingredient you would like to use to the apples and mix well.
Let it simmer until the apple sauce reaches the desired texture.
9. Dried apples – dehydrate them for apple chips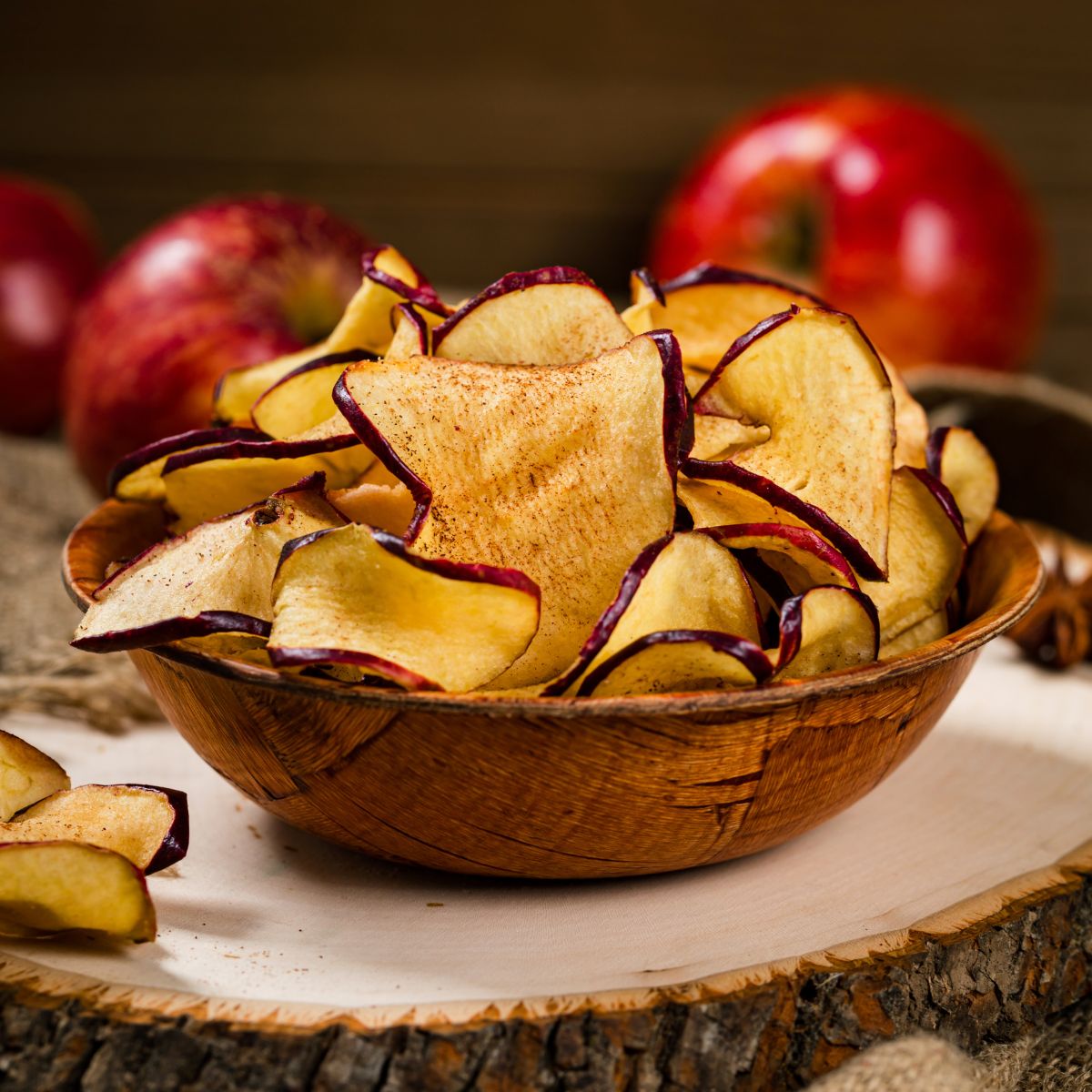 Dehydrated apples are a great snack, and they're really easy to make. Just slice up the apples and put them in a dehydrator or on low heat in the oven and let them dry out. Then store them in an airtight container and enjoy!
Here are the step-by-step instructions:
Peel and core a few apples or leave the peel on if you prefer.
Preheat the oven to 200 degrees Fahrenheit.
Slice the apples into thin pieces.
Mix lemon juice and water in a bowl.
Add the sliced apples to the bowl and allow them to soak for approximately 30 to 40 minutes.
Pat dry and place in a single layer on a baking sheet.
Bake for about one and a half to two hours, turning halfway through. Allow them to cool and they're ready to eat.
Or, use a dehydrator. My daughter gifted me this one, and I LOVE it! It's working non-stop this time of the year.
10. Apple fritters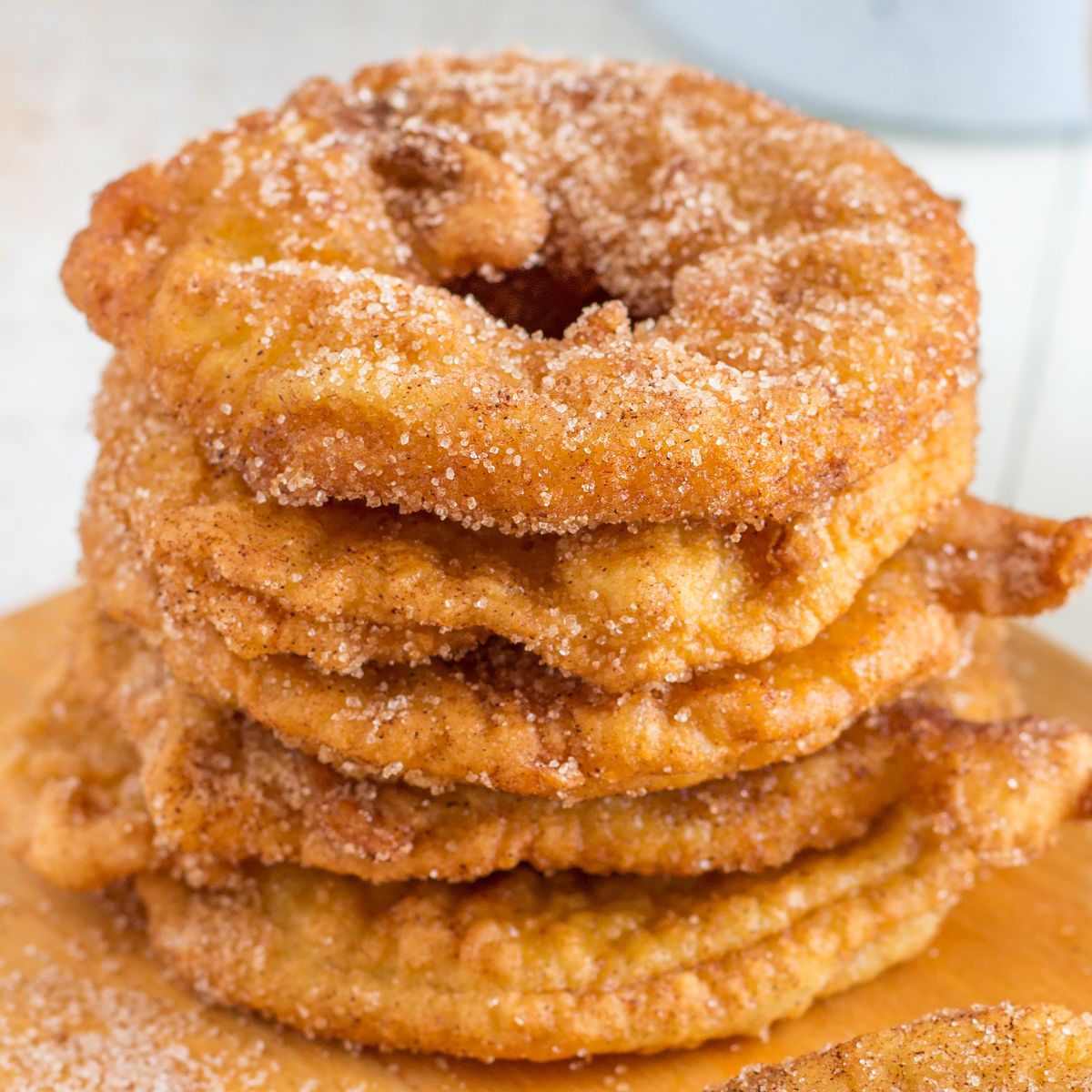 Apple fritters are a popular type of fritter that is often served as a dessert or snack.
All you need to make apple fritters in a deep fryer is granulated sugar, all-purpose flour, vegetable oil, eggs, baking powder, milk, salt, cinnamon, and about half a dozen apples.
Add all of these ingredients, except for the cinnamon and apples, to a large bowl and mix them together. Now, peel and cut the apples into small pieces and add them to the bowl.
Mix well until the apple pieces are completely covered with the mixture.
Deep fry the pieces until golden brown, drain and sprinkle with cinnamon. Or, dust them with powdered sugar.
11. Candied apples
Thoroughly wash a dozen apples and place a popsicle stick firmly into the top of each one. Turn upside down and place on a baking sheet covered with waxed paper.
Spray the wax paper with a cooking spray to prevent sticking. Mix corn syrup, water and sugar in a saucepan and bring it to a boil. Cook until the mixture reaches 300 degrees Fahrenheit and remove from heat.
Add food coloring if you want your candy apples to be red. When ready, dip the apples into the mixture until they are fully covered. Return to the baking sheet and allow the candy coating to harden before serving.
12. Make lots of apple pies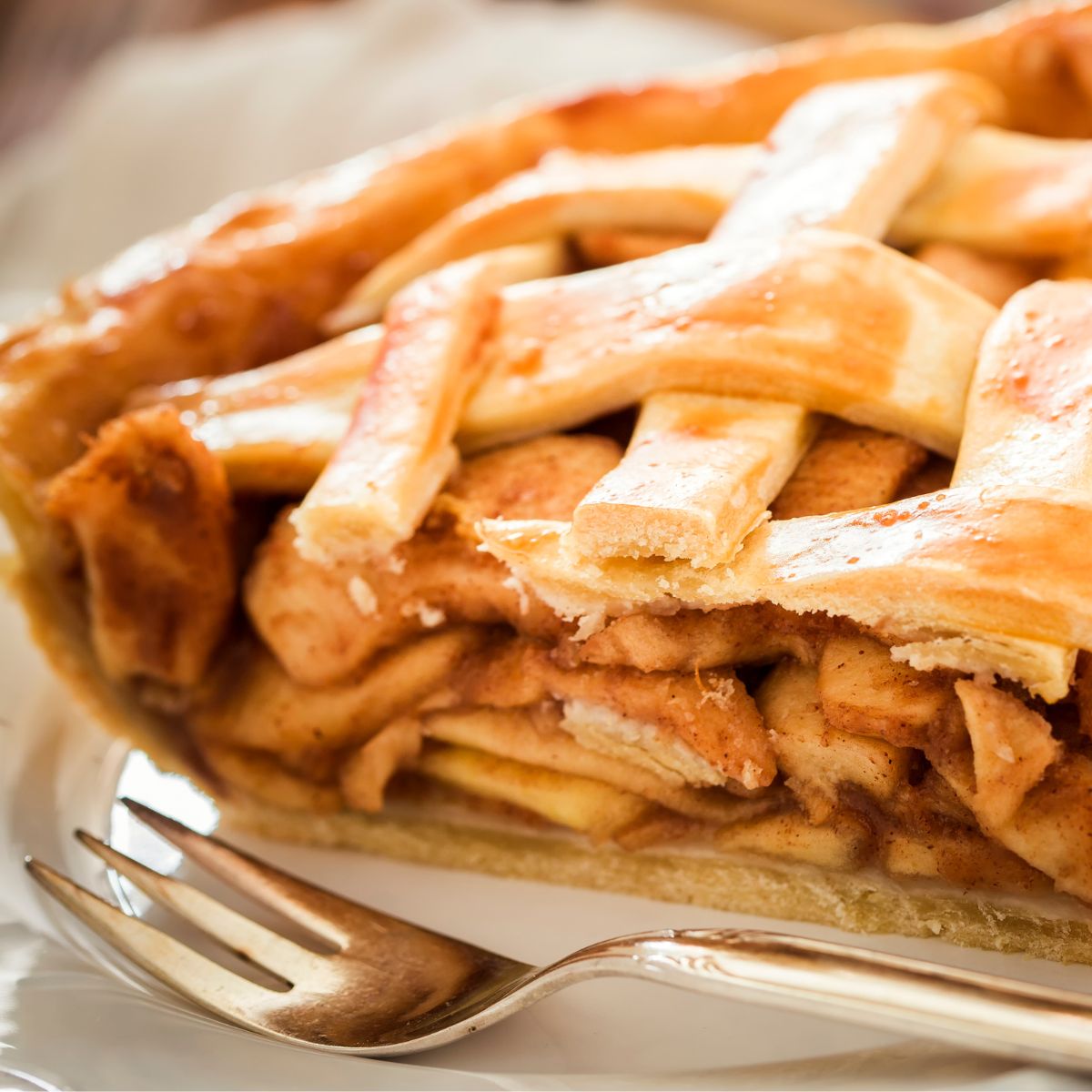 This classic dessert is always a hit, and it's a great way to use up a lot of apples.
Preheat your oven to 425 degrees Fahrenheit. Peel and cut apples into small, thin slices. Add sugar, flour, ground cinnamon, salt, and lemon juice to a large mixing bowl. Ground nutmeg is optional.
Place your homemade or store-bought pie crust in a nine-inch glass pie pan and press against the sides. Add the ingredients in the bowl to the pie crust and cover with a second crust. Seal the two pie crusts together and cut slits on the top. Bake for approximately 45 to 50 minutes, chill and enjoy.
There are so many wonderful things you can do with apples, you'll never have to worry about what to do with all of those apples you harvest in the season.
Here are some yummy apple pie recipes:
13. Fruit leather
Your apples can be dried and made into a chewy, fruity snack called apple fruit leather. Fruit leather is a great way to enjoy the taste of apples all year long, and it's a healthy alternative to sugary snacks.
To make apple fruit leather, apples are peeled and cored, then pureed into a smooth mixture. The applesauce is spread onto a dehydrator tray and slowly dehydrated until it forms a pliable sheet. Once the fruit leather is dry, it can be rolled up and stored in an airtight container.
14. Baked apples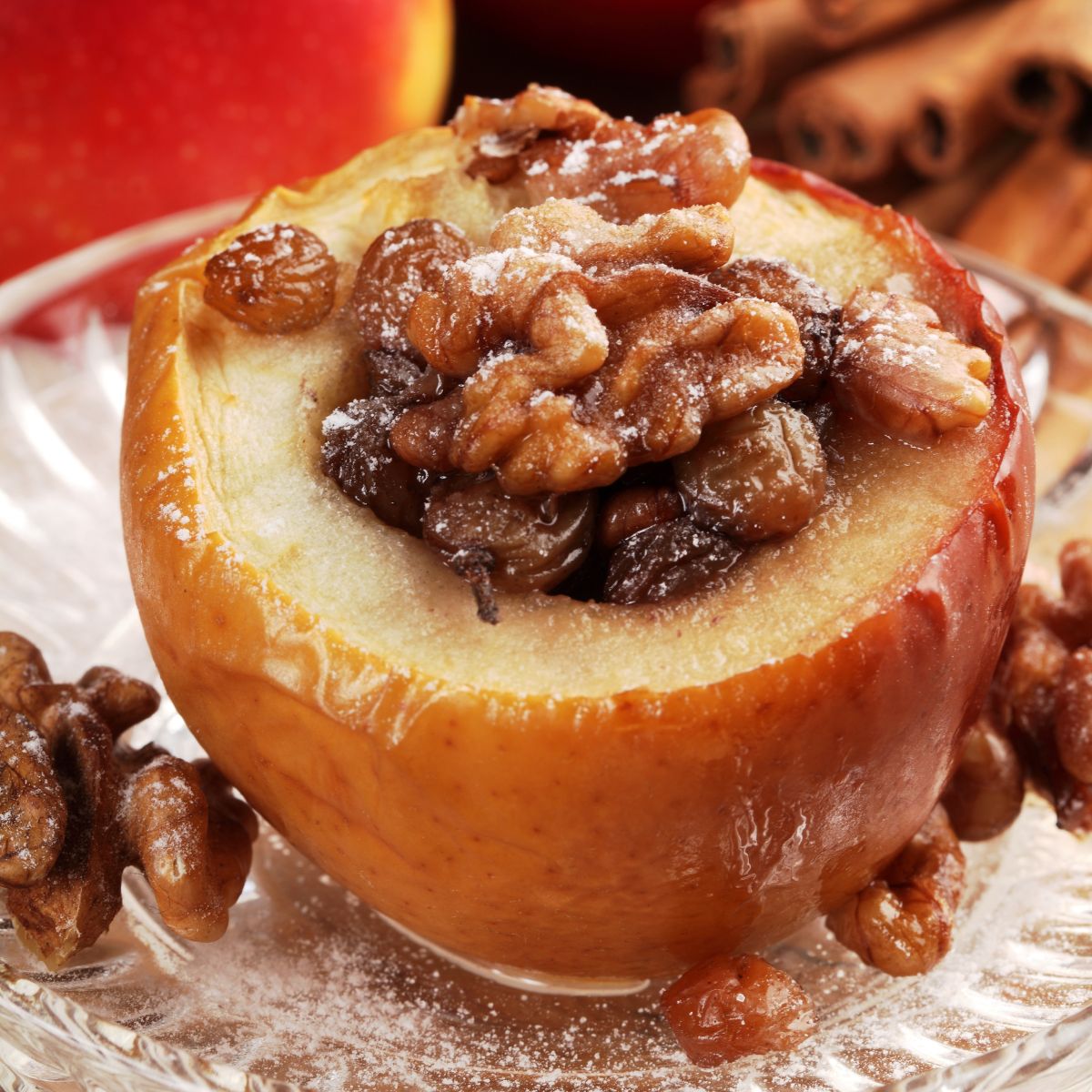 Baked apples are easy to make and can be enjoyed as a healthy snack or a tasty dessert.
To bake apples, simply preheat your oven to 350 degrees Fahrenheit. Slice your apples and spread them on a baking sheet. Of course, you can bake apples whole and topped off with walnuts, raisins, and other favorite toppings (try this easy baked apple recipe). Bake for about 15 minutes, or until the apples are soft and lightly browned.
You can enjoy your baked apples plain or top them with a dollop of yogurt or a drizzle of honey for extra flavor.
15. Sautéed apples (known as Southern fried apples)
You can bake them, and you can fry them! There are so many great ways to enjoy apples. Fall is the perfect time of year for fried apples as the apples are in season and at their peak of flavor.
The key to making great fried apples is to cook them low and slow. This allows the apples to soften without becoming mushy. For an extra touch of sweetness, add a little sugar or cinnamon to the apples before frying. Here's a simple sauteed apple recipe.
16. Apple cheesecake
My favorite dessert is cheesecake and I usually enjoy it plain or with a cherry or strawberry drizzle, but you can also make apple cheesecake and the flavor combo is delicious! The apples add juicy sweetness to the rich and creamy cheesecake, while the cinnamon brings out the natural flavors of the apples.
17. Apple strudel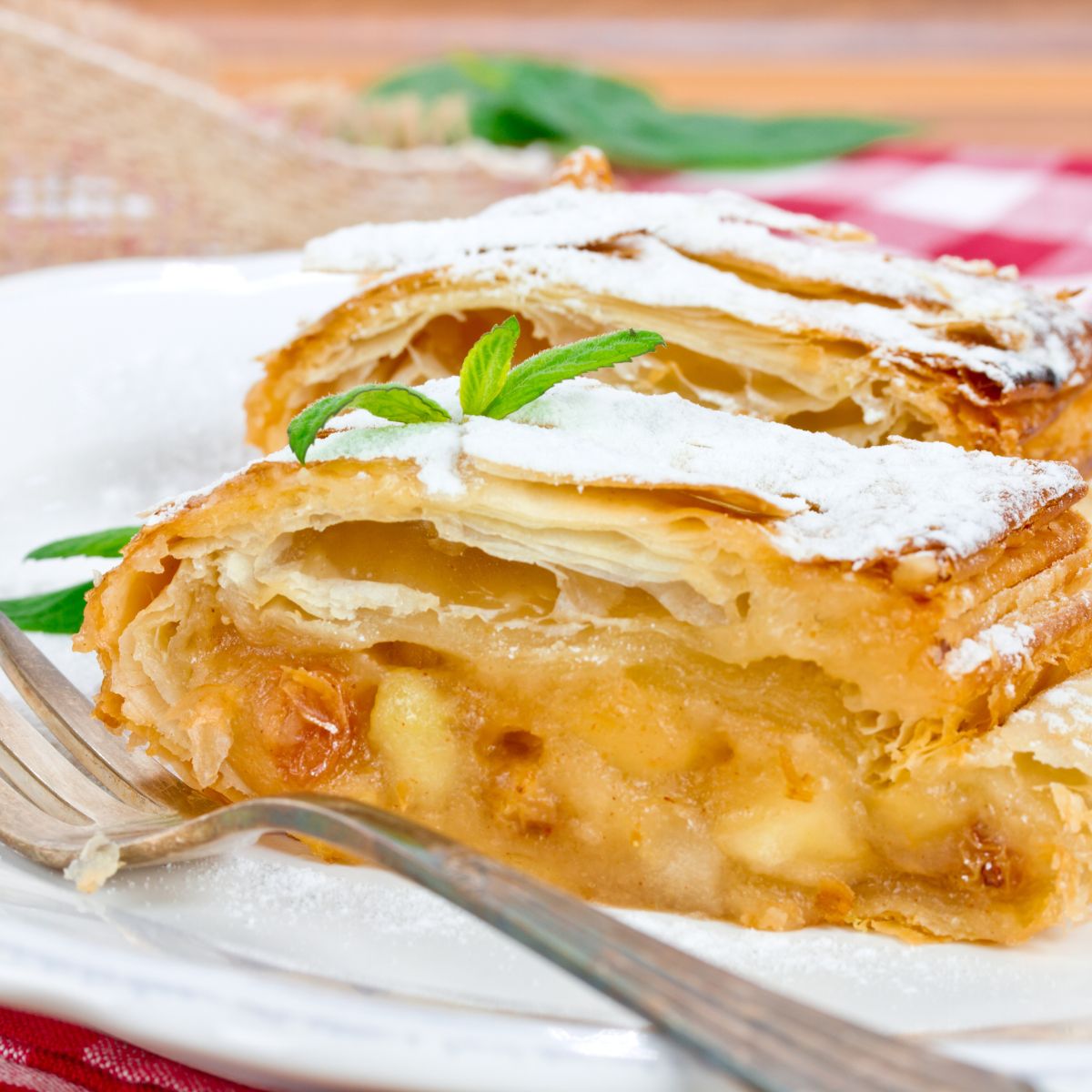 I really love apple desserts, so I had to put strudel on this list, too. Apple strudel is a traditional German pastry made with apples and flaky dough.
The apples are usually thinly sliced and spiced with cinnamon, and the strudel dough is similar to phyllo dough. When baked, the apples and dough create a light, flaky pastry that is delicious on its own or served with vanilla ice cream or whipped cream.
18. Spiced apple bread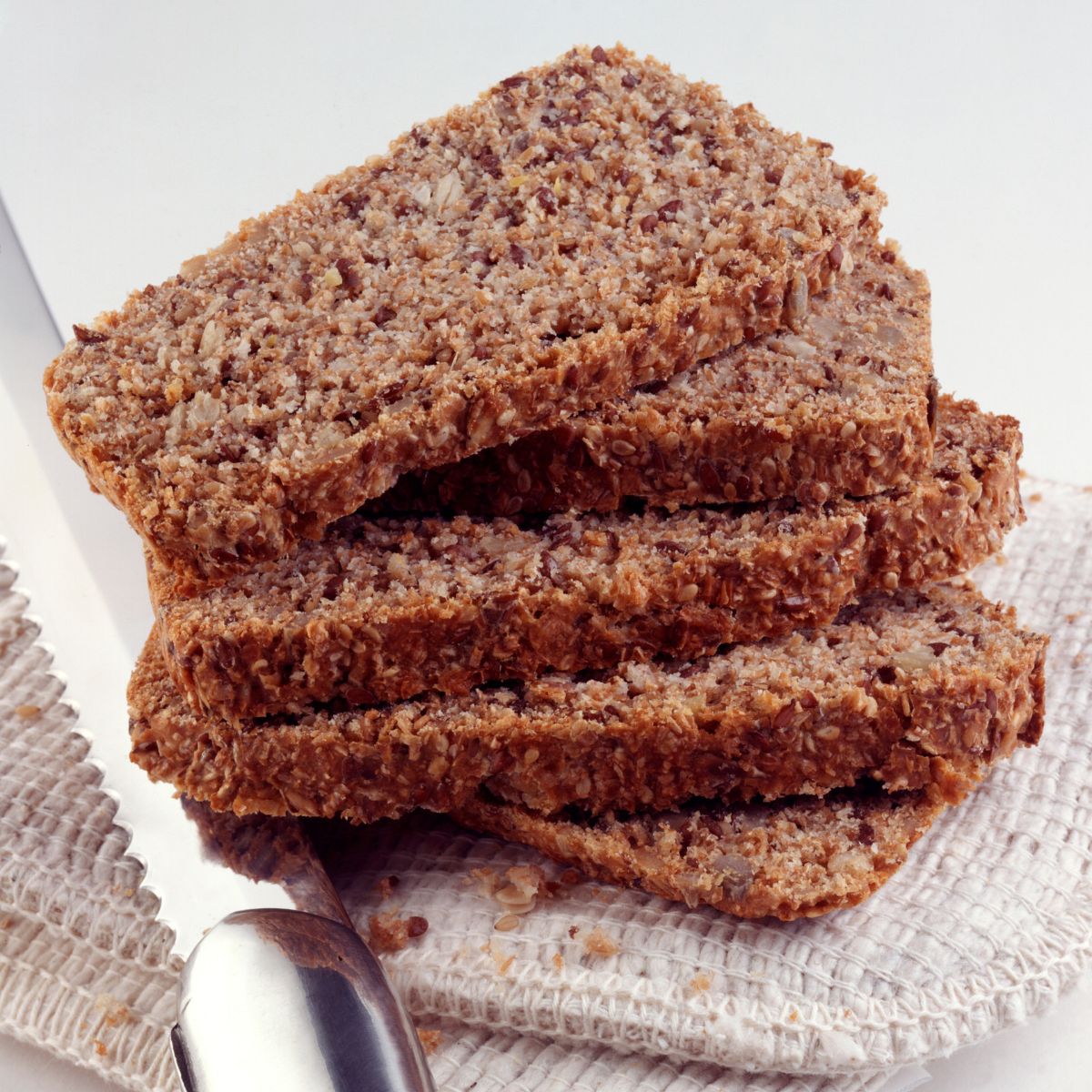 This one is called bread but tastes more like a dessert because it's sweet. To make it, simply start with a basic quick bread recipe and add in a cup or two of fresh apples. Once the bread is baked and cooled, top it with a simple streusel made of sugar, flour, and butter.
19. Add them to smoothies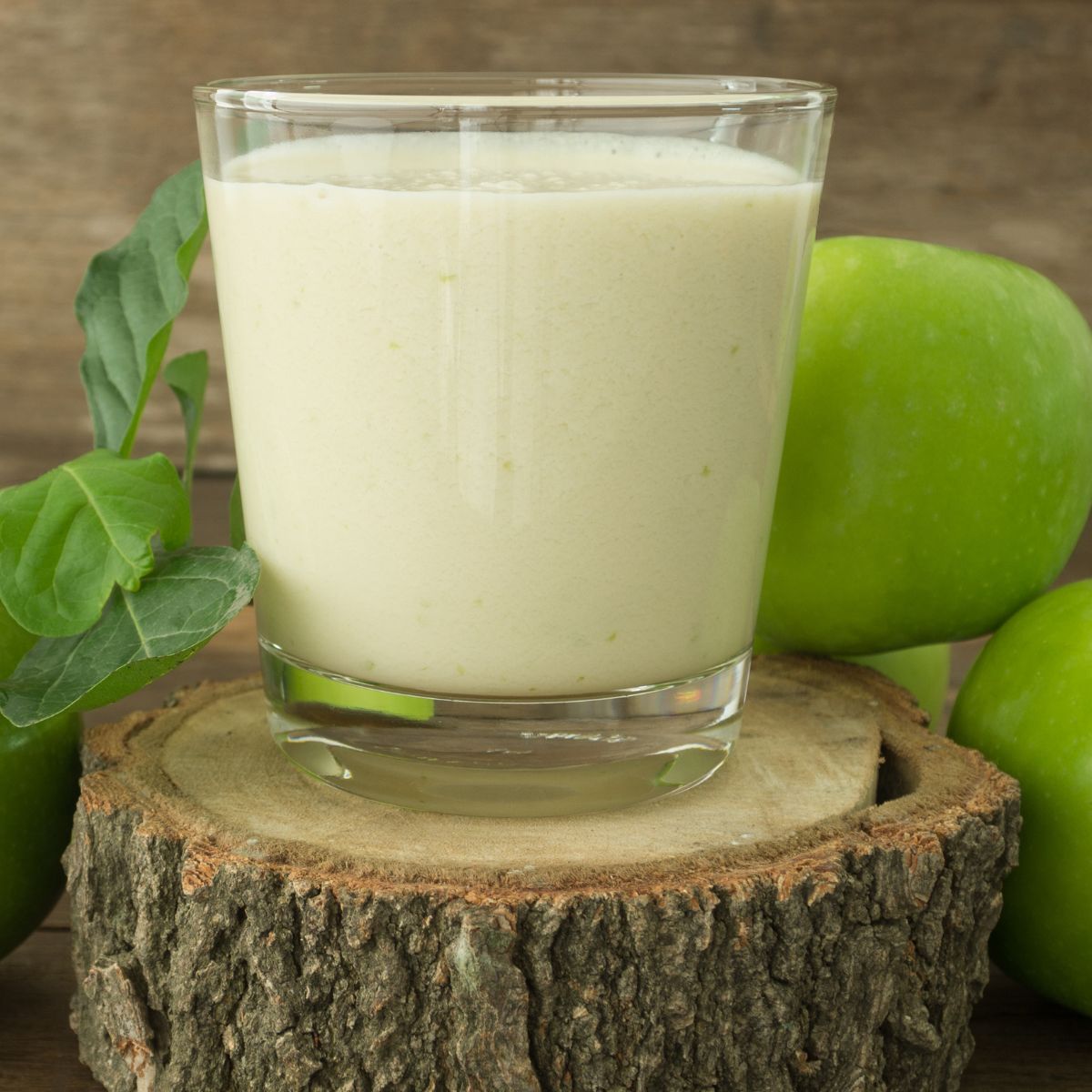 It may not be the first thing you have in mind for making a smoothie, but apples are a great addition to healthy smoothies. You can use sweeter apples, such as golden delicious, Fuji, Gala, and honey crisp, but all apples are yummy in smoothies.
Here are a few additions to your apple smoothies: almonds, walnuts, hazelnuts, apricots, ginger, cinnamon, or cranberries.
20. Can them
When you just have more apples than you can eat, even with these great recipes, consider canning them so you can enjoy them for months to come. Canning is a process where fruits and vegetables are preserved in jars or cans. Apples can be canned whole, in slices, or as applesauce. When apples are canned, they can last for several years.
Learn more about canning apples here.
FAQs?
Now that you know what you can do with those apples, let's look at some common questions people ask about them.
Can you freeze apples?
The answer is yes! You can absolutely freeze apples. In fact, freezing is one of the best ways to preserve apples for long-term storage. When done properly, frozen apples will retain their flavor and texture for up to 12 months. And the best part is that frozen apples are super easy to thaw and use in all your favorite recipes.
Does freezing apples ruin them?
Some people believe that freezing apples ruins them. The truth is that freezing apples does not ruin them, but it can change their texture and flavor. When apples are frozen, the water inside the cells expands and breaks the cell walls. This process is known as cell lysis.
As a result, apples that have been frozen often become mushy and lose their shape when thawed. Additionally, the flavor of apples may be affected by freezing. Apples that have been frozen for an extended period often taste dull and bland.
However, if you are careful to thaw apples gently and use them within a few months of freezing, you can minimize these effects. Ultimately, whether or not you choose to freeze apples is a matter of personal preference.
What can be made from apple fruit?
As you can see from our list above, lots of things can be made from apple fruit. Apples are a versatile fruit that can be used in a variety of recipes. While they are often eaten raw, apples can also be cooked into pies, tarts, and cobblers. Applesauce is another popular option, and it can be made with either sweet or savory spices. They can be dehydrated, canned, frozen, and more.
Final Thoughts
The next time you go apple picking, you'll know exactly what you can do to use every single piece of the fruit. From apple crips to fresh apple slices, and what to do with leftover apples, you'll have it covered. Nothing beats a classic apple pie with a scoop of vanilla ice cream!
What's your favorite way to enjoy this versatile fruit?