Every vegetable garden needs a dose of rich, nutritious compost. While it's best to make your own compost, sometimes it's just not possible. So today we'll look at the best compost to buy for vegetable garden.
More and more people are starting to grow their own vegetables at home. Whether in their back gardens, at allotments, or in containers on a balcony, growing your own produce is becoming increasingly popular, and it's also very easy to do!
It's also a healthier and better economical choice. Store-bought produce has often been treated with chemicals and pesticides, and vegetables available to purchase from organic markets and health food stores come with a hefty price tag. Not to mention, supermarket foods have often been imported from other countries, meaning that they come with a pretty large carbon footprint.
However, if you're looking to start growing your own vegetables at home, there are still certain things that you need in order to make sure you get a delicious crop of homegrown vegetables. Chief amongst these is good quality compost.
Not to be confused with fertilizer, compost feeds the soil that your plants are growing in. In some cases, compost can also be used as a soil replacement for growing vegetables in containers and raised beds. This, in turn, provides your plants with the ideal conditions they need to grow strong and produce high yields of crops.
Finding the best compost for your vegetable garden can be a bit confusing though, especially if you're a novice gardener who is growing their own produce for the first time. So, to help make things a bit clearer, we've listed five of the best composts for a vegetable garden below. They are guaranteed to give you great results.
We've also put together a useful buying guide to help take some of the guesswork out of it, and to help you get a better understanding of what to look out for when you're buying compost for your vegetable garden. Keep reading to learn more!
If you're super eager to get out into your garden and start growing your own vegetables, you might want to just go with our top pick below.
Best Compost to Buy for Vegetable Garden – Comparison Table
1
Jobe's Organics Compost Starter
2
Uncle Jim's Worm Farm Worm Compost
3
Dr. Earth All Purpose Compost
4
Blue Ribbon Organics Certified Organic Compost
5
Espoma Organic Garden Soil
Best Compost to Buy for Vegetable Garden – Reviews
Our Top Pick
Our rating:

Specially formulated to help break down organic matter faster, this compost starter from Jobe's Organics will help you create nutritious compost that the plants in your vegetable garden will love.
Containing Biozome, an exclusive mix of microorganisms that improve both soil and root health, it helps your soil to absorb the minerals and nutrients which in turn are fed directly to the plants and ensure that they grow healthily.
Not only does it help to improve the growing condition of your soil, but this compost starter helps your plants become more disease resistant, helps to discourage insects, and helps with moisture retention levels during periods of drought.
The easy-pour design of the bag allows you to easily incorporate it into your compost prior to sowing or planting out, and it's also totally pet-friendly, so you can rest assured that no harm will come to overly enthusiastic dogs or curious cats that have been rummaging around in your vegetable beds!
Specially formulated to quickly break down organic matter in your compost and add nutrients to your soil

Contains Biozome, a mix of microorganisms that help your soil absorb nutrients and feed them directly to your plants

Improves the growing conditions of your soil and helps plants develop a higher disease resistance

Also helps to discourage insects from your veg beds and retains moisture during droughts

Is completely kid and pet friendly, and is easy to apply and work into your soil
You need to be careful when adding to your compost as too much could cause your plants' foliage to burn
Our rating:

Created entirely by red worms and 100% natural, this worm compost from Uncle Jim's Worm Farm is packed full of nutrients that your vegetable garden will love!
Allowing you to bypass the home-composting process altogether, Uncle Jim's is a commercial grower of red worms, meaning that the compost you're buying has been turned into a nutritiously rich compost without using any chemicals or microorganisms, just good old-fashioned, healthy compost.
Also known as 'Black Gold', this compost is ideal for organic gardening and is taken directly from the growing pits that are home to the red worms, so you know that you'll be getting an all-natural, quality compost made from pure worm castings.
The all-natural formula of this compost also means that you may find that a worm has hitched a ride in your compost, which will carry on the good work once you've added to your soil along with the compost!
Created by commercially grown red worms for an all-natural compost

Has been made using absolutely no chemicals

The all-natural composition is ideal for vegetable gardens and organic gardening

Perfect for anybody looking to incorporate good quality compost into their garden soil without having to make their own

Some customers have noted that they found a worm in the compost which, when added to the soil, means it could carry on doing its work in their gardens!
The all-natural manufacturing of this compost means you may find the odd stick or piece of grain in with it. However, this can either be discarded or added to your soil where it will continue to break down naturally
Our rating:

This all-purpose, natural compost from Dr. Earth will add loads of nutrients to your vegetable garden and helps to create the perfect soil conditions needed for growing your own produce at home.
Containing a plethora of organic materials that will feed your plants and allow them to grow as healthily as possible, it's rich in green-fed earthworm castings and is ideal if you're looking to grow vegetables organically.
It also contains valley-grown alfalfa meal which adds nitrogen, phosphorus, and potassium into your soil as well as triacontanol, which is a natural growth stimulant. Alfalfa meal also helps to feed the microorganisms in your soil and encourages underground activity, which in turn helps keep your soil healthy.
Suitable for using garden soil and for adding to containers, it can also be used to help break up heavy clay soils and improve the overall texture of your soil, allowing you to expand your growing choices.
Adds nutrients to your soil and helps create perfect vegetable growing conditions

Rich in green-fed earthworm castings and contains loads of composted organic materials

Also contains alfalfa meal which helps naturally stimulate growth and feeds the microorganisms in your soil

Suitable for use indoors and outdoors, in vegetable gardens, flower beds, and containers

Can also be used to break up heavy soils and improve soil texture
Some customers that previously purchased this compost noted that it contained a few small rocks
Our rating:

If you're trying to grow your own organic produce, then this certified organic compost from Blue Ribbon Organics could be exactly what you're looking for.
Created from vegetables, grass clippings, and other organic materials, this compost will add loads of nutrients to your soil that will help your plants grow stronger, become more resistant to disease, and encourage higher yields of crops.
This compost is also great for improving soil structure and aeration, reducing the risk of any fungal problems. It is also fantastic for water retention and will help keep your vegetables and plants healthy even during periods of drought.
Totally chemical-free, it is fully composted in a DNR-licensed facility and is OMRI certified for organic use. It is also safe to use at any concentration level. Its all-natural composition makes it safe to use in gardens with pets and children.
OMRI (Organic Materials Review Institute) certified, so is ideal for growing organic vegetables

Chemical-free and created from a mixture of composted vegetables, grass clippings, and other organic materials

Helps your plants grow healthily with a higher disease resistance

Fantastic for improving soil structure and aeration

Also has great water retention properties, so is perfect for adding to your soil in periods of drought
This compost is at the higher end of the price spectrum, but this is most likely due to its organic structure and certification
Our rating:

This all-natural, organic garden soil from Espoma contains all of the nutrients and minerals your plants and homegrown vegetables need in order to grow as strongly as possible and provide you with high yields of delicious, organic produce.
Enhanced with Myco-tone™, a blend of 11 different strains of Mycorrhizae, this compost won't only add nutrients such as potassium, phosphorus, and nitrogen to your soil, but will also help promote root growth, increase water uptake and prevent transplant shock.
Its formula also contains kelp meal, which is extremely high in nutrition and is a fantastic soil fertilizer that your plants will love feeding on. Kelp meal is also a great alternative to fertilizers such as blood and bone, so it is ideal for anybody wishing to garden in a veganic method.
As well as these amazing organic ingredients, this compost also contains sphagnum peat moss. The peat moss can hold several times its own weight in moisture, making it ideal for adding to your soil ahead of periods of drought and high temperatures.
Contains a wide variety of nutrients derived from organic materials

Enhanced with Myco-tone™ that helps promote root growth, increase water uptake and prevent transplant shock

Also contains kelp meal, a plant-based fertilizer that is a great alternative for veganic gardening

Incorporated sphagnum peat moss provides amazing water retention and is ideal for use in periods of drought

Fortified with earthworm castings
This compost is only suitable for inground plantings, and therefore cannot be used to plant in containers
Best Compost to Buy for Vegetable Garden – Buyers Guide
From the very moment you sow your vegetable seeds to the moment you harvest, your plants need to be kept in nutrient-rich soil that will make sure your plants are happy and healthy, and that allows them to grow big and strong.
With that in mind, it's not quite as simple as planting your seeds or sets directly into your chosen area and waiting for them to grow. They need a little bit of tender loving care and a happy home to grow in. That's where a good quality compost comes in.
There are certain things that you need to consider when looking for compost to use in your vegetable garden. To get the results you want, check out the qualities of the perfect garden compost for your vegetable garden. Good compost will help you produce loads of your very own homegrown vegetables.
Organic
The first point you're going to want to consider is if you're looking to grow your vegetables organically. This means that you won't be using any pesticides or chemically based fertilizers on your plants or any compost that has had non-organic materials used in its creation.
If you are looking to grow organically, then look for compost that has been created using vegetables, grass clippings, and other materials that have also been grown organically. This ensures that no chemicals will have been passed down during the composting process, and won't end up in your soil.
Some composts are also certified organic, so it's worth keeping an eye out for those if you're wanting to grow your own organic vegetables.
Nutrients
The idea of compost is to feed the soil with nutrients that will not only improve the structure and quality of the soil, but that will also feed the growing plants. These nutrients include phosphorus, potassium, and nitrogen. They all play a big part in helping your plants grow healthy.
However, there are also patented nutrients that have been specifically designed to add to the quality of your garden plants. These include Biozome, which helps your plants absorb nutrients from the soil with greater ease, and Myco-tone™ which has been formulated to help promote root growth and prevent transplant shock. These patented nutrients are always worth keeping an eye out for and will help your vegetable garden grow well.
Materials
Compost is made of a mixture of materials that have been processed, through turning and by worms, in order to provide nutrients for your garden soil. Each compost uses its own mixture of materials, all of which are great, however, there are some special ones to keep an eye out for.
One of these materials is alfalfa meal. As the name suggests, this is derived from alfalfa plants and is great for amending the texture and quality of your soil. It's also very high in the three most important soil nutrients (nitrogen, phosphorus, and potassium). And it contains triacontanol, which benefits the soil by feeding the microorganisms that live in it and therefore adding even more nutrients to the earth.
Another great material to look out for in compost is sphagnum peat moss. It has amazing water retention properties. This is ideal for adding to your soil if you live in an area that has high temperatures and is prone to periods of drought. That way you can water less, without needing to worry about your plants wilting or dying.
Kelp meal is also a fantastic ingredient and is a natural fertilizer that will keep your plants fed and happy as they grow and start to produce their crops. Its nutritional properties are very similar to those found in blood and bone fertilizers, which makes it an excellent choice for veganic gardening.
Container Gardening
Not everybody has a garden that they are able to grow vegetables in, however, you'll be surprised to learn that loads of vegetables (including tomatoes, potatoes, and eggplants) can all be grown in containers and don't take up very much room at all. Here's more about growing vegetables in pots.
If you're looking to try container gardening, you'll need to make sure that the compost you choose is suitable for use in containers. Some are only designed to be used as an addition to existing garden soil, rather than as a soil substitute, and may end up overpowering your vegetable plants and causing them to bolt.
Water Retention
Another very important thing to consider when looking for compost to use in your vegetable garden is how well it can help your soil retain water. Bear in mind that the majority of vegetable crops grow in the summer months. Some plants are very greedy and require a lot of water, so your compost needs to be able to hold onto as much moisture as possible.
This is even more important in areas that are prone to prolonged drought, and where water needs to be used sparingly. Luckily, many composts have been created using materials that are able to effectively hold on to moisture and deliver it to your vegetables when they need it.
Look for a compost that includes materials such as sphagnum peat moss or Myco-tone™, as these will hold loads of moisture in the soil and minimize the amount of water you need to use.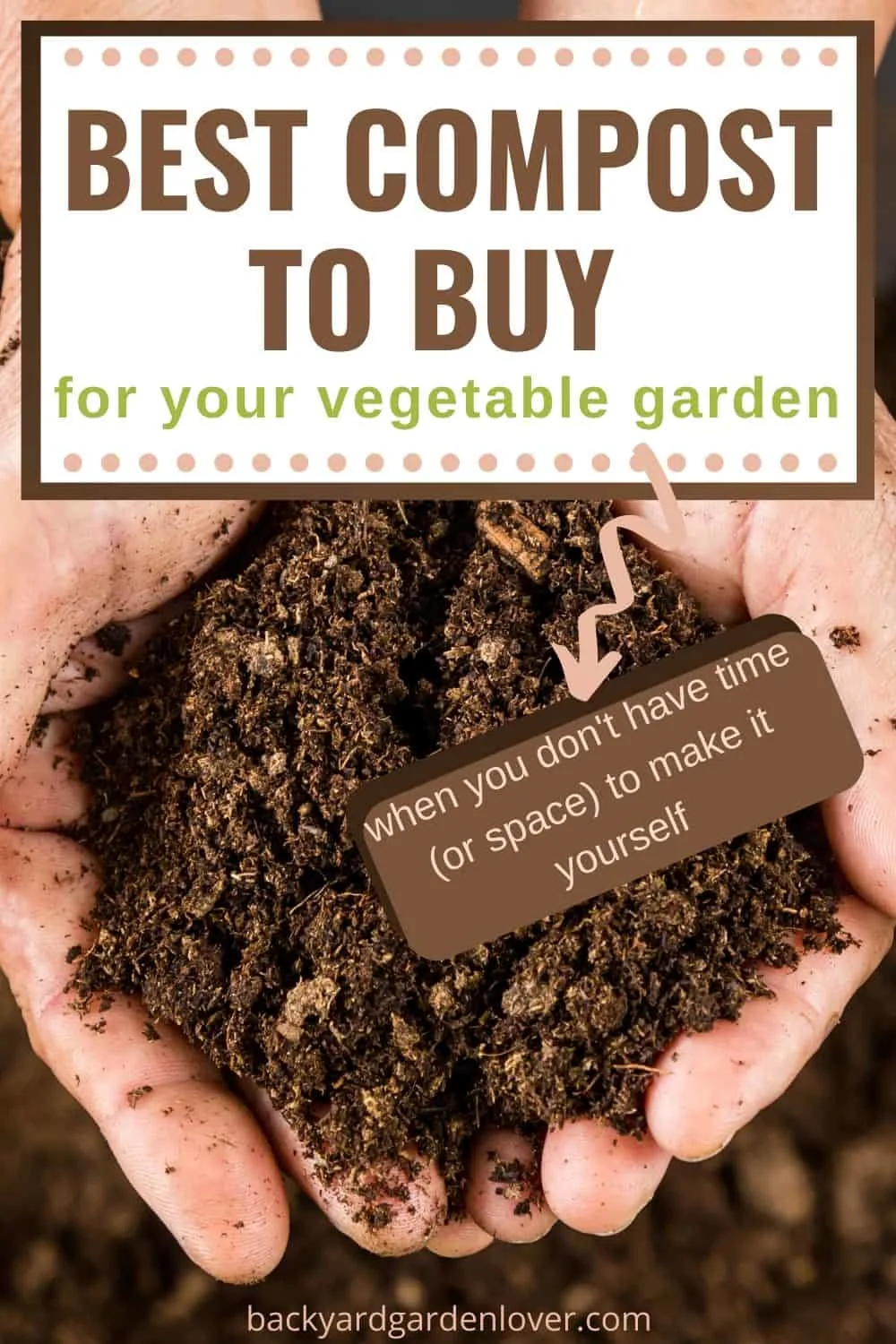 Adriana Copaceanu is a passionate nature lover living in the country on her dream property where she grows vegetables, lavender, and wildflowers that she shares with the wildlife they attract. When she's not in the garden, she loves spending time with her chickens and planning her next nature project.