Do you ever wonder if there is something you should be doing in the garden now, but you aren't? If you're an experienced gardener, you might have notes from past years, but new gardeners would benefit from our list of "what to do in the garden this month".
Whether you have a few minutes every day, or a few hours once a week, there is for sure something you can do in the garden right now.
What To Do In The Garden This Month
What to do in the garden in January
January brings some of the coldest temperatures of the year. It's not uncommon for the vegetable garden to be frozen solid, making digging and feeding the soil practically impossible. So, what could you do in the garden this month?
Gardening tips for January
Dig for Your Dinner in January: Growing Your Dinner, One Month at a Time
If your garden soil is dry, now is a good time to dig over your garden in the areas that need turning and feeding.
If you're going to add manure to the potatoes and root crops, this is the perfect time to add it. This way it will give it time to rot down.
Other winter jobs that can be done in the shelter of a shed would be:
servicing machines
sharpening tools
sorting seeds
Since the days are short and there is not enough light to successfully grow seedlings, there is no point in sowing any seeds this month, unless you have climate and lighting control systems.
But the long, dark evenings will give you the opportunity to browse seed catalogs and order your seeds.
If you are planning to grow potatoes this coming season then you will definitely have to select your potato varieties and buy your seeds this month so that you can start the potato chit.
The how to grow potatoes page will help you to choose the best potatoes to grow.
To chit potato seeds, lay them out with the side with the most eyes facing up, and leave them in a cool, light, frost-free room so that they start to shoot.
Lay seed potatoes in egg boxes and put them in a basement that has plenty of light.

Can I saw any seeds in January?
Plants rely on warmth and light to grow. Unfortunately, because the light levels are low, the seedlings will stretch up looking for light. This causes the seedlings to become leggy (long), thin, and weak.
If you're tempted to get a head start by using a propagator to force on young seedlings, be warned that you might lose your seedlings, or at best, have weak and leggy plants.
What can you harvest in January?
During January you could be picking the following:
You could also be harvesting the last of the celeriac and curly kale.
Container gardening in January
There are many vegetables you can grow in containers that could be brought into the house or in a covered porch in the winter.
You should choose vegetables that can grow well in small pots, easy to carry inside when needed. Here are some vegetables you can grow in containers:
Arugula
Beetroot (here's how to prepare beets)
Chicory can grow in containers with at least twelve-inch deep soil medium
Chives
Cress will grow in a shallow container (and even in a moist paper towel)
Garlic, a favorite spice in cooking that can be grown in a shallow container
Lettuce, a popular leaf vegetable that has a very good tolerance for cold conditions and can grow well using container gardening
Mesclun, a leafy vegetable, will grow well in containers. With a short vegetative stage, it will be ready for harvest in four to six weeks
Misome, a type of mustard, will be a slow grower in the winter but will give you some variety
Silverbeet, also known as rainbow chard, can be harvested continuously
green onions
radishes
Hopefully, these January gardening tips will help. Spring is just around the corner 😉
What to do in the garden in February
The gardening jobs list for February can be split into two:
indoor jobs that will amount to quite a substantial sowing list for a warm windowsill or propagator
outdoor jobs that are so weather dependent that they are impossible to plan for

Most outdoor jobs will be completely down to the weather, as the ground is often frozen during February. And if not frozen, it's most likely saturated with water.
During a mild and dryish winter, there could be a case for sowing outdoors, and some seed packets such as beets, radishes, rocket, broad beans, lettuce, and early peas will tell you to sow directly outdoors from now.
Over the years you may have learned to never trust the weather and would prefer to sow under cover or indoors, but if you are tempted to direct sow it is well worth erecting a cloche over the garden bed a few weeks before sowing, it will help keep the bed dry and also warm up the soil.
Other outside jobs will really be a catch-up on anything that you haven't managed yet, as February is your last chance to get those winter jobs done.
Here's a quick list to remind you where you should be with your winter vegetable garden calendar February job list:
the potato bed should be manured and the potatoes should be chitting
bean trench should be finished
the greenhouse should be clean and organized
planters would benefit from a quick rinse
One job that is definitely worthwhile doing is double-checking the pH of the brassica bed. If you follow our rotation plan the pH should be perfect, but it is still worth checking out.
When you test the PH, you are looking for a result of between 6.5 and 7.0, and as long as the bed achieves this, there is no need to do anything. However, if it is below 6.5 you will need to dress the soil with a dusting of horticultural lime to correct it.
What can I sow in February?
February is the start of the growing season, as this is when you can really put your sowing timetable into action.
Cool-loving plants such as true spinach, winter hardy lettuce, and arugula can be sown under glass or on a windowsill, as can broad beans, early peas, Jerusalem artichokes, summer cabbages, and cauliflowers. It's also a good idea to get the purple sprouting broccoli off to an early start: the plant gets quite large and will benefit from a long growing season.
Directly sow radishes and beetroot if weather permits, and if you are growing onions from seed, sow thinly in large pots and place on a cool windowsill.
Towards the end of the month sow leaf beets, chards, and leeks, and in the propagator start off your tomatoes, peppers, celeriac, and eggplants.
What can I harvest in February?
During February you could be picking parsnips, leeks, perpetual spinach, true spinach, hardy lettuce, early cabbage, and possibly celeriac, curly kale, and sprouts.
Add purple sprouting broccoli to your picking list for February: this is a welcome crop that could be blessing your plate any time now.
What to do in the garden in March
This month sees the days lengthen and the nights shorten closer to the spring equinox, and into the birth of the new spring. The days will be starting to warm up, but as with any other time of year, the weather can be unreliable, and there may still be a few more dying days of winter.
March is a good month to clean up the garden
You may want to cover your vegetable garden with black plastic or horticultural fleece this month to help the soil to warm up faster. Or, wait for nature, rather than forcing the garden on. As the gain is so subtle, it doesn't seem worth the effort.
Perhaps a better idea would be to cover the soil with a weed control fabric in the fall, so that not only do you warm the soil more quickly in the spring, but the weeds are kept at bay over winter.
Some books will tell you that if the weather is good, to plant first early potatoes at the end of March. But as a frost can still turn up, only do this in exceptionally mild years, and always make sure you mound up the soil when the green shoots appear, and keep some fleece handy, just in case.
One group of plants that will really start to spring up now will be the weeds, so keep the hoe sharp, and run it through the beds before the weed seedlings get too strong. Hoeing will also expose slug eggs, giving wild birds a much-appreciated snack, and helping you to keep your slug population under control. We like to let our chickens have a good scratch around the vegetable beds at this time of year, as it helps to keep the garden pests under control. If you have chickens, only allow them on the veggie patch for a short period as they will add their own manure to the soil which is extremely acid.
Because the weather is starting to warm, any crops that have been over-wintered will now start to grow, so it would be a good idea to pull any of last year's crops to store for the coming months. You may have beet greens which can be cut for the last time and dug up, leeks should be pulled up, as should any remaining parsnips.
What can you sow in March?
If the weather is starting to improve you can direct sow many spring veggies:
early beets
spring onions
onion sets
salad leaves
shallots
carrots
parsnips
beet leaf
turnips
peas
You can also start some things indoors:
lettuce
summer cabbage
cauliflower
celery
Put your trays on a warm south-facing windowsill, and if you haven't already done so, sow tomatoes, eggplants, peppers, and celeriac in a propagator.
You may want to use a heat mat: they are quite cheap to buy and well worth using.
What can I harvest in March?
During March you could pick the last of the parsnips, swede, beet spinach, and leeks. You could also have some vegetables coming up: possible spring cabbage, salad leaves, and purple sprouting broccoli.
If you had sown carrots in the greenhouse then you may also need to thin the rows, and these thin carrot thinnings make a tasty treat for a salad.
What to do in the garden in April
April might feel like the real start to the gardening year, as this is the time that the soil is beginning to warm, and the bulk of the year's seed sowing has to be completed.
When you look at your garden during the month of April, the evidence of soil warmth is manifested in the growth of weeds, and during April you may be drawn to the garden to start weeding. For some, this means a trusty hoe, and for others, a kneeling pad and hand tools, as gardeners will never agree on the best way to weed.
Rain will often be a feature of this month, so it is worth checking for damage if it has been particularly heavy.
One of the true markers of the start of the growing season is the sowing of potato seeds, and once they are in, it's obvious the vegetable growing season is upon us.
If you have kept up to date with your winter jobs, your potato bed should be well fed with some well-rotted manure. If not, there is no time like the present. Of course, there will probably be a few weeds taking advantage of this rich soil, so a good weeding will probably be called for first.
Dig a shallow trench for your potatoes, and if you're near the coast you can collect seaweed to line each trench. This provides plenty of extra nutrition, and as an added bonus, it seems to keep the slugs away.
Of course, the succession sowings that you started last month will need to be kept up to date, and sowing lettuce and some of the brassicas, once every couple of weeks will help to keep these vegetables available.
The beginning of the mouth will probably be your last chance to plant Jerusalem Artichokes.
What can I sow in April?
Here's what you need to sow indoors. If you have not already done so you will need to sow cucumbers, the last of the broad beans, celeriac, peppers, chili, eggplant, and tomatoes, as soon as possible.
Then sow chicory, endive, radicchio, leeks, lettuce, broccoli, summer and autumn cabbages, summer and autumn cauliflowers, kale, sweetcorn, and celery.
Later on in the month sow zucchini, summer and winter squashes, French beans, runner beans, and pumpkins.
If you hadn't started peas off in cell packs last month, then you could sow some directly, and you could also try some directly sown French, broad, and runner beans, although you may prefer to start them in pots as the mice can be quite hungry during this time of year, and you'll be amazed at how many beans they will find outside.
Onions sets can go in now, and of course, keep sowing those salads every other week.
The root vegetables will need to go in, including parsnip, beets, and carrots, but be aware that the carrot root fly is around so you will need to erect a barrier to keep her away.
Other vegetables to sow directly could include kohlrabi, turnip, radish, true spinach, swiss chard, and leaf beet.
What can I harvest in April?

Unlike the sowing list for April, the harvest list will be one of the shortest. This is the "hungry gap" of the vegetable garden and in our vegetable garden calendar April harvesting list, the only thing you are likely to be picking is purple sprouting broccoli, one of the first vegetables to be ready in any season.
You could also have a few parsnips in the ground, but they are probably trying to regrow, so will be past their best, and hopefully, some of your stored vegetables will still be acceptable.
And if you are really lucky and managed to get some first early potatoes in the greenhouse, you may just get a harvest this month.
Other than these few things that you may have in your garden, this month's harvest tends to come from the freezer, and with luck, you should have a variety, albeit, a shrinking choice of homegrown vegetables.
What to do in the garden in May
The arrival of May signals the departure of the colder weather, and as the risk of frost starts to dissipate, the warmer soil is beginning to reward your efforts in the garden.
But as the ideal growing conditions arrive, so do the weeds. Make sure to keep these unwanted guests in check. Weeding is not often described as a job that people love to do, but if you manage to weed a little every day (or every couple of days), you should avoid the chore of clearing a garden full of overgrown monsters.
There is nothing more disheartening than seeing your vegetables engulfed in weeds, and our pampered vegetable plants will definitely struggle when competing with a less fussy, over-enthusiastic weed.
Although the weather is starting to warm up, depending on where you live, there could still be a risk of frost, so garden fabric needs to be on hand, just in case.
It is helpful to know your final frost date: if it's the 29th of April May is almost guaranteed to be frost-free. It doesn't pay to get complacent, as every year it seems that some weather record or another is broken.
Another important job for this month is to thin carrots and parsnips. If you have sown these root veggies earlier in the year, they are sure to have germinated and will need to be thinned out to ensure their proper spacing.
It's best to thin carrots to half spacing to allow the next thinning to be large enough to add to salads as carrot fingerlings.
A word of warning when thinning carrots and parsnips: the carrot root fly is very active this time of year and the smell of the bruised foliage of these plants will bring her like a homing pigeon to its loft. Make sure that you erect a barrier around the remaining carrots and parsnips as she will only fly at a height of a few inches and will never find your plants if they are protected by a barrier.
May is also the month where your greenhouse plants such as peppers, tomatoes, cucumbers, and eggplants can be put into their final location. Plant an upside-down empty milk bottle with the bottom cut off so that you can effectively water and feed these plants as they get thirsty in the hotter months.
Again, as with April, May is a busy sowing month, and if you have not already done so this is your last chance to sow parsnips, pumpkins, winter squash, kale, cucumber, broad beans, runner beans, purple sprouting broccoli, Brussel sprouts, and summer cauliflowers.
What can I sow in May?
Squash should be started in May, ideally under glass in 3-inch pots, and as they grow quickly, planted out as soon as they are large enough. Summer squash is a great main crop. This versatile vegetable can be used cold for salads, as an ingredient to pasta dishes and veggie chili, it can also be frozen for the winter, and as a base for soups. If you eat a lot of squash, grow six to eight plants.
French beans, runner beans, climbing French beans, and peas can also be started under glass early in the month.
Turnip can be sown directly in the garden this month, as can your succession sowing of salads, beetroot, radish, kohlrabi, broccoli, cabbage, cauliflower, and carrots. Also directly sow perpetual spinach, Swiss chard, ruby chard, and leaf beet.
You may prefer to give climbing peas and beans an early start in pots, but you can also directly sow them towards the end of May, or earlier if this is a particularly warm season or you live in an area where there is absolutely no risk of any frost. If you sow 2 seeds per cane you will be sure to have a plant for every climbing position.
Sweet corn can be sown as soon as the soil is warm enough, but beware of the weather and have protection ready. Clear plastic soda pop bottles with the bottoms cut off make great tiny greenhouses to cover these sensitive plants. And make sure that you follow the recommended spacing for sweet corn as pollination is everything and if they are too close together your cobs will fail.
What to harvest in May
Of course, what you can be eating in May will depend upon what you have planted. Lettuce should be abundant and the thinnings of carrots will make a nice addition to salads. If you started potatoes undercover you should be enjoying some delicious early new potatoes. Winter cauliflowers should be ready, as well as spring cabbage, kale, and the last of the purple sprouting broccoli.
Winter onions should have started to swell, and in a good year, you could have some fresh garlic to try.
One crop which is a real treat in May if you planted it a few years earlier, is asparagus (learn more about planting and growing asparagus).
Don't forget to look for wild garlic, and if it is warm, you may be lucky enough to find some wild strawberries.
What to do in the garden in June
If you're a new gardener (or even a seasoned one), having a list of gardening chores would be helpful to keep you organized and on track with your garden tasks.
Thin carrots and parsnips
Carrots and parsnips will need thinning, either to half or to their full final spacing. Don't forget that the carrot thinnings are not a waste: they make a fantastic addition to salads. YUM!
Plant beans
If you have not planted your runner beans, French beans, or leeks, now is definitely the time. Since the risk of frost has now passed, it's time to put any well-developed seedlings into their final growing spot.
Transplant tomatoes and cucumbers
Outdoor tomatoes and cucumbers should be transplanted this month. If you have tomatoes in the greenhouse, check on them at least once a week. Watering is very important now, as will trimming side shoots and keeping an eye out for pests like hornworms.
Plant cucurbits
If you have not done so yet, plant squash, pumpkins, and zucchini making sure they have plenty of soil and nutrition by adding well-rotted manure, garden compost, or soil improver.
Watch for pests
If you've seen evidence of slugs over the past weeks with the odd leaf here and there showing tell-tale signs, it's time to take some action. Many gardeners will be dressing their beds with slug pellets. If you prefer a more environmentally friendly approach to slug control you may want to use a mix of broken eggshells, coffee grounds, and of course the old favorite, the beer trap (learn more about the beer trap here).
Keep an eye out for the cabbage moth, usually making its appearance this month. Check under brassica leaves for any signs of eggs.
Weed and hoe
Since we are now in full summer, no vegetable garden tasks list would be complete without reminding you to weed and hoe.
Here are my favorite garden tools.
What can I sow in June?
Cell pack sowing is now limited to the succession sowing of the brassicas, to make sure that you have a steady supply of cauliflower and broccoli, but if you are stuck for space you could also sow salad leaves in modules so that you can replace lettuces that have been eaten or have bolted.
If you did not sow French beans last month, then they can be sown direct. Late sowing of beets can be allowed to swell and could be stored with other root vegetables later in the year. Turnips can also be sown now as can the successional sowing of salad leaves and lettuces.
What can I harvest in June?
If you have planted winter onions you could find plenty of swollen bulbs that are ready to use. Pick them as you need them: they are not great for storage. It's also worth keeping an eye on your garlic. As the leaves start to die back you can be sure that the plant is pumping energy into the garlic bulb.
Lettuce should be abundant, as should baby carrots, spring onions, radish, and some small beets. All the right ingredients for a welcome summer salad! As a finishing touch, grate over some young turnips that should also be ready for picking.
If you have an asparagus bed you'll have some real treats this month, like this delicious creamy asparagus soup. Add a couple of first early potato plants, and the taste of summer will suddenly come alive. In a good year, you may have some early peas, broad beans, and even globe artichokes.
And the summer solstice would never be complete without a bowl or two of freshly picked strawberries: perfect!
What to do in the garden in July
Summer is definitely here and your work in the garden this month will change a bit. Instead of sowing and growing, you'll start harvesting as each crop begins to reward you. Here are your gardening tips for July, to help you organize yourself and make the most of your time in the garden.
If you plan your garden well, your list of things to do in the garden this month will be a bit shorter.
What you should plant in July
You'll only be starting successional crops when space becomes available as you harvest your earlier crops. And of course, you'll be harvesting lots of produce:
beans
lettuce
early tomatoes
cucumbers
zucchini
spinach
and lots more, depending on what you planted
With the weather now at its hottest, there is no need to sow anything indoors. However, you may be a bit stuck for space, so cell pack sowing could help you with your succession sowing list. This way you can germinate in trays, pot on, and plant out when space becomes available. Take a look at the list below for a nice July sowing list.
What to sow in July
Your vegetable garden should be quite full this month, so your July sowing list will probably be used just as a gap-filling and succession sowing exercise.
Your first early potatoes will be up soon so as this is the first part of your garden to empty, it would be a good idea to plant green manure such as French beans or pea. Other crops to sow are spring onions, chicory, Chinese cabbage, and kohlrabi.
You can plant more beetroot, carrots, lettuce, radish, broccoli, kale, and cauliflower.
What to fertilize in July
As you rotate crops this month, think about your soil. A demanding crop can strip a lot of nutrients from the soil. So add some compost or a general organic fertilizer.
You will need to start feeding tomatoes with liquid tomato food as soon as the first fruits are forming. You can make a homemade comfrey tea which is probably the best liquid fertilizer you can get.
It is also worth feeding your main crop potatoes and mulching the plants with a cut of wilted comfrey leaves.
Once you harvest your early potatoes, you could plant green manure. There are mustards that you can use that you simply dig back into the soil.
Of course, a nitrogen-providing plant such as French beans will offer you an extra crop later in the year.
Keeping up with the weeds
Most of the time you'll spend in the garden in July will be harvesting and weeding, and depending on the weather, you may need to do a lot of watering. July is often the driest month and crops can easily stop growing if there is not enough moisture in the soil.
Garden diseases and pests in July
If you are faced with a wet summer, this will pose some issues such as potato blight. The first signs of blight will start on the leaves and they'll start to turn brown. If it is damp keep an eye on your potato plants and if you see any sign of blight you are better off cutting the leafy part of the plant off and burning it.
Also, remember that potatoes and tomatoes are members of the same family, so wash your hands before handling tomato plants.
Other diseases to watch out for this month are lettuce mildew, tomato cat face (cracking of the tomato), and garlic rust.
Watering the garden
If you have added lots of organic material, your soil will hold more water. But you still need to check the moisture a few inches down into the soil just to make sure.
It's best to saturate an area every other day by leaving a sprinkler running for about 20 minutes, rather than spraying for 5 minutes with a hose. This type of watering (quick with a hose) isn't very effective and it could actually dry off the soil as the damp surface dries and pulls deeper water up.
Hoeing the soil will also help to reduce water loss: it stops the capillary action of water from being drawn to the surface.
Mulching will also help, although you will probably have to take steps to control the slugs and snails that will, more than likely, move into these damp areas that you have created.
Plants will also suffer if you water irregularly, and let the soil dry too much, and then wet it too much. This will cause vegetables to grow in spurts causing plants like potatoes, rutabaga (also known as swedes), parsnips, and carrots to split.
Mind you, your weather could be so unpredictable that there could well be no need to water at all.
July in the greenhouse
This time of year your greenhouse can start cooking your plants if you're not careful. Open the greenhouse every morning, regardless of the forecast.
Keep an eye on the suckers that try to turn your cordon tomatoes into bushes, and pinch off any that you find. It's amazing how quickly these 'branches' grow and how easy they are to miss.
July vegetable harvesting
You have now passed through the halfway point of the year and are beginning to be rewarded for all the effort of the past 6 months' work.
It's true: growing your own is not easy. It requires a lot of physical work and patience, as at the beginning of the year the rewards are limited. But now you shall reap what you have sown.
I LOVE harvesting my early potatoes! We always make fried potatoes with garlic mayonnaise 😉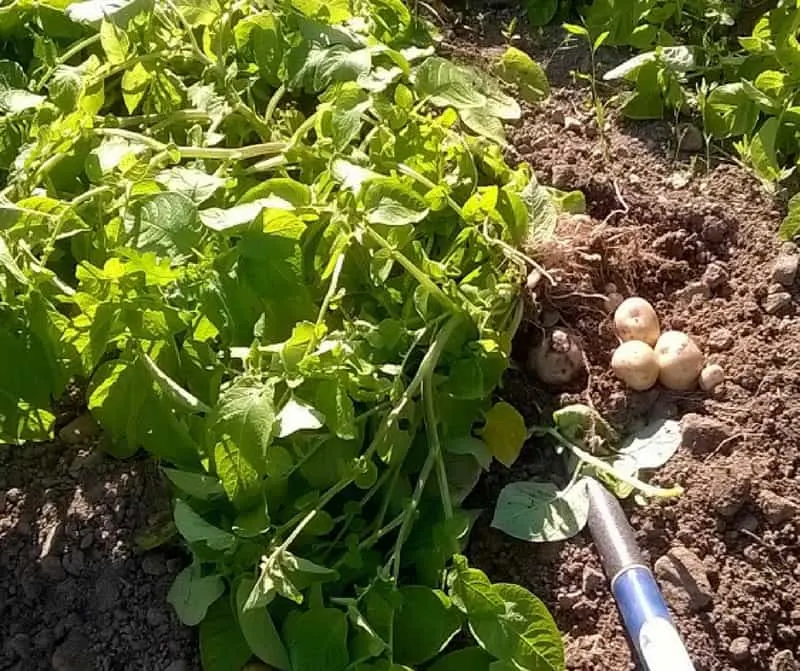 Here's what you can harvest in July:
cauliflower
carrots
broad beans
French beans
runner beans
cabbage
celery
broccoli
spinach
tomatoes
turnips
potatoes
peas
spring onions
winter onions
garlic
salad
kale
zucchini
kohlrabi
globe artichokes
cucumbers
strawberries.
WOW! Exciting times!
What to do in the garden in August
August is invariably the hottest month of the year, and with the warmth comes a variety of jobs for the vegetable garden. Here are some quick gardening tips for August that will keep you moving forward and maximizing your time in the garden during these hot days of summer.
So far during the growing year, the majority of your time has been spent tending the ground, the seeds, the seedlings, and the plants, pampering them so that they will reward you with plenty of homegrown veggies.
This month you will notice a distinct switch in the type of work your garden will demand from you. Your August days will be spent picking, cooking, and preserving the abundant gifts from the garden.
Watering the garden
Garden watering is probably the first warm weather job that comes to mind, as without water your crops will quickly fail. However, watering is only going to be necessary for exceptionally hot and dry weather. Your vegetables are ripening now and don't need as much water as they did in the earlier months while the fruits were growing.
If you do get an exceptionally dry summer, water by really soaking the ground for about 20 minutes, and do this every 3 or 4 days. A light spray will only touch the top of the soil and will quickly dry up.
Turning your compost bin
Another warm-weather vegetable garden job would be turning the compost bin. Ideally, you have 3 bins. You should add kitchen scraps, garden trimmings, and other 'waste' to the first, turning it to the second when it has lost about 50% of its volume, and again turning that into the third when it has also lost half its volume.
Want to learn more about composting? Here's my favorite guide.
Garden diseases and pests in August
Of course, pests come with the warm weather, and butterflies will lay more eggs this month than at any other time of the year, so be vigilant when checking leaves for eggs or caterpillars. Also, keep an eye on those aphids and give them a spray of soap solution if they are getting out of control.
If your broad beans get a heavy infestation of black fly, simply cut off the growing tip where they congregate, and dispose of it.
Beer traps are the best way of controlling slugs, but an effective trap can quickly turn into slug soup, so empty them often and add fresh beer.
What to fertilize in August
This month you should be feeding heavy fruiting plants. Tomatoes should be producing loads of fruit this month. Give them a bit of liquid tomato food or comfrey tea. These are good not only for tomatoes but also for peppers, aubergines, cucumbers, zucchini (courgettes), squash, and pumpkins.
What do your vegetables need in August?
Tomatoes will need to be stopped now so that the fruits have time to develop and ripen. Simply cut the growing tip, and keep pinching the suckers, so that all the energy they have will go into fruit.
Runner beans should also be at the top of the frames, so nip out their growing tips too.
The second early potatoes will be ready to pick now. Choose a day to dig them up and let them dry in a cool shady place before storing them.
Pull out all but the very best potatoes and use them up first. Trying to store anything but perfect potatoes could cause you to lose an entire crop, as any rot will quickly run through your healthy potatoes.
And no matter how much care you've taken sorting through your potatoes, it's definitely worth doing again a few weeks later, just in case a rotten spud got through.
Maincrop potatoes will be in the ground for about 20 weeks, so unless you planted them in the first week of April they won't be harvested until September. If the weather is wet, this does leave them susceptible to blight, so keep an eye out for browning and dying foliage. If you are affected by blight, all is not lost, simply cut off all the leafy stems of the potato plant and dispose of them by dumping them away from your garden or burning them. Leave the potatoes in the ground for 2 weeks before digging them up.
It is probably worth noting that blight can affect your tomato, so if you have been handling infected potato leaves wash your hands before touching any tomato plants.
Growing green manure
Once you have harvested your potatoes it is a good idea to grow green manure. Green manure is a plant that can be left in the ground or dug into the ground to provide extra nutrition.
Quite often mustards are used as a green manure crop, but as this crop offers no yield, why not try some dwarf French beans? You have a delicious crop of fine beans, and once they have finished, cutting the stems and leaving the roots to rot in the soil over winter will provide nitrate to the soil.
How to prepare the garden for summer vacation
Since August is a popular vacation month, and you and your family might want to soak up some sun yourselves, make sure your garden is well cared for.
Enlist the help of a neighbor or a family member to water and harvest your garden while you're gone.
Here are some tips to help you cut the garden jobs down to a minimum, and ways to protect your plants during your vacation…
Avoid sowing seeds for 4 weeks before the start of your vacation and plant out seedlings a week before your holidays start.
If you have any trays or pots that you can't move on, leave them outside and sit them in trays of water. Do the same with greenhouse plants in pots.
Weed and hoe the entire garden, and cut grass during the week you are due to leave.
Pick as many vegetables as possible, particularly zucchini and squash as these will quickly become unusable.
Leave the greenhouse doors open: it will be better to risk the cool nights than to cook your tomatoes on a hot day.
Make sure patio pots and hanging baskets are brought away from the house so that if there is any rainfall, the pots won't be left under the shelter of the eves, and if you have spare trays, place them under the pots.
If you pulled up some veggies and have room, you can sow some Pak Choy and spinach in your garden. Sowing them now will give them the cooler fall weather to grow.
What can you harvest in August?
The month of August is rich in ripe produce. Here are just a few of the vegetables that are ready for harvest in August:
radish
summer squash
tomatoes
sweet corn
cauliflower
carrots
broad beans
French beans
runner beans
cabbage
celery
spinach
tomatoes
turnips
potatoes
winter onions
kale
bell pepper
beetroot
kohlrabi
cucumbers
What to sow in August
Now the weather is at its peak of temperature it's time to start thinking about cool weather vegetables. Some of the veggies you should sow indoors this month are:
spring onions
spring cabbage
hardy lettuce
kohlrabi
turnips
Is there anything I should plant in August?
Since we're harvesting a lot this month, you might be wondering if there's anything you can plant in August. And I have good news for you. Kevin from Epic Gardening shares what to plant in August, zone by zone. I can plant beets 🙂
What can you plant?
I hope you have lots of fun in the garden this month. I know it's hard work, but it's also so rewarding!!!
What to do in the garden in September
Although September marks the end of the summer it is not unusual for us to have a warmer and drier month than August, although by the end of the month temperatures will definitely start to fall.
As far as sowing goes there is very little that needs to be started this month, possible some winter-hardy lettuces and spring onions as well as some true spinach is about all, and planting out some spring cabbages will for most vegetable gardeners finish the list. But we do like to grow overwintering onions.
If you plant sets towards the end of the month they should just about get going, and this head start will give you a very early crop of onions, just as your stored onions are coming to an end.
Of course, not many gardening job lists fail to mention weeding as the weather will still be fuelling their growth, as it will still keep the continual onslaught of pests coming, so vigilance is still needed when checking for tiny critters. Many years French beans will be attacked by blackflies or aphids, although they are quite easy to deal with.
It is also worth keeping a lookout for any fungal problems, particularly if it is damp.
One area of the garden that will start to be overworked this month is the compost bin. Not only will you be adding the unusable parts of the harvest, but crops such as peas and other early spring crops will be ending and they will provide quite a bit of foliage to your bins.
Don't forget that peas and beans are soil feeders, so when they have finished cut the plant down leaving the roots to rot in the ground, releasing their nitrates into the soil.
On the subject of composting, any large woody stalks such as cabbage or calabrese stalks, or sweet corn stems will not rot down quickly, so will need to be broken down. This is an ideal job for a garden shredder, or, use a hammer to break them up.

If you really want to get a head start on next season, once you have cleared a patch of your vegetable garden, why not cover it and mulch it with some manure or compost.
Use old cardboard boxes to cover the ground and layer them with well-rotted manure. The cardboard will stop any weeds from growing and add nutrients as it breaks down over the winter. Then in spring, a quick run over with the rotavator and you are ready to go.
Another job for September would be raising the pumpkins. These fruits should be starting to swell, and if the ground is damp they are susceptible to slug damage and rotting, so it is well worth placing a mushroom basket or plastic pot under them, or a pallet if you have a real whopper! Towards the end of the month, the foliage of the pumpkin plant will start to die back giving the pumpkins more light to harden and change color.
Should I plant anything?
Whatever you sow at this time of year make sure that you can see the words winter hardy somewhere on the seed packet. In September you can sow winter lettuce, true spinach, spring onions, and overwintering onion sets.
What can I harvest in September?
Carrots will need to be harvested, and perfect specimens should be stored without their foliage in a box of damp sand. Any damaged carrots can be cut into sticks and frozen.
Onions will need to be picked too, and an airy rack should set up to dry them. We have a slatted shed to dry vegetables, but you could also use drying tables outside, as long as they had some protection from the rain. Some people use a greenhouse or poly-tunnel, but if you have a warm September you will end up with cooked onion, and they will rot away quickly.
Some early planted leeks could also be ready but pick from alternate rows to give what is left plenty of room to grow.
During September you could be picking radish, summer squash, tomatoes, sweetcorn, cauliflower, carrots, broad beans, French beans, runner beans, cabbage, celery, calabrese, spinach, tomatoes, turnips, last of the peas, spring onions, onions, salad, kale, courgettes, chili, eggplants, bell pepper, beet leaf, beetroot, kohlrabi, globe artichokes, cucumbers, celery, leeks, plums, and apples.
What to do in the garden in October
October seems like the end of the growing season, although it isn't the end of our gardening jobs, and it certainly isn't the end of the garden produce.
As fall sets in, the days will be getting shorter and the temperature will almost certainly be dropping, unless we're lucky enough to experience an Indian summer. This is a period of clear warm, sunny days after that first hint of frost. Those cool star-studded nights are a foretaste of what's to come.
Any sun we do get will help the last of the tomatoes to ripen, but at the end of the month, what is left is unlikely to turn red on the vine, so it is definitely time to pick the remaining fruit and clear the tomato plants from the greenhouse.
If you have a lot of green tomatoes you can use them to make chutney or you can store them in a dark cool room and wait for them to change color. To accelerate the process add a ripe banana in the same container.
If you were late putting your main crop potatoes in then they should definitely be lifted now. Choose a dry day and only store perfect specimens.
Zucchini plants and squash should still be fruiting and will benefit from a weekly feed of liquid fertilizer, and the pumpkin plants should be dying back allowing the light to ripen the fruit.
It is also a good idea to pull up the cabbages before the frost gets at them: they will store well in a frost-free shed.
If you have left some runner beans on the plant to harvest bean seeds, pick the pods and dry them in the greenhouse. The runner beans can then be cut off at the roots and composted down. It is important to leave the roots of any beans and peas in the ground so that they can release nitrates stored in root nodules into the soil.
Pick parsnips after the first frost.
Weeding is something that you may be tempted to skip from your October job list, and as the weeds are also slowing down, weeding is something that we often used to leave at this time of year. But skipping fall weeding may be something you will regret.
Left to the spring, weeds seem more stubborn, and as there is so much to do in the spring, weeding can be a bit frustrating.
You will learn your lesson and close down each part of the vegetable garden properly if you ever slack off at this point. This involves weeding and digging as well as covering with cardboard and topping with compost or well-rotted manure. The cardboard will keep the weeds at bay and through the winter it will rot down to add texture and nutrients to the soil.
Pumpkins will start to ripen in October.
What to plant in October
We like to grow overwintering onions as they are ready much earlier than normal onions, and October is really the last chance to get them in. If it is cold, cover them with a clear dome (maybe a plastic soda bottle) to give them a good start. It is also a time to plant garlic. Any lettuce you sow now will need to be winter hardy.
What to do in the garden in November
November sees the nights lengthening and the days really starting to shorten, the clocks have gone back and it is really starting to feel like winter. It's probably cold, often and wet, and the thought of spending a lot of time in the garden is further from a lot of people's minds.
The good news is, there is not much to do in our winter vegetable gardens.
Of course, the vegetable garden plot could always do with a feed and a bit of work, and to be honest, there is nothing better than digging over part of the garden on a cold day. Although, if it is frozen or very wet, I'd give it a miss. And a visit to a steaming manure pile will really warm you up.
Pick a day to go through your stored vegetables and check for soft and damaged pieces. A rotten potato or soft onion can quickly affect the whole crop.
Nature will give you a gift just about now: the annual fall of leaves. Don't waste this valuable free offering that nature brings you: good leaf mold will help to top up purchased compost. Rotted down with the last cut of comfrey it will make a good soil conditioner.
Choose a shady part of the garden to place your leaf mold bin and give it a year to completely break down.
Lots of cities and municipalities offer leaf pick up in the fall – get there first, and grab the bags of leaves already raked. Sometimes an ad on Craigslist or on a Facebook buy and sell group will net you more leaves than you can use.

Over the next few months, it would be a good idea to go through your seeds, throwing away out-of-date seed packets, and start to think about what you would like to grow next year. Think about what has worked this year, as well as what has failed. Also, is there a vegetable in your garden that never got eaten?

By planning your growing list now you'll have plenty of time to find the seeds you will need.
What can I harvest in November?
During November you could be picking the last of the pumpkins, celery, and kohlrabi. Then right up until Christmas, you could be picking winter cauliflower, winter cabbage, salad, kale, celeriac, parsnips, leeks, and Brussel sprouts.
What to do in the garden in December
There isn't much you can do IN the garden in December. But you can do some things in the comfort of your home: