After a long, cold winter, celebrate the start of spring with these spring flowers coloring pages! These free printables will add a pop of bright color and are perfect for both kids and adults.
There's something so refreshing about seeing spring flowers bursting out of the soil. They remind us of new beginnings and that sunny days are on their way. Some of the earliest bloomers are crocuses, tulips, daffodils, and grape hyacinths. These beautiful spring flowers have bold colors that pop against the brown and white shades of winter.
Spring Flowers Coloring Pages
If your kids love coloring spring flowers, this book will give you hours of happy entertainment.
These spring coloring sheets feature classic spring flowers in a variety of different designs. They're a great way to celebrate the first day of spring. There are printable coloring pages for both kids and adults below so there's something for everyone!
Free Printable Spring Coloring Pages for Kids
Kids of all ages will love these cute coloring pages featuring simple flowers. Take your little ones for a walk to see all the beautiful flowers and then invite them to use their favorite crayons to make these lovely spring flowers look like the ones they found outside. This is a great way to help them understand the changing of the seasons and practice color recognition at the same time.
Spring Flower Coloring Pages for Adults
For adults or older kids who could benefit from a little time focusing on something positive and colorful, try these more challenging free spring coloring pages. They have more fine details, so they will absorb your whole attention. They're perfect for relaxing with a cup of herbal tea or unwinding at the end of a long day.
How to Use
If you're using crayons, colored pencils, or markers, print on regular printer paper.
Print on cardstock to use oil pastels or watercolor.
Use these seasonal coloring pages to celebrate the beginning of spring, Easter, or Mother's Day.
Before a long road trip, make a coloring book to keep your kids calm and occupied.
Cut out the single flower pictures to create a colorful bulletin board or spring display.
Fun Facts about Spring Flowers
Some "spring" flowers are misnamed. Snowdrops and crocuses emerge as early as January, well before the start of spring.
Spring flowers symbolize rebirth. These colorful flowers remind us of new beginnings, like the start of a new growing season.
Most spring flowers are perennials. Good news! Your favorite spring flowers will return year after year.
Tulips used to cost more than a house. In the 1600s in Holland, tulips were used as currency and some were incredibly expensive.
Some spring flowers are edible. Tulips, daylilies, and daisies are edible, but many spring flowers are toxic.
Even Shakespeare knew about daffodils. Many artists use spring flowers to indicate the changing of the seasons, including Shakespeare.
More Flower Coloring Pages
More Ways to Celebrate Spring
If you love coloring activities, check out Pearls and Scissors: they have lots of coloring pages.
Pictures Of Spring Flowers For Inspiration
These spring flowers arrangements placed in white ceramic vases are so pretty! I love everything about them, and I can't wait for spring!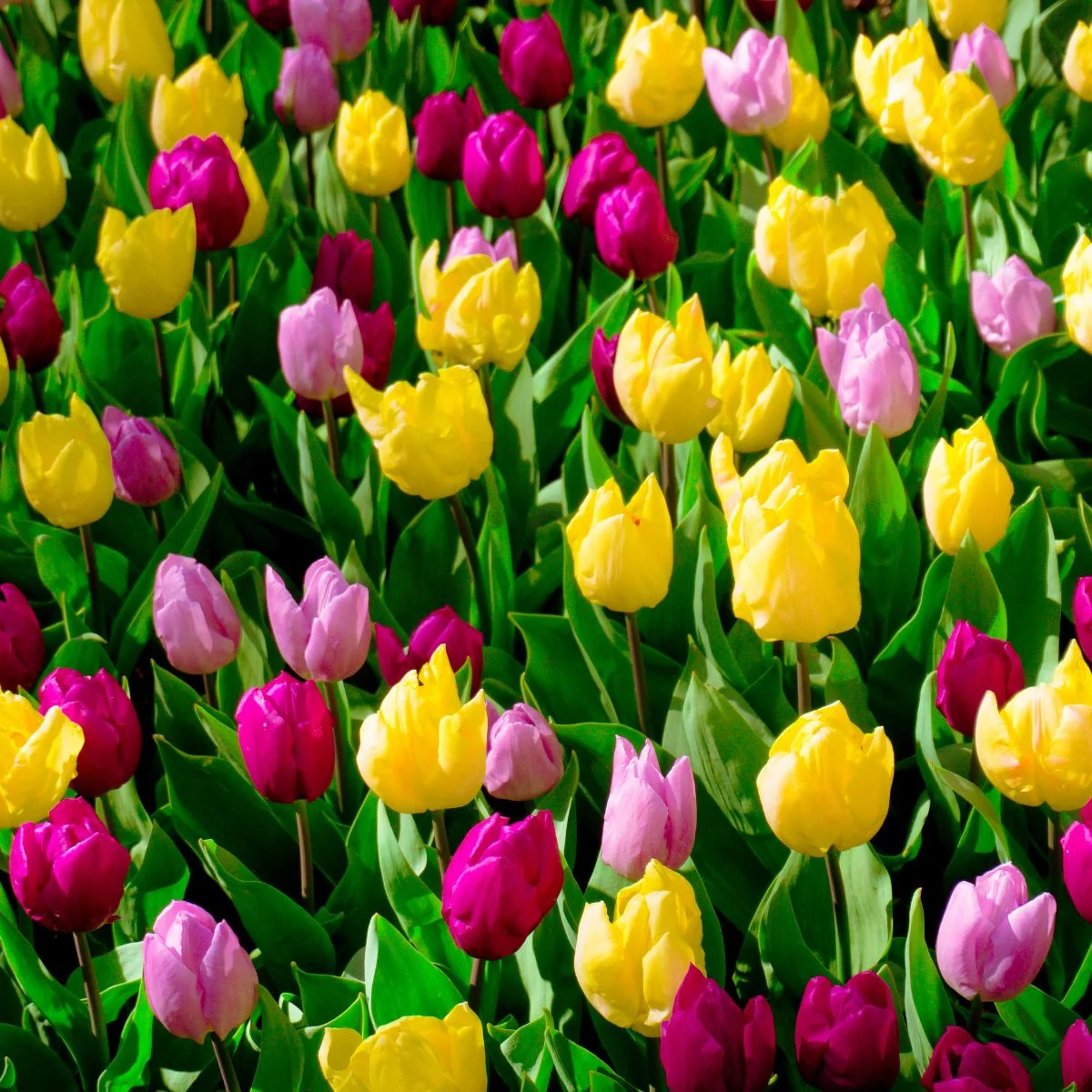 Brightly colored tulips bring warmth and happiness to any garden in the spring.
I can only imagine walking by this spot in the garden! The smell of hyacinths is amazing!
I love the combination of pink and magenta tulips, rhododendron flowers, and the pale blue flowers in the image above.
Adriana Copaceanu is a passionate nature lover living in the country on her dream property where she grows vegetables, lavender, and wildflowers that she shares with the wildlife they attract. When she's not in the garden, she loves spending time with her chickens and planning her next nature project.